THE MOST EXOTIC YAMAHA EVER! WHY YOU NEVER GOT TO SEE IT RUN

The suggested retail price of the Yamaha OX99 was going to be $800,000 (in 1991 dollars). That would be over $1 million today.
Yamaha has a long history in auto manufacturing. In 1967 Yamaha built the engines for the Toyota 2000GT (the first Japanese Super Car). In 1984 Yamaha producing engines for the Ford Motor Company. And, most significantly, had an engine in the 1989 Formula One series for West Zakspeed team, but what you don't know?is that Yamaha built a Super Car based on what they learned in F1. Most notably, it was the developed around a 3.5-liter V12 engine.

What Yamaha learned in Formula 1 they applied to the engine for the OX99-11.

It is a two-seater with the passenger behind and off to the side of the driver.
in 1991 Yamaha contracted IAD, a British design company that helped design the Mazda Miata, to develop a working prototype of the Yamaha OX99 two-seat sports car (although the passenger was in tandem to the driver). The unusual design featured a wing-like front spoiler, aircraft-style cockpit and protruding engine scoop. Built on a carbon fiber tub (with an aluminum body), the 3.5 liter V12 engine had five valves per cylinder and generated 400 horsepower.

Yamaha's Zakspeed FI car.
It's top speed was 210 miles per hour via a six-speed gearbox. In order to keep the car secret, Yamaha did all the testing at night at the Millbrook Proving Ground in England (and used former F1 GP driver John Watson as a test driver).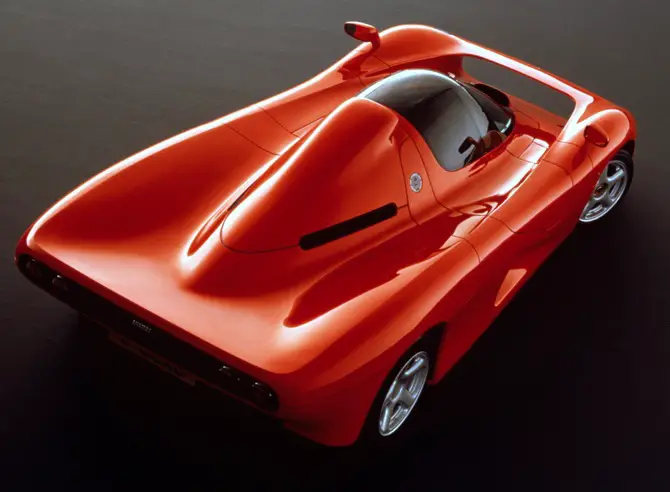 Only three OX99-11's were built.
Only three OX99s were built (a raw aluminum one, a black one and a red one). Yamaha had plans to develop the OX99 as a production car (with an astounding $800,000 price), but when they moved the project from IAD to Yamaha subsidiary Ypsilon Technology (who had serviced their F1 engines) the Japanese economy was entering a recession and money got tight. In 1994 the idea was discontinued.


Soon after the Yamaha OX99 was discontinued, McLaren launched their F1 Super car. The OX99 never went into production.