THE MXA AIR FORCE JOINS THE U.S. AIR FORCE: IT WAS THE ONLY WAY WE COULD TEST AN F-16
MXA has done photo shoots at airports before, but this was the first time on an active Air National Guard base. Security was much more strict.
MXA GOES FLYING IN AN F-16 FIGHTER JET
BY JOSH MOSIMAN
Major General Randy Efferson grew up in an Air Force family where his father and grandpa both flew and served their country. At 55 years old, he has over 3700 hours of flying in the Air Force, 600 of them in combat missions. He lost his flying privileges in 2018, but not because he made a mistake or was too old or out of shape; it is because he was promoted to General status. He's advanced far enough up the ranks to where his skill set and knowledge are too valuable for him to continue manning a jet. Randy explained multiple times that he wishes he could still fly, and I wish he could, too; however, if that were the case, I wouldn't have gotten the opportunity of a lifetime.
"IT WAS A LONG FLIGHT FROM SOCAL TO ALABAMA BUT A SHORT RIDE FROM THE GENERAL'S HOUSE THROUGH SOME WOODS TO GET TO HIS PRIVATE TRACKS. ORIGINALLY, OUR ONLY OBJECTIVE WAS TO FLY IN AN F-16, SO BEING ABLE TO RIDE WHILE IN ALABAMA WAS A BONUS."
Although the General is a high-ranking officer and has many major awards and decorations, he is also just like you and me—he loves racing motorcycles. Randy first got into riding when he was a kid, and he started reading Motocross Action magazine back in the 1970s. He continued to follow the sport and read MXA through the years, although he had to quit riding himself when he became a fighter pilot. Now, after becoming a General, Randy's fighter jet flying days are over (he still has a private plane), and now he's back on two wheels getting his adrenaline fix racing dirt bikes with his 17-year-old son Ethan.
The MXA wrecking crew has strong ties to the U.S. military. Jody's father flew 25 combat missions in a B-17 bomber over Germany in WWII and flew KC97 and KC135 refueling tankers for the next 25 years before retiring as a Colonel. Our videographer Travis Fant's grandfather was also a Colonel who enlisted the day after Pearl Harbor and flew in World War II. Travis' dad is a Vietnam Navy vet who sailed on a minesweeper (the smallest ship in the Navy), and he has many combat action ribbons. My grandpa Tom flew "heavies" in Vietnam and continued to serve afterwards. He piloted KC135 refueling tankers as well as C-7 Caribou planes and C5 Cargo planes (the largest plane in the Air Force).
"WALKING AROUND THE BASE WITH THE FORMER WING COMMANDER WAS LIKE WALKING AROUND AT A SUPERCROSS WITH TRAVIS PASTRANA."
MXA has been running "MXA Air Force" stickers on our bikes for years as a tribute to the Eighth Air Force. With its motto, "Peace Through Strength," the Mighty Eighth is designated as U.S. Strategic Command's Task Force 204. Its mission is to safeguard America's interests through strategic deterrence and global combat power with long-range nuclear-capable bomber assets. Its flexible, conventional and nuclear deterrence mission delivers the capability to deploy forces and engage enemy threats anywhere, any time. Jody's father was part of the Eighth Air Force, and this sparked the connection Randy felt to MXA, prompting an invite for the ride of a lifetime.
MXA's Trevor Nelson joined me to capture the action of our five-day experience in Alabama. He brought his riding gear, too, and we kicked off our trip by riding two-strokes with the General, his son Ethan and fellow racer Dillon Luttrel at the Efferson compound. Dillon met Randy when he recognized the Air Force-themed graphics with the nickname "Juicy Boy" on Randy's radiator shrouds at a local race. Dillon and Randy battle on the track and, ironically, Dillon is actually a Crew Chief working part-time at the Air National Guard's 187th Fighter Wing at Dannelly Field, the same base where Randy used to be the Wing Commander. At 20 years old, Dillon maintains F-16 fighter jets while the Air National Guard (along with funding from the State of Alabama) is covering all of his college tuition. Dillon's part-time job with the Air National Guard has him working one weekend a month and two weeks a year. He's a full-time student with his own lawn-mowing business on the side. He races motocross, and when he graduates from college, he'll have zero debt.
"WE WEREN'T ALLOWED TO TAKE PHOTOS INSIDE OF THE COCKPIT, BUT THE GENERAL DID GIVE US A FULL RUNDOWN ON THE USE OF EACH BUTTON, KNOB AND LEVER. NATURALLY, WE STARTED TALKING ABOUT THE EJECTION SEAT, AND RANDY WAS THE FIRST ONE TO EXPLAIN TO ME TO STAY AWAY FROM THE BIG YELLOW 'EJECTION' PULLEY."
It was a long flight from SoCal to Alabama but a short ride from the General's house through some woods and across a small creek to get to his two private tracks. Randy and Ethan have beautiful orange Alabama loam on their 120-acre property. Originally, our only objective was to fly in an F-16, so being able to ride while in Alabama was a bonus. We weren't there for any motorcycle testing, but we did have the General's KTM 125SX dressed with Air Force-themed MXA graphics and my former National number 71. It must have been his years of flying patterns in the sky that gave the General his skill at designing a track. I've built my own tracks before, and it's not easy. The Efferson's course featured sweeping corners and roller sections with the track laid out over a small hill. One section was super cool; we hooked a sharp left-hander and continued left until it started turning right while climbing the hill and almost doing a full circle before spitting you out over a jump. The right-hand corner was carved into the hill, so you could bank off the wall in the middle of the turn or stay in the rut below. It reminded me of corners I hit at the Budds Creek National—not dangerous, but technical and super fun to ride on.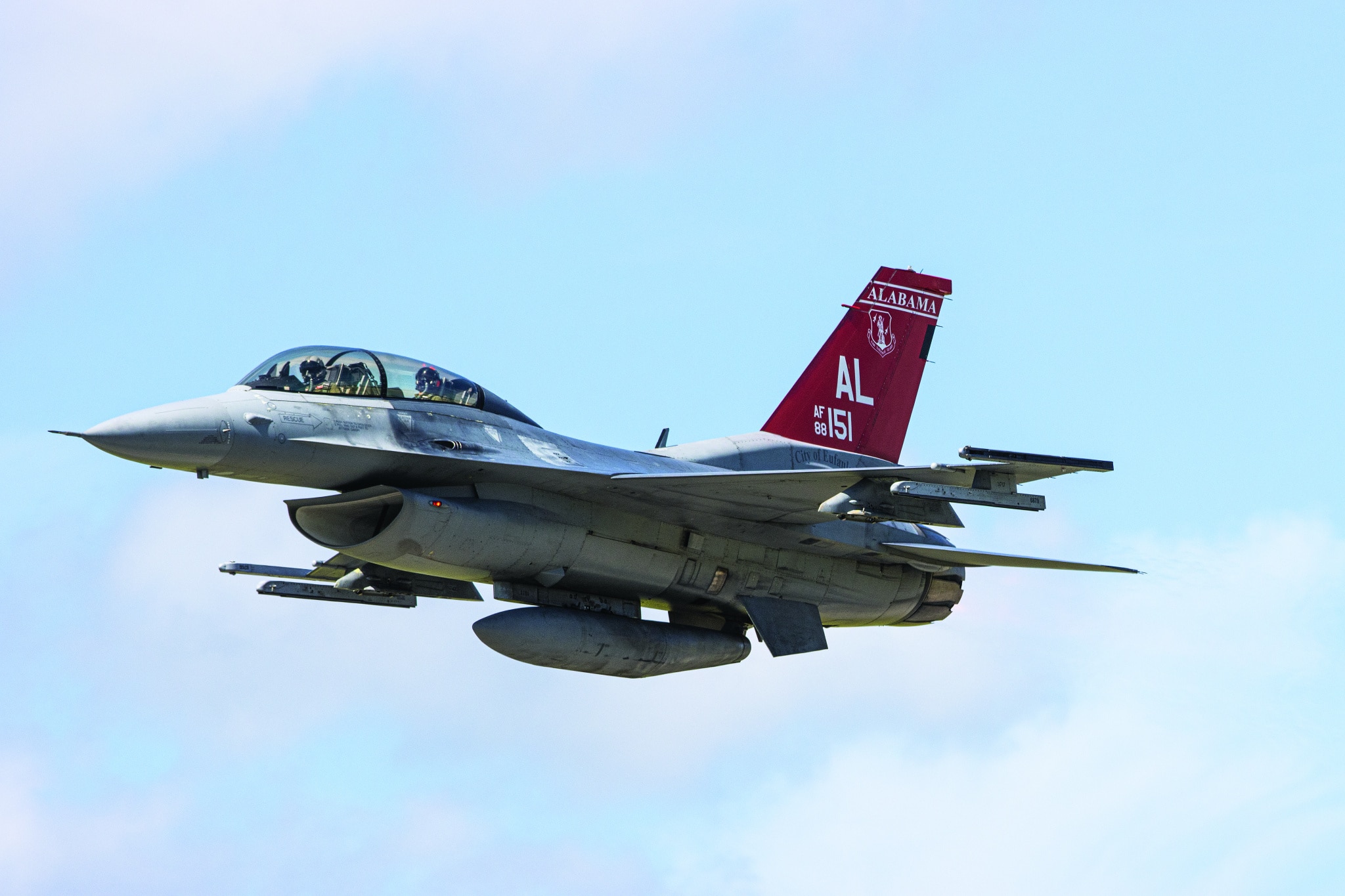 Josh is sitting in the passenger seat with an MXA orange helmet. He and Brian did one extra pass by the base before landing to get this photo.
After his last combat deployment in 2018 when he dropped bombs in Syria, Randy was promoted from Wing Commander to a one-star General and the commander of the entire Alabama Air National Guard. Then in 2020, he was promoted to a two-star general and he was sent to Air Force Central Command at the Shaw Air Force base in South Carolina. Now, he's in a program where Air National Guard Generals are advisors to numbered Air Forces and Component Commands. He explained, "I'm their expert on Air National Guard affairs, but I serve at whatever they need." Randy and the other Generals are responsible for the air power distribution across Central Command, deciding how many aircraft to send to each country, as well as the combat operations and what they're targeting. 
"The people I deal with are responsible for fighting the day-to-day war in Afghanistan, Iraq and Syria," said Randy. "We're managing the staff and the fleet, doing all the support logistics, working with the other countries for air space, spacing and overflight rights as well as exercises. We're not just there to fight combat operations; we're there to partner with the other nations that welcome us in. We do exercises and training with the Saudis, Iraqis, Egyptians, Jordanians, United Arab Emirates, Bahraini, Kuwaitti and Qataris."
Randy is currently working for the Air Force, but he organized MXA's trip to be at the Air National Guard base in Montgomery, Alabama, where he was Wing Commander for four years. Being at the Dannelly Field base in itself was cool. Having VIP access was great. But walking around the base with the former Wing Commander was even better. It was like walking around at a Supercross with Travis Pastrana. People love and respect Randy for how personable he is but also for what an incredible pilot and leader he is. Even without the General shepherding us, the National Guard people were extremely nice to Trevor and me, never too busy to answer our continuous questions. There were times I was concerned about the amount of information we received, although I doubt we heard anything classified.
Josh riding on the General's 120-acre property.

Underneath the 187th Fighter Wing are different squadrons that carry out specific tasks. The 100th Fighter Squadron is the single fighter jet unit on base at Dannelly Field, and their history can be traced back to the World War II "Redtails," as the Tuskegee Airmen were known. The Tuskegee Airmen were the first military aviators of color to fly in what was then called the Army Air Corps. The Redtails distinguished themselves with their heroism during World War II, and the tails of some of the 100th's F-16 jets are painted red to pay tribute to that heritage.
Adding to the prestige, Dannelly Field is just 15 minutes from Dexter Avenue in downtown Montgomery, which is barely over a 1/2-mile long and packed with history. On the east end of the road, Dexter Avenue starts at the base of the Alabama State Capitol building. Next door is the Dexter Avenue King Memorial Baptist Church, a designated National Historic Landmark in memory of Martin Luther King Jr., who was a pastor there. On the West end of the street is the site where Rosa Parks was arrested for refusing to give up her seat to a white man. To add even more historical context to our adventure, almost 100 years prior to the 1955 Montgomery Bus Boycott, and across the street from the Rosa Parks statue, is where a telegram was sent to General Beauregard giving him the order to fire on Fort Sumter and start the Civil War. It was all a short walking distance from the hotel where Trevor and I stayed. Amazingly, my friend Jason Powell had just moved his family from Southern California to Montgomery, Alabama, to start a church. Even crazier, his church, called "Jesus City," is smack dab in the middle of Dexter Avenue.
Dillon Luttrell catching some shade underneath the wing of an F-16 while waiting for his next pilot.
The National Guard was formed in 1775, one year before the United States became its own country. The theory was that they wanted the community to feel the effects when the country went to war. Active-duty bases have grocery stores, churches, movie theaters and more; they're basically little cities. At the Dannelly Field National Guard post, there are 1000 people who work on the base, 30 percent full time and 70 percent part time. The part-time people have regular jobs, along with their duties on the base. The idea is that it makes them more involved in the community. The 187th Fighter Wing has 40 pilots, 10 of which are full-time and 30 part-time. Some of the pilots have jobs outside of the National Guard, flying for companies like Delta or FedEx, and others have their own businesses off base. Of the 1.4 million people in the military, the Air Force proper makes up about 334,000, and the Air National Guard makes up 107,000 of the total number. 
The National Guard has a high retention rate with their staff. One reason is that they live at home, commute to the base and serve their country either full-time or part-time, and they don't have to worry about being transferred. Plus, people enjoy working for the National Guard and feel good about their jobs when they go home. The low turnover in the Guard means more experienced personnel. There's a large number of people on base who've been there most of their careers, and they stick around. Ninety percent retire from there. It's beneficial for the active-duty U.S. Air Force to send their guys to learn from the Guard's experienced pilots and mechanics.
We asked if Josh could fly in his O'Neal gear and 6D helmet, they said, "No."
After riding until dark and staying late at the Efferson household on Sunday, we were set to meet our flight crew at Dannelly Field at 8:00 a.m. Monday. As expected, security was strict, and we needed an escort to be allowed onto the base. When the sergeant at the gate figured out we were calling the General on our cell phone, she was blown away. The General got clearance for us to bring his KTM 125SX onto the flight line (where all the F-16's were parked). We weren't allowed to take photos inside of the cockpit, but the General did give us a full rundown on the use of each button, knob and lever. Naturally, we started talking about the ejection seat, and Randy was the first one to explain to me to stay away from the big yellow "ejection" pulley. The General showed me how to get into the cockpit, and things got real for me once I made it into the seat. I was basically sitting on the tip of a rocket. Later, I slipped into my O'Neal gear and 6D helmet for some photos and even got to start up the 125 next to the jet and ride it away when we were done.
Thanks to the 187th Fighter Wing and the Air National Guard, Josh got the full experience of flying formation. He and "Thud" both led and followed in formation.
Next, we checked out the main hanger where other jets were under maintenance. One of them was pulled apart, and we got to spend some time looking "under the hood" of an F-16. Each jet is on a regular maintenance schedule to be pulled apart and rebuilt every 300 flight hours for inspections and preventative maintenance. As an editor at MXA, I'm conditioned to learn about the latest technology on dirt bikes so I can explain it to our readers. Although the F-16 has been around since 1976, and our specific plane was built in 1988, everything was new to me. I was like a kid in a candy store as Senior Master Sergeant David Caton, who's been a Maintainer on the base for over 20 years, told me all the details. A few cool notes: The end of the gun's barrel is next to the cockpit (not on the wing as I would've guessed), and when the pilot fires, the gun has a lot of recoil. To counter the recoil, the rudder on the tail flutters to keep the jet flying straight. Also, the fuel is stored in the wings and behind the seat. Fuel cells, pumps and sensors are used to balance the fuel's weight to centralize the mass, just as we talk about in motocross. Fuel is also stored in a look-alike bomb tank underneath the aircraft.
"EVERYONE WAS GIVING ME DIFFERENT ADVICE ON WHAT I SHOULD EAT ON THE MORNING OF MY FLIGHT, AND JODY, WHO FLIES AEROBATIC PLANES, ASSURED ME THAT I WOULD THROW UP IN THE F-16."
The standard tactical air speed for the F-16 is 450 miles per hour. The F-16 has the capability to go Mach 2.01 (1540 mph), but it's not good for fuel mileage. Randy explained that fighter pilots go Supersonic when they need to put extra energy behind a long-range missile. Like Supercross and motocross racers, the 187th Fighter Wing is always training and preparing for the next battle. The pilots train year-round, running simulation drills to keep their skills sharp. They practice air-to-air combat, opposing other fighter jets, and air-to-ground operations where they either bomb a target or protect an asset from other jets. There are two types of air-to-air fighting: BVR (beyond visual range) and visual range dog fighting. The crew at Dannelly practices 70 percent beyond visual range combat and 30 percent visual dogfighting in their drills. I was surprised to learn that the United States hasn't been involved in real-world visual range combat with enemies since Desert Storm in 1990. We asked about the challenges of dogfighting, which is one of the most difficult aspects of being a fighter pilot, but Randy says that it doesn't happened very often in combat and that's a good thing. Our enemies turn around when they see our fighters on the radar. Nowadays, the air-to-air combat stays further away using "smart" missiles. Air-to-ground missions are more frequent for dropping bombs on targets and protecting assets.
Before it was time to burn jet fuel, we burned pre-mix out on the Effersons' tracks. Here is Josh Mosiman (71), Ethan Efferson (477), Randy Efferson (852) and Dillon Luttrell (138).
Everyone was giving me different advice on what I should eat on the morning of my flight, and Jody, who flies aerobatic planes, assured me that I would throw up in the F-16. When I met my assigned pilot, Colonel Brian "Thud" Vaughn, he recommended I eat whatever is normal for me on race day. I didn't think I'd be able to find four eggs, three ounces of ground turkey, strawberries and my wife's homemade sourdough bread anywhere on flight day, so I went with a latte and bagel from the local coffee shop.
Tuesday was my day to get fitted for my flight suit, do a pre-flight physical, fly the simulator and learn how to eject in case of an emergency. The most talked-about topic during our tenure with the Air National Guard was the ejection seat. I really only had five real jobs while inside the cockpit. The first was not to pull the ejection device; second, not to talk on the radio while Brian was speaking to air traffic control; third, not to throw up until I switched my radio off (Brian didn't need to hear it); fourth, not to throw up anywhere except in the designated barf bag and, five, not to press any buttons unless authorized to.
While in Alabama, we spent one day riding and three days on base. The pilots at the 187th Fighter Wing even showed off for us during their training sessions.
On Wednesday morning, two hours before the flight, Brian Vaughn and I met to go over our "flight plan." He gave me the rundown on everything we'd be doing and answered all my questions. I learned more about the ejection seat; this time it wasn't as funny though. When Brian spoke about using it, it carried more weight. Brian explained that if anything happened and we were to eject, he'd let me know. He would pull it, and I'd automatically go first and then him. The only time when I would be allowed to pull it, and he was very specific about this, was if he were clearly unconscious and there was blood everywhere.
"Everything on the jet is explosive'" Trevor told me after I learned all about the ejection seat. For example, when ejecting from the F-16, explosives break the seat belt. They blow off the canopy, and a rocket under the seat base blows the seat out of the cockpit. The oxygen tank used in the jet is connected to the seat, so it goes with you. The seat knows if you've ejected at high altitude, and it gives you air through your mask to keep you breathing. Once lower, the seat will eject you from itself and your parachute will deploy. Also, in case the plane starts to catch fire or you have other issues while still on the ground and you need to eject, the rocket on the seat shoots you high enough that the parachute will have enough altitude to deploy so you can land safely. Of all the tech that goes into the seat, my favorite part is the gyro built into it that detects the angle at which you ejected and levels out the chair immediately before deploying the parachute. Even if the F-16 is upside down as you eject, the chair will right itself instantly midair and then deploy the parachute. It's incredible.
Here's some of our new friends from the Air National Guard and Army (and their kids) who race and ride in Alabama. This photo also gives a great perspective for how big the F-16 is.
The second-most popular topic of conversation was the G-loads I would be experiencing. I wasn't worried about the speed, the height, being claustrophobic or throwing up. I really only worried about the blood running out of my head under heavy G-forces and passing out. I didn't know what to expect with high levels of sustained G-forces, and I figured if I passed out that my flight would be cut short. I was taught to flex my legs and core muscles when under load and how to breathe as well so I wouldn't pass out from lack of oxygen to my brain. The breathing technique was to release air and breathe back in an instant. I had never done anything like it before, but I made sure to practice plenty of times before the flight.
I had no idea that there was a chance I might be flying the F-16 myself, but I heard one of the guys mention it when I was getting fitted for my flight gear on Tuesday. It was confirmed by Randy and Brian while I was flying the simulator. I was blown away! They both said that I did well during our virtual practice landings, so that helped my confidence for the real thing. We also were able to walk out onto the runway as the jets were taking off for their training sessions. Thanks to the General's request, each jet did an unrestricted takeoff. They would take off, fly to the end of the runway, go vertical and blast straight up to 10,000 feet. It was amazing to witness.
All week I was asked if I'd get a vertical takeoff for my flight. The answer was yes, and I was very excited! All I could think about was that I'd be sitting on top of a rocket going straight up. At that point, it's not even flying is it? You're not using the wings to get lift off the ground, you are using the sheer power of the after-burning turbo fan engine, which has the capability to produce 27,000 pounds of thrust, to launch you straight into the sky.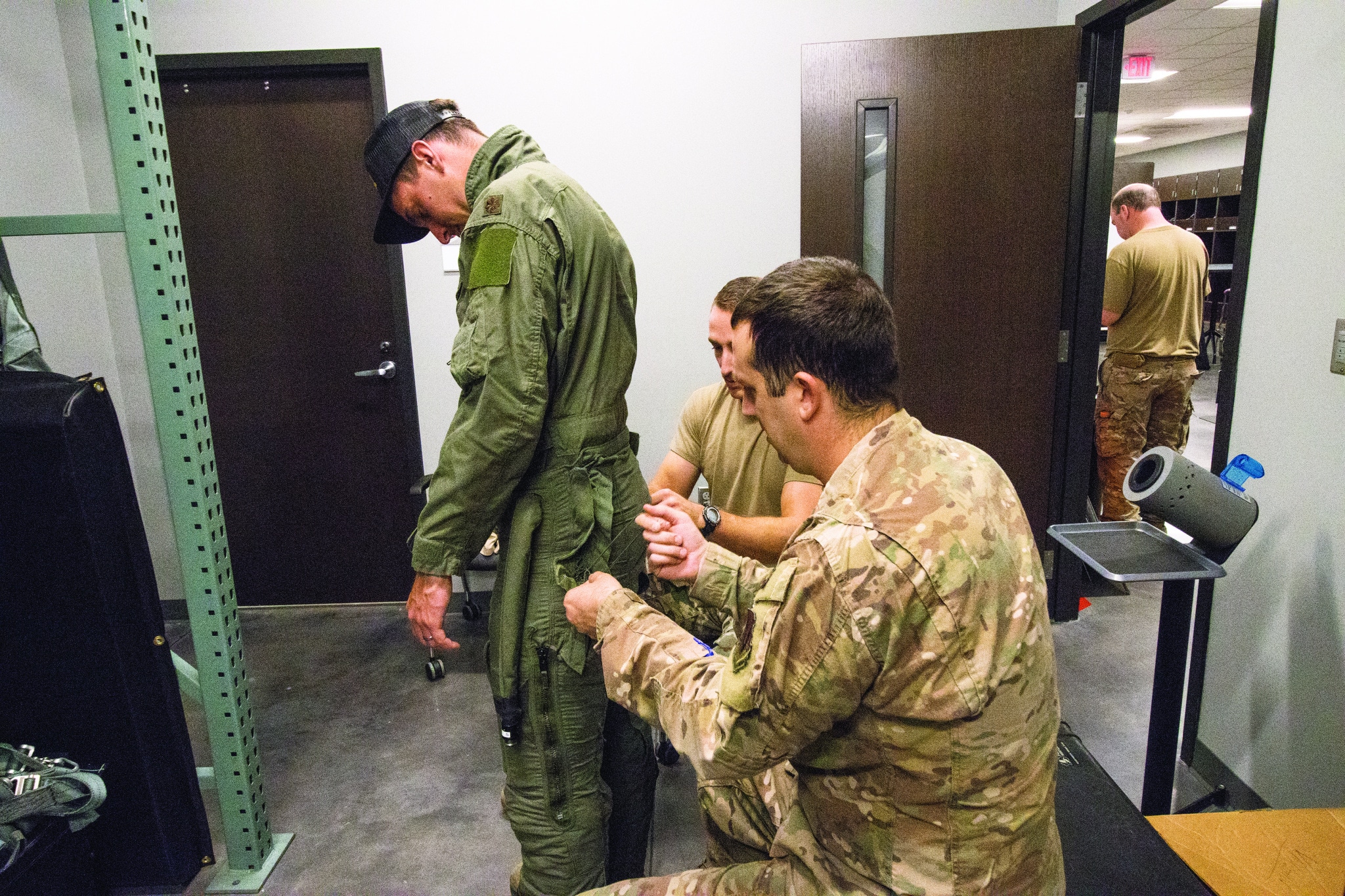 Getting the flight suit fitted correctly is more important than you might think. Its job is to help you stay awake under heavy G-forces.
The time finally came to fly and, as we blasted down the runway, everything started to feel real for me. Everything was calm seconds before, then we were picking up speed and in the air before I knew it. We continued to fly about 100 feet off the ground until the end of the runway. We got there quickly. Brian "Thud" Vaughn went full throttle and pulled up. The G-forces were intense, and my heart rate spiked as we went vertical. I was instructed beforehand to look out the canopy and "watch the earth peel away" as we climbed to 10,000 feet. Brian was adamant that I didn't miss this moment by staring straight into the clouds. I could feel my lips suck back on my face as the G-forces hit and my G-suit squeezed my legs and stomach. We hit about 5Gs on the initial pull-up, but once we were vertical, I was able to look over and watch the green Alabama countryside shrink beneath me.
"ALL I COULD THINK ABOUT WAS THAT I'D BE SITTING ON TOP OF A ROCKET GOING STRAIGHT UP. AT THAT POINT, IT'S NOT EVEN FLYING IS IT? YOU'RE NOT USING THE WINGS TO GET LIFT OFF THE  ROUND, YOU ARE USING THE SHEER POWER OF THE AFTER-BURNING TURBO FAN ENGINE."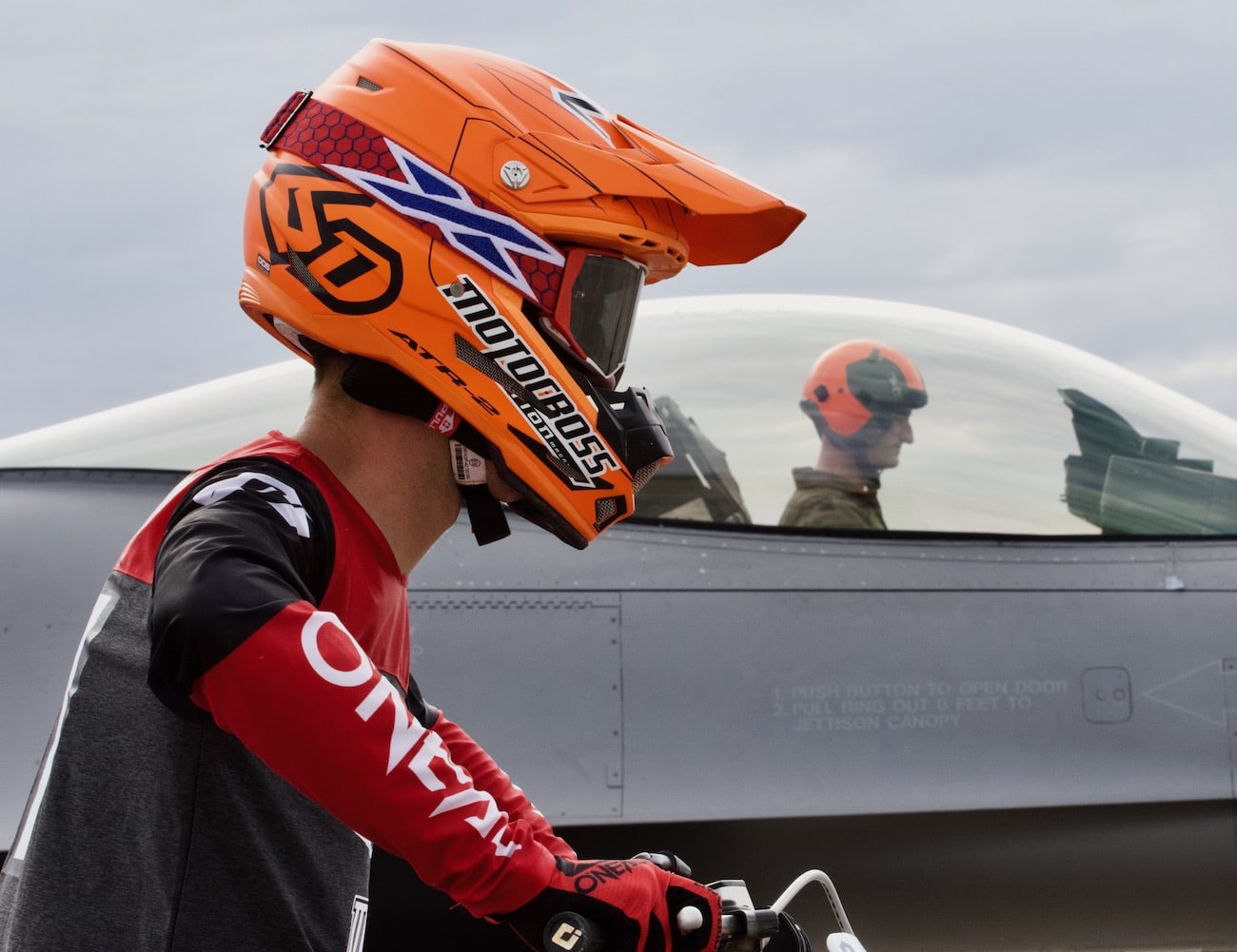 Once we flattened out at 10,000 feet, I was able to catch my breath and relax as we commuted to a nearby airspace where we could play. Brian started with simple turns, but I wasn't completely comfortable. My G-suit would startle me. It squeezed you like a blood pressure cuff once you hit 2G and continued to increase in pressure until it topped out at 4G. The suit made me think the G-loads were worse, but eventually I realized I was fine. Brian upped the intensity, taking tighter corners, which upped the G-forces. I was having fun but struggling at the same time. It was nice that I could monitor the G-load we were hitting, along with our speed, altitude, fuel levels and other stats on the display in front of me. Brian talked me through the whole flight. Next, we went for some loops and rolls. The rolls were easy and fun, but the loops created some gnarly G-forces. My mindset was that of being midway through a race when you're tired but you can't give up.
The G-forces were beating me up, and there were multiple times when I struggled to breathe. Instead of letting out short bursts of air, I let out all of my air as I was being crushed into my seat. Brian coached me to hold for three-seconds in between breaths. It wasn't a huge deal if I didn't breathe correctly while under 4 or 5Gs for 15 seconds. But once we started hitting more Gs for closer to 30 seconds, the short pressure release breathing was more important.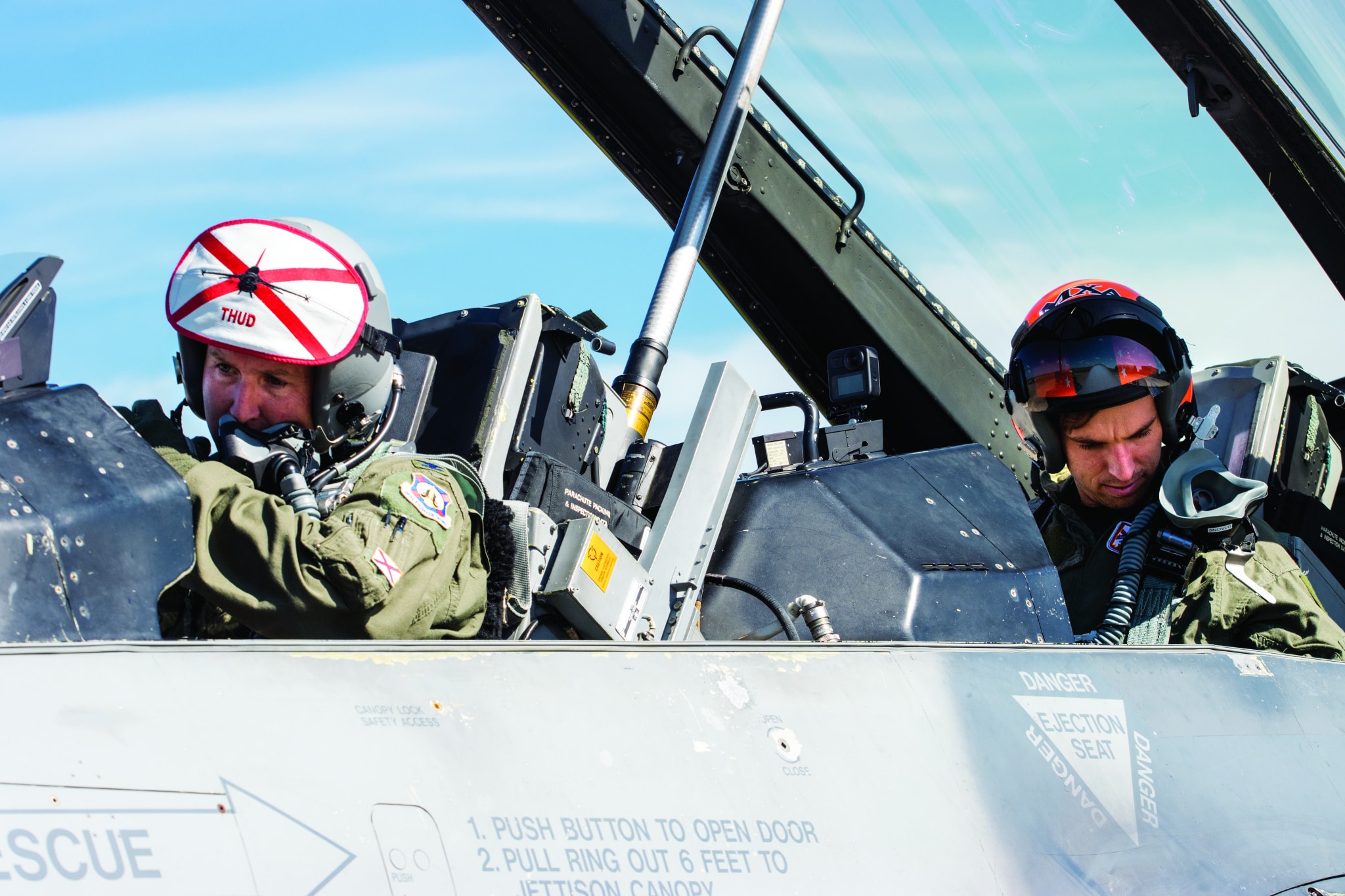 Brian "Thud" Vaughn going over his pre-flight checklist while Josh admires the buttons he can't touch and makes sure his seat belt is tight.
Before it was my turn to fly the F-16, we met up with two other F-16s to fly in formation. I gained new respect for formation flying. One of the pilots gave me a thumbs up when he was close, but once their wings were within 3 feet of ours, they weren't playing anymore. Brian flew steady and made some banked turns, while the other pilots had their eyes locked on our wings, following our every move. The other aspect you don't see from the ground is how much the planes oscillate midair. These guys were steady, don't get me wrong, but they definitely were bobbing around more than I expected as they kept their eyes glued on our wing.
We led the three-man formation for a while and then one of the jets flew directly over us as we shifted to flying off on his wing. At this point, it felt like I was in Star Wars seeing another plane right above ours as we shuffled back. It was sensory overload, and I started to feel sick. I was hot, sweaty and lucky to have a barf bag strapped to my leg. It was weird. We just got done flying formation and we hadn't pulled any big Gs during that time, but I wasn't feeling well. I turned off the intercom as instructed earlier, but I'm sure Brian still heard me "getting sick" in the seat behind him. Brian let me rest for a few minutes and pretty quickly it was my turn to fly!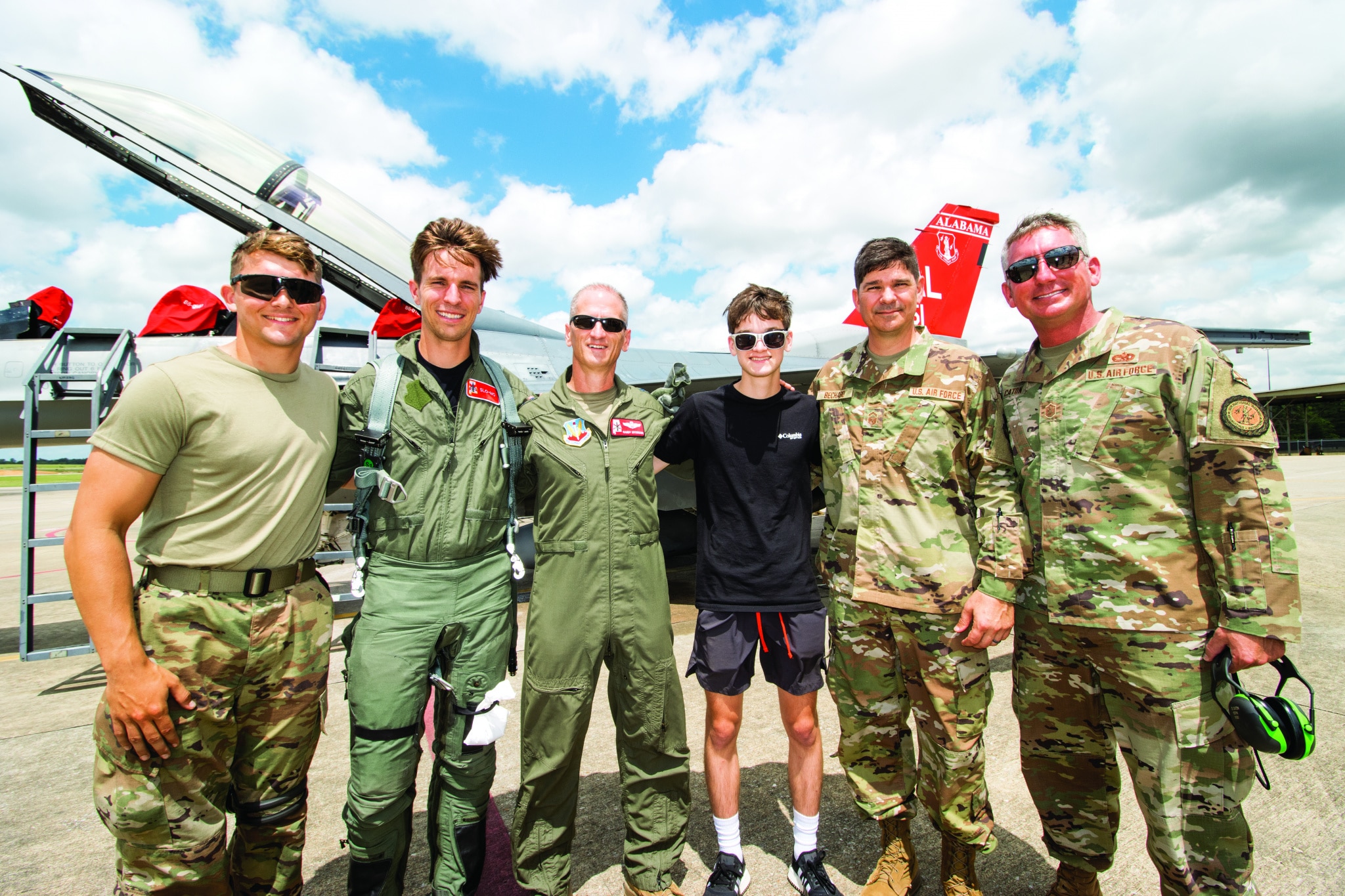 Josh was worn out after the flight, and his vomit bag is still on his leg. From left to right: Dillon Luttrell (Crew Chief), Josh Mosiman (MXA), Randy Efferson (Major General), Ethan Efferson (son/racer), Mike Bechard (Senior Master Sergeant), David Caton (Senior Master Sergeant).
Randy had warned me not to be timid and to take advantage of my time flying. I felt comfortable knowing the capabilities of the plane and Brian's history and experience. And, I had lots and lots of experience from being in the simulator the day before. Brian Vaughn has been in the military for almost 25 years. He's the Vice Commander for the 187th Fighter Wing. He's received multiple major awards and decorations and has flown in seven combat deployments overseas. Brian announced that the plane was mine and I stated back to him, "I have the aircraft," as I was instructed. I started small and then worked my way up to some cool corners, hitting light G-forces before working my way up to 4G. It was gnarly trying to control the plane while being crushed into my seat. He told me to try a roll and I did great! It was a blast.
Thanks to Kordel Caro, Josh had an orange MXA Air Force helmet to fly in.
Then, while going about 400 knots (460 mph). I tried to do another roll, but I wanted to be a little fancier. I rolled inverted, but I saw our nose track downwards and instead of continuing to roll to the right, I pushed forward to try to retain our original altitude. For a split second, we hung upside down, and I knew it wasn't right. Brian took over the controls and instantly flipped us over. He laughed about it and later explained that losing altitude is normal on rolls. I was putting stress on the wings the opposite direction and he said that if he let me keep going, I could have overstressed the plane. My flying was over after that, but I was plenty satisfied. I had pulled some solid G-forces myself, did a roll and made a mistake that got both of our heart rates going. I knew Randy would be proud, because I definitely wasn't timid. Soon after my time at the controls, I got sick for the second time. We took another 5-minute breather and then we were back to it.
"IT FELT LIKE I WAS IN STAR WARS SEEING ANOTHER PLANE RIGHT ABOVE OURS AS WE SHUFFLED BACK. IT WAS SENSORY OVERLOAD, AND I STARTED TO FEEL SICK. I WAS HOT, SWEATY AND LUCKY TO HAVE A BARF BAG STRAPPED TO MY LEG."
Towards the end of our hour-long flight, Brian Vaughn ramped it up. My favorite part was flying down to 1000 feet and doing a second vertical climb up to 10,000 feet. But this time it was even cooler because as we crested the top, Brian pointed us straight back down to earth and we were practically free-falling. This was by far my favorite part of the flight. Next, Brian gave me the heads up that he was going to finish us off strong. I began squeezing and we went into a right-hand banked corner. Up to this point, I had hit 6G, but in this corner we worked up to 8G which meant I weighed 1360 pounds and sustained it for what felt like a minute. The best way to describe it would be my dad lying on me when I was a little kid (or me sitting on my little brother). I was being crushed! My dad did it in a fun way and I was fine; in the F-16, I had an invisible force smushing me into my seat.
We hit 8Gs a total of three times, all consecutively without much recovery time. If I had passed out during any one of these final turns, I wouldn't have been surprised. It was brutal, but I kept enough blood and oxygen in my brain to stay conscious and finish out the ride. At this point, I was smoked. It was a blast, and I had total confidence that Brian would've let up on me if I wanted him to finish the ride earlier or easier, but I couldn't do that. I wanted to have the full experience, even if it was painful.>
The "unrestricted takeoff" was the only stunt our crew could watch from base. The plane pulls between 5 and 6Gs and goes completely vertical while flying straight up to 10,000 feet. At this point, it's not really flying, more like riding a rocket.
When I deplaned, I was met by Trevor and a group of my new friends that we had spent the week with. It was great to share the moments right after the flight with Randy, his wife Melodie, Ethan, David, Brian, Hayden and even Dillon who rode with us on Sunday and was the Crew Chief for our plane that day. My neck and chest were sore, and I was extremely tired for days after as well. As fun as it was to experience the once-in-a-lifetime opportunity of flying in an F-16 fighter jet, I am even more thankful for the time we were able to spend on base, meeting the men and women who work to protect our country and defend our freedoms day in and day out.
My grandpa wasn't a fan of my brother and I racing motocross. It was tough, since my family has been going racing for as long as I can remember; however, he loved writing and was very proud when I got the job at MXA. If he were around today to hear me talk about this experience, I know he'd be proud, but he also would be prodding me to sign up for the Air Force even more than before.