THE MXA INTERVIEW: MICHAEL MOSIMAN IS MAKING MOVES
Michael Mosiman was all smiles after grabbing the holeshot and leading for six laps in Denver.
Firstly, Rockstar Husqvarna's Michael Mosiman is in an interesting character. He has been one of the most outgoing, open, and insightful riders I have met in a while. Secondly, if you have been keeping track of the 250 West Coast Supercross Championship he has been steadily improving. In particular his leading the 250 Main Event in Denver was very impressive. In what was his first time leading a Supercross main, he didn't quickly crumble when championship contenders Adam Cianciarulo and Dylan Ferrandis caught him. Mosiman fought them off with ferocity until eventually they came by. Currently Michael Mosiman is listed 7th in the West Coast 250 Championship, however he is actually tied for fifth with Jimmy Decotis and Cameron McAdoo. All three have 128 points each, and Mosiman wants the position.
BY JIM KIMBALL
MICHAEL TALK ABOUT LEADING THE MAIN IN DENVER, THAT WAS AWESOME TO SEE SOMEONE NEW UP FRONT. I got off to a good start. I have worked on my starts for a little bit now, and I feel like I really have some confidence in my starting abilities. So, I was able to nail one, and be out there. It felt good to lead laps. I felt really relaxed, and to have A.C. pressure me like he was, was definitely a cool experience. It was challenging, but I stayed calm, and through it all it was really nice. I was able to really relish in the moment, like "God this is good."  Man, I thought I could take off with the way the track was being so simple, so I thought that I could really just pull one out of the hat tonight. But then a few mistakes. I don't know if I lost steam energy wise, but just the focus was really tough to hold on too, and to push for that long of a race.
Michael's smooth style worked out well for him on the slick and hard packed Denver track.
YOU KNOW, A LOT OF PEOPLE HAVE KIND OF BEEN SAYING HOW YOU HAVE BEEN IMPROVING AND IT HAS BEEN NOTICED WEEK AFTER WEEK. THIS WAS ANOTHER BIG STEP. For sure, I have heard that as well. I have been improving, and the team has believed that this has been me all year round, and even pre-season.  Like that is the guy that I knew I was at the beginning of the season. I was riding really, really well. I had a little bit of an ankle injury before the season started that initially set me back, and I think it has mostly been a confidence battle all year long. I did not think that my ability had gone or faded or anything, but just to be able to ride during the week, and to build confidence in that was what I needed. Then starts are huge, but yes, for sure steady progress is what the team wants to see. And it is what I want to see. Obviously, I would have loved to hit the podium tonight, and made a little bit bigger jump, but with a 5th and after a crash or two, I will take it.
The 19-year old is climbing the ladder in Supercross. He is currently in a three-way tie for 5th place in the 250 West Coast point standings.
YOU ALSO GOT INTO ANOTHER HARD BATTLE WITH DYLAN FERRANDIS! Yes, Ferrandis was on it too. But I just stayed to calm and tried to stick with those guys. I don't think that their pace is out of my reach. I think now with that confidence it is like "alright, I can do this." I had that feeling the whole heat race too. Adam, he got up front, but with Ferrandis, I was on him the whole time, and that was even a small confidence builder. It has just been the small steps for a while now.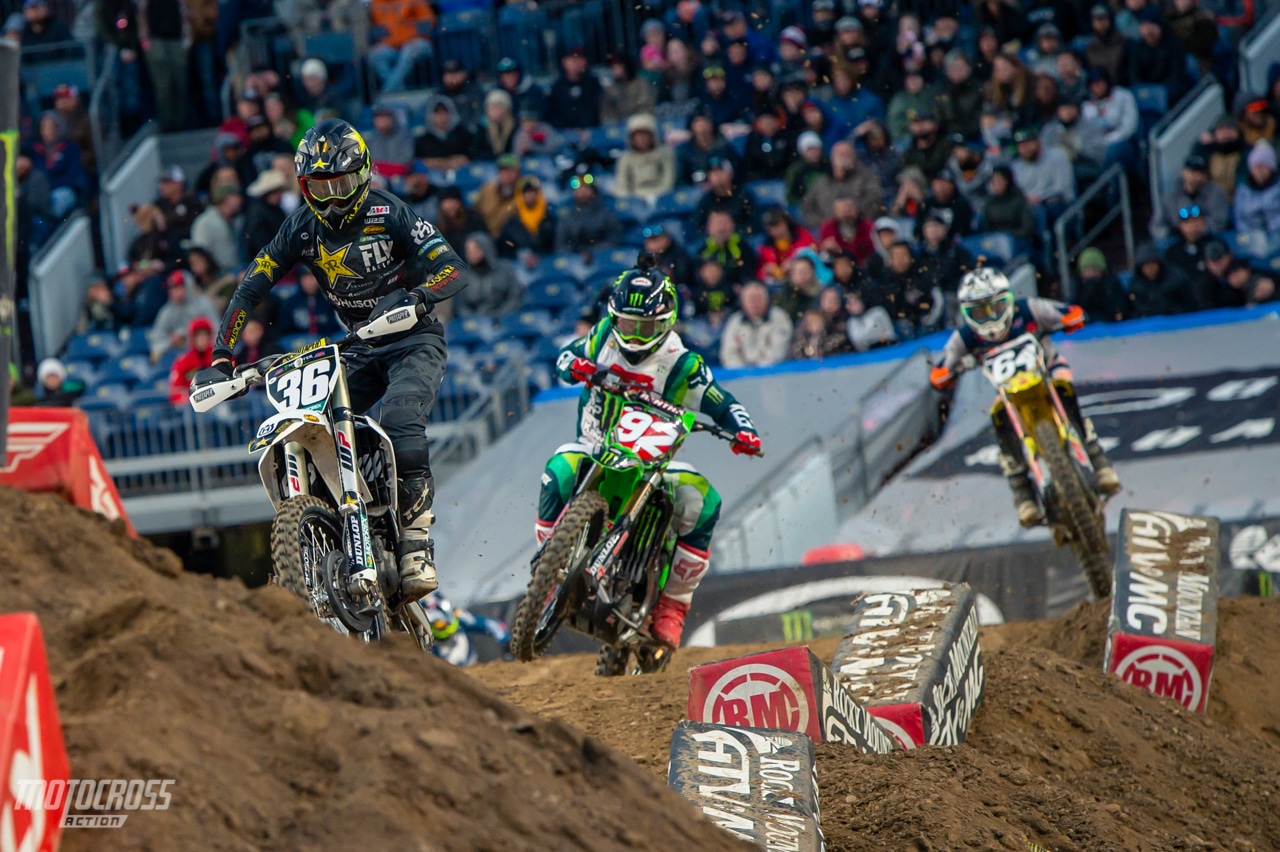 Michael leads Adam Cianciarulo and Jimmy Decotis early in the Denver Supercross 250 Main Event.
SUPERCROSS IS ABOUT OVER, BUT THIS IS A GOOD WAY TO END THINGS. Oh, it is not done yet. I am in a three-way tie for 5th place in points. I have to show up in Vegas and ride like I know how to, so that is the goal. But to your point, the other thing that is nice that honestly, and I have thought about this, is that there is a certain respect thing that you get after some time with good rides; that you don't get as a rookie. When coming up through the ranks, now that I have showed that I have what it takes, leading into outdoors, it is a cool thing. Just like to have that respect like "he is a peer, you know, like this guy has what it takes, he is going fast." A lot of times, I feel like those riders get behind me and they are thinking "oh he is Mosiman, an easy one", but hopefully that will begin to change, like "oh shoot, I got Mosiman in front of me, he has some speed."
Michael's Rockstar Husqvarna up close.
YOU ENDED DENVER IN FIFTH. BUT I THOUGHT YOU HAD FOURTH LOCKED UP – WHAT HAPPENED? I crashed with two laps to go. I was frustrated as heck and I just hit a rock in the corner. I really feel like it was almost nothing of what I did, but obviously I am going to say that now (laughing). But we will check the films and see if I am right. So yes, I just hit a rock and boom, I was on the ground. I got up really quickly, and I got ahead of Rj Hampshire. He was right on me with one lap to go. But there were two lappers in the whoops, and they were battling together for a position, and I jumped right into that. It was just a mess and he went inside and passed me right there with two turns to go. But it was definitely a battle.
For those who didn't know already, Michael is the younger brother of MXA's Assistant Editor, Josh Mosiman.
OVERALL, WHAT DO YOU TAKE AWAY FROM DENVER? It was somewhat a frustrating night, but ultimately, it was super double sided, you know. I made some big gains on the track and going forward it is going to help me.