THE MXA INTERVIEW: STEVE LAMSON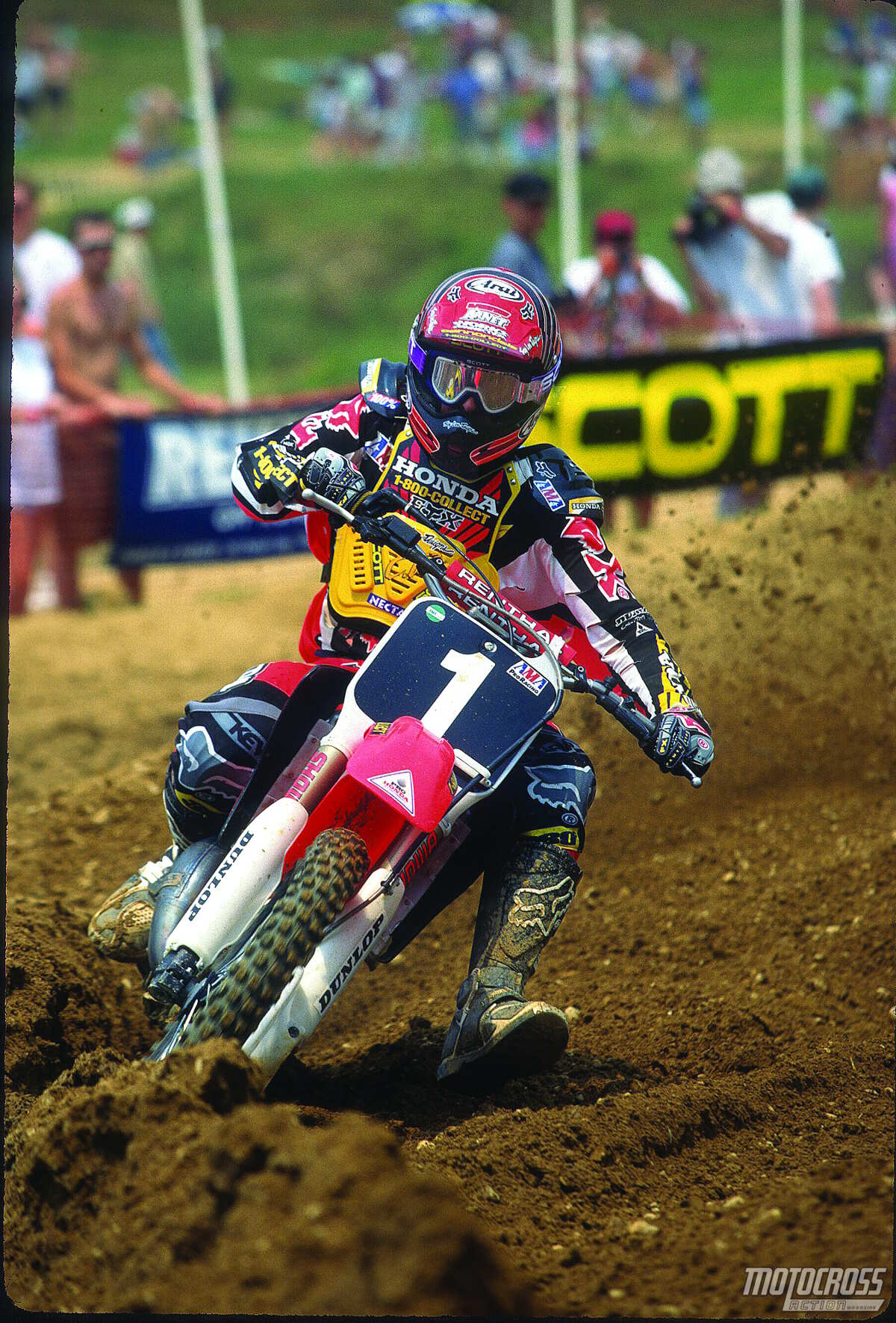 EVERYONE REMEMBERS YOUR TWO AMA 125 NATIONAL TITLES, BUT YOU FIRST MADE YOUR MARK IN THE 500 CLASS. Actually, it was a Yamaha YZ360 that I rode in the 500 class. That's what the factory Yamaha guys were racing on way back in 1989. I had just finished racing at Loretta Lynn's, so I decided to race the last couple Nationals in the 500 class. The next year I signed with Team Peak Pro Circuit to race the 125. I moved to factory Suzuki in 1992, and then to factory Honda in 1993 through 1998. That's where I had my greatest success.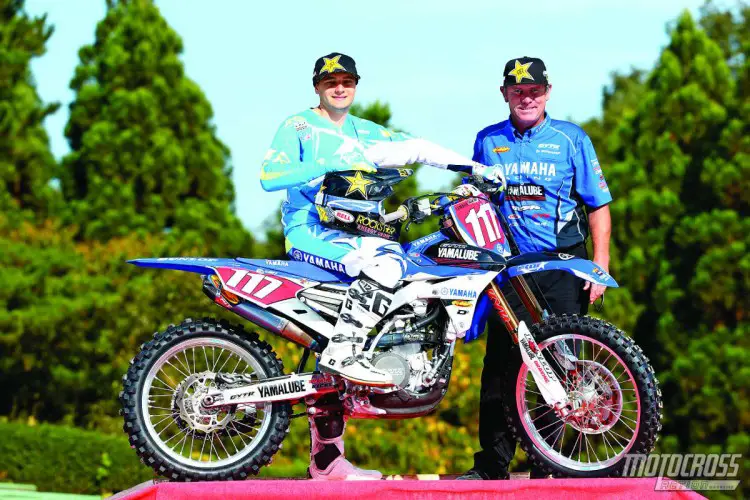 YOU REALLY SEEMED TO CLICK ON THE FACTORY HONDA CR125, ALTHOUGH YOU HAD TO OVERCOME A MAJOR POINTS DEFICIT TO WIN YOUR FIRST OUTDOOR TITLE. I failed to finish a moto at the first outdoor round in Gainesville, and then I got injured at the next Supercross race [note: back when the Gainesville, Florida, National was held in the middle of the Supercross series]. I missed one or two of the next Nationals and was about 60 points down; however, I eventually caught up in the points chase at the very last round and won the title. Then, in 1996, I won my second 125 National Championship.
WHAT WAS IT LIKE RACING AT THE 1996 MOTOCROSS DES NATIONS IN SPAIN? TEAM USA DOMINATED THAT DAY. That was a very interesting race. It was really good for me, because I was coming off of winning the 125 National Championship. I had a lot of confidence and momentum going into that race. I won the combined 125/500 moto, which was a big deal. I started out in about fifth or sixth place and worked my way through to the lead. The last guy I passed was Jeff Emig on his Kawasaki KX500. The jumps were pretty big, and there was a giant quad coming down a hill. Most of the European guys were afraid to even look at it, but I was doing heel clickers off of it. That was definitely one of my best memories from my racing career!
FOR MOST OF YOUR CAREER YOU WERE TEAMMATES WITH JEREMY McGRATH. DID YOU EVER FEEL OVERSHADOWED BY HIM? It was fine. I knew that he was on another level in Supercross, because he was so naturally talented. Everyone seems to have his weak points and strong points. My strength was outdoors, where Jeremy kind of struggled, but he was excellent at Supercross, where I struggled.
THE FIRST-GENERATION ALUMINUM-FRAMED HONDA CR250 WASN'T THAT GOOD, WAS IT? We tested that bike in the preproduction stage almost a year before it came out. Jeremy McGrath rode the aluminum-framed CR250 and said that it was great. I thought it was great, too. When the actual production bike came over, it wasn't even close to being the same bike. It was way too rigid!
THE 1997 SUPERCROSS OPENER PROVIDED CONTROVERSY, WITH YOU AND FORMER TEAMMATE JEREMY MCGRATH GETTING INTO IT. WHAT WAS THE REAL STORY? Everything got so blown out of proportion because Jeremy [McGrath] left factory Honda at the last minute before the 1997 season. There were all these rumors circulating after the opening Supercross round at the Los Angeles Coliseum that Honda paid me to take out Jeremy. People thought that I tried to initially take him out in the first turn, but it was a couple of corners later when we crashed together. We got up dead last and started going. He was screaming at me, using a lot of bad language [laughter]. Then he jumped close to me and almost hit my head. It was really pretty bad, and the whole ordeal caused a lot of controversy. We eventually talked and worked it out, and later in our careers we were teamed up at the Mazda Chaparral Yamaha team.
YOU NEVER SEEMED AT EASE ON THE MAZDA CHAPARRAL YAMAHA. That's true. I don't know if I just didn't blend with the bike or what it was. Jeremy did great, and he was on a full factory Yamaha race bike while I was on a production bike. Things just didn't work out for me that season. It was a tough time in my career.
HOWEVER, THE FOLLOWING YEAR YOU RETURNED TO THE HONDA CR125. THE 2000 125 NATIONALS STARTED OFF WELL FOR YOU. PLEASE TALK ABOUT THAT EXPERIENCE. I took a third at the Glen Helen opener in the 125 class and then won the overall at Hangtown. I actually held the points lead for a while. I put my own deal together that year. I hired a mechanic and bought a fun-mover. Honda was supporting me with bikes and good equipment. I really just threw that deal together at the last minute. I had gotten injured the year before and lost my ride. I was even considering retirement, but I kept on going. I was glad that I did. I grew up in northern California, and Hangtown was always a very special race for me.
WHY DIDN'T YOU FIND AS MUCH SUCCESS IN THE 250 CLASS AS YOU DID ON A 125? I had a couple of good 250 races, but I never felt as good as I did on the smaller bike. I absolutely loved that Honda CR125. Winning the Hangtown National in 2000 opened up some doors for me. I signed a two-year deal to race for the Husqvarna team. It just wasn't the same, though. I was paid well and wanted to do well for the team, but it just wasn't the same.
WHAT WAS IT LIKE TRANSITIONING TO A TEAM MANAGER ROLE? The switch came in 2007 with the MDK Honda team with David Vuillemin and Nick Wey. By that time in their careers they were already established and set in their ways. I was pretty nervous at first, because when I came into that position, my management skills were pretty fresh. Fortunately, I was able to adapt to the team pretty quickly.
YOU SEEMED TO HIT A GOLD MINE WITH JEREMY MARTIN AND COOPER WEBB ON THE STAR RACING TEAM. WHAT'S IT LIKE WORKING WITH THEM? Jeremy Martin and Cooper Webb were already very smart for riders being so young, and they respected what I brought to the table. They are both very self-motivated, and to be honest with you, they don't need to be told what to do. They both do their own thing and are 100 percent dedicated to their careers. I try to go to the track with them during the week to film them and offer suggestions, but I don't really treat them differently than I did David Vuillemin or Nick Wey back in the day. These kids are truly great to work with!
THE VIBE WE GET IS THAT JEREMY MARTIN AND COOPER WEBB AREN'T EXACTLY BEST FRIENDS. TRUE? It's a full-on competition with the two of them. I don't want to say that they hate each other, but I don't think they care for each other that much! You know, they get along okay, but I know they don't go to dinner during the week or hang out. I really think that the competition between the two of them is good, because it keeps them both pushing. They both want to beat the other one very badly. It could have been a little crazy if both of them were close in points going into the final National in Utah last year, but that didn't happen. Overall they are okay.
WHY DID JEREMY MARTIN STRUGGLE AT THE BEGINNING OF LAST YEAR'S SUPERCROSS SERIES? It's really difficult to pinpoint any one thing. Jeremy and his trainer stayed back at the Carmichael Farm all winter and did their own thing. Ryan Dungey was back there, too, but earlier he had come out to the West Coast to adapt to Supercross. Jeremy and his trainer are hardcore. They trained their butts off, but his program may have been lacking in the fact that he didn't have anyone to ride with. Normally, he would ride with Ryan Dungey, but at that time Dungey was out on the West Coast. He will admit that he probably should have been out West riding before Supercross started. We had talked about it, and he did come out to the West Coast to ride and train for Supercross at the end of the series. That's when he won the Las Vegas Supercross.
WHO WILL BE UNDER THE TEAM AWNING IN 2016? The riders here are paid well and they have good equipment. At some teams the pay may be good, but you have to question the equipment. You are always going to be looking, but we base a lot of our team on watching the kids coming out of the Amateurs. For example, we signed Aaron Plessinger right out of the amateurs. Martin and Webb will be with us again. The Yamaha YZ250F is a great bike. It's an excellent starting point.

YOU WERE ALWAYS SO GRACIOUS TO THE FANS. DO YOU THINK THAT RACERS UNDERSTAND THE IMPORTANCE OF TREATING FANS WELL? There are so many fans that come into the pits just to get a photo or autograph. Nowadays, there are so many racers that don't step foot outside of their semis. They won't even come out and sign autographs for 10 minutes. I think that it's ridiculous. I know you have to be focused, but I remember signing autographs while I was walking to the starting line. You have to take care of the fans. They're the reason we have jobs!