THE MXA INTERVIEW: TM RACING'S MAX NAGL
By Jim Kimball
Veteran Grand Prix rider Max Nagl was dropped from the Husqvarna Grand Prix team at the end of the 2017 season. The 27-year-old German didn't have a lot of choices as many teams were dropping out or cutting back for 2018. Max realized one month before the final GP that he needed to make some calls and he connected with TM, who hadn't race the 450 class in several years. They were interested in starting up their 450 GP program again and felt that Max fit their plans.
Now, two races into the 2018 Grand Prix season Max is working on developing the TM MX450FI and racing it at the same time. In Argentina he finished 13th, in Valkenswaaard 14th and in Spain 10th. He didn't expect much in the beginning and believes that things will get better once he gets the bike sorted out.
MAX, FIRST TALK ABOUT YOUR 2018 CONTRACT WITH TM. I started talking with TM near the end of August 2017. It was quite clear what they wanted to achieve, and they already had a good 250 program. But, they had not raced in the 450 GPs for four years, so they had not done any development on the bike or the engine. I will be the only team rider. I think it is a new challenge for me to develop the race bike from the prototype they have now. My interest is to help TM grow in Europe and Germany so they can sell more bikes and get more popular.
HOW HAS THE INTERACTION BEEN WITH TM? Before I signed the contract, I went to Italy to see the factory for myself. I was really interested in seeing how their factory worked and to hear their philosophy of how they build bikes. It was really nice to see and very interesting, because TM is completely a dirt bike factory. The bolts, sprockets and every little detail on the bike are built by TM. They do not buy very many parts from outside sources. There are many options available to set up the bike the way I want it. My 2018 race bike is going to be more like a prototype that can be easily changed. TM will build some different test bikes throughout the season, so I will have much to test. Maybe by mid-season we will have the perfect bike.
"YES, THAT IS TRUE. TM HAS SPECIALIZED IN TWO-STROKE ENGINES, AND THEY HAVE BEEN VERY STRONG, ESPECIALLY IN KARTING."
Max is the test rider on the TM MX450FI and he is the only TM rider on the MXGP circuit.
THOUGH THEIR PRODUCTION QUANTITY IS VERY SMALL, TMs ARE CONSIDERED GREAT RACE BIKES. Yes, that is true. TM has specialized in two-stroke engines, and they have been very strong, especially in karting. They are truly the leader in two-stroke development. They do make good four-stroke engines, but have never taken a World Motocross Championship. That is what they want. I know it is going to be difficult in the beginning, because when you start at zero, everything is new. Together, we need to learn, so I don't expect any podiums or even top fives in the beginning. We need to build up everything.
WILL YOU BE DOING ANY RACES OTHER THAN THE MXGP SERIES? Yes, I am going to do the complete German Championship. It will be seven races between the GP dates, so I'm going to be really busy next year. The German Motocross Championships have become the second biggest championship after the GPs. It is especially important to me, as I am German, and important for TM also.
GETTING BACK TO 2018 WITH TM, WHAT ARE YOUR EXPECTATIONS? There are not huge expectations at the beginning of the series. First of all, it is a new team. Second, it is a brand-new bike. Third, we have to test as much as possible in order to be ready. Fourth, there are many things to plan out and many trips to Italy before the racing begins. Fifth, I was on bigger teams with KTM, Honda and Husqvarna. With a smaller team, it is normal to have less money. Cost-wise, it is a bit more challenging. We will try to make it as good as possible and to get some good results. My contract is for 2018 with an option for 2019.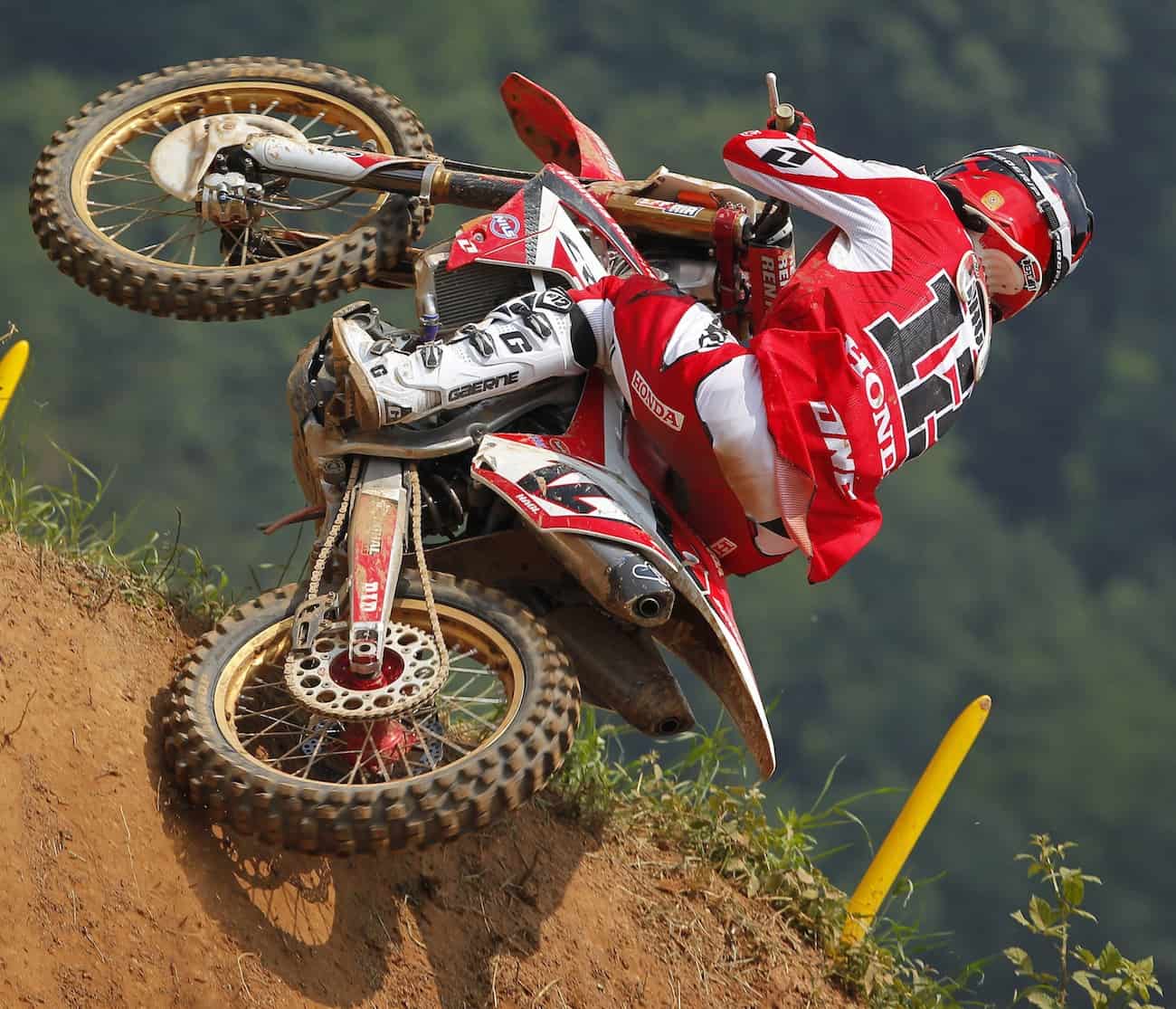 Max on the HRC CRF450.
YOU RACED FOR HRC HONDA BEFORE HUSQVARNA. HOW DOES THE TM COMPARE TO EITHER OF THEM? The Honda felt physically smaller than either bike, and the power was not as much as the Husqvarna. The Husqvarna had awesome power but felt very much different from the Honda. The Honda and TM have aluminum frames, while the Husqvarna has a steel frame. It is hard to compare the bikes, because you race with what you have and adjust accordingly. But, I can compare the teams. The TM team is quite a bit smaller than the Husqvarna or Honda teams, but that is actually the style that I prefer. You can work a bit easier and get quicker results. It is very important as a team that everything goes well. You need to feel comfortable and have a good relationship with the team.
YOU DIDN'T LEAVE HUSKY BECAUSE OF POOR PERFORMANCE; INSTEAD, THE TEAM DOWNSIZED FROM THREE TO TWO RIDERS. That is true. They had contracts for 2018 with Gautier Paulin and Max Anstie, and my contract was finished after 2017. So, when they decided to go with two MXGP riders for 2018, I was out. There was no place for me anymore. I don't think it was because of poor finishes. Okay, we did have some problems this year with my starts, but overall everything was fine. I was not their top-placed rider, but we had good results. I don't think they were unhappy with me.
CAN YOU TALK MORE ABOUT YOUR 2017 SEASON? In the beginning of the year, it was very difficult. Actually, I had a good winter of preparation, but we got a little lost in some ways. The team thought, and I thought, we had prepared really well for the GP season. Then, coming into the first races, we recognized that we were not prepared enough. Quite honestly, I was too slow at first. Then the season started, and it was difficult to change some things on the bike or change parts to get it better. It took quite some weeks to find out what the problem was. The biggest problem was with the metal grid on the starts. I thought we were ready for the 2017 season to start, but in the first two GPs in Indonesia and Argentina, I was never in the top 15 off the start. If you start 20th, then you can't finish in the top five in the race. It is too difficult to catch up.
"I KNOW IT IS GOING TO BE DIFFICULT IN THE BEGINNING, BECAUSE WHEN YOU START AT ZERO, EVERYTHING IS NEW."
THE 450 CLASS IS SO STACKED THAT IT'S VERY DIFFICULT TO RECOVER FROM A POOR START, ISN'T IT? Yeah, that is fast riders have changed incredibly in MXGP the last two years. I am always following the AMA Nationals in the U.S., too, and it seems to be the same there. You may see it happen differently occasionally, where a rider like Marvin Musquin has a bad start and he can come up through the pack and fight for a podium. But, if you crash in the first lap, it is almost impossible to finish even inside the top five, and you often need to still fight hard to get top 10. It is really tough these days. Not only can two or three riders win at the MXGP level, but also now it seems anyone in the top 10 is capable. It is very hard these days to win.
YOU WON YOUR FIRST GP IN 2008, AND YOUR MOST RECENT WIN WAS IN 2016; TO WHAT DO YOU ATTRIBUTE YOUR LONGEVITY? Motocross is really tough on the body and the mind, but somehow I found a way to keep myself motivated. Actually, if I look back through my career, I have achieved everything that you can, except for the actual MXGP title. I have a third place in the Championship, so a bronze medal for that. I also finished second place in the Championship, so I have the silver medal. In 2012 we won the Motocross des Nations Championship for Germany, so that is my gold medal. I have all the biggest prizes that you can win for GP Sportsman in Germany and Europe. Many of these prizes I have achieved more than once in my career. So, actually, there is nothing more to achieve, except the World Championship. But, the MXDN win was really, really special and truly unforgettable.
SPEAKING OF GERMANY, IS THERE ANOTHER KEN ROCZEN COMING UP? No, not at the moment. Honestly, I have not had any time to follow the younger riders, but I will in the future because that is my next plan. I want to help young German riders to grow up within the sport. When I stop riding GPs in two, three or four years, there will be no German riders competing in the World Championships. That is not good for our sport. I want to help German riders to get better and to start riding GPs successfully.

"I WENT THROUGH ALL THE ROUGH YEARS AND DIFFICULT TIMES WITH THE TRAVELING, FOOD AND DIFFERENT ASPECTS OF MOTOCROSS."
Max was a rising star at KTM, but younger rising stars come coming up.
WEREN'T YOU A "TEENAGE PRODIGIES" SIGNED BY KTM AT AGE 16? No, not at all; I started riding the GPs in 2003, and it was five years before I got the ride with Red Bull KTM. Before that, I never had anywhere near factory bikes or support. Those times were really tough, but I did learn a lot, which helped me throughout my career.
YOU HAVE A VERY ECONOMICAL STYLE OF RIDING THAT DOESN'T WASTE ENERGY. WHERE DID THAT COME FROM? I like a good balance in life, and racing motocross is about your lifestyle, your training, your diet and your health. It is many, many things coming together that makes you excel or, instead, makes you tired. I think that I am always moving, like a worker, and I am never just hanging out at home in the chair watching television. I am always busy. If I am not training, I am working on something else, maybe on the house and stuff like that. You need to be active, and that gives you energy.
AT 30 YEARS OLD, WHAT ARE YOUR RACING PLANS? I always follow the situation and my intuition. I will see how the future is in our sport and make any changes I need to. If the number of MXGP races continues to grow, then I need to rethink what I will do. But so far, I still want to race for another two or three years in MXGPs. After that, I will return to Germany and do the German Championship races and some international events. There are lots of good races in Europe other than the GPs.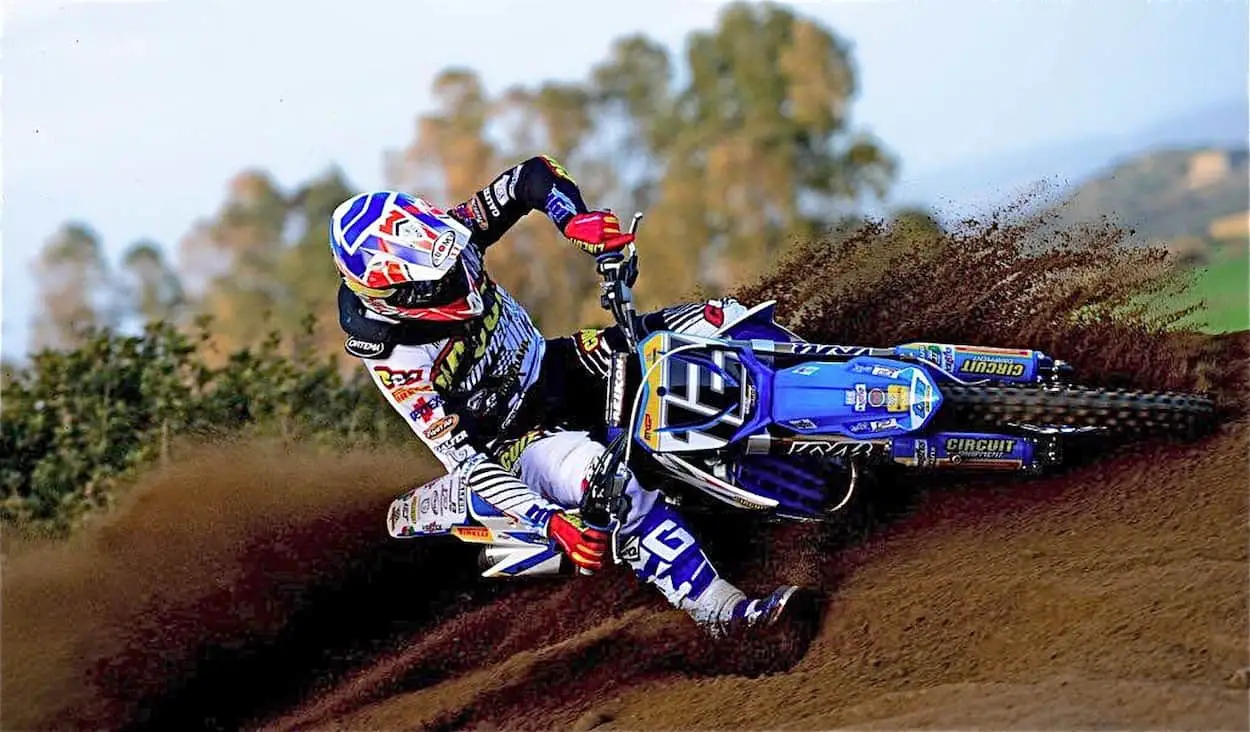 The Grand Prix circuit isn't as hectic as the AMA Supercross and National schedule, so he will have time to work on the bike with the engineers between races.
DO YOU BELIEVE THERE IS A FUTURE FOR YOU IN TEAM MANAGEMENT? Yes, I do, especially with so much experience in all the training styles I learned, and then all the varied riding that I did around the world. I went through all the rough years and difficult times with the traveling, food and different aspects of motocross. Motocross is not only training and riding; there are many other points that are really important if you want to be successful. I think I have learned all of these things. The day I stop racing, it would be nice to give all of this information to some other riders to help them. I don't want to keep it for myself; however, while I am racing, I will keep the secrets for myself.
WHY DID SO MANY GRAND PRIX TEAMS FOLD OR DOWNSIZE FOR 2018? I don't want to speak too much about it in detail, but the reason is money—pure money. There is no money anymore. The sponsors are reducing how much they want to pay. There is just no money for the teams and the cost of doing the ever-expanding number of GPs. Plus, the flyaway races are expensive and don't have spectators or sell motorcycles. When you add in the entry costs, you end up with a sport that is downsizing for financial reasons. I would like to leave it at that.