THE MXA INTERVIEW: TRAVIS PASTRANA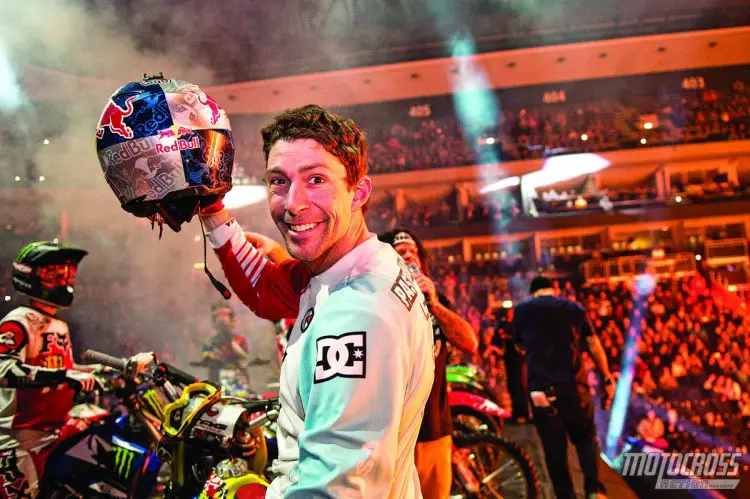 WHAT'S THE SIGNIFICANCE OF THE NITRO CIRCUS LIVE TOUR?
It's one heck of a show! We had a lot of success immediately when we began the Nitro Circus Live shows, and we also had a lot of fun doing it. We started out in Australia and then went to New Zealand, where the show got even bigger. We stayed away from the U.S. at first because, although there have been tours trying to break into the American market, nothing has been a big hit over here. We also have an expensive show to produce. There's the "Giganta Ramp," which is a small version of the X Games Big Air ramp. It takes a lot to set up and tear down. We also have loops and other contraptions.
HOW MANY PERFORMERS DO YOU EMPLOY?
There are 55 athletes on tour. When we brought the show to the U.S. last year, we were pleased to see that the show crushed it. Things went very well. Although the new shows will be all over the map, it'll be good to be closer to home, especially with having two kids by then.
WHAT ABOUT NITRO CIRCUS LIVE WOULD INTEREST DIEHARD MOTOCROSS RACERS?
Even from the first Nitro Circus DVD that we came out with, people said that it wasn't a moto film. We never said that it was. Everyone who is in motocross or grew up riding dirt bikes—it seems like everyone pulled something behind his dirt bike at some point. Well, Nitro Circus took all of these horrible ideas from rednecks over the past 200 years and put them into a two-hour show [laughter]. And, believe it or not, a lot of stuff goes wrong every single night. We have a really durable and awesome group of people. You'll see the best tricks that are done at X Games done in warm-up for the Nitro Circus Live shows. We're able to change the ramps and put pads in place so that the landings aren't as rough. People knock us because the landing isn't dirt, but guys are still trying crazy things and getting banged up. We are doing things in the safest way possible. A diehard motocross guy should know that there isn't any racing, but there's competition. The athletes step up their games and up the ante every night. It's cool to watch. This isn't a scripted show.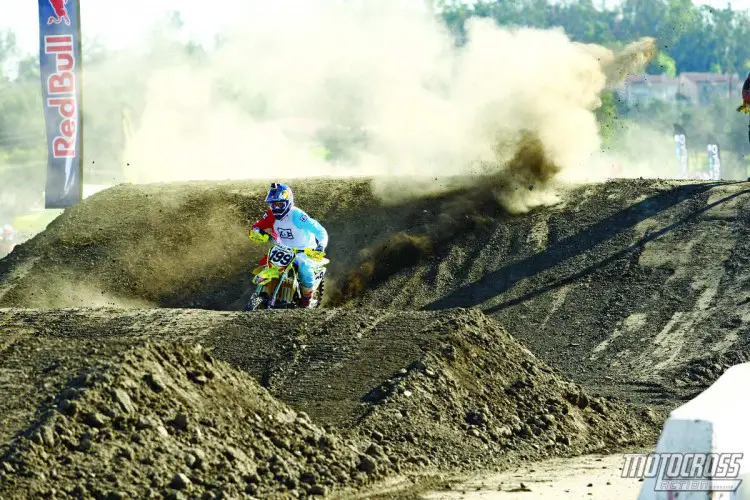 TALK ABOUT SOME OF THE FEATS THAT HAVE BEEN ACCOMPLISHED AT NITRO CIRCUS LIVE.
We had the first double backflip Kiss of Death on a mountain bike. Someone did the first front flip 720 on a scooter. You name it; if it has been done anywhere in the world, then it has probably been done first at our show. We actually have ramps that help our guys do front flips. We also pull people out of the crowd and have them do backflips on a motorcycle with some of our riders. In the past, we attempted a four-person backflip on one dirt bike! It's stupid, but if people are willing to sign up and try it, then more power to them.
"THERE WAS NO DOUBT IN MY MIND WHEN I WAS A LITTLE KID THAT I WOULD BE WINNING TITLES INDOORS AND OUTDOORS IN THE BIG BIKE CLASS. UNFORTUNATELY, I GOT HURT A LOT. I DIDN'T THINK ABOUT THE CHAMPIONSHIP, BUT INSTEAD I ALWAYS WENT FOR THE WIN."
DID YOU EVER IMAGINE THAT YOU WOULD BE WHERE YOU ARE NOW?
No. I always thought I would end up racing motorcycles my whole life. My life is similar to where I thought I would be, though. I always hoped that I would be like Guy Cooper. When I went to Cooperland [Guy Cooper's ranch], I wanted my house to look like his with all of the cool things that he has. I've managed to accomplish that, and people in the industry call my place Pastranaland. I always thought that I would be a Supercross champion. There was no doubt in my mind when I was a little kid that I would be winning titles indoors and outdoors in the big bike class. Unfortunately, I got hurt a lot. I didn't think about the championship, but instead I always went for the win. When I was racing, I learned that my passion was going for it and entertaining people.
IS YOUR GAME PLAN IN LIFE TO JUST GO FOR IT?
Everything is a lot more calculated than it seems, but I would say that without a doubt I go for it. That's why I have been able to make a living doing things that I dreamed about as a kid. Not only have I driven a monster truck, but I've raced Rally cars and NASCAR. People have knocked me for not doing well in NASCAR, but you know what? I qualified on the pole for Talladega. Heck, Ricky Bobby doesn't have squat on me! It has been a fun life, and it's because of the entertainment factor. Whether I'm first or last, I still go for it.
YOU TALK ABOUT BEING CALCULATED, BUT DOING A BACKFLIP OVER THE FINISH LINE AT THE RED BULL STRAIGHT RHYTHM RACE WHEN YOU WON YOUR HEAT DIDN'T SEEM PLANNED.
[Laughter] I was about halfway through the whoops leading to the finish line when I realized that I was going to win the heat race. That's when it clicked that I should do a backflip, but I was in fourth gear pinned on a 500cc two-stroke. I was supposed to do the flip in second gear but was going too fast. I only managed to shift down to third gear before hitting the finish. I over-jumped the landing and barely rode it out. The whole Red Bull Straight Rhythm event was a blast. Granted, I didn't walk right for about three weeks after the race because of my sore ankles and knees, but it was worth it.
"I WAS GOOD AT ASSESSING THE SITUATION, CALCULATING THE RISKS AND DECIDING IF IT WAS WORTH IT OR NOT. I WAS JUST CRAZY ENOUGH TO PUT THE CONSEQUENCES OUT OF MY MIND BUT JUST SMART ENOUGH TO STILL BE ALIVE AT THIS POINT IN MY LIFE [LAUGHTER]."
WOULD YOU HAVE WON TITLES IN THE 450 CLASS HAD YOU STUCK WITH RACING?
No, because if I should have won titles, then I would have. That's how I look at it. I had the speed, but I realized that I was decent at calculating risk and willing to take chances that most other people weren't. My best year of racing was my rookie season. I was 16 years old and ready to take on the world, but I broke my thumb at Jeremy McGrath's house going into the season. I raced the first couple of Supercross rounds with a cast, and then I cut the cast off before Daytona. I ended up winning Daytona and then broke my navicular at the Glen Helen National opener. It was back in the cast for me, and then I cut it off a few rounds later. I broke my foot at the X Games and finished the season out like that. It was the healthiest season of my career [laughter].
YOU WERE ALWAYS SO EXCITING TO WATCH ON A MOTORCYCLE. DO YOU THINK THAT RIDING FREESTYLE MOTOCROSS WAS A DISTRACTION DURING YOUR RACING CAREER?
In all honesty, I wasn't as good as people thought I was in racing. I was just able to make up time by taking chances. I would have loved to have been a Supercross champion, but I don't know if I was good enough. To answer your question, in 2003 I had a trainer, Todd Jacobs, and I did everything right. I ate well, slept right and didn't ride freestyle for the first half of the year. Guess what? I was the slowest that I had ever been. It reminds me of Kevin Windham. That guy would spend 90 percent of his time on a motorcycle just free riding at his house. Call it what you want, but he was able to do things that no one else could do because he wasn't grinding out laps. I was like him. I wasn't afraid to get a little out of shape when I raced. If my feet got ripped off the pegs and put me into a Superman, then I thought, "Sweet! This is great!"
DO YOU EVER WORRY ABOUT THE CONSEQUENCES?
That's something that separates a lot of great riders, especially after they suffer their first injury. A lot of guys get hurt and lose their drive. I was the opposite. It also helped that I was good at assessing the situation, calculating the risks and deciding if it was worth it or not. If it was worth it, then there really wasn't any reason to dwell on it. I was just crazy enough to put the consequences out of my mind but just smart enough to still be alive at this point in my life [laughter].
HAS FAMILY LIFE CHANGED YOU?
It has. Family life changed my perspective on NASCAR. To provide a bit of clarity, the year that I raced 30 Cup events, there was a kid named Kyle Larson who did 200 different races in a single year. He did everything from dirt track to late model. Now he's in the Cup series, because he works hard. I knew that in order for me to get better than people like him, it would take an even greater commitment than what guys like Kyle were doing. It would have consumed me. My wife was supportive, but with our daughter in the picture, we realized that it wasn't a good idea. Our place is at Nitro Circus. Sure, everyone probably thinks that we're crazy for traveling around the world with two young kids, but we have a lot of amenities and great people all around us in case we need support. My wife also gets to skateboard, which is her profession. At NASCAR races, she would hang out and talk gossip with the other racers' wives. She's not a spectator. If anything, having our first daughter, Addy, transferred life away from racing and back to having fun. At the end of the day, I entertain, and in Nitro Circus Live, there aren't any winners or losers.
HOW DO YOU BALANCE ALL THE THINGS HAPPENING IN YOUR LIFE AT THE SAME TIME?
I don't handle my time very well. I always laugh when I recall what Tony Hawk once told me. He said that he is the busiest that he has ever been despite not competing any more. People don't see everything on the side. The craziest part of my life now is that I'm in an office a lot. There are a lot of fun things, but I want to be at home with my family more. The easiest time for me is when I'm on tour, because that's when I am away from the office but with my family.
RESEARCH SHOWS THAT YOUR NET WORTH IS AROUND $15 MILLION. YOU HAVE DONE WELL FOR YOURSELF.
That number includes a lot of stuff that I probably don't own [laughter]. For example, I'm working on an action figure project that is self-funded. I was hoping to spend $250,000 on it, but I'm more than twice that amount over my budget. It's funny, because money gives me an opportunity to have fun; however, most of the money goes back into sports. I try to help other people out, and it can be tough to keep money for myself in case I get hurt. I've also been focusing on setting aside money for my children. My dad always said that as long as I worked, he would support me in whatever I did. He also said that I would probably be in the military or working construction with the rest of my family. Neither one of those careers is a bad option, but I've been very fortunate to follow my dreams. I'm still living the dream.

HOW DID YOU HANDLE THE MONEY?
Looking back, I have made all of the wrong financial decisions in my life. I had a contract on the table to race Supercross, but instead I spent my own money to race rally cars. Then a couple of years later the sport was doing better, and I could have made a career out of it, but instead I went in a different direction. I've learned to always invest in myself. So far, knock on wood, things have been all right. With that said, please buy my action figures
[laughter]!