THE MXA WRECKING CREW RIDES A 75-HP JAWA 500 SPEEDWAY BIKE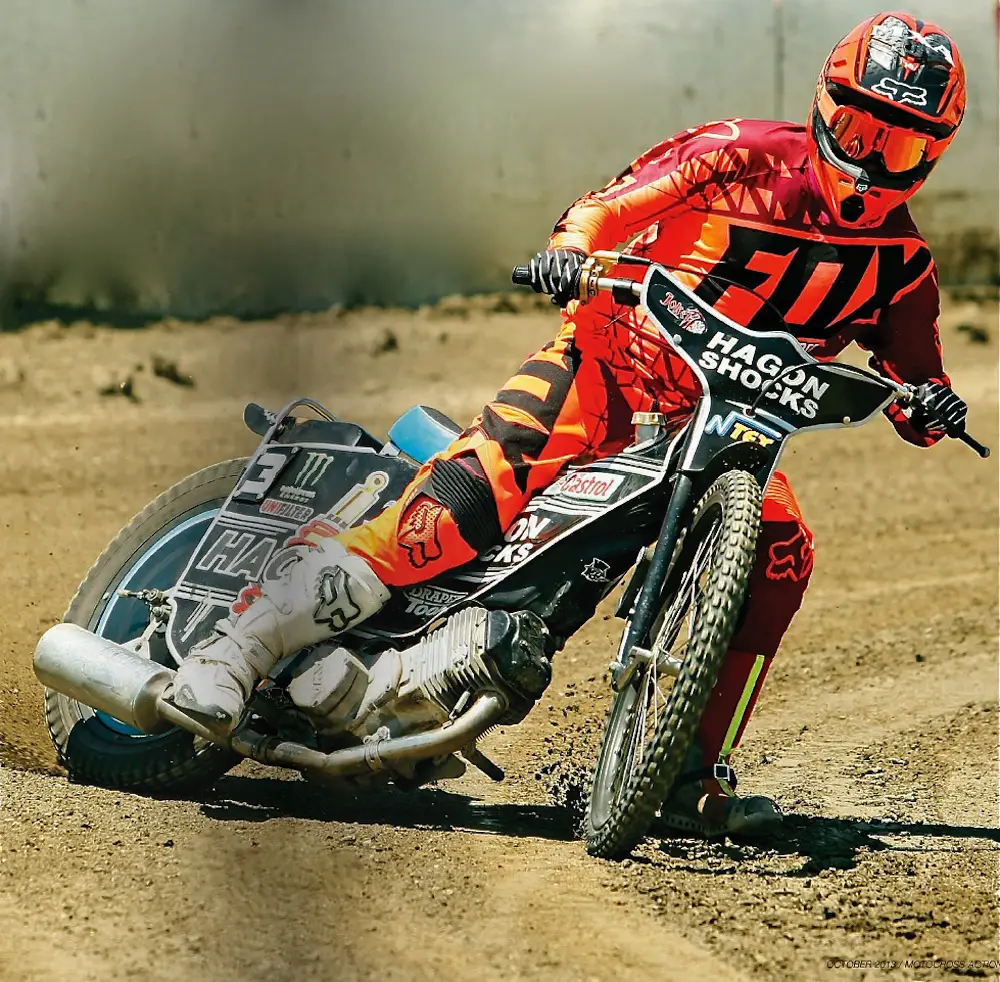 MXA's Daryl  adapted fairly quickly to the Jawa Speedway bike — by forgetting everything he knew about riding a bike.
The MXA wrecking crew loves bikes — all kinds of bikes — and we have tested and raced lots of different types of dirt machines. We have tested dirt trackers, snowmobiles, sidecars, pogo sticks, GNCC bikes, endurocross bikes, electric bikes, snow bike. Paris-Dakar bikes, ice racers and road racers between our day job testing motocross bikes. Yes, we know, it isn't motocross — and that's what we like about it. It gives us a chance to see how the other half lives and to have fun doing it. Come with us and we try to get around the smallest and simplest track we've ever struggled on.

Speedway bikes have a primary drive transmission. This makes gearing an important role in race setup.
What would be going through your head if you climbed on board an unfamiliar machine and they told you to forget everything you knew about riding? That is the position the MXA wrecking found itself in when World Speedway Champion Billy Hamill told us to "do everything the exact opposite of motocross." The MXA wrecking crew was thrown for a loop. Hey, we thought that going out for a day of riding a 500cc Jawa Speedway bike would be a piece of cake. After all, it had two wheels, handlebars, rode on dirt and only turned left. How hard could it be?
We honestly knew nothing about Speedway, apart from watching a few YouTube videos (mostly crash compilations) and having spent a few Friday nights at the Costa Mesa Fairgrounds with the gang watching the races. In truth, we thought we were golden. It looked simple: just pitch it sideways, get on the gas and use the brakes coming into the corner. Not a good plan.
THERE WAS NO BRAKE, SHIFT LEVER, RADIATOR OR SHOCK AND ONLY ONE USABLE FOOTPEG. THERE WAS, HOWEVER, A 500cc CZECHOSLOVAKIAN ENGINE THAT PRODUCED 75 HORSEPOWER.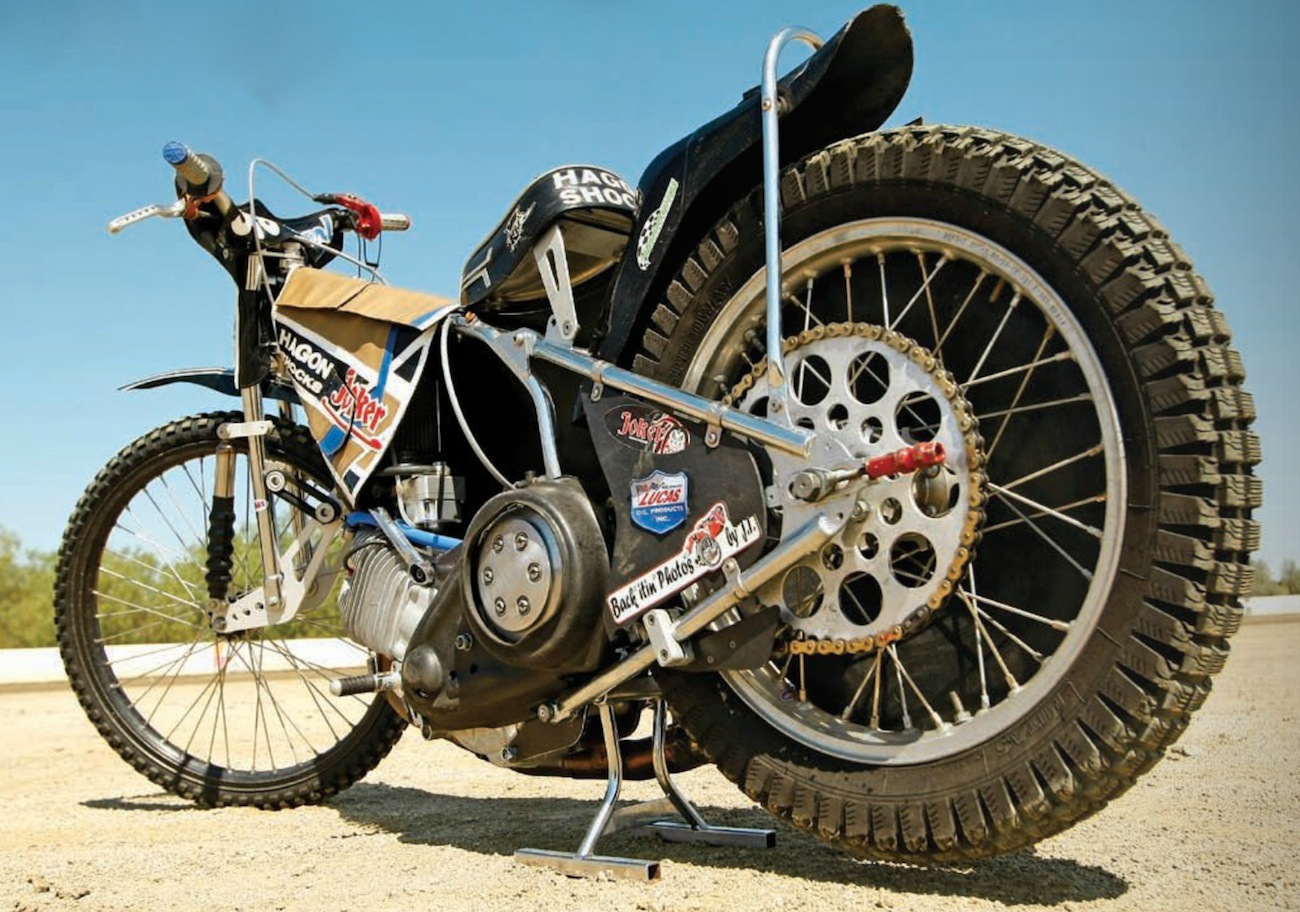 An air-cooled, 500cc, Czechoslovakian Jawa Speedway bike is all skin and bones. With 75 horsepower and a 187-pound wet weight, the power-to-weight ratio pulls your arms out of their sockets when you get on the gas.
First, there were no brakes. There was also no shift lever, no radiator, no shock, no starter and only one usable footpeg. There was, however, a 500cc, high-compression, single-cam, air-cooled Czechoslovakian engine that produced 75 horsepower. If it wasn't for 1996 World Speedway Champion Billy Hamill, we would have dropped the clutch, rocketed head first into the wall and called it a day. Billy started racing Speedway at the age of 13, and at 16 he got his AMA Pro license. After a few years of racing in the United States, Billy knew that to make a career of Speedway he had to move to Europe. At the age of 19, he got a contract to chase his dream of becoming a World Champion in one of the fastest, shortest and closest-contested motorsports in the world. Now semi-retired, Billy is s speedway coach/team manager.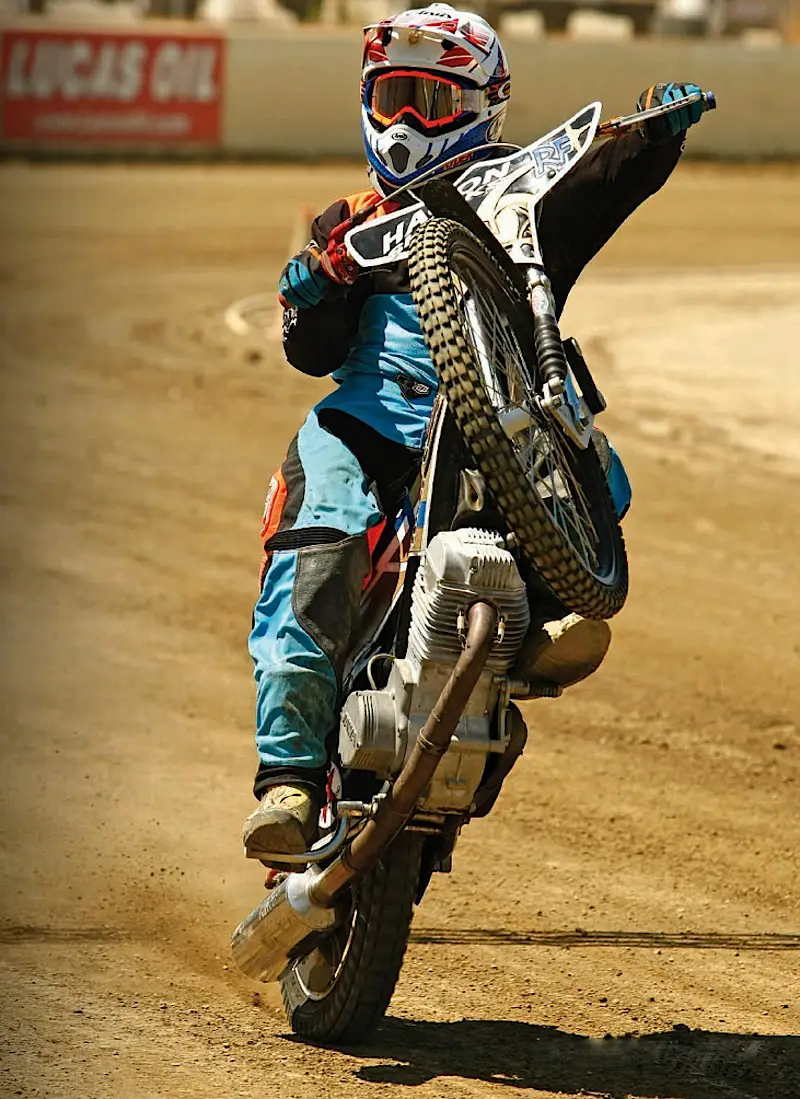 Speedway racer Max Ruml was there to embarrass us.
Billy was there to keep us from smashing into the intimidating outside wall. He told us to keep an open mind, because the techniques of Speedway were much different from the skills required in motocross. Yes, you need to twist the throttle, but without the proper technique, twisting the throttle will end in the dreaded wall. Billy took baby steps in teaching us about the frail-looking Jawa Speedway bike. He explained the dry clutch, 23-inch rear wheel, tiny forks, strange bar bend and proper riding stance.
AS WE GOT CLOSER TO THE TRACK, WE FACED OUR NEXT DILEMMA. WE FORGOT THAT THERE WERE NO BRAKES. STOPPING REQUIRED THE FLINTSTONIAN ACT OF DRAGGING YOUR FEET.

The 500cc, four-stroke, single-speed Jawa engine can accelerate from zero to 60 in three seconds, but in our hands it tried to hit the wall in 2.5 seconds. All Speedway bikes run on methanol and the gas tanks only hold enough fuel to go eight laps — about two minutes.
Billy's first challenge was to teach us how to ride the bike down to the track, which was a couple hundred feet away. First, we needed someone to help push-start the bike since it had no kickstarter and no neutral. All motion was controlled by the dry clutch. As we rode toward the track, we realized that we couldn't turn to the right because the right footpeg would drag on the ground if we turned even slightly to the right. The left footpeg was no real help either because it was very small and located toward the front of the bike (one of our test riders mistook it for a shift lever). When both feet were on the pegs, it felt like we were doing the splits. As we got closer to the track, we faced our next dilemma. We forgot that there were no brakes. Stopping required the Flintstonian act of dragging your feet and using engine braking and quick clutch work to bring the bike to a stop.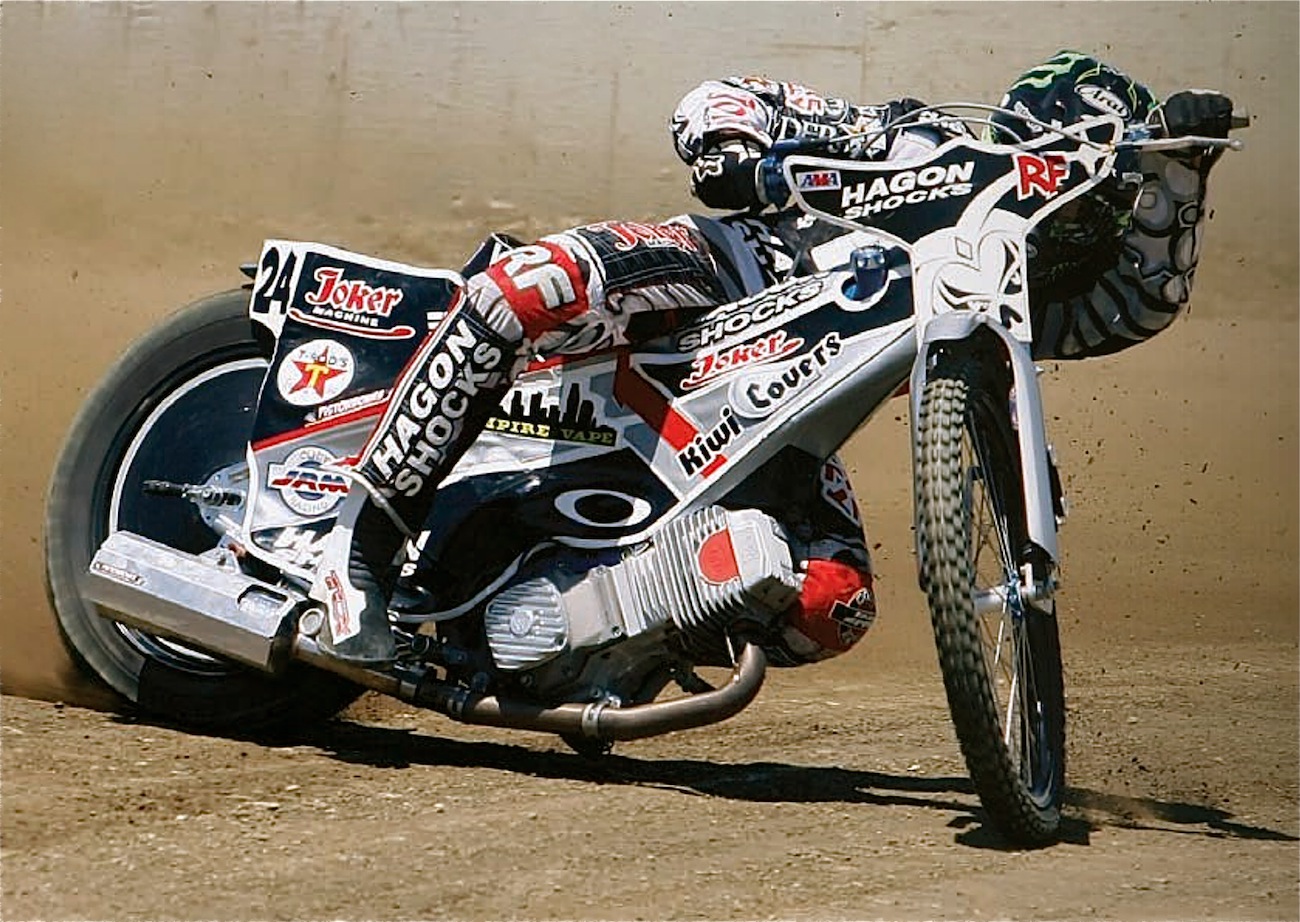 Gino Manzares displays his epic cornering style for the MXA wrecking crew.
Once at the track, Billy gave us a quick rundown of what to do, and we started doing laps. Actually, we did eight laps, because that is as far as the bike would go before it ran out of gas. Billy didn't interfere as we tried to work out our difficulties by falling back on years of motocross experience. We tried coming in hot a few times to get the rear end to step out, but we had no success. We were positive that we could have gone faster on a KX450F with knobbies. Once we had exhausted our repertoire of motocross riding tricks, we were frustrated and came in to get more fuel and to talk to Billy. Now that we had learned the valuable lesson that a Speedway bike is not a motocross bike, Billy began to instruct us on how to do things right.
OUR SHORTHAND FOR HOW TO RIDE A SPEEDWAY BIKE IS, "TURN RIGHT TO GO LEFT, SPEED UP TO SLOW DOWN, AND SLOW DOWN TO SPEED UP."
Speedway tracks are pool-table smooth. The leading link forks are sprung by elastomer bands.
Billy told us to slow down and concentrate on getting the rear end to step out through the middle of the corner. He said that we should roll the throttle on and put all our weight on the outside peg through the middle of the corner. By weighting the outside peg, we would loosen up the rear wheel and get it to float across the smooth dirt. He said a rider should pretty much have his right leg fully extended, putting his weight forward while standing up on the bike with his left foot out in front, gliding across the ground with his steel shoe.
This was a lot easier said than done, because it was such an uncomfortable feeling when on the track. There was a major adrenaline rush required to work up the courage to pitch it sideways. The bike was so powerful that it commanded your attention, and the throttle was the key. You could spin the rear wheel so quickly that you wouldn't even know it had happened. Once we slowed down and worked on our technique, we started to get the hang of it. It was such a rush and incredibly fun. Our shorthand for how to ride a speedway bike is, "Turn right to go left, speed up to slow down, and slow down to speed up."

We asked Max Ruml to describe Speedway to us. He said, "Well, you go zero to 60 miles per hour in 3 seconds with no brakes and pitch it sideways all the way around the corner." Talk about an adrenaline junkie's dream! And that's exactly what Max and  Gino Manzares did to demonstrate to us what it should look like. It was unreal to watch these guys on the track. Speedway races are only four laps, and they take less than a minute to complete. Amazingly, once we got up a modicum of speed, we were exhausted after four laps. We were lucky to have Billy Hamill see us through our formative time on a speedway bike. He was smart enough to let us make every mistake in the book before trying to teach us anything. The MXA wrecking crew may not have been his best pupils, but it was a thrill that every motorcycle enthusiast should try at least once. For more information about speedway, go to www.speedwaybikes.com.
>