THE TORTURED LIFE OF A PISTON
A piston compresses the fuel/air mixture, which is then ignited by the spark plug. The ensuing explosion violently forces the piston down, which spins the crank. The rotary motion passes through the crank to the clutch, to the transmission, to the sprocket, to the rear wheel. The end result of the piston being pushed downward by the expansion of burning gases is forward motion. Then, as you would expect, it is thrust back upwards by the circular motion of the crank?where it is greeted by another explosion.
ARE ALL PISTONS CAST?
No, but casting is the simplest and cheapest way to make a piston. To form a cast piston, a proprietary mix of molten aluminum alloy is poured into a form. Once it is cool, a mostly intact piston pops out of the mold. The final steps include machining the wrist-pin tower and ring land.

WHAT ARE THE PROS OF CAST PISTONS?
Cast pistons are inexpensive to make. Additionally, it is easier to tune the alloy makeup of the fluid aluminum that's poured into the casting. Silicone is one of the key ingredients. While too much silicone will make the piston too rigid, just the right amount results in a piston that maintains its exact shape in extreme conditions.
WHAT'S THE DOWNSIDE OF CAST PISTONS?
If the alloy mix isn't spot-on, the material can become hard and brittle. If there is a problem area, hot spot, partial seizure, too much clearance, a cast piston is much more likely to crack and explode.
WHAT IS A FORGED PISTON?
Unlike a cast piston, which starts as molten aluminum, a forged piston is shaped by slamming a slab of aluminum between male and female piston forms under great pressure. The piston is literally hammered into shape.
WHAT ARE THE PROS OF FORGING?
The high pressure aligns the molecules, which makes for a denser end product. A forged piston dissipates heat better and can withstand greater operating temperatures than a cast piston. Forged aluminum will bend and give in extreme conditions that would cause a cast piston to crack and fail. As a rule, four-strokes come stock with forged pistons. All things being equal, a forged piston has double the lifespan of a cast piston.
WHAT'S THE DOWNSIDE OF FORGED PISTONS?
The denser, stretched and strained makeup of a forged piston doesn't come up to operating temperature as quickly as a cast piston. Thus, forged pistons are more likely to cold seize. Engines can be set up with more piston clearance to lessen this, but with more clearance, a forged piston runs louder than an identical engine with a tighter-fitting cast piston. The forging process is more labor-intensive (requiring more machining to finish); thus, forged pistons typically cost more.
WHAT IS A SEMI-FORGED PISTON?
Many works bike pistons are semi-forged (also known as squeeze-forged, hot-forged or pressure-forged). Semi-forging is a process that casts the molten aluminum in a pressurized environment. Combining some aspects of casting with the high pressure of forging produces a piston that can have the weight, silicone content and controlled piston swell of a cast piston with the strength of a forged part. Some OEM four-stroke pistons are semi-forged. Another plus of a semi-forged piston is that it requires less machining than a forged piston.
ARE THERE BILLET PISTONS?
Yes. Often when race teams are testing potential piston designs, they don't want to spend the $10,000 to $15,000 setup charge to produce a handful of one-off forged test pistons. So, they machine a piston out of a solid block of billet aluminum. Thanks to modern five-axis CNC machines, these billet pistons can be built to custom specs, thicknesses and designs, and they can be raced. Billet pistons costs about $500 each, but it makes sense to a race team. No one sells billet pistons, although since the technology is only a couple of years old, some company may sell them in the future.
IS PISTON WEIGHT IMPORTANT?
Yes, because we are talking about reciprocating mass. A piston goes up and down 200 times a second. Even a small weight difference is noticeable, both on the track and on the dyno. A lighter piston has better throttle response and more snap.
ARE FORGED PISTONS HEAVIER?
As a rule, a cast piston will be lighter because it is less dense. However, today's forged pistons can be made to match the weight of a cast piston by taking advantage of their greater strength. A good forging is so strong that it's possible to take more material out of the piston. Wiseco, Vertex, JE, CP, Cosworth and others forge their four-stroke pistons with thinner skirts and machined-out wrist-pin towers.
CAN A PISTON BE TOO LIGHT?
Yes. A lighter piston could decrease torque and top-end power. Pro Circuit's Mitch Payton describes it this way: "Kick a soccer ball and it will go really far; kick a balloon and see how far it goes!" In most cases, a lighter piston is better, but each engine has its optimum reciprocating mass.
WHY ARE PISTONS SHORTER ON THE SIDES?
You have it backwards. In truth, they are longer in the front and back. When a piston is rocking up and down at the end of the connecting rod, the loads are fed into the piston from very harsh angles. As the piston goes up and down, it wants to rock back and forth from front to rear. The piston needs to have extended front and back skirts to resist this rocking.
IS IT TRUE THAT PISTONS AREN'T ROUND?
They aren't even close to round. Pistons are egg shaped from front to back. This egg shape is called "camming" in piston-speak. Camming is hard to measure, because the sides of the skirts aren't there, but if you could measure camming, you would find that many pistons are as much as 0.010-inch out of round. Camming helps resist rocking. The extended fore and aft skirts aren't the only things that resist the tilting load placed on the piston.
WHY CAN'T YOU PUT A PISTON IN UPSIDE DOWN?
If you flipped a piston upside down and tried to drop it into the cylinder bore from above, it wouldn't fit. How can that be? The sides of a piston aren't straight from top to bottom. Pistons taper from the top of the piston to the bottom of the skirt. The looser fit at the top keeps the crown edge from hanging up in a two-stroke port, puts more pressure on the ring and gives it the room it needs to do its work.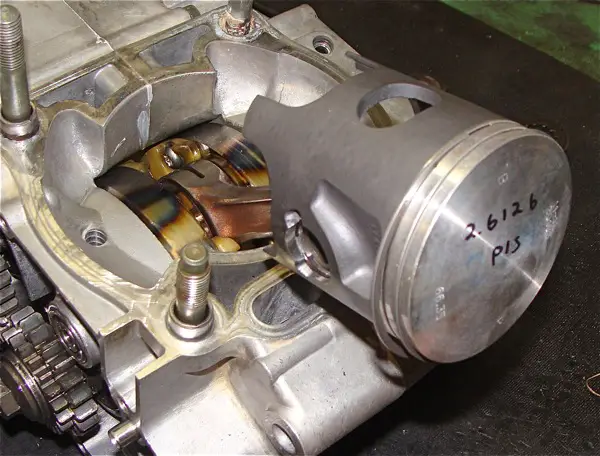 IS A FLAT-TOP OR DOMED PISTON BETTER FOR MY TWO-STROKE?
During the heyday of 125cc two-strokes, the majority of them used flat-top pistons. Today, with only KTM and Yamaha making 125s, every 125 has a flat-top piston. Why? The advantages are less piston weight and a spark plug that ignites closer to the sides of the cylinder for a more effective burn. However, the theory is that a domed piston disperses the impact of ignition for an easier-to-ride power delivery, while the flat-top concentrates a more forceful thrust across the full top of the piston. A flat-top piston should produce a more violent hit.
All modern 250cc two-strokes come with domed pistons (KTM 250SX and Yamaha YZ250), although there have been flat-top 250 pistons in the past. As a rule, most 250s have domed pistons and 125s have flat-top pistons (although the Kawasaki KX125's was domed).
ONE RING OR TWO ON MY TWO-STROKE PISTON?
Two-stroke engines either come with one or two compression rings. One ring has less drag, revs better and makes it possible to produce a lighter piston. The disadvantage is that one ring can't provide as durable of a compression seal as two rings. That's not to say, though, that one ring can't seal as well or hold as much compression and cranking psi as two rings; it just takes more of a beating and wears out faster.
All 125s come with one-ring pistons. All 250s come with two rings. Back in the day, every race team ran single-ring pistons in every one of their works two-strokes, plus they ran skinny 0.08mm rings instead of the standard 1.0mm rings. Factory teams weren't worried about durability; they changed pistons before they could wear out.
WHAT'S THE COATING ON A PISTON?
There are several different types of piston coatings, but the one that most people are familiar with is called a "break-in coating." This Teflon-like coating covers the skirt area of the piston to reduce friction and ease the break-in period. It will normally wear off after one race.
CAN PISTONS BE HARD-ANODIZED?
Yes. There are coatings for the piston domes that provide an additional barrier for heat dissipation and reduce accumulated burnt carbon. Additionally, the ring land and pin area can be hard-anodized to prevent the hard metal rings from eating into the softer aluminum. Piston skirts cannot be hard-anodized. The hard coating with the most promise is a DLC (diamond-like coating) on the wrist pin. The wrist pin is very busy, and reducing friction and wear pays dividends, but the DLC costs more than the pin itself.
WHY AREN'T THE SKIRTS HARDENED?
Piston rock is to blame. A hardened skirt wouldn't have enough give to take the constant rocking. If the skirt of the piston is too hard, it will rip apart the Nikasil liner.
HOW DOES A PISTON WEAR?
In a perfect world, a piston doesn't wear. Why not? Because the rings take all of the abuse. Piston wear is determined by the ring. If the ring wears out, the engine loses compression and suffers serious blowby. With poor ring seal, the piston gets battered and the skirt is beat to death.
HOW OFTEN SHOULD A PISTON BE REPLACED?
Let's not put the cart before the horse. If you can only afford to change one thing on your top-end, put new rings in your engine, because the piston will typically last until the rings wear out, or until the piston breaks. In the hands of a local racer, a piston and rings could last a year. But, from a performance point of view, the time frame is shortened to hours.
A 125 two-stroke's piston and rings should be changed every 15 hours (a Pro should change them every 7 hours). A 250 two-stroke might go 40 hours in the hands of a local Vet or Novice (a Pro should change them every 15 hours). A 250F piston can go 40 hours (less in the hands of a Pro). A 450F piston might go 60 hours, but a Pro would be crazy to go beyond 20 hours. MXA has had 450cc four-stroke pistons with 100 hours on them, but that is gambling.
A forged piston will last longer than a cast piston, but it doesn't matter because the rings won't last any longer. If you change the rings at regular intervals, you could skip one piston replacement cycle. But, since the engine has to be taken apart to change the rings, you might as well change the piston.
WHAT'S THE DIFFERENCE BETWEEN AN "A" AND "C" PISTON?
The difference between an "A" piston and the larger "C" size is 0.0005-inch. That is the thickness of one-quarter of a human hair. Yamaha is the only company to offer "D" pistons. The "ABC" designation only applies to two-stroke pistons. Stock four-stroke pistons don't come in different sizes (although Vertex does offer them).
WHY DO THEY MAKE DIFFERENT-SIZE PISTONS?
Most motorcycle manufacturers produce their engines in large blocks. During each production run, the manufacturer uses a piston that is perfectly mated to the tolerance of the cylinder's bore (as it is being machined at the time). The piston and cylinder are identified with either an "A," "B," "C" or "D." The bike should come with a piston and cylinder that have matching letters (an "A" piston and an "A" cylinder).
Since the difference between an "A" piston and the larger "C" size is 0.0005-inch, a mechanic can take advantage of the upsizing between an "A," "B," "C" or "D" piston to accommodate any tolerance differences caused by cylinder wear. It is common for mechanics to put a "B" piston into every engine they rebuild, because its slightly larger size compensates for wear and tear on the cylinder.
WHAT KIND OF PISTONS DO THE FACTORY TEAMS RUN?
Every factory team runs a forged piston, unless they are running a works billet or semi-forged piston. Vertex is the OEM piston for KTM, but they have been known to run Vertex, CP and Mahle pistons. Team Honda runs either a JE piston or a works piston. Suzuki runs a CP piston. Kawasaki and Pro Circuit both used to run Pro Circuit-designed JE pistons, but we don't know what Kawasaki is running now since their falling-out with Pro Circuit over exhaust pipes. Most Yamaha race engines use Cosworth pistons.
WHAT'S A SLIPPER PISTON?
A four-stroke engine doesn't side-load the piston as much as a two-stroke, because of the longer rod and lack of intake, exhaust and transfer ports. With less side-load, there is less piston rock. To take advantage of this, four-strokes use the lightest, smallest and fastest pistons possible. Modern four-stroke pistons have almost no skirt and are only tall enough to provide a seat for the more complicated four-stroke ring system. These low-profile pistons are called "slipper pistons."
WHAT'S THE DEAL WITH FOUR-STROKE RINGS?
Four-strokes have a lot of rings. Here is a breakdown from the top of the piston. (1) The first ring is the chrome-faced compression ring. Its primary duty is to seal off the combustion area. (2) The second ring is the black scraper ring. It is a secondary compression ring and keeps oil from leaking into the combustion chamber. (3) The final three-piece ring is a waffle-shaped loop that is sandwiched between thin, circular bands. It's called the oil ring, and its primary duty is to hold oil down below the piston. Most four-strokes use this three-ring configuration. The most notable exception is Honda. The CRF's piston only uses a compression ring and an oil ring. It was done to reduce ring drag (at the price of more frequent ring replacements).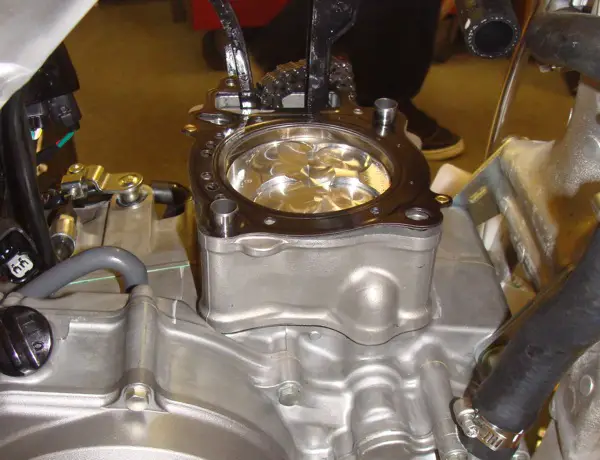 WHY DO FOUR-STROKE PISTONS HAVE MOON-SHAPED CRATERS ON TOP?
To leave room for the intake and exhaust valves to fully open. The pistons sold by the performance aftermarket will retain the same cutaway as the stock pistons.
WHAT IS THE MOST IMPORTANT THING TO KNOW ABOUT YOUR BIKE'S PISTON?
The piston in your bike goes up and down 200 times a second. How long would you last if you had to go up and down that many times? Your bike's piston is working hard; replace it before it blows.