THE TRUE STORY OF JAMES STEWART'S 2004 FACTORY KX125 TWO-STROKE

By Travis Fant
MXA started this journey eight months ago. By "journey," we mean we began asking Kawasaki to dust off the cobwebs and pull James Stewart's Team Chevy Trucks 2004 Kawasaki KX125 two-stroke out of storage for us. It was a difficult task in the midst of a pandemic. Getting our hands on the last two-stroke to win a Supercross/Motocross Championship wasn't a slam dunk. The Team Chevy Trucks era, which includes James Stewart, Ricky Carmichael, Michael Byrne and Ezra Lusk, is one of the most prolific periods in the history of our sport. It was the last hurrah for two-strokes, as four-strokes represented more than 70 percent of the class by 2004. Bruce Stjernstrom was the team manager of the Kawasaki factory effort during that era. We asked him if he would give us the true story of James and the last two-stroke to ever win a lites class title.
Bruce started off by saying that Ricky Carmichael had just left the Kawasaki program during that time, but they knew Stewart was coming up from the Amateur ranks. They knew that he would be phenomenal. Bruce had been to a lot of Amateur races under the Team Green program and saw that James was going to be a large part of their future, as his Amateur competition was no match for him.
AFTER THE RACE, KAWASAKI ASKED JAMES WHAT HAPPENED. DID THE BIKE HAVE ISSUES? WAS IT RUNNING WEIRD? JAMES RESPONDED BY SAYING, "I JUST WANTED TO SHOW CHAD I COULD STILL WIN."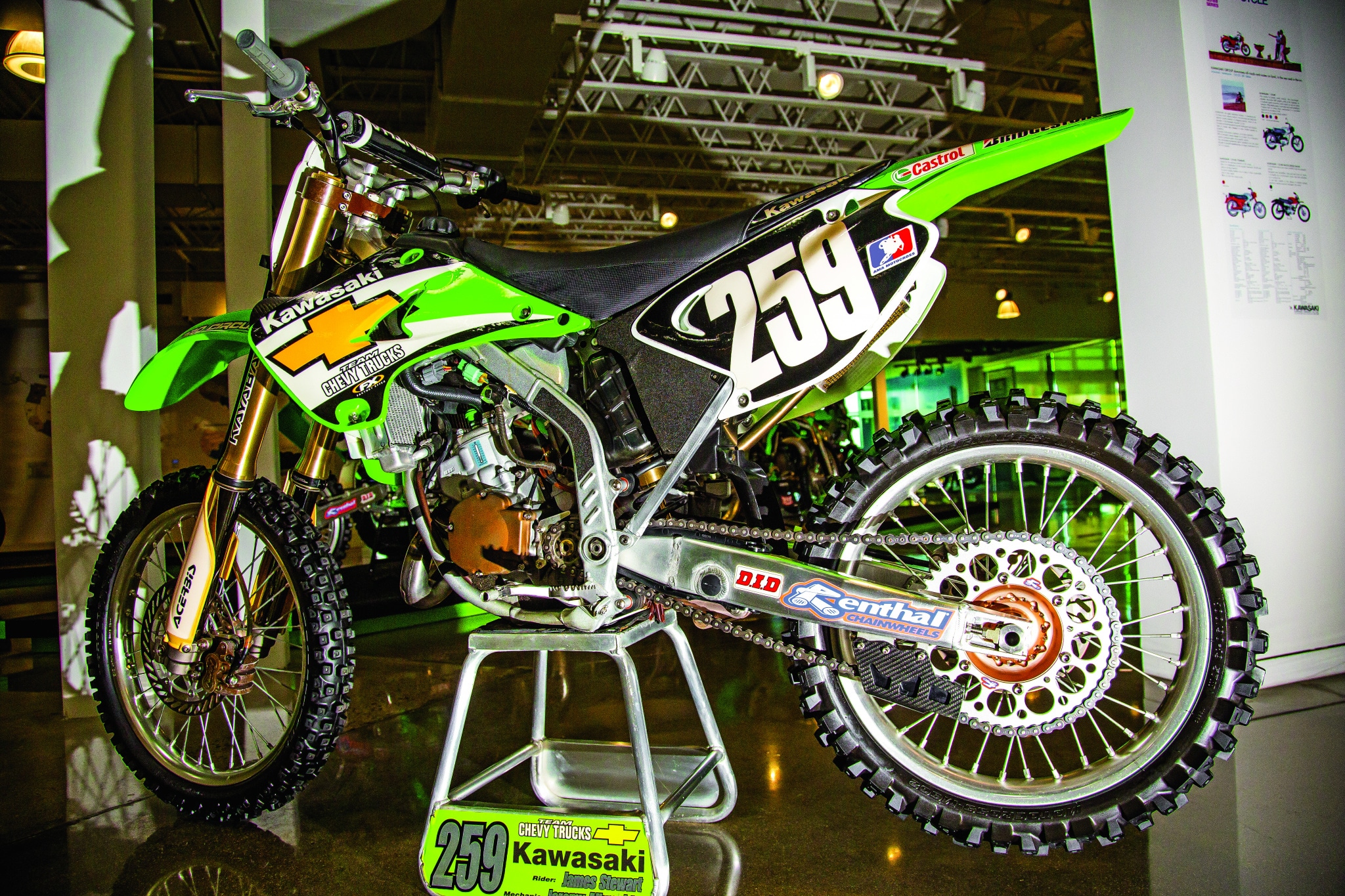 Bruce brought us back to 2002 when Stewart and Chad Reed were at the forefront of race wins and rider rivalry. At the time, Chad had indicated that if he got a good start, he could easily beat James Stewart on the track with his Yamaha of Troy YZ250F. During one of the outdoor races, James was out front early on his KX125 when suddenly he started to slow down. Mechanics and team personnel from Kawasaki started to run frantically towards the track to find out what was wrong with the motorcycle. Chad Reed passed James at this point and took about a 5- to 10-bike-length lead. James quickly got back on the gas, passed Chad a few laps later and won the moto. After the race, Kawasaki asked James what happened. Did the bike have issues? Was it running weird? James responded by saying, "I just wanted to show Chad I could still win."
Another notable moment for James' KX125 and Bruce was in 2003 at Budds Creek. James went down in the first turn and started dead last. He was able to come from last place and still win the moto. Bruce said it was incredible to watch and almost an unbelievable story to tell. "Thankfully, everyone can look it up on YouTube. He was passing four or five riders at a time and won the race by five seconds."
"JAMES ABSOLUTELY DOMINATED THE 2004 GLEN HELEN NATIONAL ON THE KX250F. BRUCE RECALLS WHEN JAMES PULLED OFF THE TRACK AFTER THE FIRST MOTO AND SAID, 'IT'S SO EASY, THIS IS LIKE CHEATING.'"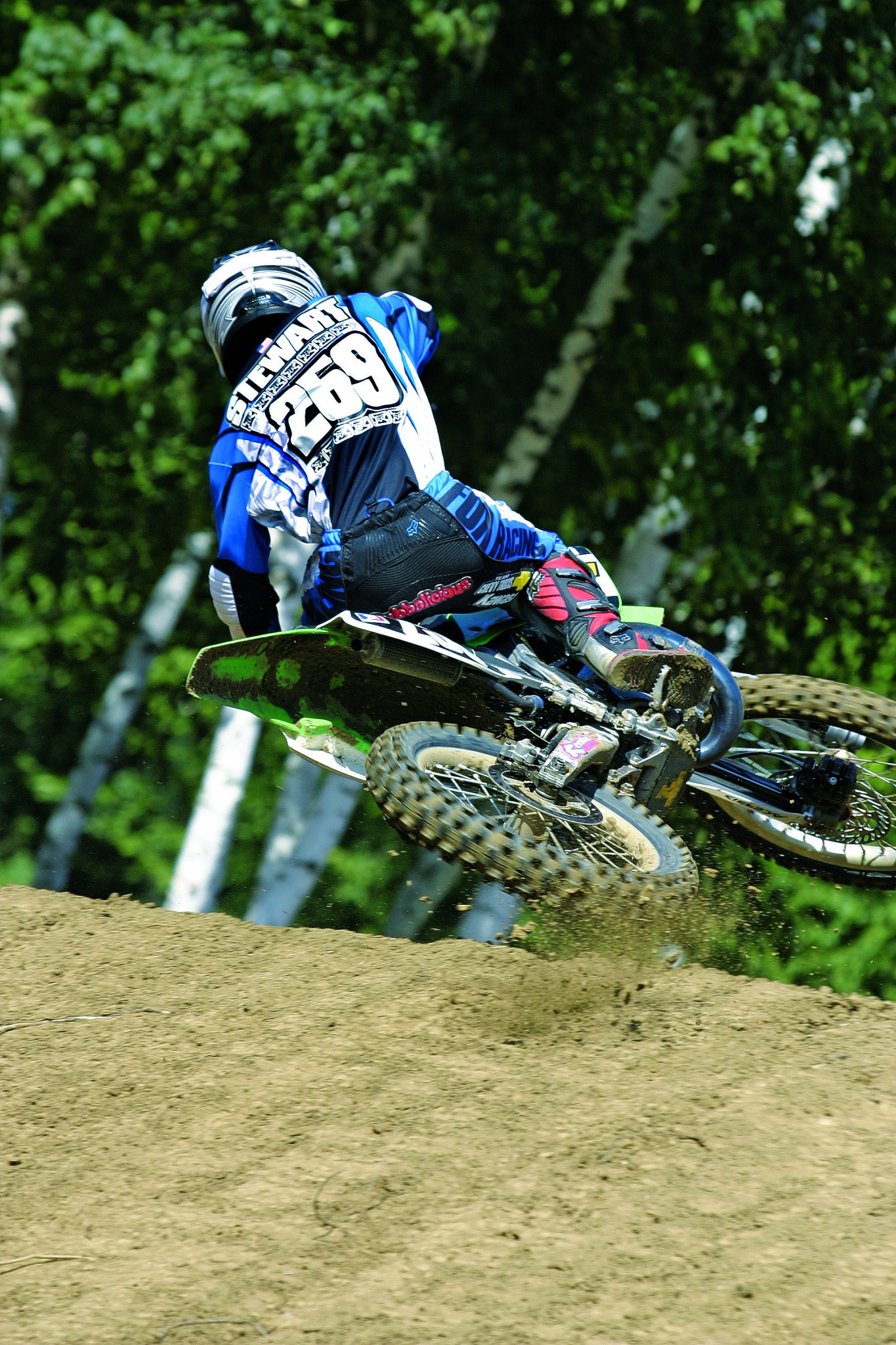 James Stewart could do things on his KX125 that no one else could.
In 2004 Kawasaki had just launched its all-new KX250F. The team offered the four-stroke to James, and he tried it during the pre-season. He decided to stay with the KX125 two-stroke instead. Bruce explained that James' decision was based on the success he already had on the KX125 two-stroke. He knew 2004 would be his last year on a 125cc machine and wanted to stick with it. James holds the record for the most wins on a 125 two-stroke (just ahead of Ricky Carmichael), a record that will never be broken—since 125 two-strokes have no chance of beating 250 four-strokes now. As the 2004 season went on, James wasn't getting the starts he had in the past because other teams had further developed their four-strokes. James was still able to pass and win on most occasions, regardless of his mediocre starts. It wasn't until the last race of the year that James said he wanted to try the KX250F, as he had a huge points lead. The KX250F was virtually stock with a Pro Circuit exhaust and factory suspension. James absolutely dominated the 2004 Glen Helen National on the KX250F. Bruce recalls when James pulled off the track after the first moto and said, "It's so easy, this is like cheating."
The factory Kayaba gas forks were touted as some of the best factory equipment money could buy.
"James was surprisingly easy on a bike. The KX125 clutch and engine didn't take the beating you might expect from a rider like James Stewart," Bruce told us. The biggest challenge was the chassis. The risks he would take and his ability to do things that most riders couldn't would put the chassis under additional strain. The team never reinforced the chassis; they just replaced them more frequently. James' KX125 two-stroke had all the parts available through factory Kawasaki. He had KHI (Kawasaki Heavy Industries) transmissions with special ratios (the Pro Circuit Kawasaki team used the same transmissions). The team ran larger radiators and a special Mikuni carburetor with a Power Jet. This carb had a TPS (throttle position sensor) on it. It was tied into the ECU so the team could change timing when the Power Jet kicked on.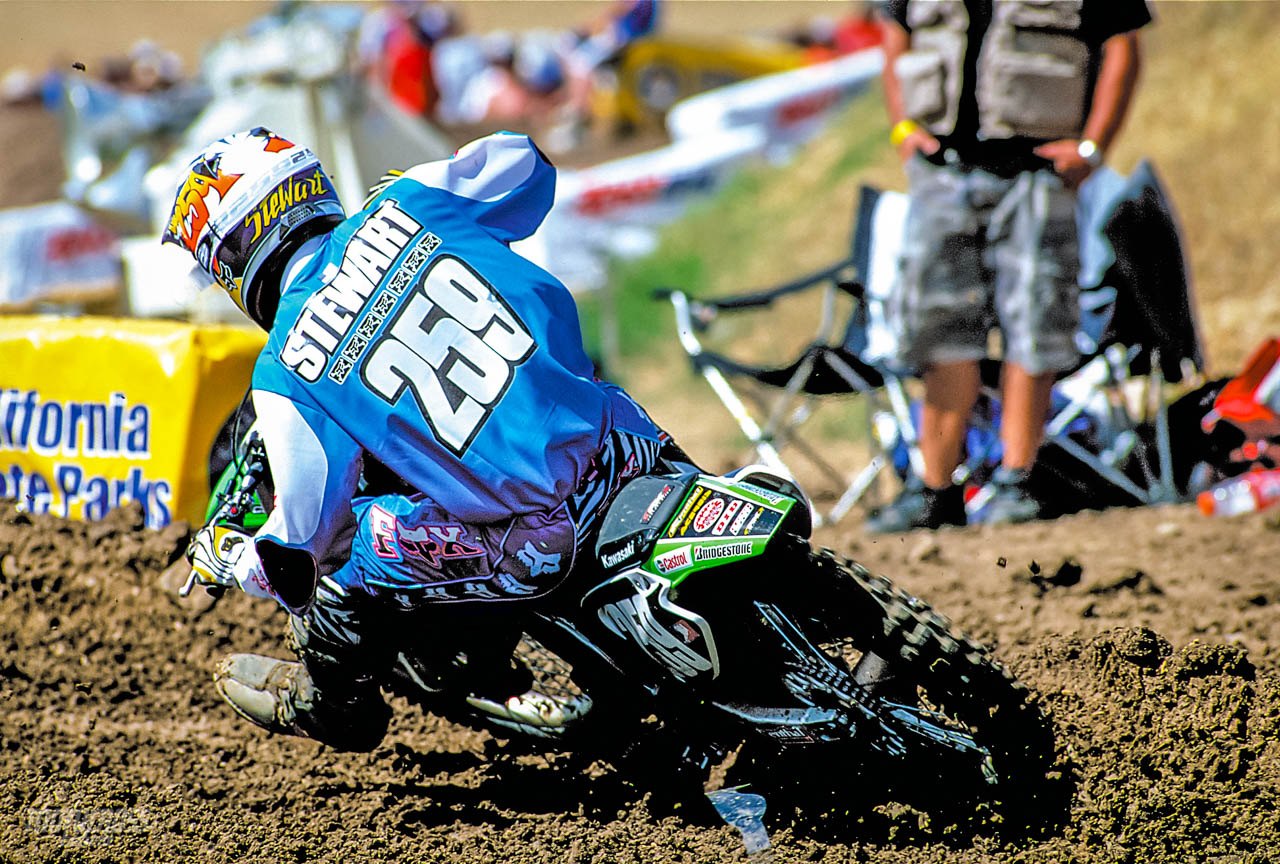 Rick Asch was the engine developer at Kawasaki, and he said, "James really liked a torquey motorcycle and even gave up a little bit of top-end power, which people might find interesting. James's KX125 ran with 1 to 1-1/2 horsepower less than the Pro Circuit KX125s. James could have ridden the Pro Circuit engine over the Factory Kawasaki engine, but really liked having the extra torque instead. That worked for him, because James was so good at shifting. He knew exactly when to shift. It was James' ability to carry smooth momentum on the track with that 125 that was a large part of his success against the 250 four-strokes."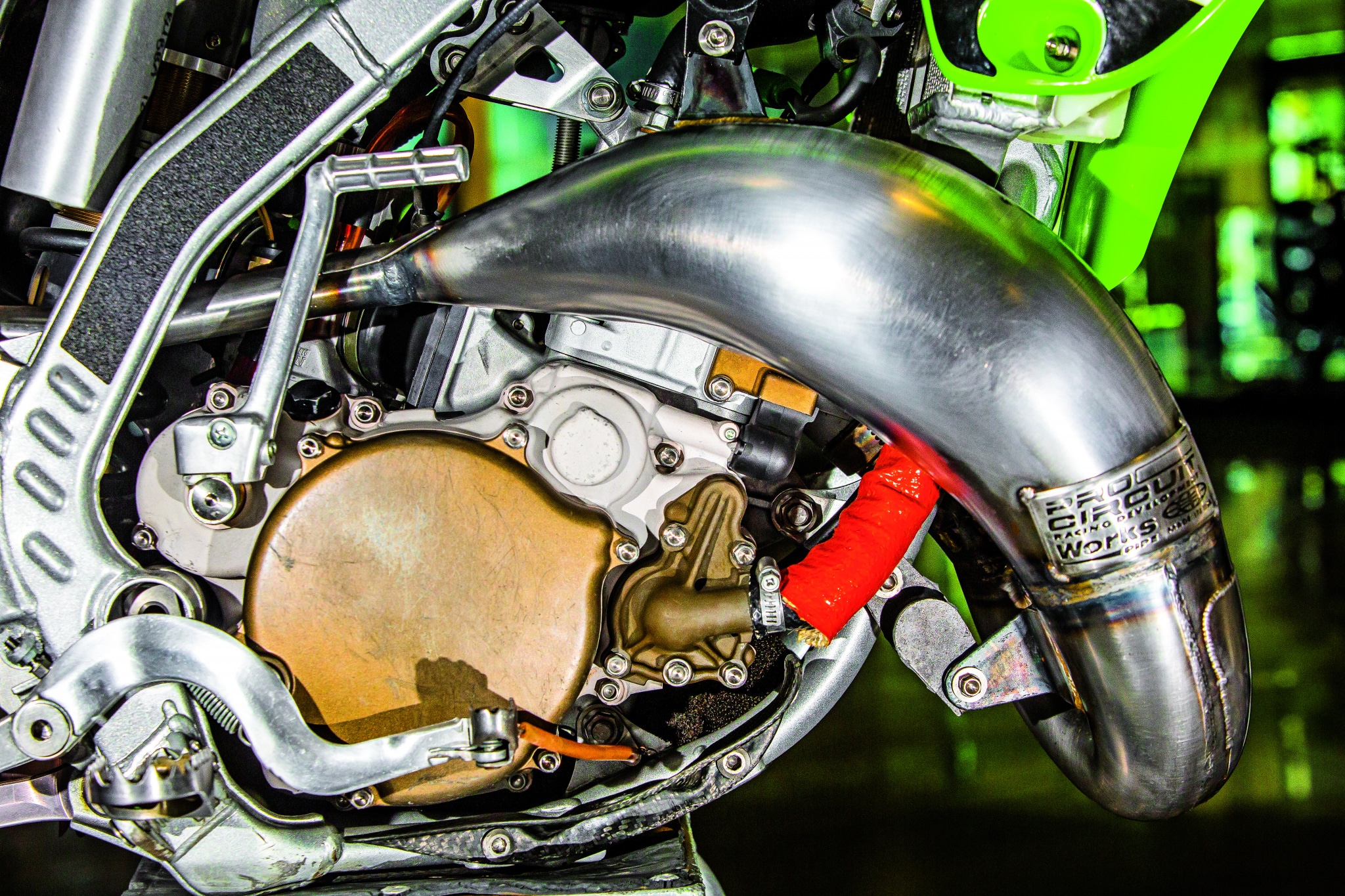 James preferred more low-to-mid power even though it took from the top end.
Kawasaki worked closely with James to develop the bike. The frame and swingarm were production stock. The linkage was stock, but the pull rods were different to suit his riding style and ride height. The forks were Factory Kayaba gas forks. Bruce said if you talk to Ricky Carmichael or James Stewart, they might say those forks were the best forks they ever rode on. The very intricate fork took twice as long to build because of the number of parts it had inside. In Supercross, James couldn't run that fork because of the production/claiming rule. KHI Factory wheels, titanium hardware and factory triple clamps were also on the factory KX125. In addition, Kawasaki used a titanium swingarm bolt and axles. At the time, the bike was really state of the art.
Bruce told MXA that factory Kawasaki worked very closely with Pro Circuit in those years. KHI factory parts for riders on either side were available to them. James fit in really well with factory Kawasaki with his dad at his side, which was a big asset to him. Bruce said he remembered that testing began when James was only 15 years old. James didn't turn 16 until two weeks before Anaheim 1. Bruce said James' race craft and ability to adjust on the track were uncanny. He went on to say that James was intelligent, in a racing sense, well beyond his years. He attributes a lot of that to his dad and how much he worked with James as a kid. Kawasaki didn't have to spend a lot of time going over line choice or technique.
"SOME OF THE KAWASAKI STAFF WERE SAYING, 'I THOUGHT THIS GUY WAS REALLY GOOD.' I TOLD THEM TO BE PATIENT AND NOT TO WORRY. THE FOLLOWING DAY, JAMES LIT THE TRACK ON FIRE."
Bruce told us a cool story about the first day of testing at the Kawasaki track. "James was obviously a bit nervous and hadn't spent a lot of time around the team. He had a terrible day, and Stephan Roncada was riding exceptionally well. James was struggling through the whoops and was extremely frustrated. Some of the Kawasaki staff were saying, 'I thought this guy was really good.' I told them to be patient and not to worry. The following day, James showed up and absolutely lit the track on fire. It didn't even look like the same person on the track. He was faster on the track than Roncada on his KX250F and had all the Kawasaki staff stunned. When I asked James what was so different about that day, James explained simply, 'Last night, I thought about it; I saw Roncada do the things I wasn't doing, so I just decided I was going to do it.'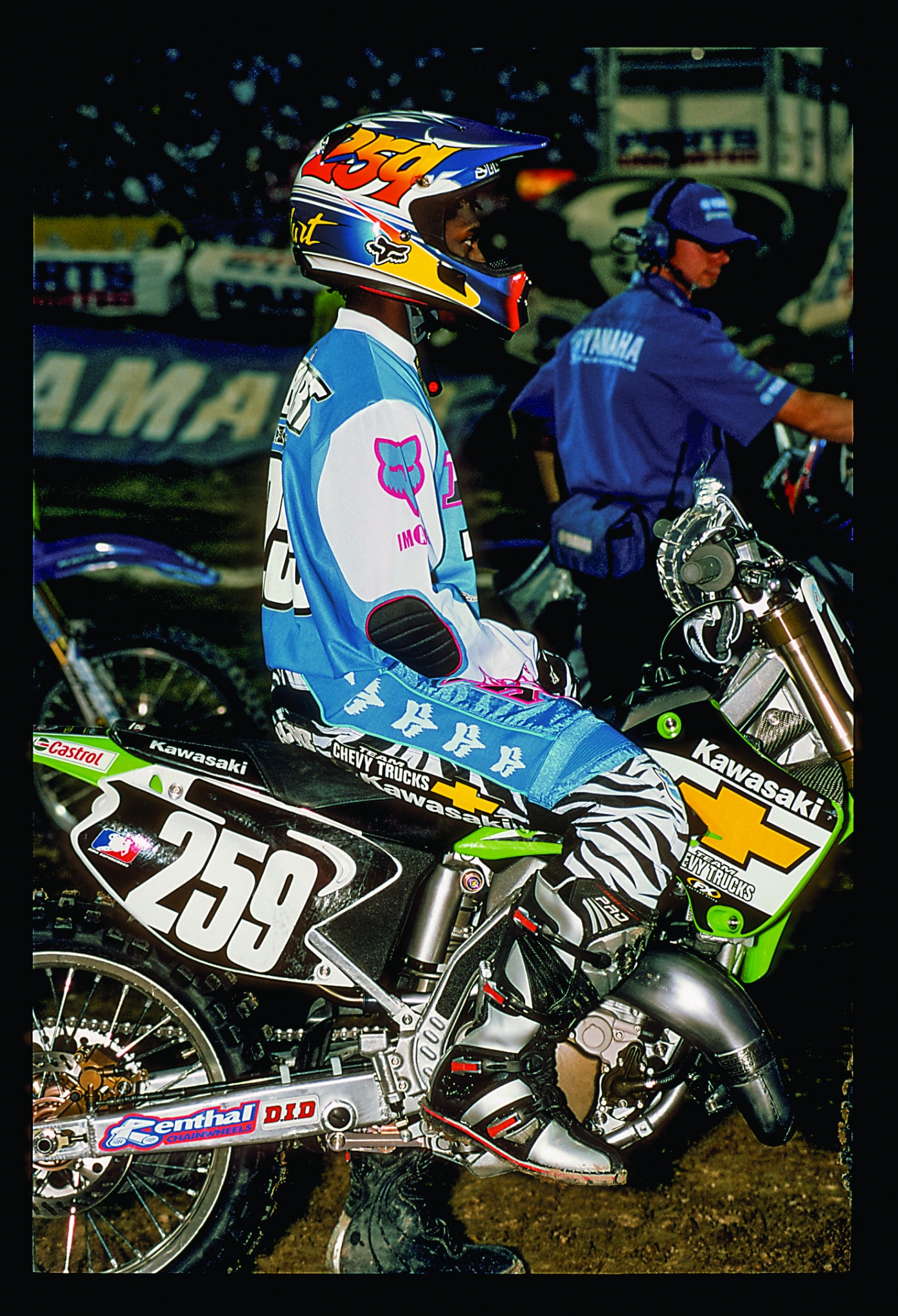 James won more races on a 125cc two-stroke than anyone in history.
When Kawasaki signed with Chevy Trucks, Factory Effex was concerned about the move. With a heavy majority of drivers in a Chevy or Ford, they were worried that graphic sales would tank because of that split. If a Ford owner had a Kawasaki, he might not want the Chevy team graphics. It ended up being the best-selling graphic they ever made. It was partly because James and Ricky Carmichael were megastars. Kawasaki worked hard with Chevy to change the colors of the logo. If you look back to the first year, the Chevy logo was pretty dark. Kawasaki suggested they go brighter and add more yellow to the logo. Chevy was reluctant, but finally agreed to the change so the logo would stand out on the bike. They ended up implementing this logo in other divisions of race sponsorship after Kawasaki made the change.
"What is important is that the bike was good, but James was great," said Bruce. "Putting the bike and James together is what really led to his success. James was possibly the very best 125 two-stroke rider ever—from the standpoint of talent and success. I will never forget the things he did on that KX125—some things other riders could only dream of doing. James invented the "Bubba-scrub" on this bike. What he did for the sport as far as how people ride and race was started right here on this KX125."