THE TRUE STORY OF RICKY CARMICHAEL'S 2005 SUZUKI RM250 TWO-STROKE
By John Basher
Driving through the gate to Ricky Carmichael's GOAT Farm always conjures up an excited nervousness resorted for meeting royalty–or, in this case, motocross royalty.  That's because Ricky Carmichael's reputation precedes him, as do the hallowed grounds that Carmichael used in training to win so many championships. Having visited the Farm a few times previously, I had come to believe that every morsel of Georgia clay and dilapidated building that comprised the GOAT Farm was soaked in magic. Little did I know what I was in for a few weeks ago when I journeyed to Cairo, Georgia, to cover the Ricky's annual Suzuki Camp Carmichael affair. I learned about treasures that were stored away in an unassuming barn. If you missed that story, click here. It turned out that the bevy of priceless factory parts and moto memorabilia was just the tip of the iceberg.
It turns out that Ricky Carmichael is a motocross collector, but not in the way most of us are. I don't know about you, but I covet race jerseys and old number plates. I'm sure if I got my hands on a factory bike I wouldn't let a speck of dirt touch the plastic, much less allow an inch of dust to gather. Not Ricky Carmichael, who subscribes to the idea that a layer of dirt is just as good as a tarp. Still, Ricky is near and dear to old race iron (he reportedly has a few race bikes at his house). Exhibit 'A' was found in his storage garage on the GOAT Farm. Sandwiched between a blown-up bike and another that looked like it had a million hours on it was Carmichael's 2005 Suzuki RM250. It was THE bike Ricky won seven Supercross races on en route to the 2005 Supercross title.
I took one look at the bike, noticed all of the factory parts on it, and immediately beelined it towards Ricky. A shocked look on my face, I managed to blurt out, "Ricky! Is that…the…bike? You know, the last two-stroke to ever win a 250 Supercross title?" Carmichael smiled, replying, "Yes, it is, Basher. Why, do you want me to ride it?" At that moment I almost lost bladder control. Ricky cut me off before I could get a word out. "Sorry, buddy, but the bike needs some work." My smile turned to a grimace. Can you imagine how awesome it would have been to watch Ricky rip around a track on his 2005 Suzuki RM250?
Instead of convincing Ricky to fire up his Supercross Championship-winning Suzuki RM250 two-stroke, I did the next best thing–shot photos of the bike. It took a can of Maxima SC-1 and lots of elbow grease to remove the thick film of clay dust. Only later I found out that Tom Willis got the bike back to operating condition, replacing the levers, putting on a front number plate, and using a wire wheel, SOS pads and dremmel tool to remove a nearly impenetrable layer of rust. He must have spent hours restoring it back to its factory shine. The RM250 turned out amazing, despite being 11 years old.
I pushed the bike into the grass and started clicking away at the shutter release button with the eagerness of the paparazzi around a Hollywood starlet. The next half hour was spent gawking at the works Suzuki parts and having flashbacks to that fateful year. Do you remember the Anaheim 1 mudder, where James Stewart made his 250 debut? Do you recall how big of a deal it was that Carmichael left factory Honda for the relatively unproven Suzuki program? This bike–Ricky's 2005 Suzuki RM250 two-stroke–was the cornerstone. To this day it is more than machine; it's a time capsule; it's a statement piece; it's a part of motocross history that I thought no longer existed. Yet here it was, packed away in some dark corner of a dusty garage.
Rather than merely show you pictures of the bike, I thought it would be more interesting to discuss the 2005 Supercross series with the men behind the bike–Ricky Carmichael, Suzuki team manager Roger DeCoster, and Ricky's mechanic Mike Gosselaar.
ON SIGNING WITH SUZUKI…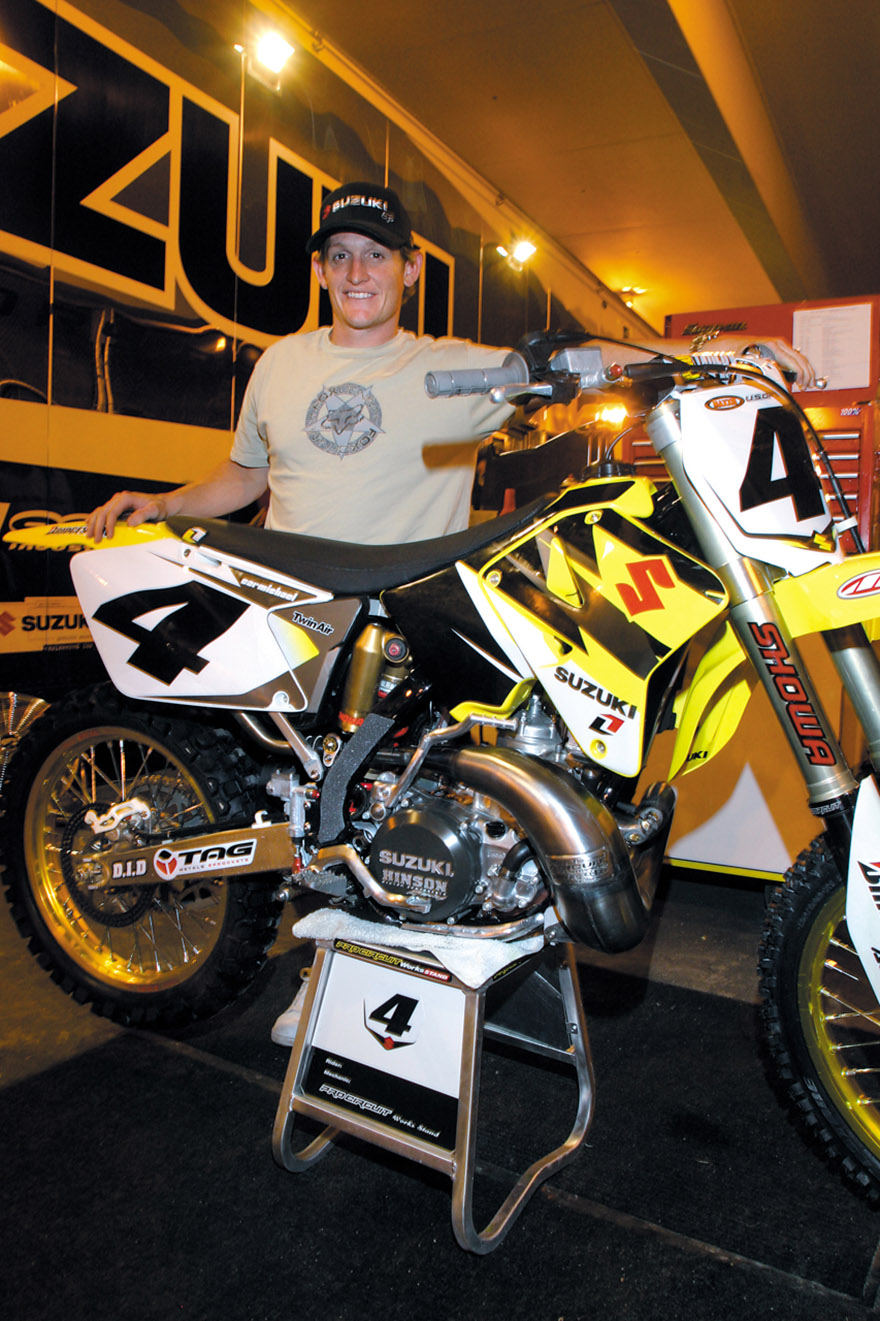 Ricky Carmichael was all smiles in the pits before the racing heated up at the U.S. Open in Las Vegas in October, 2004. However, the inner clutch hub let go while Ricky was leading the second night. 
Ricky Carmichael: "The deciding factor was their commitment. I had been going back and forth with Honda, and it was a struggle. I was committed to Honda, believe it or not. I wanted to stay with Honda, but Suzuki's persistence is what persuaded me to sign with them. They really wanted me, and I didn't feel like Honda was making that extra effort. Honda was being fair, but I felt like they weren't fully committed to me. They didn't have trust in me like they had when I signed with them before 2002. That rubbed me the wrong way. I had a lot of success with them. At the same time I was hurt [for Supercross in 2004]. Ultimately, I decided to go to Suzuki because of their devotion towards me. Believe it or not, I didn't get to ride the RM250 before I made the decision to sign with Suzuki. Everyone does that [rides the different bike] before signing now, even though they act like they don't. Most guys want to test ride the bike before signing with the team. I didn't have a chance to, because I had a torn ACL. I just went into it blind, not really knowing what I had. I did do my research and listened and watched the bike."
ON RACING THE U.S. OPEN…
Carmichael: "It was fun to race the bike there and make that the debut before Anaheim, because I got to see where we were at and what I was working with. We learned a lot. I had only tested a small amount at the time, so it was a good warm-up for Supercross."
Roger DeCoster (then the Suzuki team manager): "Everybody was happy to get the bike ready for Ricky and to make the bike to his liking. The bike was quite good on the power delivery, but then we went to the U.S. Open in Vegas. Although we had been testing, something gave way in the clutch. It was quite embarrassing."
Carmichael: "I had gotten second the first night, and I was leading the second night with a fairly sizable lead. I was looking good for the overall. I kept Reedy [Chad Reed] at bay. Then I fell down, because my clutch quit working. I got back up, and as soon as I went to go out of the stadium my bike quit going. We had to pull off. It was something with the clutch."
Mike Gosselaar (Carmichael's mechanic): "We DNF'ed the second night. The inner clutch hub on those bikes wasn't as beefy as a Honda inner clutch hub. Ricky being the hard rider that he is, landed full throttle off a jump going out of the stadium. The thing just let go. It spun the splines right out of it."
DeCoster: "Ricky was mad about what happened, but we all were. We were mad and embarrassed. The factory guys went back to Japan with their tails between their legs and went to work. They got it fixed before Anaheim, but it was not an easy fix. It's weird, because it never happened previously in all of the hours of testing."
Gosselaar: "Ricky wasn't too happy about it, but neither was I. I was thinking that something I did had broke. It was a long walk through the pits wondering what the heck happened. We had just finished 24 motos without a failure and the second night on the RM250 the bike breaks."

ON MAKING BIKE CHANGES BEFORE THE 2005 SUPERCROSS OPENER…
Carmichael: "We had a huge engine improvement after the U.S. Open that year. We did our pre-season testing just before the U.S. Open. The engineers went back to Japan and made a couple of adjustments based on my feedback. They came back to the U.S. a few weeks later, and they had made changes to either the power valve or the exhaust intake. Whatever they did, it was huge. The bike went from a ten to a 12. It was unbelievable. I rode that setting all of the way until after Daytona, which is when I started struggling a bit."
Gosselaar: "Suzuki had made a lot of changes. They were proactive on doing whatever we needed done. They came out with some new power valve parts, and that made the bike so much better. One of the big things, too, was that we went to Bridgestone tires. That was huge for Ricky. We tried a lot of different things. I remember we had special triple clamps made right away. Mainly it was engine setup that we spent the most time on. We did that for better performance, but also to make it more reliable. I remember that Pro Circuit made us special pipes and silencers. That's probably the coolest part on the bike. I wish I had one of those pipe and silencer combinations."
DeCoster: "Ricky was never a guy that was looking for top power. He wanted to be able to ride aggressively. He never wanted the bike to kick on braking. If the suspension bottomed he did not care. I remember him saying, "If it kicks me in the butt, then I'm backing off. Just make sure the rear of the bike doesn't kick me in the butt.'"
Gosselaar: "It was really cool being at Suzuki, because they were so proactive. I could ask for something and literally have the part in my hand that week. They weren't scared to try anything. Working with Ricky and Roger was awesome. It was an open checkbook at that time. Whatever we wanted and needed was given to us. Roger likes testing, and when you get a rider like Ricky who gives you good feedback and results it all made it work it."
ON THE ANAHEIM 1 MUD RACE…
Carmichael: "I still get ticked off when I think about that race. It was my race to lose, but a stupid mistake led to a tip-over. I ended up third on the night. I definitely wanted to crush the field that night, just because everyone had their opinions and doubts about me going to Suzuki. I wanted to shove it in their faces [laughter]. It was going good for about five laps. I still ended up on the box, and nevertheless it was still a good night points-wise. That Anaheim opener was exciting. I kind of liked that it rained, because there's always so much hype around Anaheim 1. I feel like you can't judge anything by that race. Some guys ride out of their minds a little bit and do better than they normally would, and vise versa. The good guys that are championship contenders want to win A1, but at the same time they want to get out of there with a fair amount of points. When it rained, that simmered everybody down. To me it felt like a mid-season race."
DeCoster: "Ricky was leading, and at some point he crashed and Kevin Windham ended up winning. Ricky finished third. All of the main guys from Suzuki in Japan were at Anaheim to see Ricky's first Supercross on the RM250. The main guy from Japan started yelling at me. He said, "You need to control your rider! Ricky was leading. He could have slowed down and won." As you know, when you slow down in the mud the wheels clog up and that makes it worse. It's better to keep your speed, but this guy didn't know enough about riding to understand. The guy was yelling at me in front of the other Japanese, our mechanics and also Ian Harrison. I got back on him and told him, 'Hey, it doesn't work that way. I'm not going to tell Ricky to slow down because he has a five- or ten-second lead.' It was a crazy mud, and anybody could have crashed at any moment. Truth be told, I was really happy with the race. Ricky had the speed and the bike was working fine. That gave me confidence that we would be alright for the season. Then I have this guy yelling at me. The bosses never get answered when they scold their employees. I got back on him and started yelling. The other Japanese were running and hiding [laughter]."
Carmichael: "After the race the engineers were getting so mad at Roger. Everyone was upset. It was kind of bull, really. I felt bad for Roger, because everyone had done their jobs. The engineers were freaking out, but at the same time, Roger and I were happy. We beat Stew [James Stewart] and Reedy. Those were the guys we knew would be in there for the championship. It was kind of a win for us."
ON HIS SUZUKI RM250 BIKE SETUP…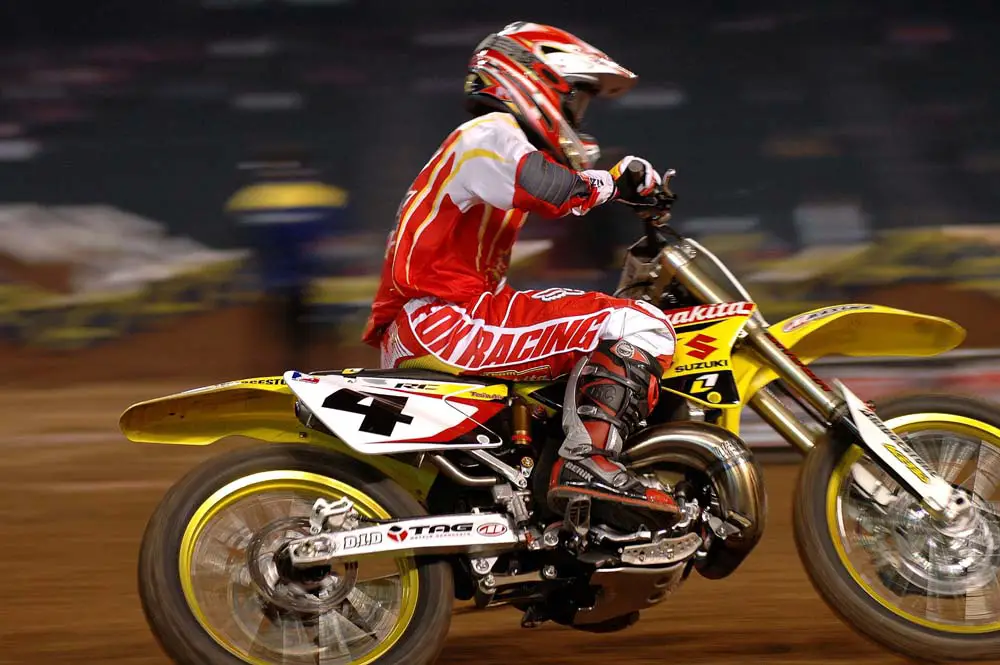 Carmichael's Suzuki bike setup was more balanced front to rear than it had been while Ricky was at Honda. As a result, he could get through the whoops better. 
Gosselaar: "His bike setup changed completely after switching to Suzuki. His setup was a lot more normal. The whole thing with the Honda was that he didn't have the traction that he needed. The CR250 made a lot of power, but it was really peaky. That made it hard for him to go through the whoops, so we kept lowering and lowering the rear end to keep the bike from bucking him off."
Carmichael: "I had the rear end slammed on the Honda. On the Suzuki we didn't have to band-aid fix it with ride height or anything else to get the RM250 to work properly. It had a great power with a good torque curve. The tires were good. I didn't have to compromise too many things on the machine to make up for the downsides. With that said, I could run a more neutral balanced bike."
DeCoster: "Ricky was never a guy that was looking for top power. He wanted to be able to ride aggressively. He never wanted the bike to kick on braking. If the suspension bottomed he did not care. I remember him saying, 'If it kicks me in the butt, then I'm backing off. Just make sure the rear of the bike doesn't kick me in the butt.'"
Gosselaar: "He felt so much better on the Suzuki in the whoops. The engine and the tires were the big thing. He was able to put power to the ground effectively. He wasn't really pretty in the whoops, but he was able to go through them a lot better. I remember in the second race he passed [Chad] Reed in the whoops. Up until that point he was never able to do that. It boosted his confidence, because he hadn't been able to pass Chad in the whoops prior to that. He pretty much passed Chad and left him in the dust."
Carmichael: "I really didn't have any growing pains with the bike. The biggest time that we struggled was just past the halfway point in the series. We tried to make the bike better than it already was. The other guys were also getting into better shape and racing their way to improvement, while I started off the series in really good shape. I put a lot of offseason riding time and testing into the bike. I was very thorough with my testing and made sure no stone was left unturned. I double confirmed my settings so there wasn't any back and forth. I was always pretty dang comfortable on the RM250 until we switched it to try and make it better [laughter]."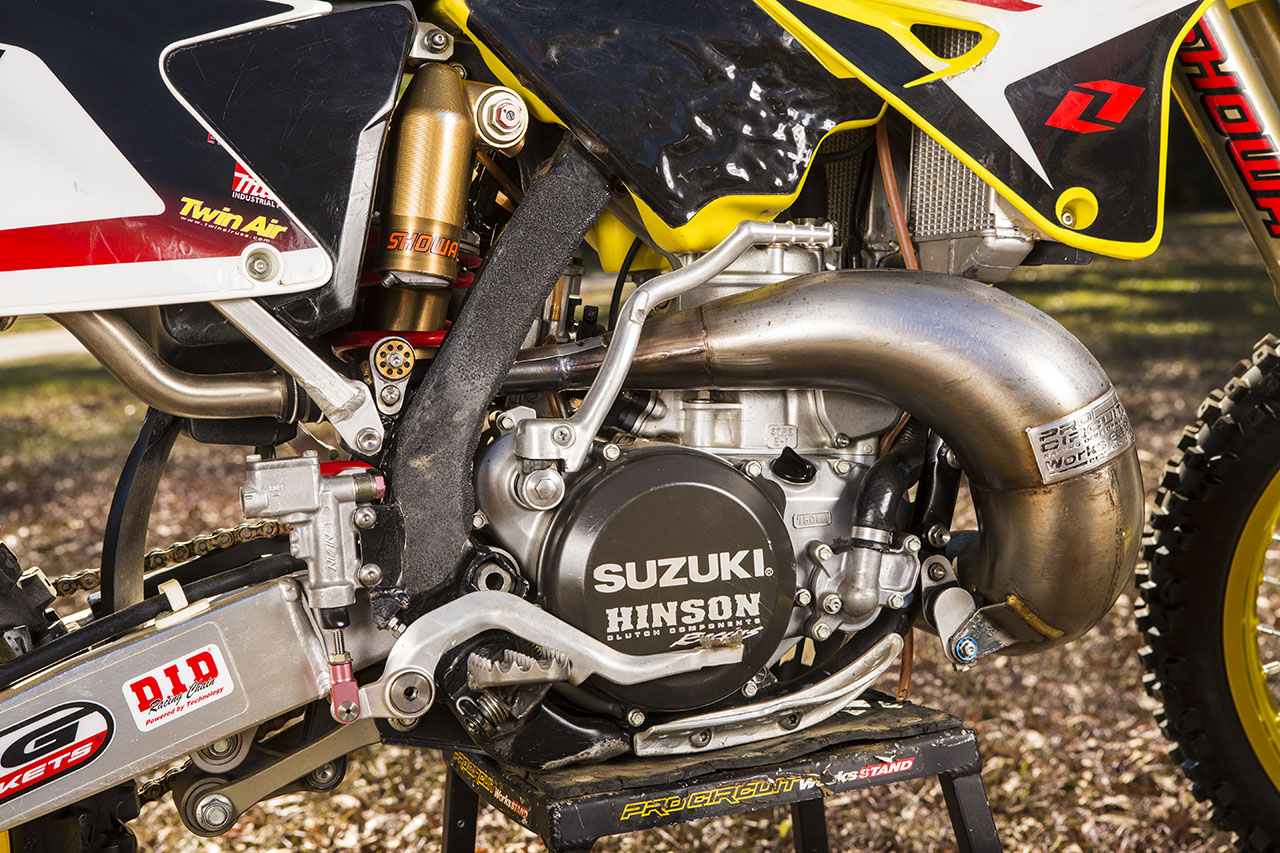 Obviously worn, but still littered with factory components, Ricky Carmichael's 2005 RM250 is a part of motocross history. If you click on the image to blow up the size, take a look at the stamped 'O5 RC T3′ in the Pro Circuit pipe bottom mounting bracket. '05' signifies 2005; 'RC' are obviously Ricky's initials; 'T3' differentiates this pipe design from the other Carmichael-specific pipes.
A magnesium hub, works Showa forks (with beefy lugs) and an oversize front rotor are just some of the cool parts in this photo.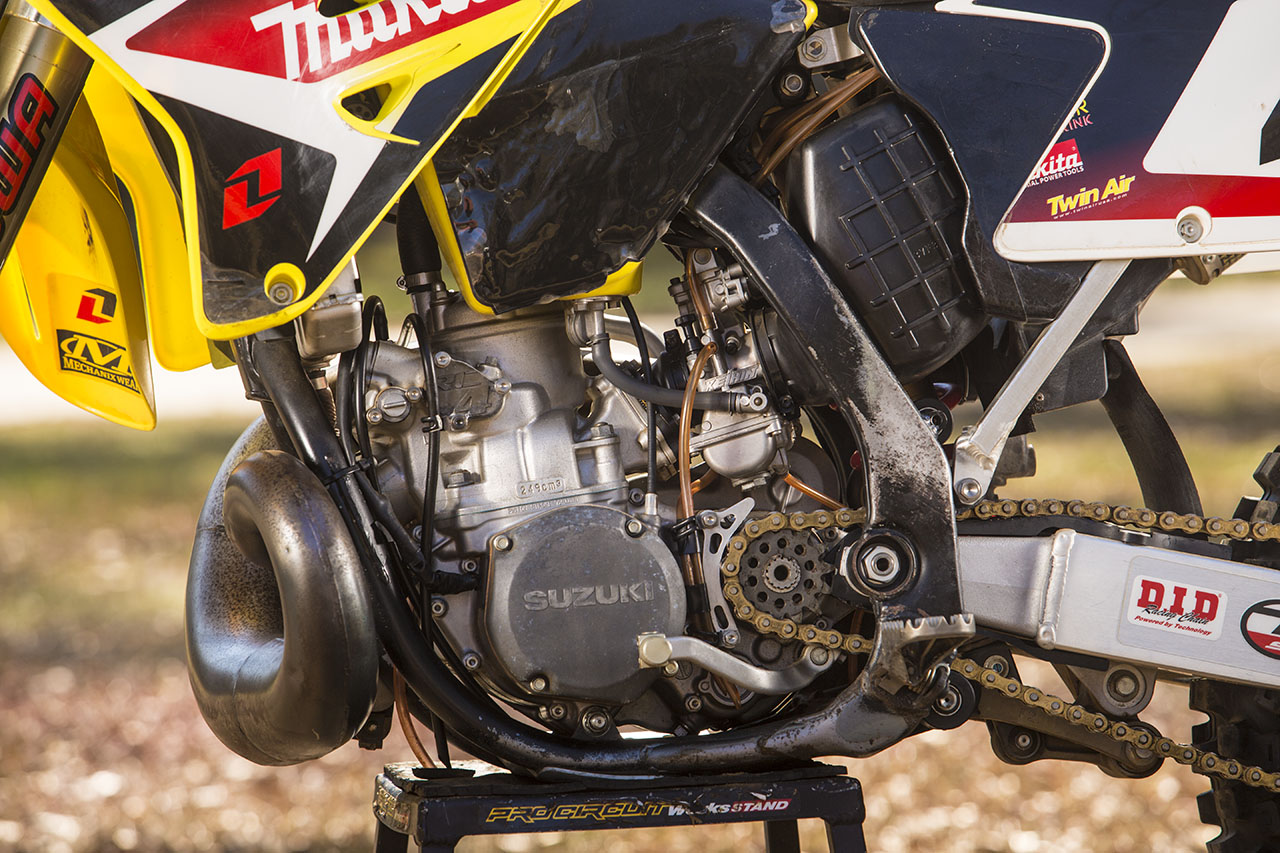 The ignition side of the bike shows the true extent of the RM250's wear. Take notice of the customized 'RC4' cover on the engine. The real factory secrets are found inside the engine and carburetor.
The Showa factory shock seems so basic compared to the shock designs of today. Check the drilled out washer and titanium bolts. Above that you'll see the shaved down seat, with the cover on the verge of being worn through.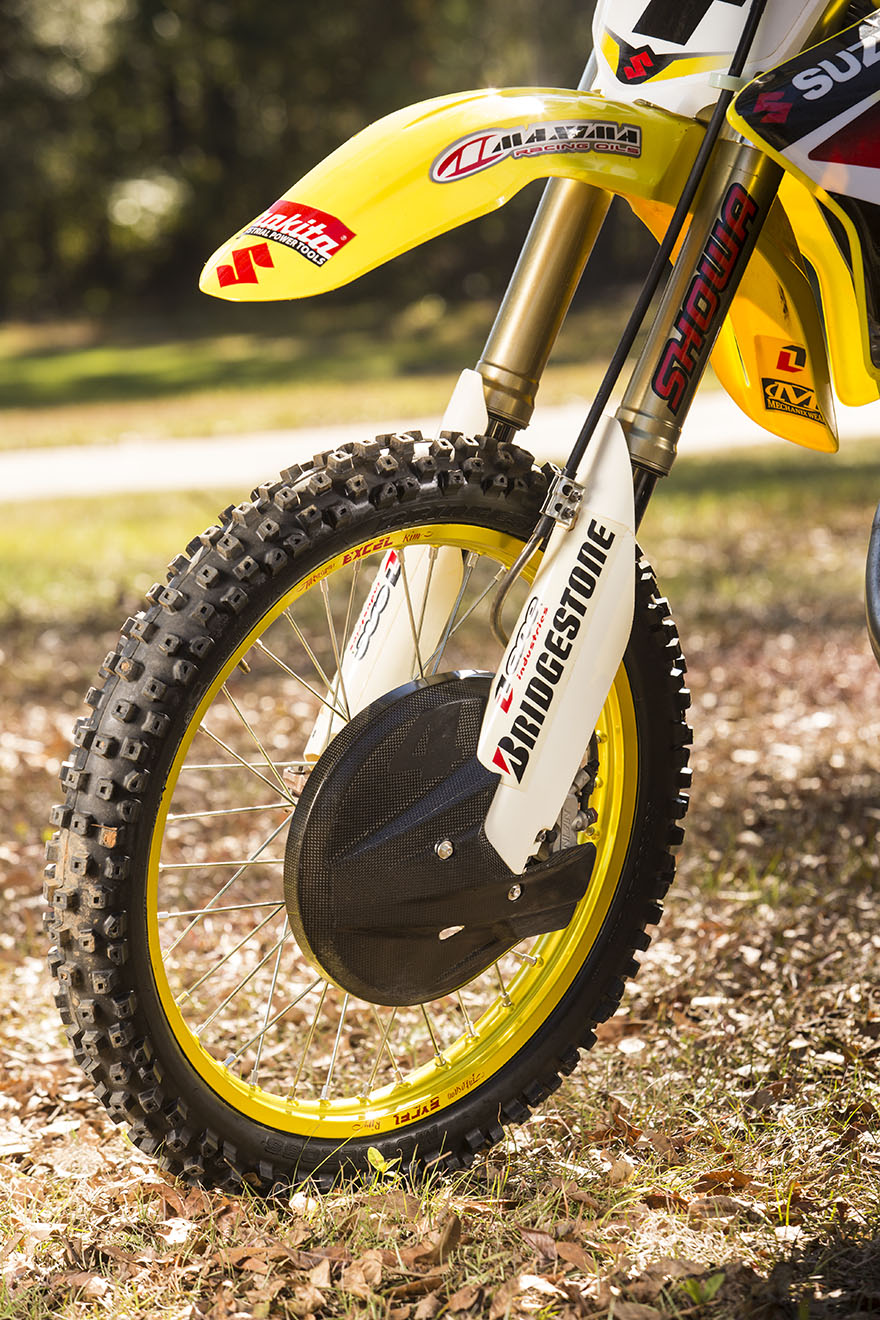 Do you see it? Look closer. Hidden on the works carbon fiber front rotor guard (with built-in caliper coverage) is Ricky's famed '4' number.