THE UNITED NATIONS INVADES REM'S GLEN HELEN MOTOCROSS
Norwegian Cornelius Toendel swept both motos of the 250 Pro class. Photo: Kyoshi Becker
PHOTOS BY DEBBI TAMIETTI, JON ORTNER & KYOSHI BECKER
Unlike any local motocross race in the world, this week's REM motocross at Glen Helen Raceway, featured riders from 12 different countries . The United Nations of REM came as a result of the host of motocross vacation companies that host riders from around the world. This week there were riders from Canada, Norway, Sweden, England, South Africa,  United States, Mexico, Australia, Germany, Holland, Japan and France.
Richard Taylor was leading the first 250 Pro moto when he fell, allowing Toendel (Norway), Macler (France) and Ohiro (Japan) to get by him. Photo: Debbi Tamietti
Most of these riders traveled great distances to race in America and no one wanted to see this week's REM race at Glen Helen get canceled because of rain—and has been the trend throughout all of January. The rain has been so bad that this week's REM race, on February 9, was the first one that they have held in 2019. REM had to cancel its first four races of 2019 because of bad weather. If you are wondering why motocross races are canceled because of rain in SoCal, the answer is that most SoCal race track are built on land that is prone to flooding when it rains (which it normally doesn't).
Japan's Kai Oshiro was the fastest of the Japanese riders, but his 3-3 left him third overall in the 250 Pro class. Photo: Debbi Tamietti
As for Glen Helen, the entrance to the track is down a one-mile, two-lane, black-top road that crosses a river. However, it crosses the river without benefit of a bridge. Thus, when it rains at Glen Helen, and especially in the 8000-foot high mountain surrounding the racetrack, the normally dry riverbed becomes a raging torrent. The racers can't get in and if they are in, they can't get out. So, the regular REM racers were chomping at the bit to start their race season, but it barely happened this week.
Ludovic Macler (952) came from France to get in some warm weather training. Unfortunately, this winter has been cold and wet in SoCal. Ludovic's 2-4 put him a three-way tie for second overall in the 250 Pro class with Richard Taylor (4-2) and Kai Oshiro (3-2). Ludo got the short straw and was scored fourth overall. Photo: Debbi Tamietti
The race only happened because REM promoters Frank and Myra Thomason used a mixture of blind faith and science to get the race to happen. Although rain had been predicted for Saturday, REM told everybody that they were going to race on their website and Facebook pages. No one believed them, but Frank and Myra stuck to their guns. When the vans and trucks began to roll into Glen Helen on Saturday morning, the REM track was prepped, but had not been watered. And, over the horizon very dark clouds were looming and every rider who came in from Los Angeles said that they drove through rain showers to get there. But, the pits kept filling up with racers who believed that there would finally be a race.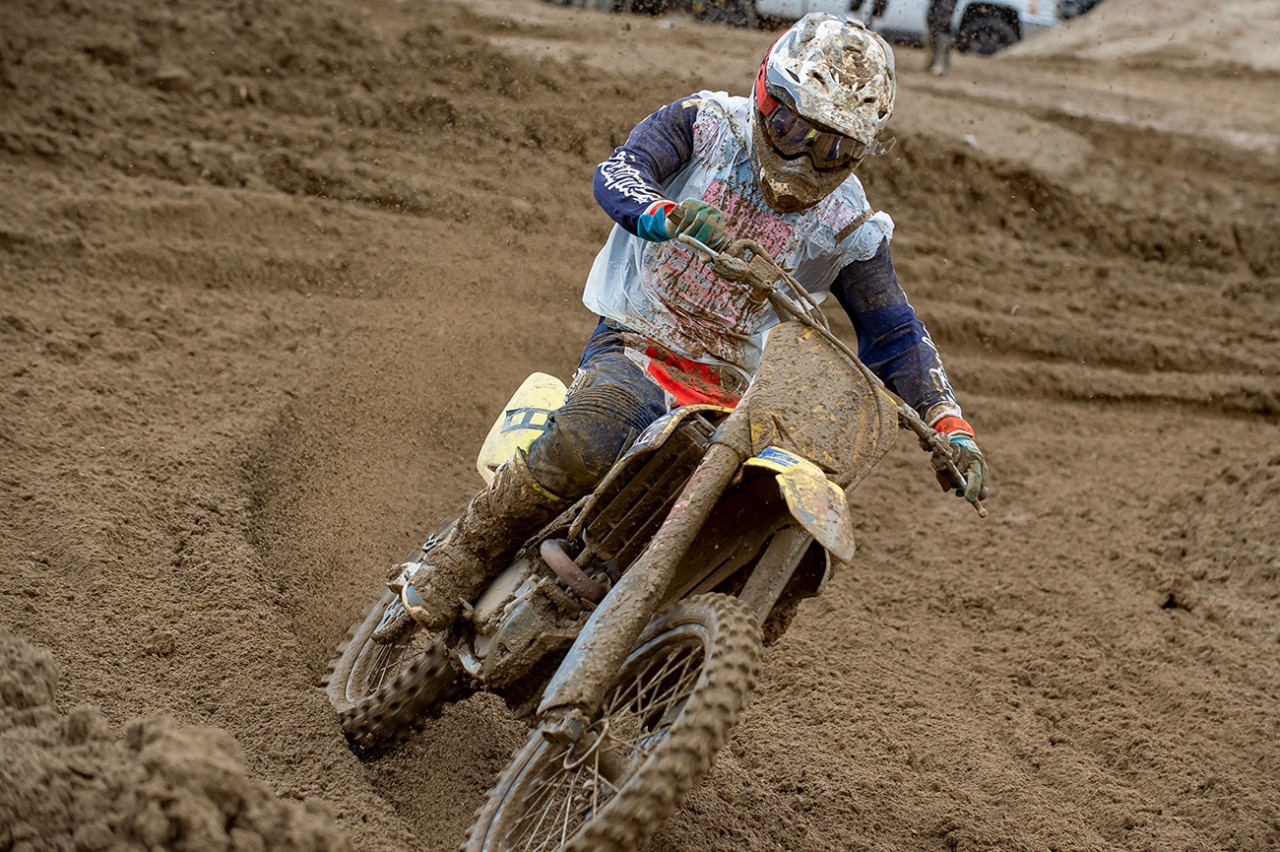 Ryo Ikeda (8) had an off-day and went 5-6 in the 250 Pro class. Photo: Kyoshi Becker
As it got darker and a mist began to fall, Frank Thomason came on the loud speaker and announced that the NOAA (National Oceanic and Atmospheric Administration)  weather radar showed that a band of showers would pass by in a few minutes, but that practice would be held up while the showers watered the track and practice would start the minute the showers passed by. As everyone in the pits quickly checked their iPhones to look at the radar themselves, they saw that the rain cloud would pass in 40 minutes and that there would be no more rain.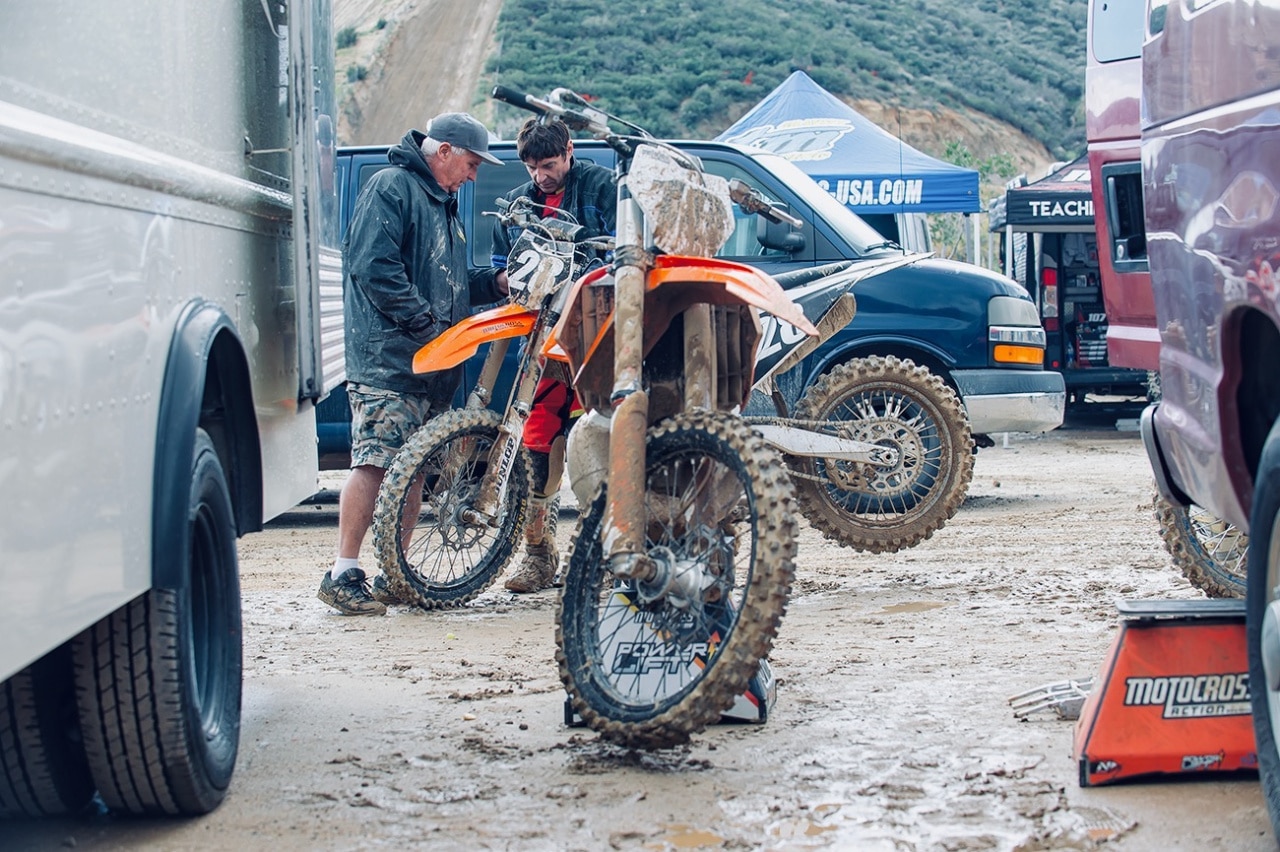 Jody Weisel and Dan Alamangos wait for the rain to quit before practice starts. Photo: Kyoshi Becker
Ty Cullins (766) won the the 450 Intermediate class on a TM. Ty previously raced for Beta. Mike Carter (50) took the Over-40 Expert victory. Photo: Debbi Tamietti
And just like clockwork, practice was delayed 40 minutes and then like magic, the rain stopped. Right on schedule! Practice was muddy, but before long the dirt came together and the race was on.
German TM riders Lutz Stiebritz (left) and  Chris Hoffmaan got to race for the first time in the United States. They race for the German-based Eastside Racing team. It is called "Eastside" because it is located in the former communist-controlled East Germany. Photo: Debbi Tamietti
Of course, all of the foreign riders were confused about why the race was delayed because of a little rain shower (if they don't race in the rain at home , they don't get to race). But they were thrilled later when they got to race on almost perfect dirt. And, to make the day more surreal, a random cloud rolled in just before the end of the second round of motos and stayed only long enough to rain on the Over-50 racer's second moto. And when that one special moto was over the sun came out for the next race on the schedule.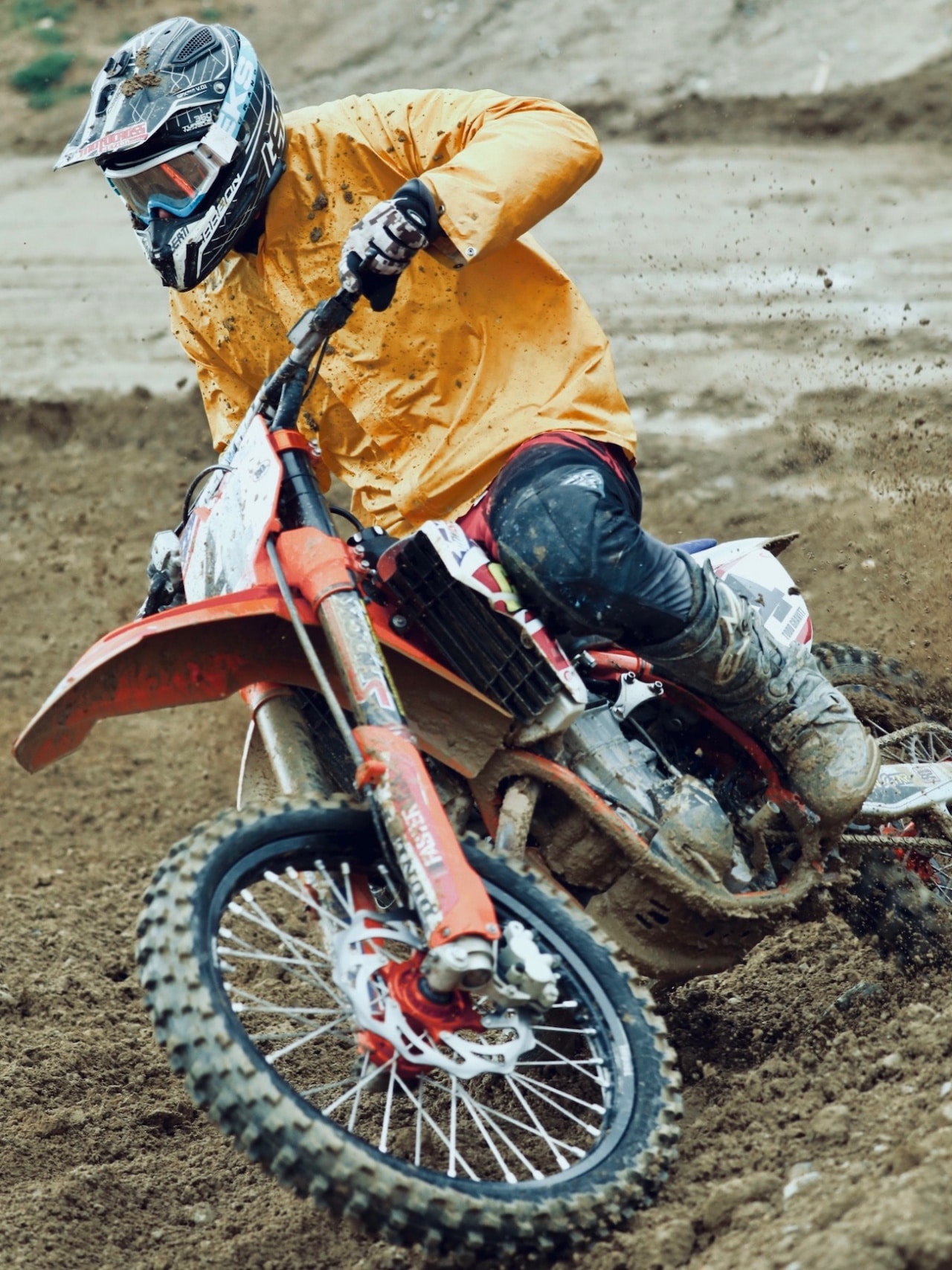 Todd Gravitt (4) was the winner of the Vet Pro class. Photo: Debbi Tamietti
REM GLEN HELEN RESULTS: SATURDAY, FEBRUARY 9, 2019

250 PRO
1. Cornelius Toendel (KTM)…1-1
2. Richard Taylor (Yam)…4-2
3. Kai Oshiro (Hon)…3-3
OVER-40 EXPERT
1. Mike Carter (Hon)…1-1
2. David Cincotta (TM)…4-2
3. Ralf Schmidt (TM)…3-3
On and off throughout the race day the sun would pop out. Josh Fout enjoys a warm moment as he rails around this 180-degree uphill turn. Photo: Debbi Tamietti
OVER-60 EXPERT
1. Dave Eropkin (KTM)…1-1
2. Jim Hanson (Hon)…3-3
3. Mike Monaghan (Yam)…2-4
OVER-60 INTERMEDIATE
1. Steve Chandler (TM)…1-2
2. Duane Joice (Yam)…3-1
3. Randy Skinner (KTM)…2-4
OVER-65 INTERMEDIATE
1. Mike Marion (Yam)…1-1
2. Lars Larsson (Hon)…3-2
3. Tony Parsons (KTM)…2-3

Amazingly enough, former Grand Prix rider Lars Larsson (47) raced his first-ever race on this exact day in 1959. He celebrated his 60th anniversary with the sport of motocross by going 3-2 for second in the Over-65 Intermediate class on MXA's 2019 Honda CRF250RX. That is Mike Monaghan (16) on Lars'outside. Photo: Debbi Tamietti
OVER-50 ELITE
1. Jon Ortner (Yam)…1-1
2. Robert Reisinger (Hus)…3-2
3. Craig Davis (Hus)…2-4
OVER-50 EXPERT
1. John Griffin (Suz)…1-1
2. Bryan Friday (KTM)…2-2
3. Pasha Afshar (KTM)…3-3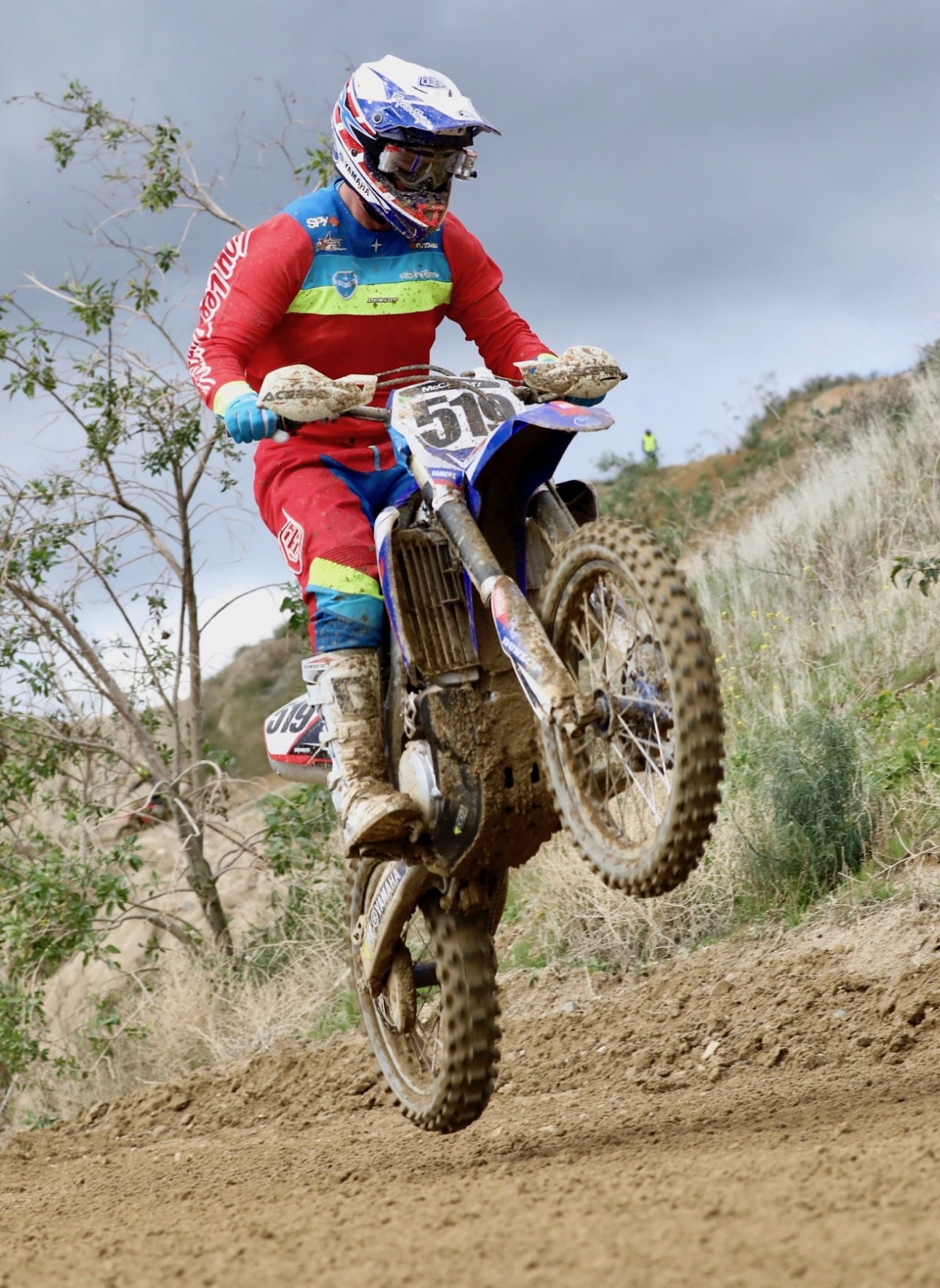 David McCarthy's 2-2 was good enough for second overall in the Over-40 Novice class. Photo: Debbi TamiettI
OVER-50 INTERMEDIATE
1. Lonnie Paschal (Yam)…1-2
2. Jim Naegle (KTM)…4-3
3. Nick Waters (Yam)…5-5
OVER-50 NOVICE
1. Lutz Stiebritz (TM)…1-1
2. David Bress (Suz)…2-2
3. Drew Castro (Yam)…3-3
Thanks to the weeks of rain that cascaded down on California in January and early February, the rain washed a lot of sand down onto the track. Dave Eropkin (811) avoids the wet spots by staying high on the berm. Dave won the Over-60 Expert class. Photo: Debbi Tamietti
OVER-30 NOVICE
1. Doug Redding (Yam)…1-2
2. Braden Larson (Hus)…3-1
3. Brandon Woods (Yam)…2-4
OVER-40 NOVICE
1. Grant Bloomfield (KTM0…1-1
2. Chris Hoffmaan (TM)…2-2
3. David McCarthy (Yam)…3-3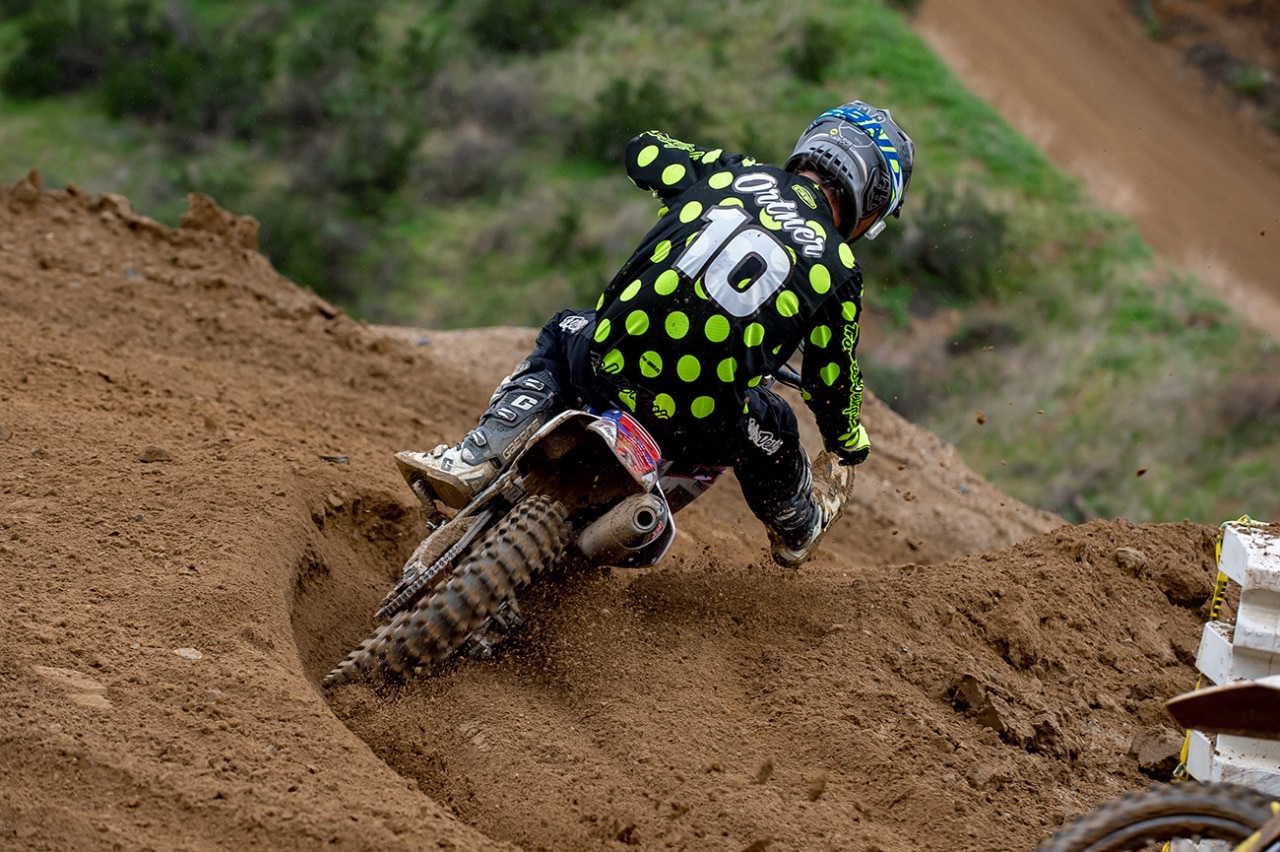 The Over-50 Elite class is one step above the Over-50 Experts and for years has been a fairly small, and dare we say it, elite class for the fastest of all the 50 year olds. For 2019 it has grown much larger, but three-time REM Champion Jon Ortner held off the newcomers for the win. Photo: Kyoshi Becker
BREAKDOWN BY BIKE BRANDS IN PERCENTAGES
1. Yamaha…30%
2. KTM…30%
3. Honda…14%
4. Husqvarna…11%
5. TM…8%
6. Suzuki…4%
7. Kawasaki…3%
Canadian Pete DeGraaf (16) is a seven-time World Vet Champion in the Over-50 and Over-60 classes. He missed the first moto of the Over-50 Elite class, but raced the second moto. He finished third behind Jon Ortner and Robert Reisinger. Photo: Kysohsi Becker
Ron Shuler (33) was fourth in the Over-50 Elite class with a 4-5 day. Photo: Debbi Tamietti
Australian Dan Alamangos (28) doesn't dare glance at the pool of quick sand off to his left. Dan was fifth in the Over-50 Expert class. Photo: Debbi Tamietti
South African Alan Jullien (70) came back from an injury-induced lay-off to go 2-4 in the Over-40 Expert class. Photo: Debbi Tamietti
David Bress used a 2-2 score to secure second overall in the Over-50 Novice class. Photo: Debbi Tamietti
Val Tamietti, the current REM number one rider, made his first visit back to Glen Helen since breaking his tib/fib back in December. He had it plated and will be out of action for a couple more months. Photo: Jon Ortner
With rain in the forecast, Randel Fout (15) elected to race a Husqvarna TC250 two-stroke. Randel grew up racing in Michigan, so rain was nothing new to him. Photo: Debbi Tamietti

Brandon Woods (56) and Mark Taylor (126) dueled for third in the Vet Novice class with Woods getting the nod by one spot. Photo: Debbi Tamietti
STI Tire's owner Craig Petersen (23) was drafted to race one moto on MXA's 2019 CRF250 and one moto on MXA's CRF250RX. His 8-7 gave him seventh in the Over-50 Intermediate class. Photo: Debbi Tamietti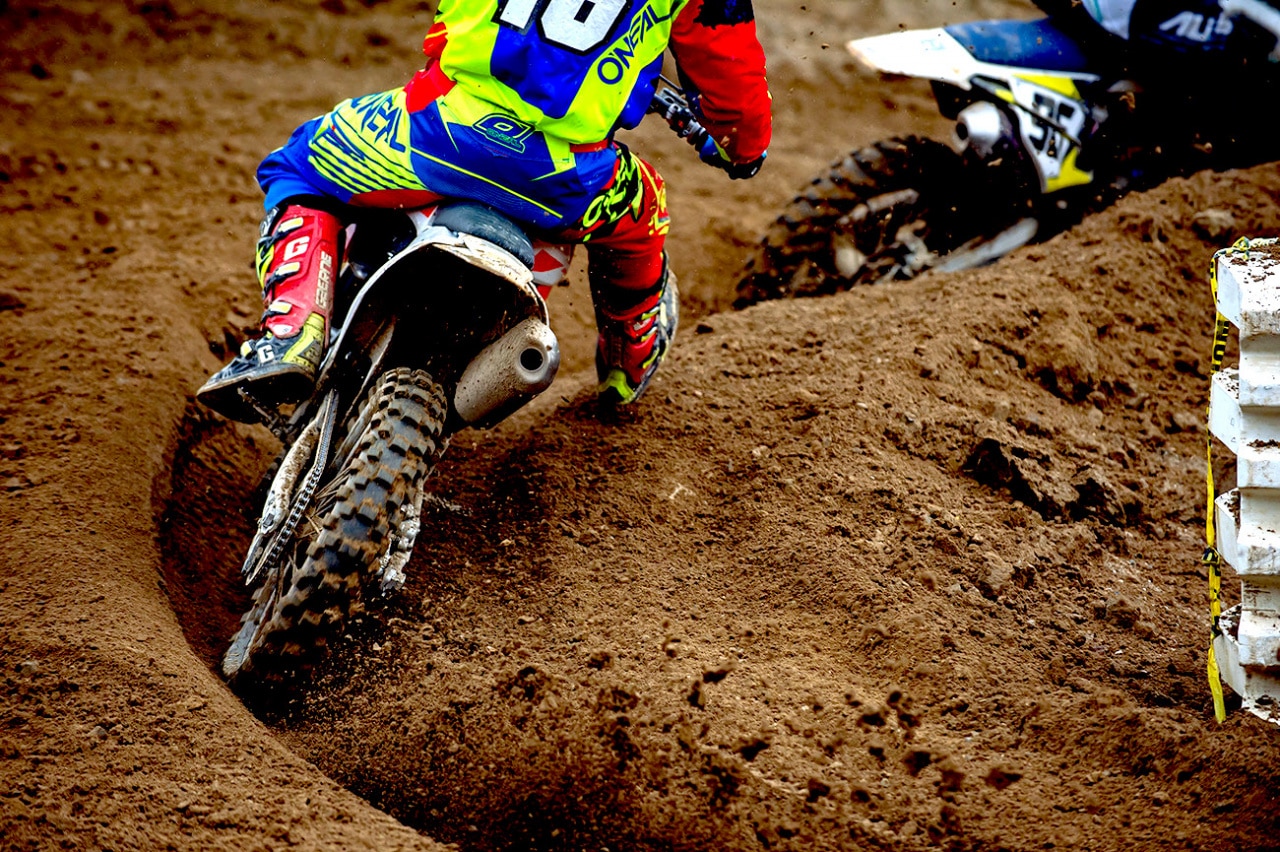 The best thing about this corner is that there was no confusion about which line to pick. Photo: Kyoshi Becker
Ryder Friday (25) and Angelo Castro (92) get in their first-ever mud races on REM's kid's track. Photo: Debbi Tamietti
The sun shines on  Braden Larson's Husqvarna in the Vet Novice class. Larson's 3-1 gave him second overall. Photo: Jon Ortner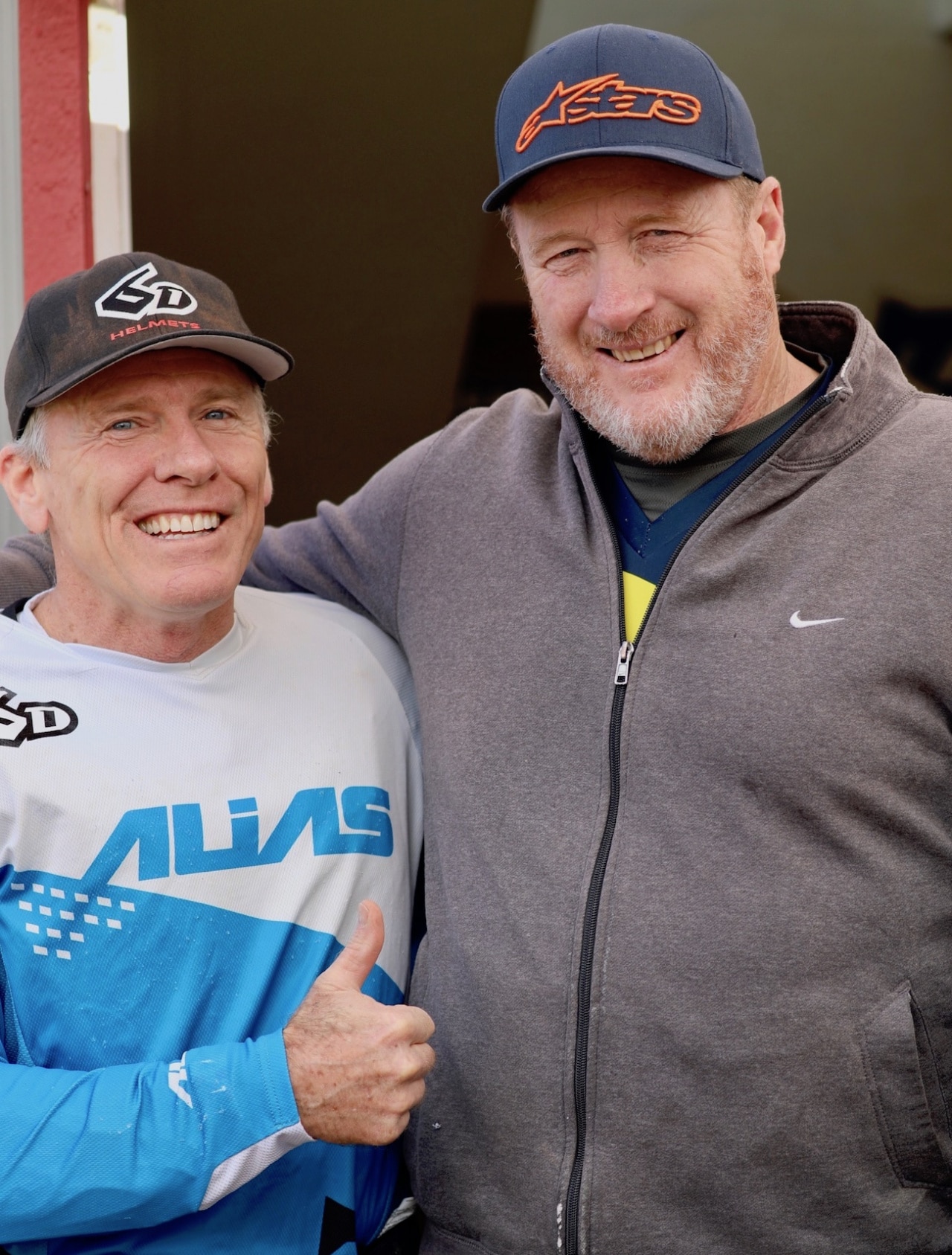 6D's Robert Reisinger presented drawing winner Duane Joice with a new 6D helmet at the rider's meeting. Later in the day, Robert would get second overall in the Over-50 Elite class and Duane would take second in the Over-60 Intermediates. Photo: Debbi Tamietti
The end. Photo: Debbi Tamietti
REM races again on February 16 and 23 (although as-always rain his predicted for next weekend). For more info about REM motocross go to www.remsatmx.com.
REM'S NEXT MOTOCROSS RACE IS AT GLEN HELEN ON FEBRUARY 16