THIS WEEK AT GLEN HELEN: REM MOTOCROSS, CAL-VMX VINTAGE, OLD SCHOOL SCRAMBLE & SRA GP
THURSDAY, OCTOBER 8

MOTOCROSS PRACTICE
National  track
8:00 a.m. to dusk
REM TRACK PRACTICE
REM track
8:00 a.m. to dusk
STADIUMCROSS PRACTICE
Stadiumcross track
8:00 a.m. to dusk
$30 per bike
PEE-WEE TRACK
Pee-Wee Track
8:00 a.m. to 2:00 p.m.
$20 per bike
SATURDAY, OCTOBER 10
REM MOTOCROSS RACE
REM Track
Practice Starts at 8:30am
Racing Starts at 10:00am
CAL VMX VINTAGE RACE
National  track
Practice 8:30 a.m.
Racing 10:00 a.m.
SUNDAY, OCTOBER 11

SRA GRAND PRIX
Practice 8:00 a.m.
Racing 9:00 a.m.
OLD SCHOOL SCRAMBLES GRAND PRIX
Truck track
Practice 9:00 a.m..
Racing 10:30 a.m.
REM MOTOCROSS THIS SATURDAY, OCTOBER 10  —  PLUS,    OCT. 17, OCT. 24, NOV. 14 , DEC. 5 & DEC. 19


For more information go to www.remsatmx.com.
OLD SCHOOL SCRAMBLES "OKTOBERFAST" GRAND PRIX
ON OCTOBER 11, 2020
For more information go to www.ossrg.org
FIRE/POLICE MX "DOUBLE-TRIPLE" RACE AT GLEN HELEN ON MONDAY & TUESDAY OCT.12-13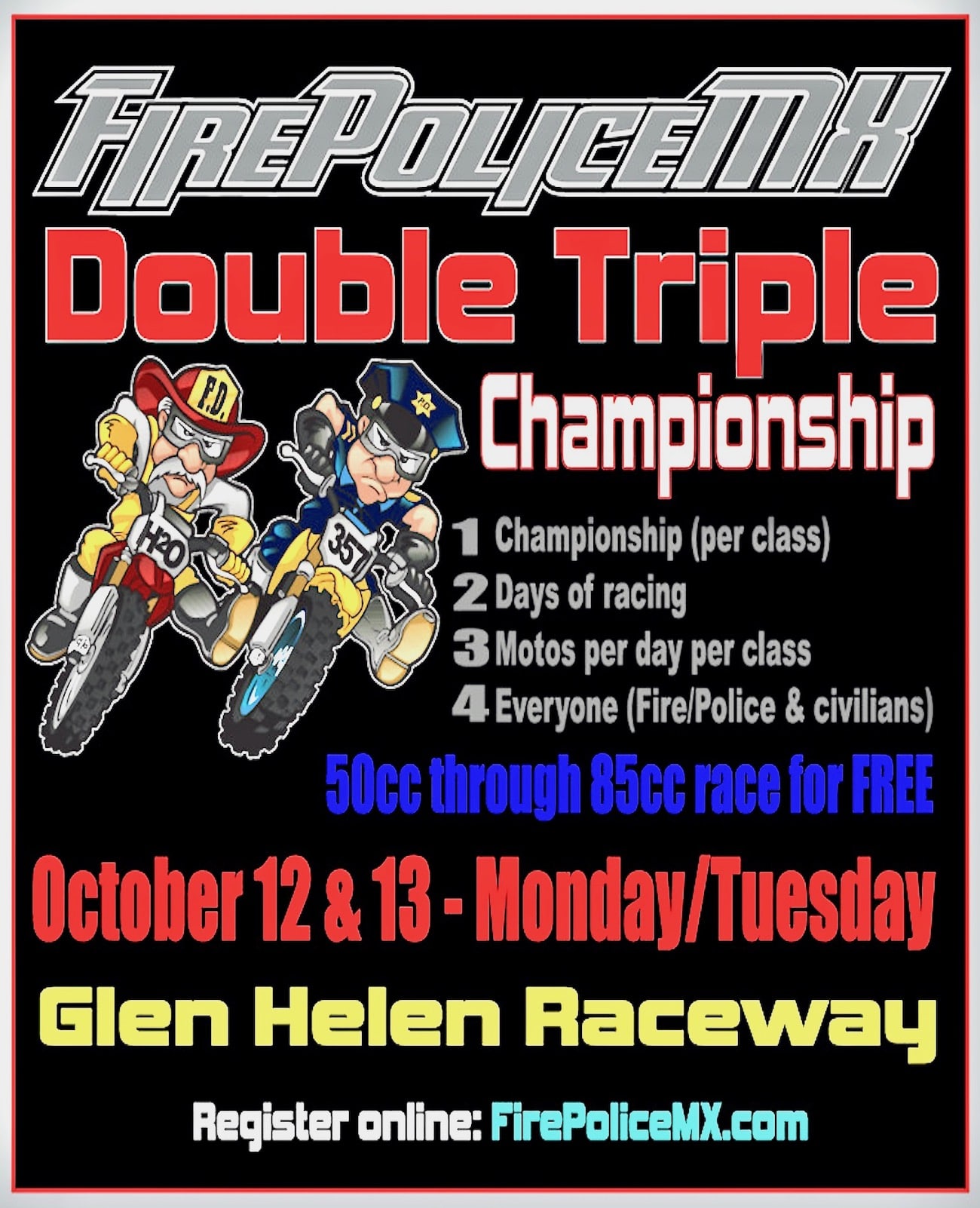 Fire/Police MX is having a two-day race on Monday and Tuesday October 12th and 13th. Come out for two day's of racing or just one. It's called the "Double/Triple" because it takes place on Monday and Tuesday and has three motos every day. Big track on Monday and REM track on Tuesday. Race it on Monday and big track is open for practice on Tuesday. You don't have to be a policeman or a fireman to race. There are support classes for everyone. For more info go to www.firepolicemx.com
18TH ANNUAL REM OCTOBERCROSS (WORLD VET WARM-UP RACE) ON SATURDAY, OCT. 17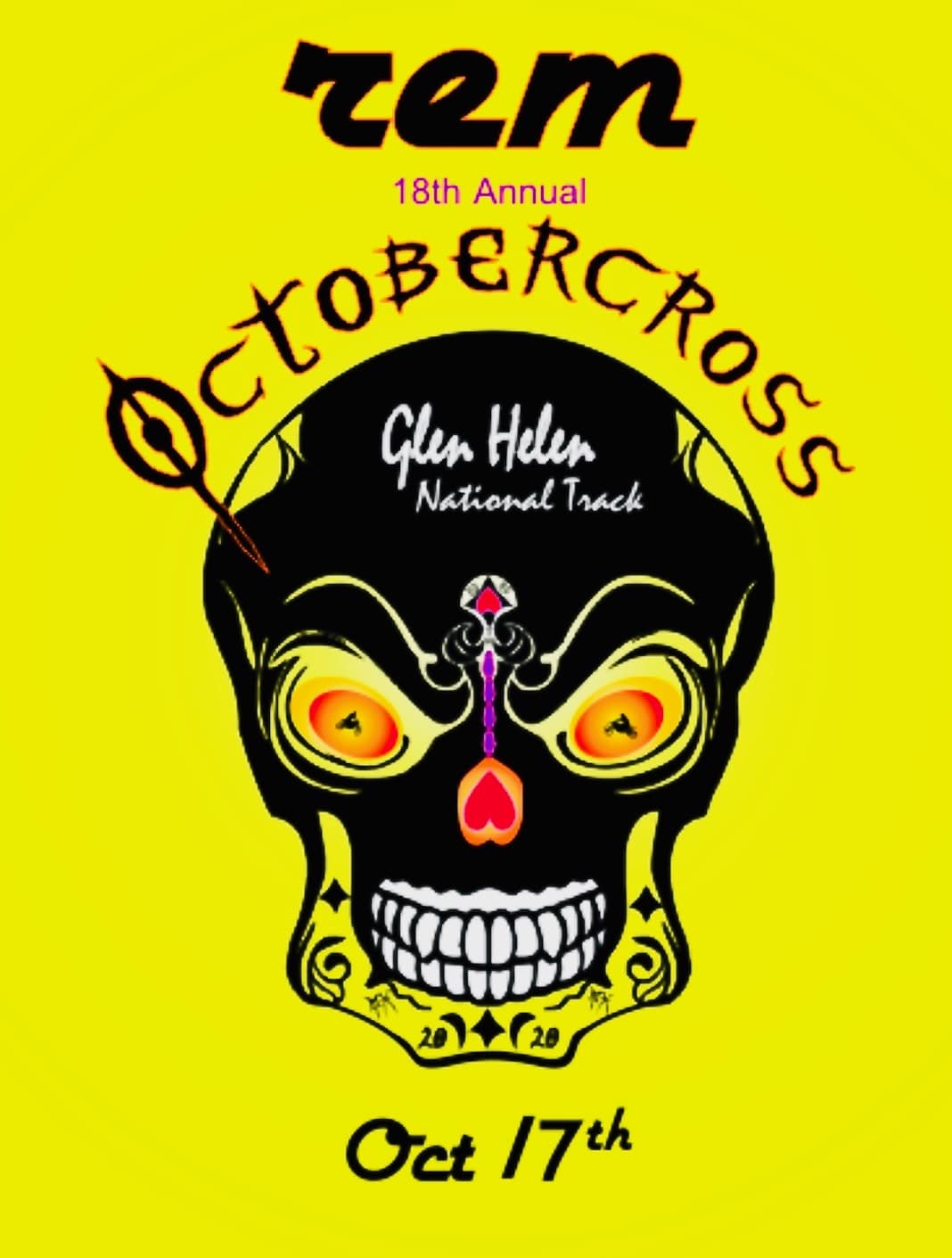 Those of you who are old enough might remember when the Octobercross was called "The Commotion by the Ocean" and was held at Carlsbad Raceway. When Carlsbad closed, REM moved to Glen Helen. They didn't hold the Commotion anymore, because Glen Helen is no where near the ocean, but 18 years ago they decided to hold it again in late October on what would be the layout for the World Vet Championship track. It was popular because everyone wanted a sneak peak at what the World Vet track would be like—and since it was held in October and close to Halloween, the REM Commotion by the Ocean became the REM Octobercross. For more info Click Here

36TH ANNUAL WORLD VET MOTOCROSS CHAMPIONSHIP ON NOVEMBER 6-8: PRE-ENTRY OPEN NOW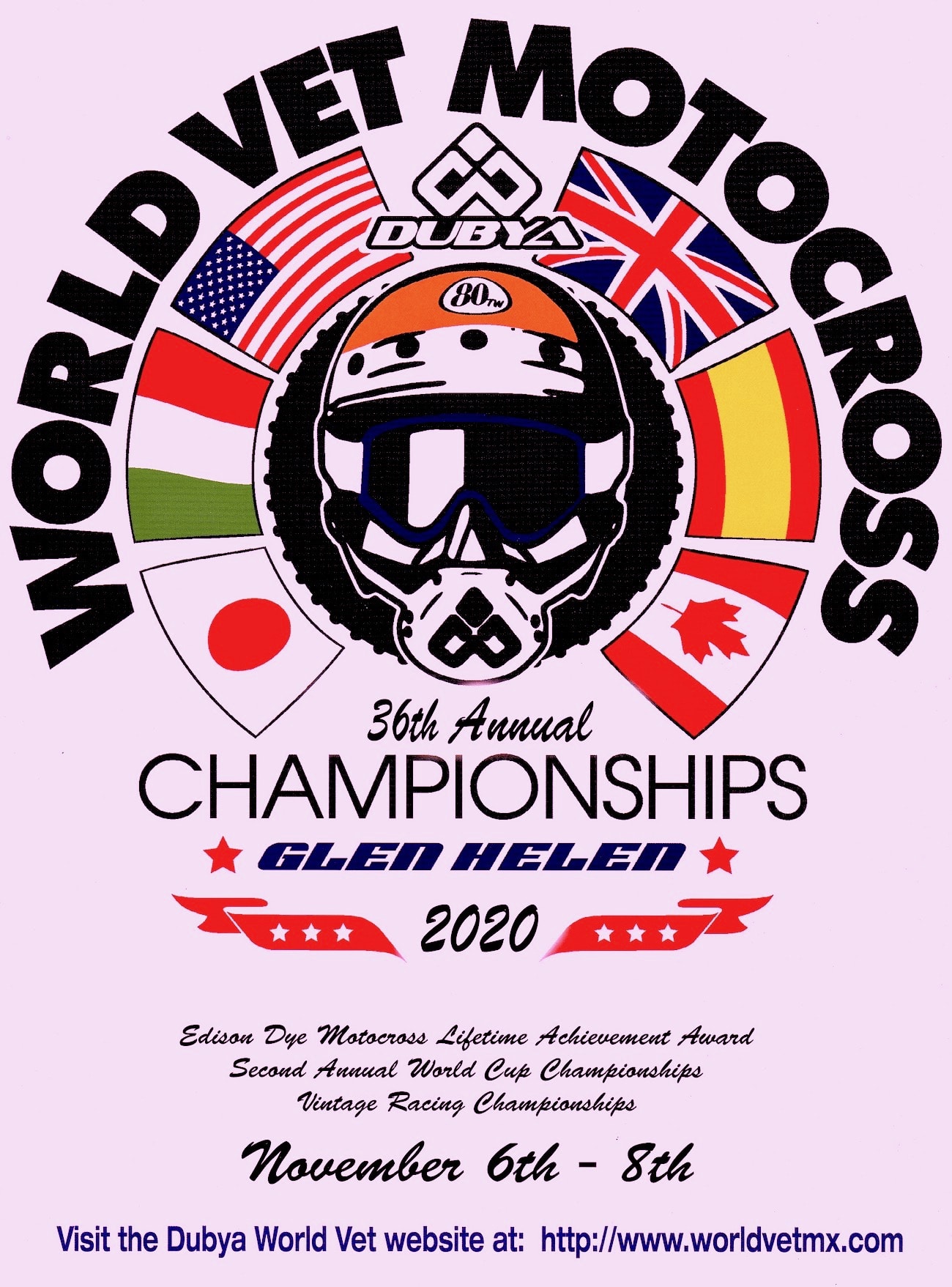 Save money and time by submitting your online pre-entries now. The Dubya World Vet MX Championships takes place on Saturday and Sunday, with Sunday being the World Vet Motocross Championship Day. For additional savings riders have the option to sign-up for both Saturday and Sunday!
PRE-ENTRY FEES
Saturday & Sunday $100 | $90 Second Class
Saturday Only $70 | $60 Second Class
Sunday Only $70 | $60 Second
To sign-up click this link:
https://secure.tracksideprereg.com/glenhelen/index.asp?event=83&mc_cid=66136c7217&mc_eid=3c9b324536 For more information go to www.worldvetmx.com
24-HOURS OF GLEN HELEN ENDURANCE RACE SCHEDULED
FOR NOVEMBER 21-22

Glen Helen's 3Bros-sponsored 24-Hour off-road endurance race is scheduled for November 21-22. The 24-Hours of Glen Helen will begin on November 21 at 10:00 a.m. and end on Sunday, November 22 at 10:00 a.m. The amateur teams can have 6 riders and two bikes, but the Pro teams can only have 4 riders and must finish the 24 hours on the one bike. Headlights are required for the 24-hour. For more info go to www.glenhelen.com.
FOR MORE INFO ABOUT GLEN HELEN RACEWAY
www.glenhelen.com or (909) 880-3090
Get your Belly App (Rewards Card) to receive "FREE" Practices