THIS WEEK AT GLEN HELEN: REM ON SATURDAY, SRA GP & KYLE YARNELL MEMORIAL ON SUNDAY
THURSDAY, DECEMBER 3

MOTOCROSS PRACTICE
National  track
8:00 a.m. to dusk
REM TRACK PRACTICE
REM track
8:00 a.m. to dusk
STADIUMCROSS PRACTICE
Stadiumcross track
8:00 a.m. to dusk
$30 per bike
PEE-WEE TRACK
Pee-Wee Track
8:00 a.m. to 2:00 p.m.
$20 per bike
UTV/QUAD PRACTICE
Truck Track
10:00 a.m. to dusk
$30 per UTV/Quad
Come out to UTV/Quad Practice and get $20 off GBC race entry fee!
SATURDAY, DECEMBER 5
REM MOTOCROSS RACE
REM Track
Practice Starts at 8:30 a.m.
Racing Starts at 10:00 a.m.
MOTOCROSS PRACTICE
National  track only
Practice 8:30 a.m.
Racing 10:00 a.m.
PEE-WEE TRACK
Pee-Wee Track
8:00 a.m. to 1:00 p.m.
SUNDAY, DECEMBER 6
SRA SPARKS OF LOVE GRAND PRIX
SRA GP track
Practice 8:00 a.m.
Racing 9:00 a.m.
KYLE YARNELL MEMORIAL CHARITY
SRA GP track
TEAM RACE
Racing 1:30 p.m.
JOIN THE

REM

OLUTION ON SATURDAY, DEC. 5 AT GLEN HELEN RACEWAY


For more info go to www.remsatmx.com
KYLE YARNELL MEMORIAL TEAM RACE ON SUNDAY, DEC. 6 AT GLEN HELEN

The Kyle Yarnell Memorial team race is a charity event for the San Gorgonio Animal Placement Center in memory of Kyle Yarnell. There will be prizes raffled off and, best of all, the two-man team race has an afternoon starting time (1:30 p.m.). For more info call Lori Wilson at (909) 224-9658 or email [email protected].
FIRE & POLICE CHRISTMAS GP ON WEDNESDAY, DEC. 9 AT GLEN HELEN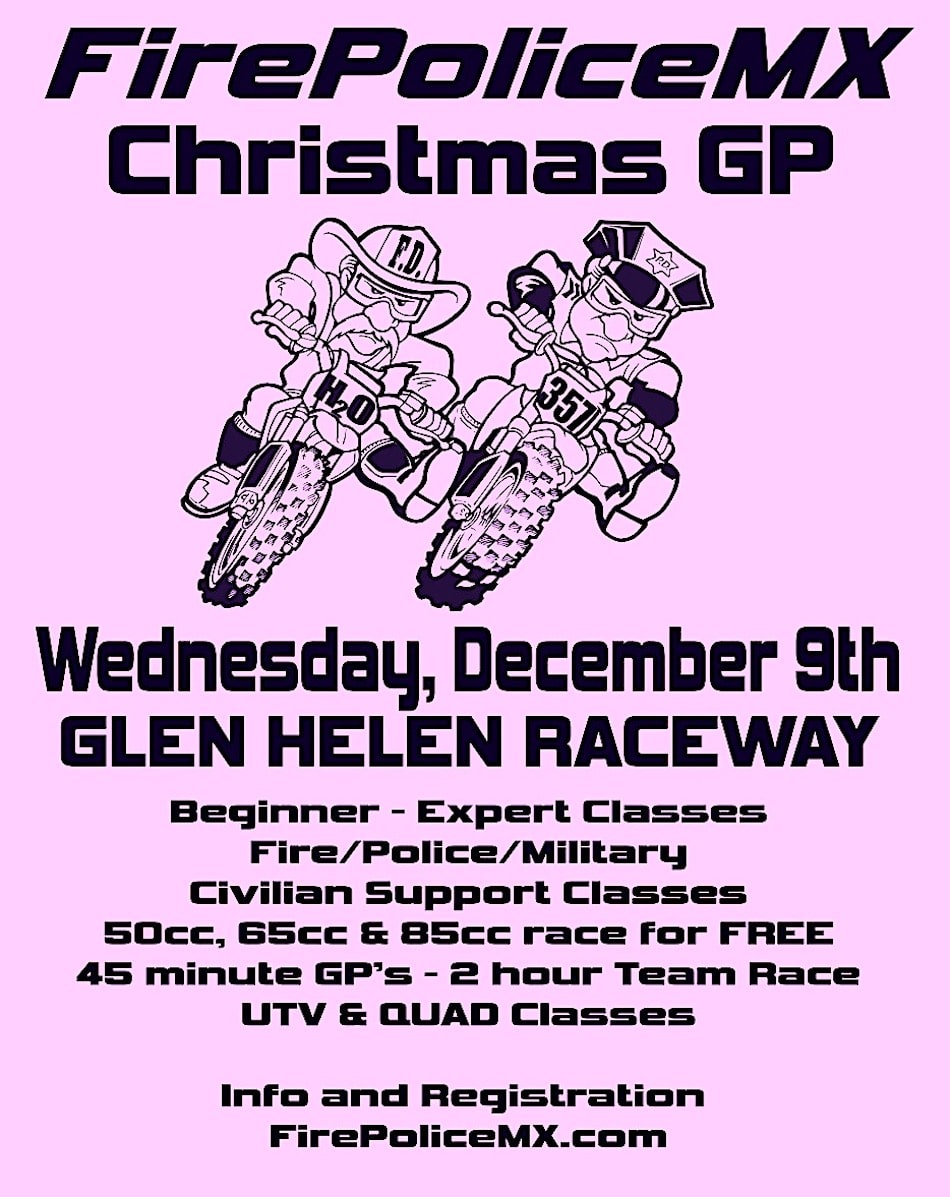 For more info go to www.firepolicemx.com

OLD SCHOOL SCRAMBLES TT ON SUNDAY, DEC. 20 AT GLEN HELEN

For more information go to www.ossrg. org
PANICREV'S WINTER CAMP AT GLEN HELEN ON DEC. 28-30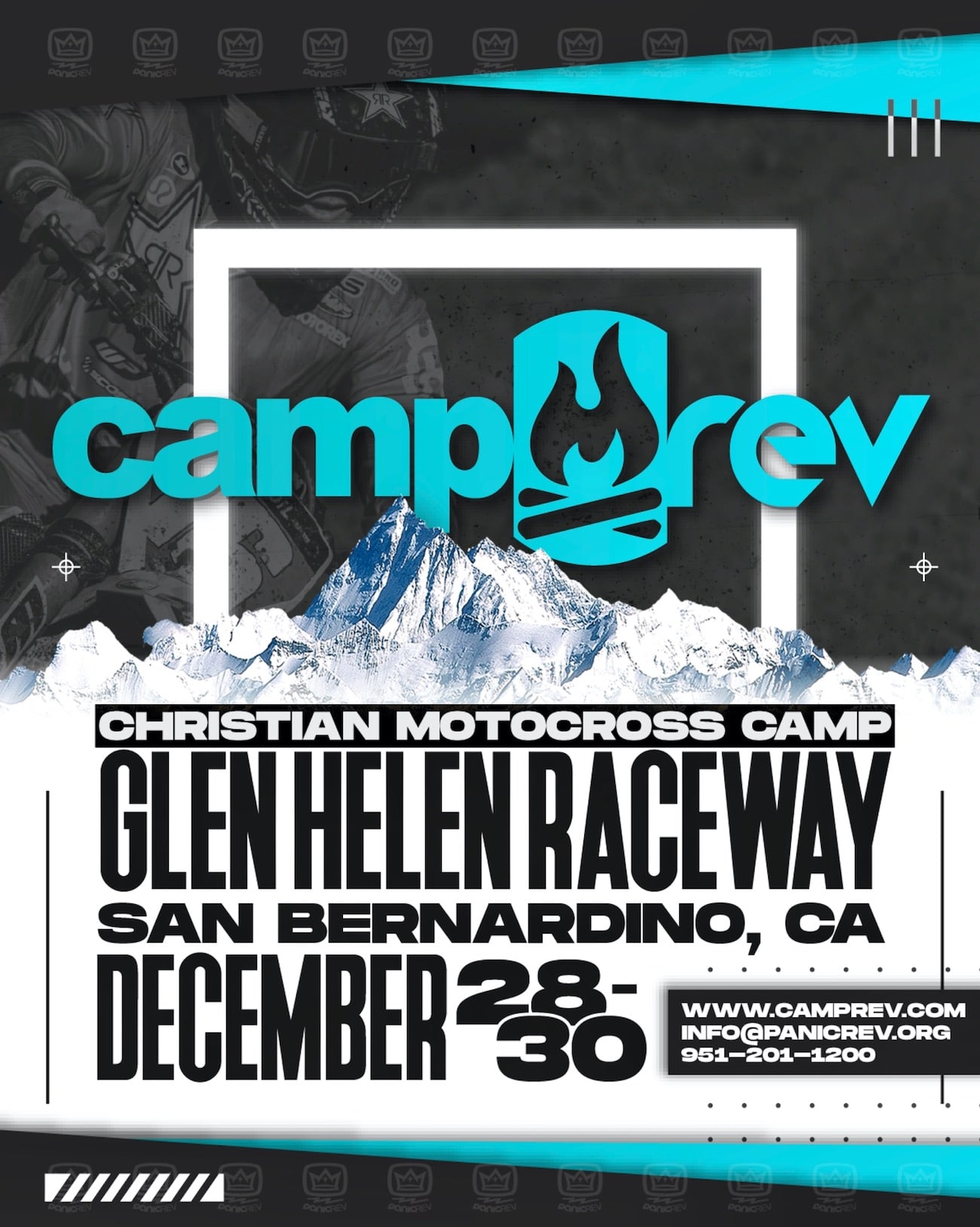 PanicREV is excited to announce their Western Region Winter Camp at Glen Helen Raceway in Southern California on December 28, 29 & 30!  For more info go to www.camprev.com
FOR MORE INFO ABOUT GLEN HELEN RACEWAY
www.glenhelen.com or (909) 880-3090
Get your Belly App (Rewards Card) to receive "FREE" Practices