THIS WEEK AT GLEN HELEN: TWO-STROKES TAKE CENTER STAGE ALL WEEK
BIG NEWS! AMA NATIONAL PRO-ONLY PRACTICE EVERY THURSDAY FROM 10:00 A.M. TO NOON

In preparation for the AMA Pro Riders to get their test riding in before the 2019 AMA 250/450 Nationals start, Glen Helen will host "Pro Only Practice" sessions from 10:00 a.m. to 12:00 p.m. every Thursday — April 11, April 18, April 25, May 2, May 9, May 16, May 23 & May 30. This is a two-hour opportunity for AMA Pros to do outdoor testing without having to deal with slower riders on Thursday practice days (of course, the Pros can ride throughout the day by sharing it with the other riders).
Regular open practice will be available at 9:00 a.m. to 10:00 a.m. & 1:00 p.m. to  dusk for all other riders. The REM track, Staduimcross and Pee-Wee tracks will be open for their normal hours on all Thursdays. All tracks will be prepped and watered for practice days.
THURSDAY, APRIL 18

MOTOCROSS PRACTICE
National and REM track
AMA Pro Only practice from 10:00 a.m to 12:00 p.m. (Amateurs can ride the REM track or the Stadiumcross track when the Pros are on the National track)
Open: 8:00 a.m. to dusk
$30 per bike/$20 after 3:00 p.m.
PEE-WEE PRACTICE
Pee-Wee track
Open: 8:00 a.m. to dusk
$20 per bike
STADIUMCROSS PRACTICE
Stadiumcross track
Open: 10:00 a.m. to dusk
$30 per bike/$20 after 4:00 p.m.
FRIDAY, APRIL 19

FASTHOUSE  WORLD TWO-STROKE CHAMPIONSHIP PRACTICE DAY
National track
Practice 10:00 a.m.-2:00 p.m.
Gate fee: $10  weekend (Saturday-Sunday)
Camping: $10 per night
Practice fee: $30 per bike
SATURDAY, APRIL 29
2019 WISECO WORLD TWO-STROKE CHAMPIONSHIP
National  track
Practice: 8:00 a.m./Racing 9:30 a.m.
Gate fee: $10 per person
Race Entry: Post $60 first class/$50 second class
Gate open: 6:00 a.m.
SUNDAY, APRIL 14
TRACK CLOSED
Happy Easter
UPCOMING GLEN HELEN EVENTS
1. REM Motocross — April 27, 2019
2. SRA Grand Prix off-road race—April 28
3. Mud Factor mud run—May 11, 2019
4. 10-Hours of Glen Helen — June 16, 2019
5.  Dubya World Vet Championship — November 2-3, 2019
FOR MORE INFO:
www.glenhelen.com or (909) 880-3090
Get your Belly App (Rewards Card) to receive "FREE" Practices
2019 WORLD TWO-STROKE CHAMPIONSHIP ON SATURDAY, APRIL 20
For more info go to www.remsatmx.com
2019 REM GLEN HELEN RACE SCHEDULE—NEXT RACE APRIL 13
For more info go to www.remsatmx.com
2019 SRA GRAND PRIX RACE DATES: NEXT RACE APRIL 28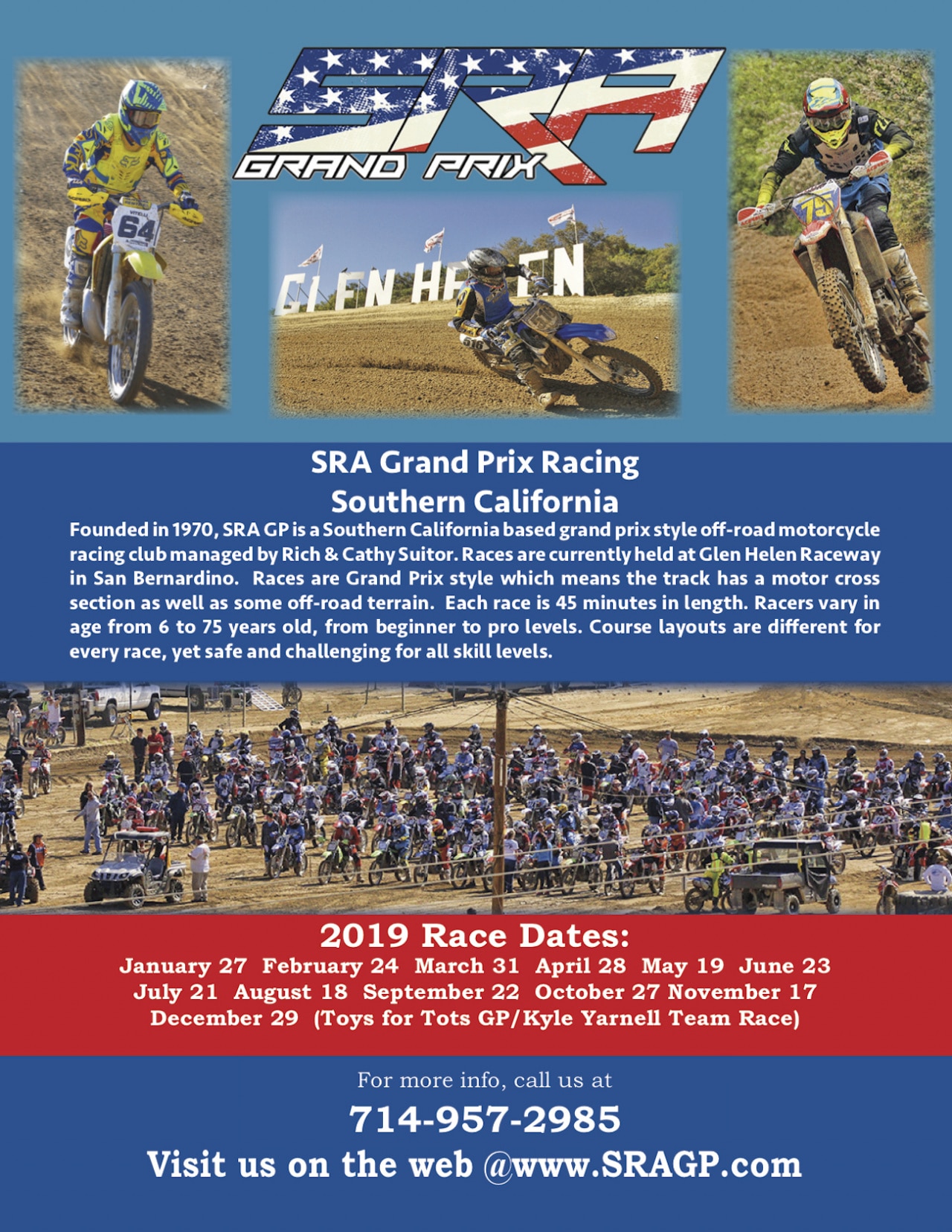 For more info go to www.sragp.com
3-BROS 6-HOUR, 10-HOUR & 24-HOUR DATES: NEXT RACE JUNE 16

For more info go to www.glenhelen.com
COMPLETE 2019 GLEN HELEN RACE SCHEDULE
For more info go to www.glenhelen.com