THIS WEEK IN MXA: "CAMERON MCADOO NEARLY FELL OFF HIS BIKE"
THIS WEEK IN MXA: "CAMERON MCADOO NEARLY FELL OFF HIS BIKE"
After the chaos of Tuesday's race in Atlanta with Cameron McAdoo's violent crash and heroic remount back onto his bike to lineup for the restart, it was going to be difficult for the Atlanta Supercross 3 to provide another show that would replicate the same amount of endorphins we felt while watching Tuesday's race. Maybe it wasn't as intense as Tuesday, but the third race in Atlanta proved to be another very exciting and controversial one with Cameron McAdoo taking another hard hit in practice, and then crashing in the 250SX Main Event three times, one of them being a take out by Garrett Marchbanks. In Episode 17 of our 'This Week in MXA' video series, we talk about Cameron McAdoo's eventful day and share quotes from the AJE Motorsports team owner and from Hunter Lawrence, both of whom did not agree that Cameron was fit to be racing on Saturday. We also share short excerpts of the statements Garrett Marchbanks and Brandon Haas, ClubMX Yamaha team manager, made after the race, explaining Garrett Marchbanks side of the story in regards to his take-out on McAdoo. (For the full quotes, see below)
As for the 450 class, we talked about Cooper Webb and Ken Roczen's battle in the Main Event and Jason Anderson's 3-position penalty from the AMA. Then, we share on Justin Cooper's 250 West Championship points lead and the upcoming 250 East race this Saturday in Salt Lake City. We also speak on Kailub Russell's recent signing with the Red Bull KTM team to ride the Pro Motocross series on a Red Bull KTM 250, along with his recent injury. And, to finish things off, we visit the California Trials Invitational at the KTM/Husky/GasGas headquarters in Murrieta and interview Geoff Aaron, Alex Niederer and Josh Roper.
If you enjoy our "This Week in MXA" videos, you can click the link below to see more Episodes and click here to subscribe to our channel on YouTube to see our latest releases.
GARRETT MARCHBANKS & CLUBMX YAMAHA'S FULL STATEMENT:
Garrett Marchbanks on the crash: "I felt very good in qualifying, and running upfront in my heat race with the leader. As we got off to the first main, another red flag restart and more crashing is something no rider wants to be a part of. I found myself in the back on the restart and was trying to work my way forward, very frustrated with myself. The 31 was riding erratically all night and at that point in the race he was next on the track to pass. I fully intended to make an aggressive pass and get away quickly, not wanting to ride near him. I thought I was closer than I was after I landed the double. I wanted to get under him and stand him up in the bowl turn, then be clear of him before we got to the next section. That clearly didn't work. I miscalculated my angle, then pushed the front tire all while having no chance of pulling it off. What a mess. I'm disappointed and sorry that it happened. I take full responsibility for the incident and should not have allowed my emotions to get the best of me. I should have just waited until we got to the next section to pass even though it was one line for the majority of the following lap. I have gone the whole season fighting at the front with no issues and I feel like people know I'm a clean racer. Yes, I have a lot to prove and I think I've done that all year but it's never been at someone else's expense – that's not how I ride and time will show that as I continue to improve my race craft and decision making."
Team Manager Brandon Haas on the crash: "We've had conversations as a team all season about our goals and aspirations. We talk about integrity, hard work and commitment. We also talk about our brand and the public perception of it. Garrett's move on McAdoo was a poor choice and we will make sure he learns from this. He's an aggressive racer and wants to be at the front. If people think he has something to prove with the PC team, that is simply not the case – that was done and over with at round one. Even though we continue to hear on the broadcast that Garrett has a "chip on his shoulder" or that he has a vendetta in mind that is simply not true. It makes for good TV but the fact remains that he is happier at ClubMX than any of his past teams and his results will show that. We have a goal to stay healthy and get a full year under his belt, even if that means not winning races. We have remained healthy and consistent, which was our primary goal and the McAdoo case was simply poor judgment. We will learn from this to help Garrett grow and mature.
Brandon Haas:"People may think that ClubMX is just a stepping stone until he can return to a factory team – also not true. In early April, Garrett re-signed a long-term contract to ride for us well into the future. There are dramatic moments in the sport that get everyone's attention, and as a team we work together with all of our athletes and personnel to learn and improve from these experiences. We are not buying results; we are building these guys up on and off the bike. The burdens that come with that I'll happily accept regardless of what anyone has to say about Garrett or ClubMX. He's sorry that it happened the way it did, we're all sorry. We never want to disrupt someone's bid for a championship – that's not how we operate."
AJE MOTORSPORTS FULL STATEMENT:
AJE Motorsports posted via instagram: "As owner of AJE Motorsports I sit in the hospital at @cblose bed side thinking how this could and should have been avoided. I put much blame on AMA and the medical staff. The rider who caused Chris to crash not only today but Tuesday should never have been allowed to be on the track. This individual had 3 major crashes and AMA felt he was ok to keep riding. This decision was made on the track without any real medical exam. This individual is clearly not riding in the right state of mind and this accident and many more could be prevented if they didn't favor certain teams and riders and did what's best for all. We as a team and I know Chris personally wants to say thank you for everyone checking up on him. We got lucky this time and Chris will escape with minor injuries.."
Chris Blose posted via Instagram: "Update: First of all, I just want to say thank you everybody for reaching out to check on my well being. Good news is I am back home after a big crash that wasn't even my fault. After taking a helicopter to the hospital and getting scans to my head, neck and chest everything turned out to be ok with those. I got lucky enough to only get a broken thumb and fractured a couple ribs. I can't thank everyone enough for the love and support through this time. I'll keep everyone in the loop as I find out if surgery is needed. Thanks again!"
HUNTER LAWRENCE'S FULL STATEMENT: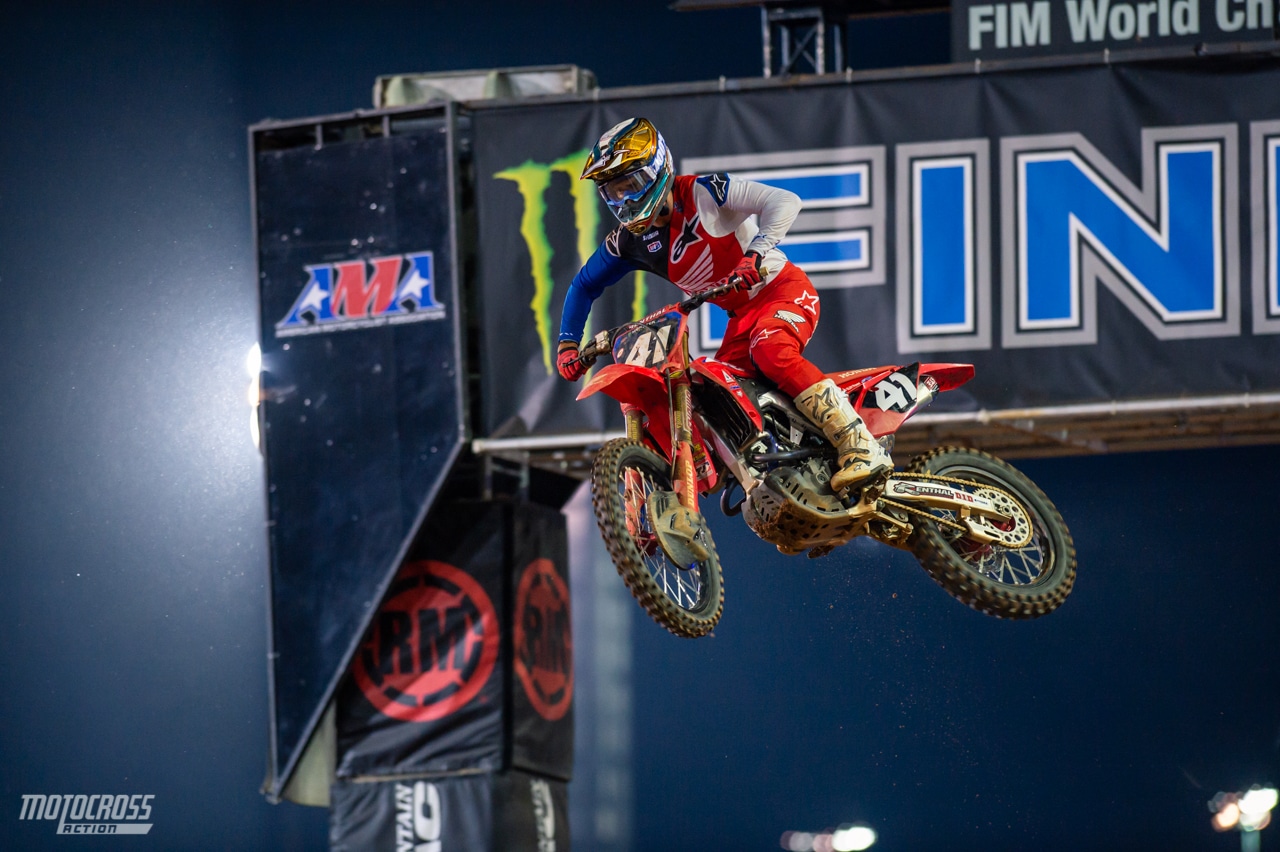 Hunter Lawrence via press release: "My weekend was bittersweet. I was looking very promising with P1 in both qualifying sessions and a heat-race win–looking really good for the main. On the first start I put myself in a great position and moved into second right behind [Justin] Cooper and was feeling really good, but then unfortunately we got red-flagged. After the restart, I came through the pack in fifth and then Cameron [McAdoo] nearly fell off his bike going into the sand section. I don't think he was where he needed to be, mentally or physically. He swerved right in front of me, and my only options were to either land on him or try to scrub off the track and miss him, and that's what I did and ended up landing in the Tuff Block. I'm pretty frustrated about that; with that crash, to finish two seconds behind third place, I think I could've won, considering how good I was in the whoops and how good I was feeling. I'm pretty bummed with how the night ended, but stoked with how the team and I operated during the day and how my riding is going, so I can't wait for Salt Lake City."