MXA INTERVIEW OF THE WEEK: THOMAS COVINGTON IS RED, WHITE & BLUE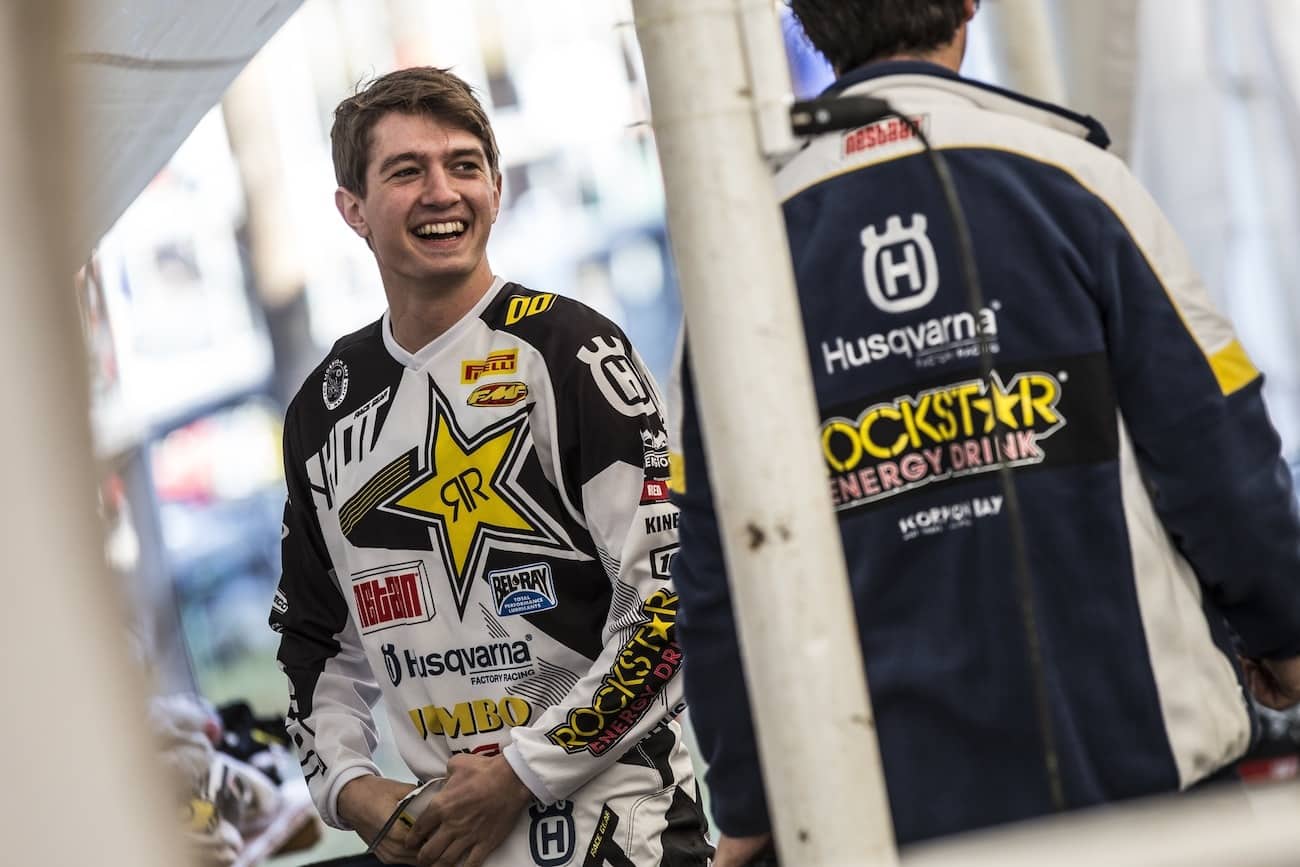 By Eric Johnson
In 2014 with no offers from American teams, 18 year-old Thomas Covington, a standout amateur racer, took a leap of faith and signed on with the French-based CLS Kawasaki Monster Energy  GP team. A young man far from home, it was slow going at first. But in 2015, Covington closed out the 250 GPs in 12th overall, and along the way, won the Grand Prix of Mexico. For the 2016, Covington was hired on by former Grand Prix racer Jacky Martins to race for the Rockstar Energy Husqvarna Factory Racing outfit. In 2016 Thomas won the Mexican Grand Prix again. Covington's improved performances did not go unnoticed. This past weekend, Roger DeCoster announced to the world that Thomas Covington would join Zach Osborne and Cole Seely to form Team USA for the 2017 Motocross des Nations at Matterley Basin, England, on Sunday, October 1, 2017. We caught up with Thomas to discuss the surprise news. Read on.
THOMAS, YOU WENT 7-2 FOR FOURTH OVERALL AT THE MXGP OF SWITZERLAND AT THE MAGNIFICENT FRAUENFELD-GACHNANG VENUE ON SUNDAY. WHAT'S YOUR TAKE ON YOUR PERFORMANCE THERE? I just got a bad start in the first moto. I got a bad jump and I thought I could brake and come up the inside and make that work. A couple guys did that on Saturday and it worked out good. I tried it and ended up coming out dead last, though. I came back to seventh, but coming through the pack like that took a lot out of me. In the second moto I got a good start, I was, like, fifth and then got up into second and then [Jorge] Prado went down and I was leading it for 10 or 15 minutes and then I just ran out of steam. [Benoit] Paturel was pushing me pretty hard and he was just on it.
YOU BOUNCED BACK QUITE WELL AFTER THAT WICKED CRASH AT LOMMEL THE WEEK BEFORE. DID YOUR BACK BOTHER YOU AT ALL ON SUNDAY? I was surprised, actually, with how good I felt the next few days after that crash. I couldn't even move after I crashed at Lommel. I couldn't even crawl off the track. My back muscles just locked up or something. It scared me pretty good. After a couple days I was feeling pretty good again. I rode once last week just to feel it out. Yeah, it didn't bother me at all on the weekend.
THE SWISS GP LOOKED LOOKED LIKE A HYBRID SUPERCROSS/NATURAL TERRAIN MOTOCROSS TRACK. WAS IT COOL? Yeah, the promoters built another set of grandstands for this year's race. It was pretty cool. I love the track there. It's really technical and not a typical natural terrain Euro track. All the jumps are man-made and it was pretty cool. There were some fun jumps out there. It was super-technical and they watered it so much that it got super-rutted and gnarly.
THOMAS COVINGTON. TEAM USA, 2017 MOTOCROSS DES NATIONS. THAT HAS A PRETTY COOL RING TO IT? Yeah, for sure. I definitely didn't expect it. It's unbelievable. I'm so pumped to get the opportunity. When I heard Eli Tomac decided not to do it and then I heard a couple of other guys were injured, I thought maybe there was a chance that I could get in there, you know? I sent Roger [DeCoster] and e-mail kind out of the blue to just sort of feel it out and see if he had me in mind at all or if it was just no chance. He hit me back straight away and we went back and forth a few different times and then early last week he sent me an email and said I was in. It's unbelievable.
WERE STUNNED WHEN YOU GOT ROGER DECOSTER'S EMAIL? Roger was super-positive about it from the first email I sent him and then he was asking me about a few other things, just like my training and whatever. Yeah, I knew he was really positive about it, but in the back of my mind, I was like, "Is he really going to give me a shot at this?" But I woke up early that morning and looked at my phone and I was so stoked.
YOU TOLD ROGER DECOSTER THAT YOU COULD RIDE THE 450, DO YOU THINK YOU SOLD ROGER SOLD ON IT? Yeah, I told him Matterley is one of my favorite tracks and I look forward to going there every year. Also, with the start and how they are with the GPs now on that metal grid, I've got a lot of experience on that and my starts have been pretty good this year. I told Roger with my experience there and getting good starts that I'd really love to ride the 450—but I'd be good with either class that he wanted to put me on. For the 450 class I think I can, for sure, get a good start with probably being the smallest guy on the gate on a 450 and I think I can hang up there at the front for a solid result.
LOGISTICALLY, IT WOULD BE EASY TO GET YOUR MOTORCYCLES TO MATTERLEY. Yeah, It's pretty easy for me to go over to England and race. It's like another weekend for me. Yeah, I told my team manager jacky Martens that I had made the USA team,he asked, "When do you want to start riding the 450?" I hit him back and said, "What are you talking about? I wasn't planning on riding a 450." He texted back, "Never mind. My mistake." So I thought that was kind of weird. I went to the shop the next morning and I got there and everybody already knew about me being on the team. It was pretty funny.
YOU ARE GOOD AT MATTERLEY BASIN TRACK. My first race in Europe was at Matterley. I went over there and raced the European class after racing at Loretta's. Back then the European class was only one moto. We had a qualifying race and then one moto. I won the qualifying race in a good battle with Seewer and then on Sunday I was following Seewer and tried to get close enough to make a move on him. I just couldn't get close enough and ended up crashing and finished fourth. Even in the last few years, I've had decent results there. I always have a lot of fun at Matterley.
HAVE PEOPLE REACHED OUT TO YOU SINCE YOU MADE THE TEAM? It was awesome to get the call from Jeff Ward with him being the greatest Motocross of Nations rider ever. Mostly I just got messages from everyone on social media and stuff. Even people that I hadn't talked to in years sent me messages saying they're proud of me. It's a big point in my career. I never really knew if I would actually get this chance to race for America and to get it now is just an awesome feeling. Not many people get the chance, so I don't take it lightly at all. Just to talk about the names who have ridden for the U.S. in year past is amazing, you know? To be included in that group of names is just an honor.
AS FAR AS THE TEAM ITSELF – COLE SEELY, ZACH OSBORNE AND THOMAS COVINGTON – WHAT DO YOU THINK? I have a good feeling about the team. It's not the team that everyone expected—aside from Osborne. I think the three guys who are going now really, really want to be there and they're super-pumped-up about it. We're going to have a lot heart and we're going to fight for it until the very end. I think that sometimes that's more important than having the fastest guys.
YOU KNOW THIS 2017 AMERICAN TEAM REMINDS PEOPLE A LOT OF THE 1992 TEAM THAT RACED THE MOTOCROSS DES NATIONS IN MANJIMUP, AUSTRALIA. Was that the year that Jeff Stanton, Damon Bradshaw and Mike Kiedrowski announced that they would sit out the 1992 MXDN? I've heard that America almost didn't send a team. But finally the AMA asked 125cc riders Jeff Emig and Mike LaRocco to compete. Both agreed. For the 500cc class, the AMA reached out to 500cc World Championship contender Billy Liles. He agreed to go and they won. Cool story.

IN SWITZERLAND DID EVERYBODY IN THE GP PITS KNOW YOU WERE ON TEAM USA FOR THE MOTOCROSS DES NATIONS? As I walked to the track everybody I passed chanted, "Team America! Team America!" Even at the autograph signings, all the fans were stoked. I've just gotten a real positive vibe from everyone. I figured everyone would be kind of surprised and maybe even upset about me getting picked especially because most of the fans in America have never seen me ride.