FLASHBACK FRIDAY: TIM FERRY MOVING UP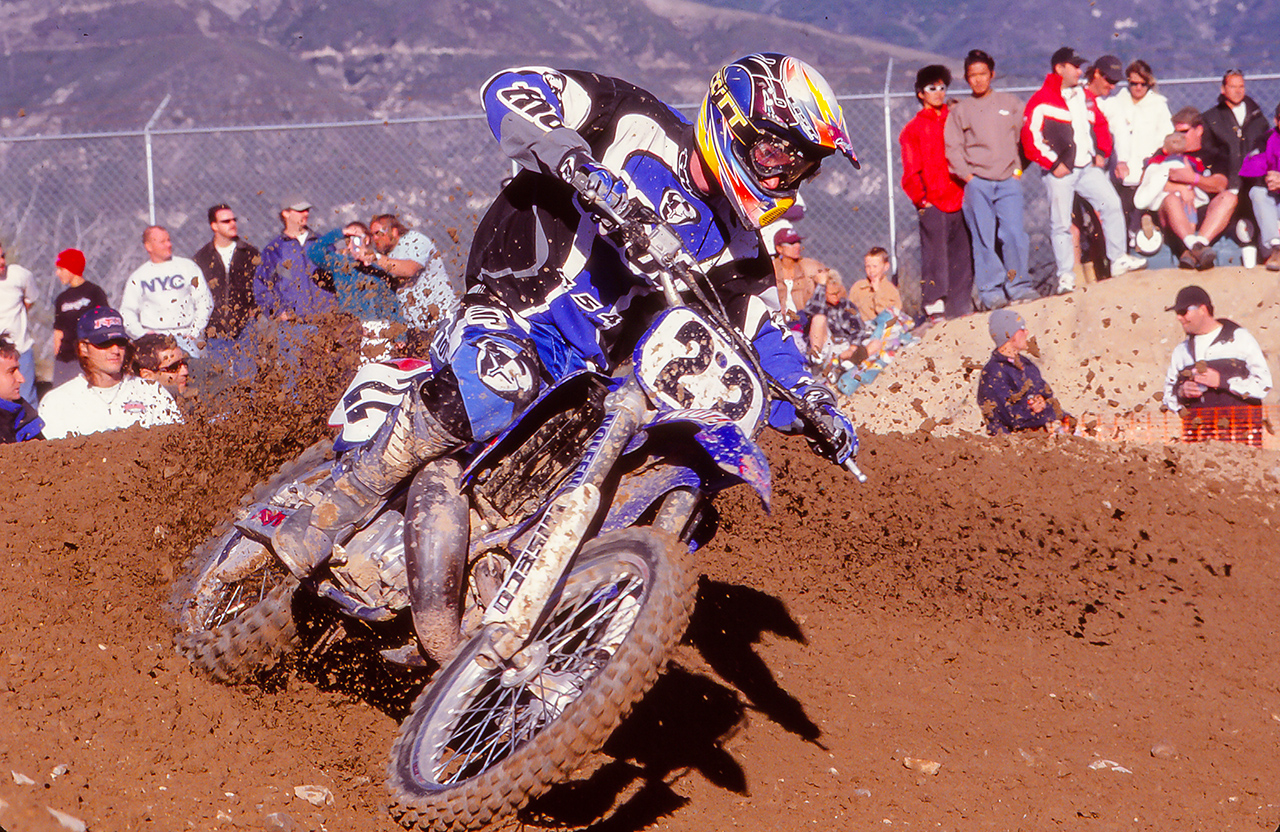 Tim Ferry racing the Nationals in 1998.
Like many of his era, Tim Ferry was overshadowed by riders like Jeremy McGrath and Ricky Carmichael. Ferry had more success in Supercross than in the AMA Nationals earning his first career podium in 1993 at the Daytona Supercross. In 1994, he placed third in the 125 East championship. Then, three years later, he went on to win the 125 East title. In 1995, Tim finally got his first National podium, placing third at Hangtown. The very next race he got his first National win at High Point Raceway. These early victories at the Nationals were a step in the right direction for Ferry, but he could not compete with outdoor specialists Steve Lamson and Ryan Hughes week to week. Once Steve Lamson healed from his injury he got at the season opener, he was unstoppable and would win the 125 championship.
1998 was the last year Red Dog would race for a title on a YZ125. After winning his 1997 Supercross East coast championship, Ferry moved up to the 250 class to race the Supercross series. While not his first rodeo in the premiere class, Ferry had a tough time keeping up with the powerhouses of  Jeremy McGrath, Ezra Lusk, Jeff Emig, Kevin Windham and Mike LaRocco. Part of the problem was he was racing these heavy hitters on a privateer machine. Ferry only completed five races with a season best of 10th place in Seattle. His last return to the 125 class wasn't as successful as he hoped. Ferry managed 23rd overall at the season opener, Glen Helen. Ricky Carmichael dominated the 1997 125 Nationals and he would repeat his success in 1998. The closest Ferry got to the GOAT was fifth at Kenworthy's Motocross Park. Ferry was able to finish in the top 10 eight times in the season. Once he moved up to the 250 class, it would be a few more years until he would get success in the AMA Nationals. In 2002, he finished second overall in the outdoor season. Currently, Red Dog is a trainer for many of today's professional racers.