TODAY'S BIRTHDAY BOY: THE FATHER OF AMERICAN MOTOCROSS
Torsten Hallman and Edison Dye.
Mario Edison Dye was born in Oskaloosa, Iowa, in 1918. Dye was still a boy when his family moved to San Diego. Dye grew into manhood during the golden age of machinery. While getting a degree in Aeronautical Engineering at San Diego State, he was heavily involved in the hot rod movement and participated in lake runs on Southern California's dry lake beds.When World War II broke out, Dye, 24, went to work designing waterproof manifolds that allowed Sherman tank engines to run under water. Later in the war, his aeronautical degree came in handy designing chin turrets for B-24 bombers. By war's end, Edison Dye had 7500 employees under his charge.
When WWII ended, Dye opened a tour business, hosting motorcycle tours to the Isle of Man TT races and other continental events. While in Europe, he discovered motocross and the new breed of European motocross bikes that were unknown to American consumers. Dye decided that he would import these unusual two-stroke motocross bikes to America. He signed a deal with Husqvarna of Sweden to supply him with as many motorcycles as they could for the American market. They gave him nine bikes.Undaunted, Dye asked Malcolm Smith to test ride one of the Huskys. Malcolm hopped on it and disappeared over a hill. Malcolm didn't come back until the Husqvarna was almost out of gas. Malcolm was sold.
Edison Dye's Walk of Fame placqe.
That next year, Husqvarna allotted Edison 100 bikes. That number would increase a hundredfold by the end of Dye's association with Husqvarna. Once Dye had convinced the Swedes to sell him bikes, he had to find some way to get American riders to buy them. Dye's marketing plan would change the face of motorcycle racing in the United States. In 1966, Dye flew World Champion Torsten Hallman over to race a handful of select American races. Hallman won every one of them. The next year, 1967, Dye brought over Torsten Hallman, Arne Kring, Joel Robert, Roger DeCoster, Dave Bickers and Ake Johnson. He even hired Swedish GP an ISDT star Lars Latsson to move to American full-time to travel the country demonstarting the prowess of the Husky two-strokes by racing and winning wherever he went.
Edison breaks down in tears as Roger DeCoster and Tom White presents him the Mickey Thompson Award at Anaheim Stadium.
The success of Edison Dye's traveling circus convinced him that America needed a professional motocross series, which led Dye to form the Inter-Am (International-American) motocross series. The sport blew up. It went big overnight, not just selling thousands of tickets, but 10,000 Husqvarnas a year.The AMA had no interest in the sport of motocross, but once they saw the crowds that Dye's Inter-Am series was drawing (and the commercial potential of the sport), they muscled into Dye's territory, counter-promoted against him, and used their infamous heavy-handed tactics to take over what Dye had built. The AMA did throw Edison Dye a bone by allowing him to promote Trans-AMA races under AMA sanction.

Can you find Hakan Andersson, Torsten Hallman and Bengt Aberg.
And it was in this role that Edison Dye, the founding father of American motocross, became an outcast. As hard as it may be to believe, less than five years after introducing motocross to America, Edison Dye was banned from the sport. His name, once spoken with reverence, was now used as a slur. Make no mistake about it, Dye's banishment was well deserved as anyone who went to the 1974 St. Louis Trans-AMA race will attest to.What did Dye do? It rained in St. Louis that weekend. And Dye, who never really fit in with the motocross crowd with his impeccably styled three-piece suits, decided that if he held the Trans-AMA in the rain, he would lose a lot of money. But, if he canceled it on Sunday morning, he wouldn't have to pay the AMA purse. Dye canceled the race, and every rider and spectator who had traveled on their own dime to Missouri cursed him.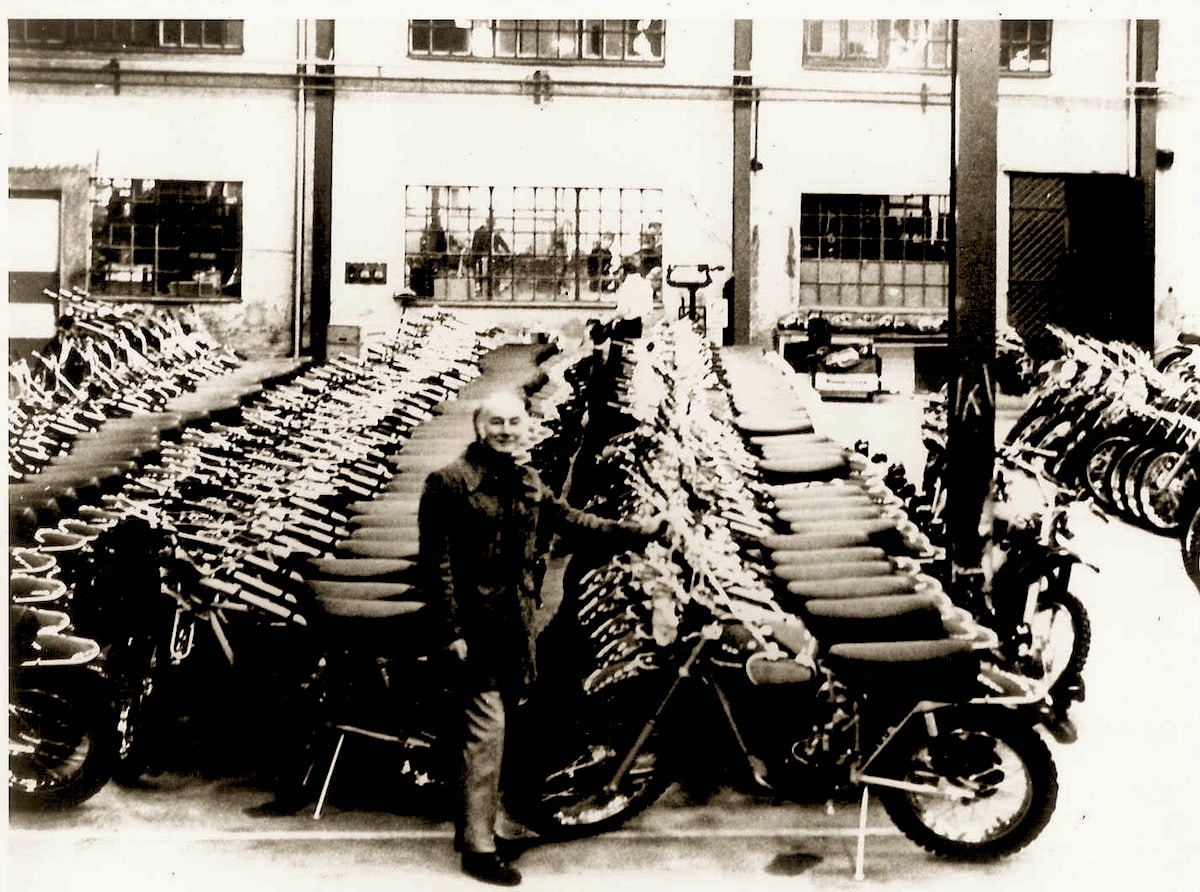 Edison with the Husqvarnas that were being prepared to ship to America.
Dye was banned, the AMA passed a rule that required race promoters to hand over the purse money before the event, and Edison Dye disappeared from the motocross scene. All that said, Edison Dye is solely responsible for motocross coming to America. It took a special kind of man to realize that you couldn't wait for a sport to grow, you had to water it. If Dye hadn't imported the bikes, brought the stars of the sport to demonstrate it and promoted the first-ever races, the sport would still be in the stone ages today.
Malcolm Smith introducing Edison Dye to the crowd at the 1999 World  Vet Championship. Roger DeCoster and Feets Minert are behind Edison.
In his later years, Dye was honored for his contribution and "The Father of American Motocross" passed away in Lemon Grove, California on May 10th, 2007, his 89th birthday. Edison would have been 103 years old today.