TOM VIALLE EXTENDS 250 GRAND PRIX POINTS LEAD AT FIRST LATVIAN GP RACE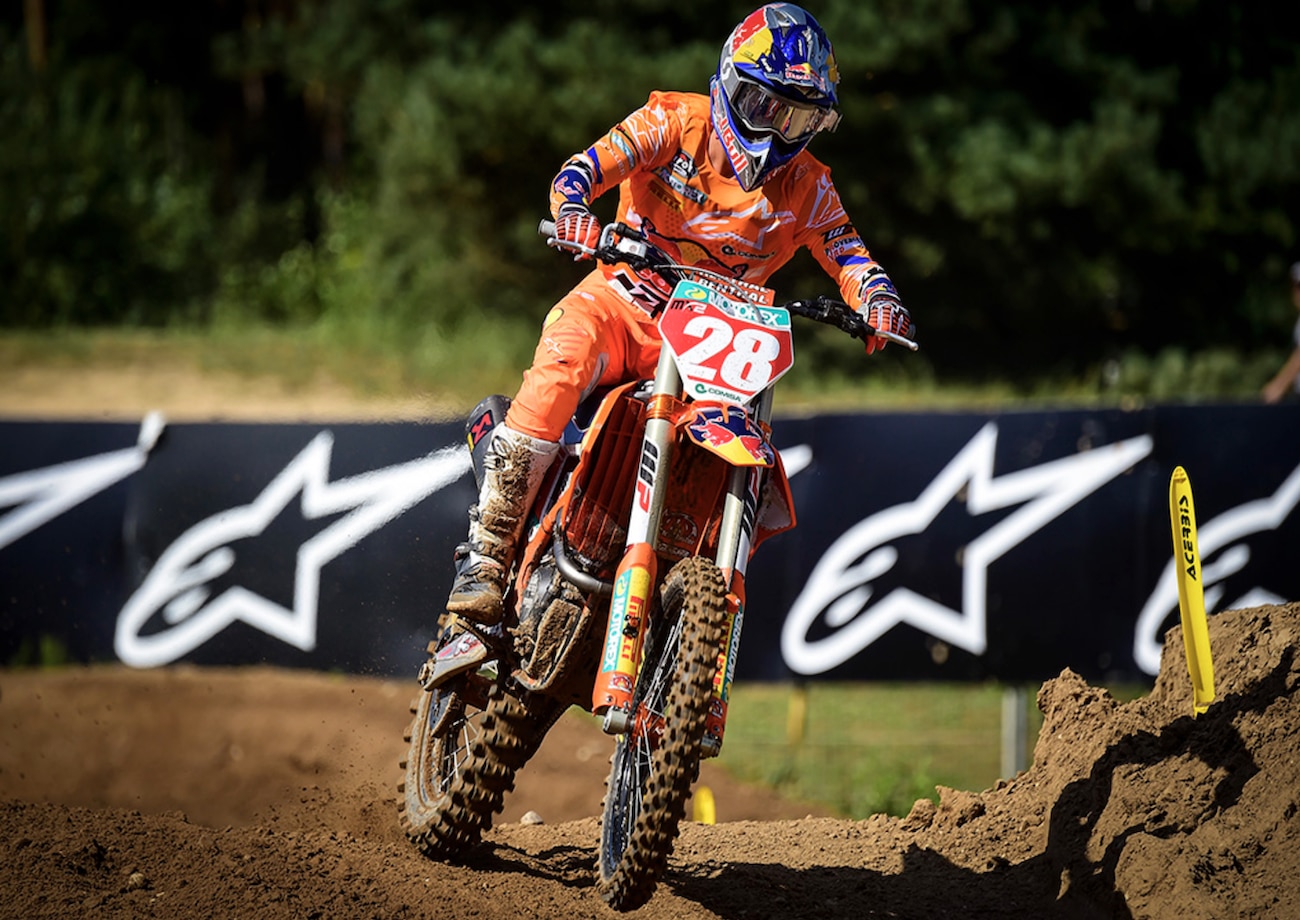 Tom Vialle was on top in the first round in Latvia and on top of the 250 World Championship points standings by 22 points.
KTM's Tom Vialle won the Grand Prix of Latvia with 1-2 results—second overall was Kawasaki rider Roan Van De Moosdijk, while third went to Mathys Boisrame, another Kawasaki riders. Spain's Ruben Fernandez was fourth, England's Ben Watson fifth and Jago Geerts finished with 16-1 for sixth. Tom Vialle extended his points lead in the 250 World Championship with134 points to Geerts' 112 and Jed Beaton's 95.
Jago Geerts proved he had the speed to win in the second moto, but you can't win with a 16th in moto one.
Tom Vialle said, "I passed Jago on the last lap of moto two and he passed me again. I was really tired, the first race was good, the second race it was really hot and in Belgium the weather hasn't been so hot so it was a little bit hard, but it was perfect to win the overall. I am very happy, a big thanks goes to my team for their hard work."
Roan Van de Moosdijk said, "I had two good starts in the top 5 and then I just stayed calm the whole day. It was really hot and I had some consistent speed. In the first moto I got my best ever result in MX2 and in the second race, I had a small problem with my bike, but we managed to finish. I am now looking forward to Wednesday."
Mathys Boisrame said, "For me it was a good day, in the first moto it was a little bit difficult because I broke my front brake at the start, then all race with no brakes was not easy and I finished fourth. In the second race I started in fourth, I was fast and just wanted to keep cool but overall it was a good weekend and I'm happy to be on the podium."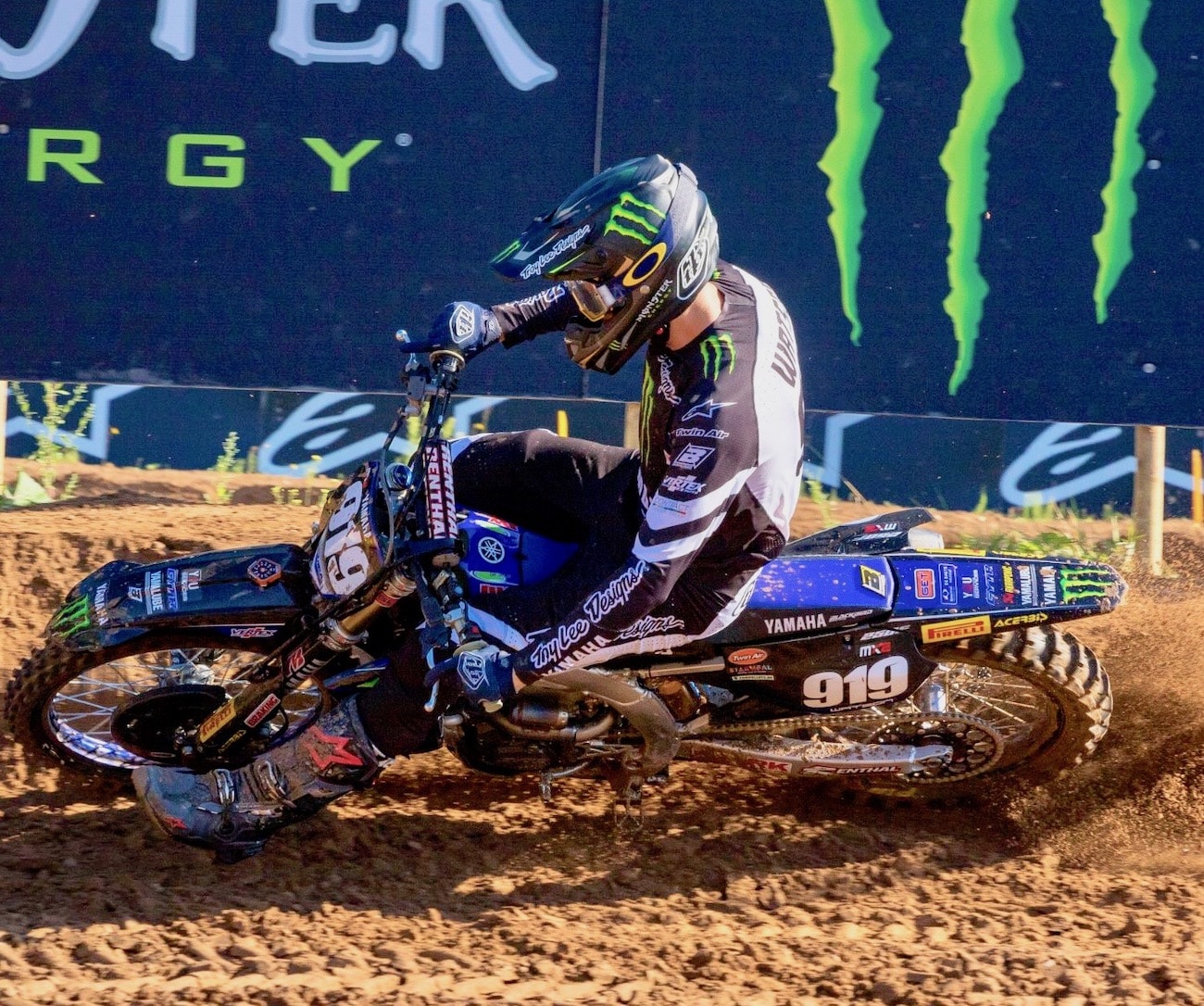 Ben Watson was fifth in Latvia and is fifth in 250 Grand Prix points.
2020 LATVIAN 250 GP #1 RESULTS
1. Tom Vialle (KTM)…47
2. Roan Van De Moosdijk (Kaw)…40
3. Mathys Boisrame (Kaw)…38
4. Ruben Fernandez (Yam)…34
5. Ben Watson (Yam)…31
6. Jago Geerts (Yam)…30
7. Maxime Renaux (Yam)…25
8. Thomas Kjer Olsen (Hus)…22
9. Jed Beaton (Hus)…21
10. Alberto Forato (Hus)…21
Other notables: 11. Alvin Ostlund (Hon); 12. Nathan Crawford (Hon); 13. Bas Vaessen (KTM); 15. Rene Hofer (KTM); 17. Stephen Rubini (Hon); 23. Simon Laegenfelder (Gas); 35. Kevin Horgmo (KTM).
Thomas Kjer Olsen is sixth in 250 GP points.
CURRENT 2020 FIM 250 GP POINTS STANDINGS
(After 3 of 16 rounds)
1. Tom Vialle (KTM)…134
2. Jago Geerts (Yam)…112
3. Jed Beaton (Hus)…95
4. Maxime Renaux (Yam)…86
5. Ben Watson (Yam)…791
6. Thomas Kjer Olsen (Hus)…73
7. Roan Van De Moosdijk (Kaw)…71
8. Mathys Boisrame (Kaw)…70
9. Rene Hofer (KTM)…69
10. Mikkel Haarup (Kaw)…64
Photos: Juan Pablo Acevedo, Yamaha Racing,