TOM VIALLE INTERVIEW: MXGP CHAMPION PREPARES FOR AMA DEBUT
TOM VIALLE INTERVIEW: MXGP CHAMPION PREPARES FOR AMA DEBUT
What a success story Tom Vialle's race career has been. Hand picked by KTM's Joel Smets to join the Red Bull KTM Factory MX2 for the 2019 season, the French rider was quickly taking the podium, and earning his first GP win. Then, one year later in 2020, Tom won his first championship – with a couple races to go! Tom then won his second world championship this past summer. Now the recently turned 22-year-old has his sights on America. With a solid family foundation (father Frederic raced world motocross), the successful Red Bull KTM team, and training at the Aldon Baker facility, things are looking good for Vialle. We were able to catch up with Tom in California, before he leaves for Florida. 
BY JIM KIMBALL
---
TOM, HOW LONG HAVE YOU BEEN THINKING SERIOUSLY ABOUT AMERICA? Since the beginning of the year, along with the guys at KTM. It took a bit of time to make sure it was a good idea and a good time to come here. Then we made the decision, together with my family.
EARLIER IN YOUR CAREER, HAD YOU THOUGHT ABOUT AMERICA AT ALL? I think it is every rider's dream to come to America. I always thought to some degree about coming over here. But so far, things were really going great in Europe, so I did not really want. To make a quick decision. Riding supercross was not something that I did much of at all.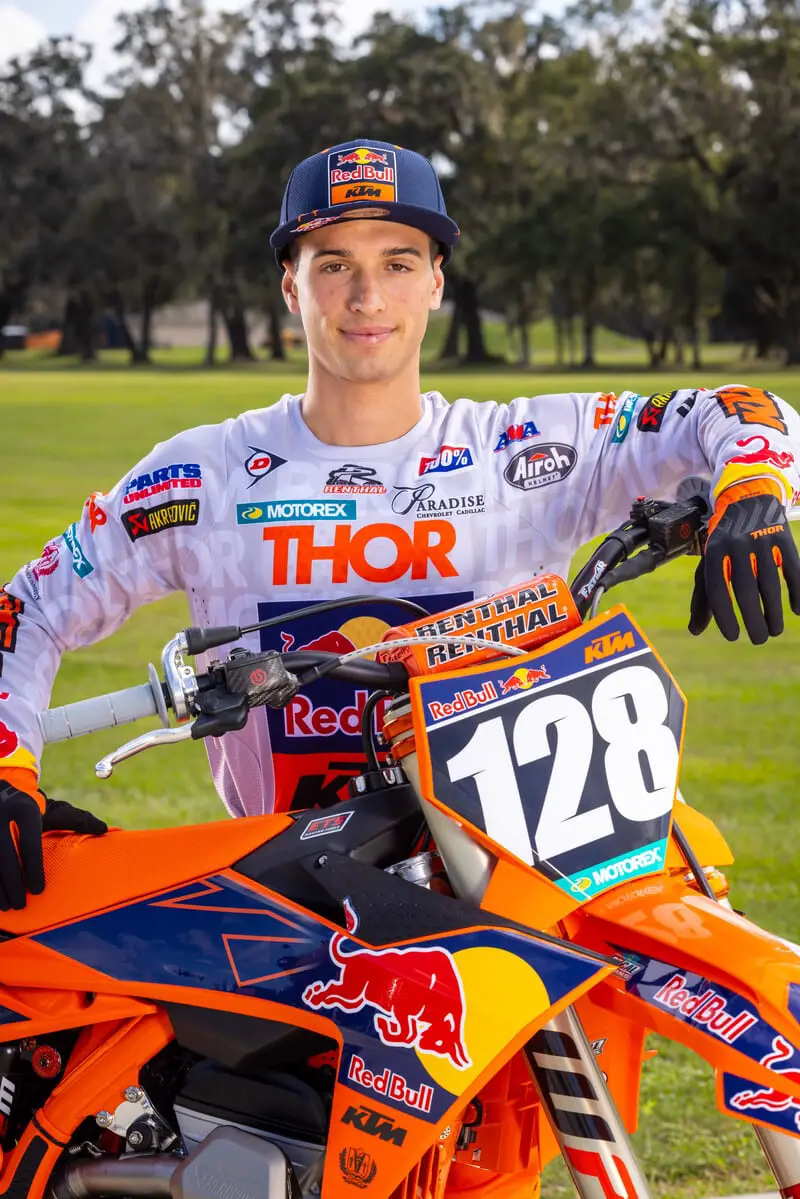 Tom's Amercian KTM 250SX-F.
ALSO, YOU HAD WON TWO MX2 TITLES, SO YOU WERE REQUIRED TO MOVE TO THE 450 FOR 2023 IN EUROPE, RIGHT? Sure, when you have two titles in the 250 class, you need to move to 450. So, I had to move to the 450 for next year, and I think that once you move to 450, you cannot move to the U.S. and be truly successful in 450 Supercross in the U.S. It was the right moment to come now.
YOU BRING UP A GOOD POINT, ITS BEST TO COME OVER AND BEGIN IN THE 250 CLASS. Yes, I feel like this was time. But it has nothing really to do with moving up to the 450 in Europe. The team has a great bike and a great program in Europe. I'm very relaxed and at home with the team there.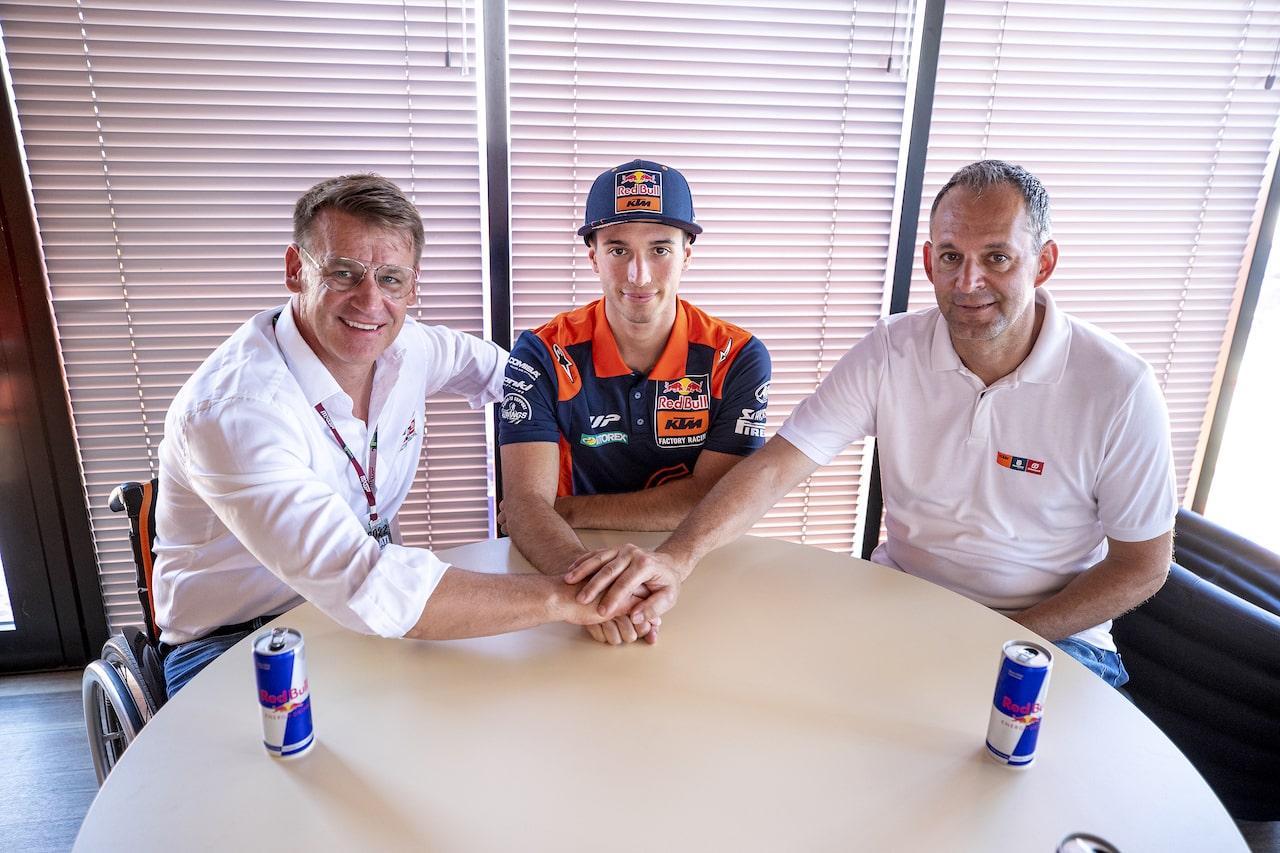 It was a big decision for Tom to come race in America, but in order to hopefully one day race in the premier class in the US, Tom would have to leave Europe early.
I KNOW A LITTLE BIT ABOUT YOUR STORY WHERE KTM'S JOEL SMETS SAW YOU RACING AND SAID, "WE NEED TOM ON THE TEAM." Yes, I rode in the 2018 MX2 World Championships, and the best way to say it is that I really did not have a team. I was like a privateer with only my parents supporting me. Then I moved straight to KTM Factory at the end of 2018, in the winter, and then I started training with Joel to be a factory rider on the KTM Team. That first year in 2019, I was already riding pretty good.  I finished fourth in the championships and I won a GP and had six or seven podiums. So, it was a good first year on the factory team. I had already been racing seven years, but I had so much improvement in the first year at KTM.
Tom Vialle and his team celebrating his 2022 MX2 Championship.
AND THEN YOU WON THE MX2 CHAMPIONSHIP THE NEXT YEAR IN 2020, WITH A BIG POINTS LEAD OVER SECOND. Yes, I had a lot of points gap by the series end. But I was battling a lot with Jago Geerts. We really had some good racing and battles. He had some bad races, so I was the championship a few races early. But, for sure it was not as easy as it looks like on paper.
YOU WON THE CHAMPIONSHIP AGAIN IN 2022, BUT IT WENT DOWN TO THE FINAL MOTO RIGHT? Yes, it was a different type of series. I did not have the best winter. I got a little injury in my feet and then KTM changed the bike so drastically. We had to work a lot on the bike, the suspension and engine. that is why I had maybe a little bit of a slower start. And that is why Jago and I fought so hard in the championship. It was a good fight with him, but I think I won more races.
Tom has a reputation of doing well in Europe, but he will be faced with many learning curves tackling stadium tracks.
I HAVE NOTICED THAT YOU APPEAR TO WITHSTAND PRESSURE WELL. I don't know. I just try to ride with confidence and thinking only of my own riding. And I just try to think only about the race at hand.
HOW HAVE YOU FOUND AMERICA SO FAR? It is my first time over here, and it has only been about one month. We are in California and so far, everything goes well. I like it a lot and everything is good. I have been staying close to the KTM facility, and training there on the test track.
WHAT ARE YOUR THOUGHTS FROM RIDING THE KTM SUPERCROSS TEST TRACK? It is completely different. I think Supercross is tough. I never really have ridden Supercross much. I trained a little bit in the past, but that was a long time ago and I never really trained that much. The guys in the U.S. from a young age start training. I learned much in just one month, so I feel quite good now. I learn something every day, day by day, let's say. It is completely different.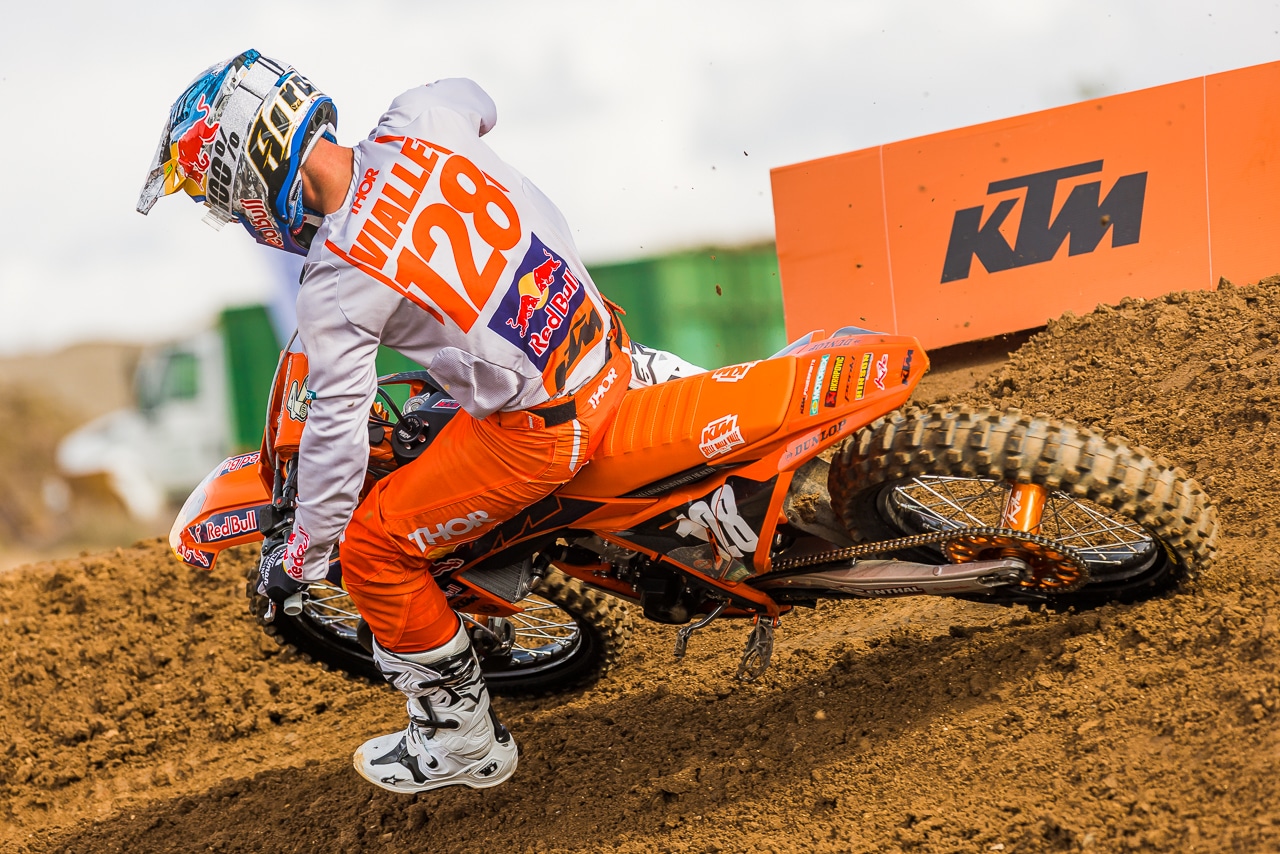 We caught Tom and the rest of the KTM crew at the 2023 intro.
DO YOU FEEL SUPERCROSS IS MORE DANGEROUS THAN MOTOCROSS? I think it is not much more dangerous, it is just different because in motocross it is higher speed than Supercross. In Europe there are big jumps like Supercross, but it is just different. For sure, Supercross is different than a motocross track, but I don't think it is much more dangerous. 
In the motocross GP's, you are in fourth gear and going 60 Kilometers, if you crash into the jump, you can get really hurt. It is not much more dangerous. There are different obstacles in Supercross, and it is much more technical.  It is a different way of riding.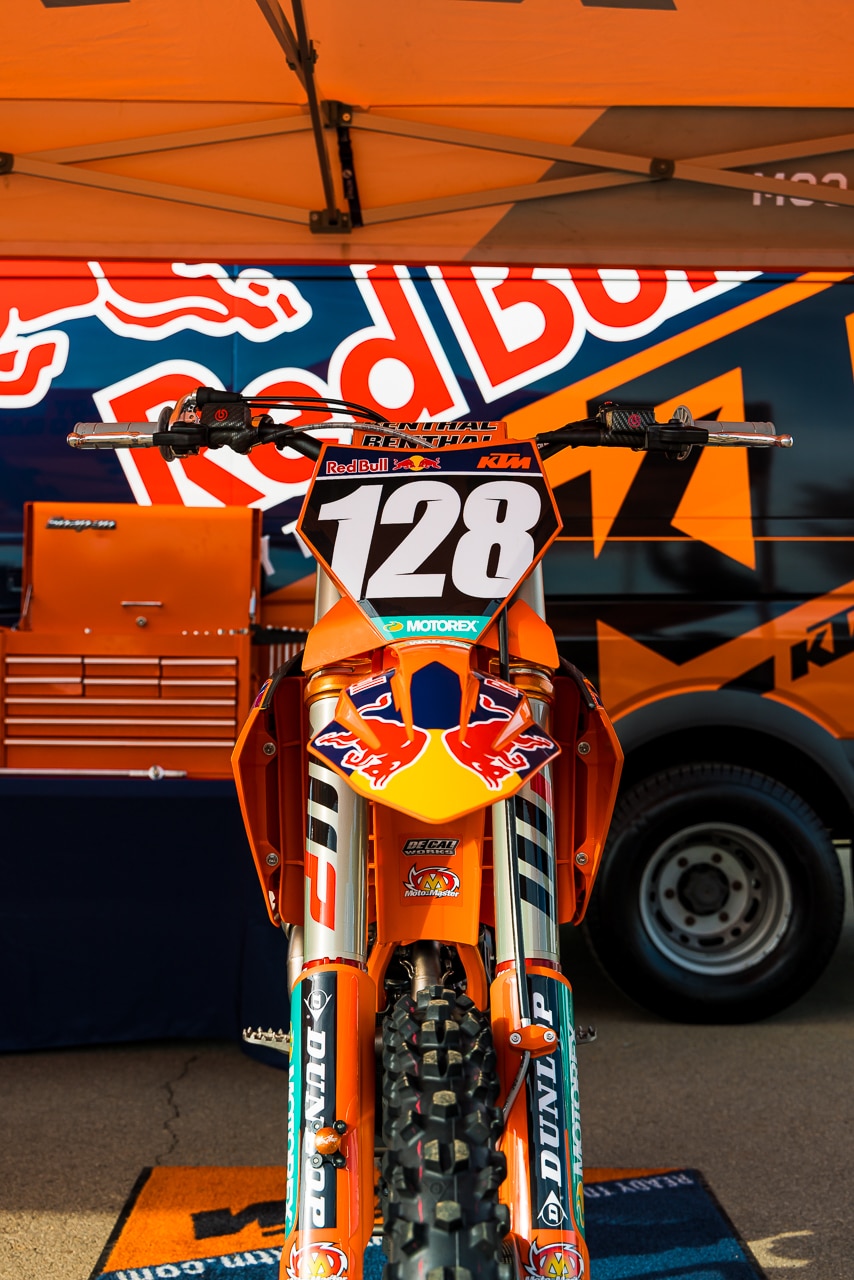 WILL YOU BE WORKING WITH A SPECIFIC TRAINER HERE? Yes, I am going to train with Aldon Baker. I leave next week for Florida. I think it is quite different from California. I spent a little bit of time with Marvin in California training. But I did not have so much time to train yet with Aaron Plessinger, Cooper Webb, or Max Vohland yet because they are already in Florida.  
WHAT IS YOUR FEELING ON THE USA RACE BIKE? I have a good feeling. The bike from America is very close to what we have in Europe. In Europe, for sure, we are a little freer to change things if we want to, like with the frame, or some other special parts but this year, there was a new KTM bike. The frame is not a big change. It is quite like the bike in Europe and the bike we are riding here in the U.S. 
Tom's American bike will be much more different than the European counterpart.
MANY FANS WERE HOPING TO SEE YOU AT THE RED BUD MXDN BECAUSE YOU ARE THE WORLD CHAMPION, BUT YOU HAD TO DECLINE BECAUSE YOU WERE MOVING TO AMERICA. Yes, that was one thing. But I also had to have a little operation, so it was just too much to do for one race. I would have loved to have race, especially at Red Bud, where the track looks so amazing. It was difficult, and I had the small operation, and I could not ride for one month, so that was the main reason.
I WANT TO ASK YOU ABOUT YOUR FATHER.  I KNOW THAT YOUR FATHER USED TO RACE GRAND PRIX. He finished third in the 125 World Championships, and he won a few GPs.  He was in the front group in 125's back in the day, and he also came to race in America. He did a few Supercross races, and I think his best finish was fourth in the 125 main. My dad is with me all the time. 
HAS YOUR FATHER'S ROLE IN YOUR RACING CHANGED? He has been with me all the time, but he is more on the side lines these days. But he still helps me a lot. If something is on the bike that he can see to improve, or even my riding style, we can discuss a little bit and he helps me a lot.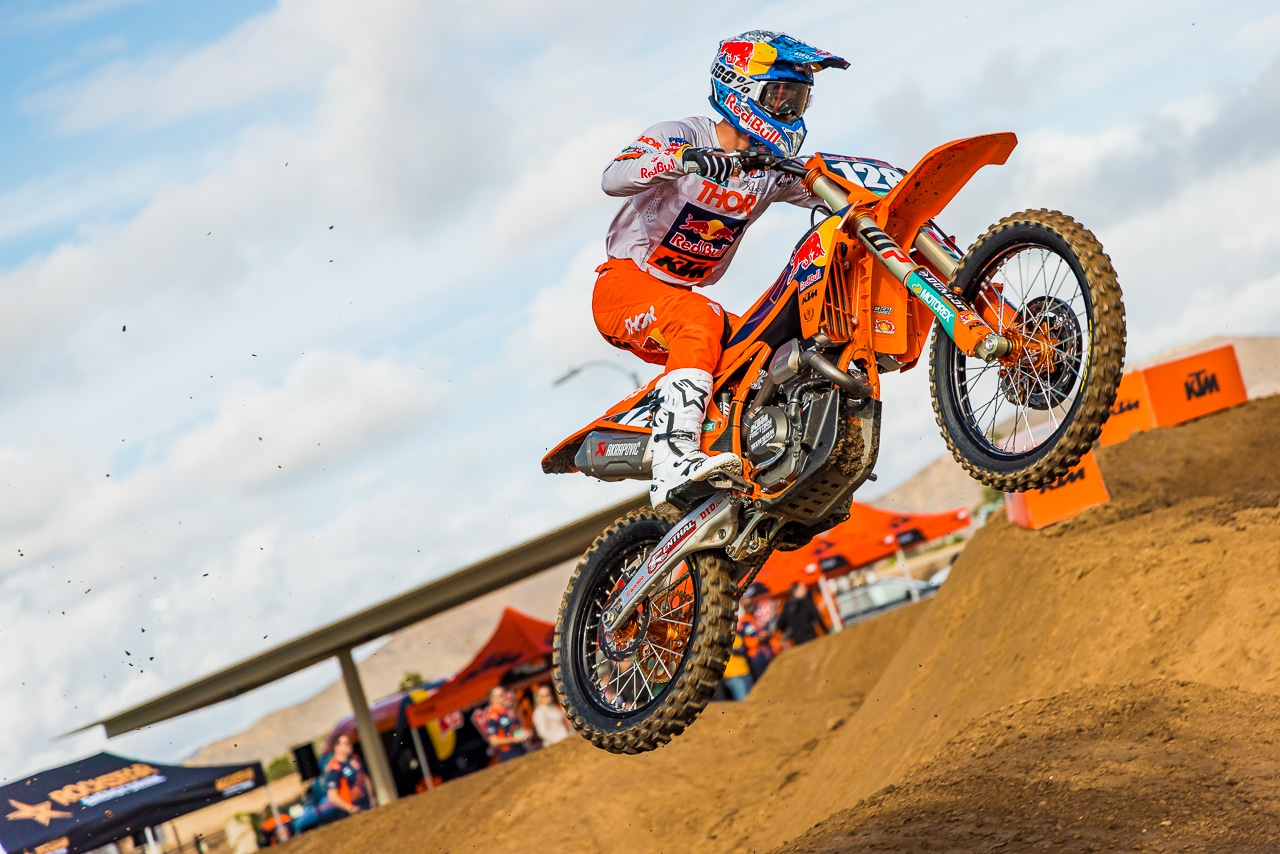 I AM ASSUMING YOU WILL RACE THE 250 EAST COAST SUPERCROSS? Yes, I'm racing East. I have three months to get ready. I am feeling good. I have been riding for about a month, so it is not so much, and I have started to train. I love riding Supercross and so far, everything is nice.
I SAW THAT KTM EUROPE HAD A BIG CELEBRATION FOR WINNING YOUR SECOND 250 WORLD TITLE AND LEAVING FOR AMERICA. It was difficult to leave. There were a lot of big decisions, but I did it to ride Supercross. I want to do it one day, so it was the best decision to do it now. I had for the last four years a good relationship with the team, and they had been helping me on the bike, on the riding side, everything.  They really helped me to grab the two titles, and for sure I will be forever grateful to them for what they did for me.
DO YOU HAVE GOALS OR EXPECTATIONS OF YOUR FIRST YEAR IN AMERICA? I think every rider has goals for racing, but this is my first year in Supercross and I have never done a professional race in Supercross, so it is not only riding that I must see. It is a lot of other things that I must figure out in the first few races. So, I don't really have a big expectation. I just want to see how it is. The first race is going to be a discovery for me, so I just want to go out there and do my best and see where I end up.