TOM WHITE MEMORIAL RIDE DAY PHOTOS
Hundreds of riders lined up on the Glen Helen starting line to do a lap of honor for Tom White.  it took them 2 minutes to all make it through the first turn. Photo by Kyoshi Becker

By Jon Ortner
In memory of the late Tom White—his friends, competitors, business associates, peers and family converged on Glen Helen Raceway to honor Tom's legacy. And Tom White had some very powerful friends as evident by the attendance of Roger and Karina DeCoster, Keith McCarty and Jim Perry from Yamaha, Malcom Smith, KTM's John Hines, Suzuki's Kevin Foley, Glen Helen's National Promoter Bud Feldkamp, EKS Brand Goggles' Rich Taylor, N2Dirt's Brian Bolding, Josh from TBT Racing, Tom and Mike Webb, Mark Tilly and Ron Lawson from Dirt Bike Magazine, Clark and Lois Jones of Noleen, motorcycle executive Brian Farnsworth, stuntman Mark Doneldson, Pro Circuit's Mitch Payton, famous photographer Dennis "Ketchup" Cox, REM's Frank Thomason, Swedish racer Bengt Johansson, White Brothers Sheri Ridenour, CMC's Stu Peters, Billy & Suzy Mercier and hundreds more.
You know that you were somebody when Malcolm Smith and Roger "The Man" DeCoster show up.  These living legends have positively influenced generations of dirt bike riders and motocross racers, globally. Photo by Jon Ortner

The day was amazing for the hardcore motocross riders in attendance. The day began with three full hours of open riding on both the Glen Helen National Track, and the REM motocross track. Then, the procession went inside the Glen Helen Museum with moving tributes from friends and family, along with videos of Tom sharing his passion for motorcycles. Then, the event moved out to the world famous Glen Helen National track where some five hundred motocross riders rode a beautiful tribute lap to honor our legend, Tom White. What follows are photos of the day, with friendly faces that knew and loved the great TW.
Dirt Bike's Ron Lawson and ad executive Robert Rex get back together after not seeing each other in six years. Note the White Brothers T-shirt. Photo by Jon Ortner
The massive crowd jammed into the Glen Helen Museum to watch Tom White videos, hear speeches and celebrate the life of the AMA Hall of Famer. Photo by Jon Ortner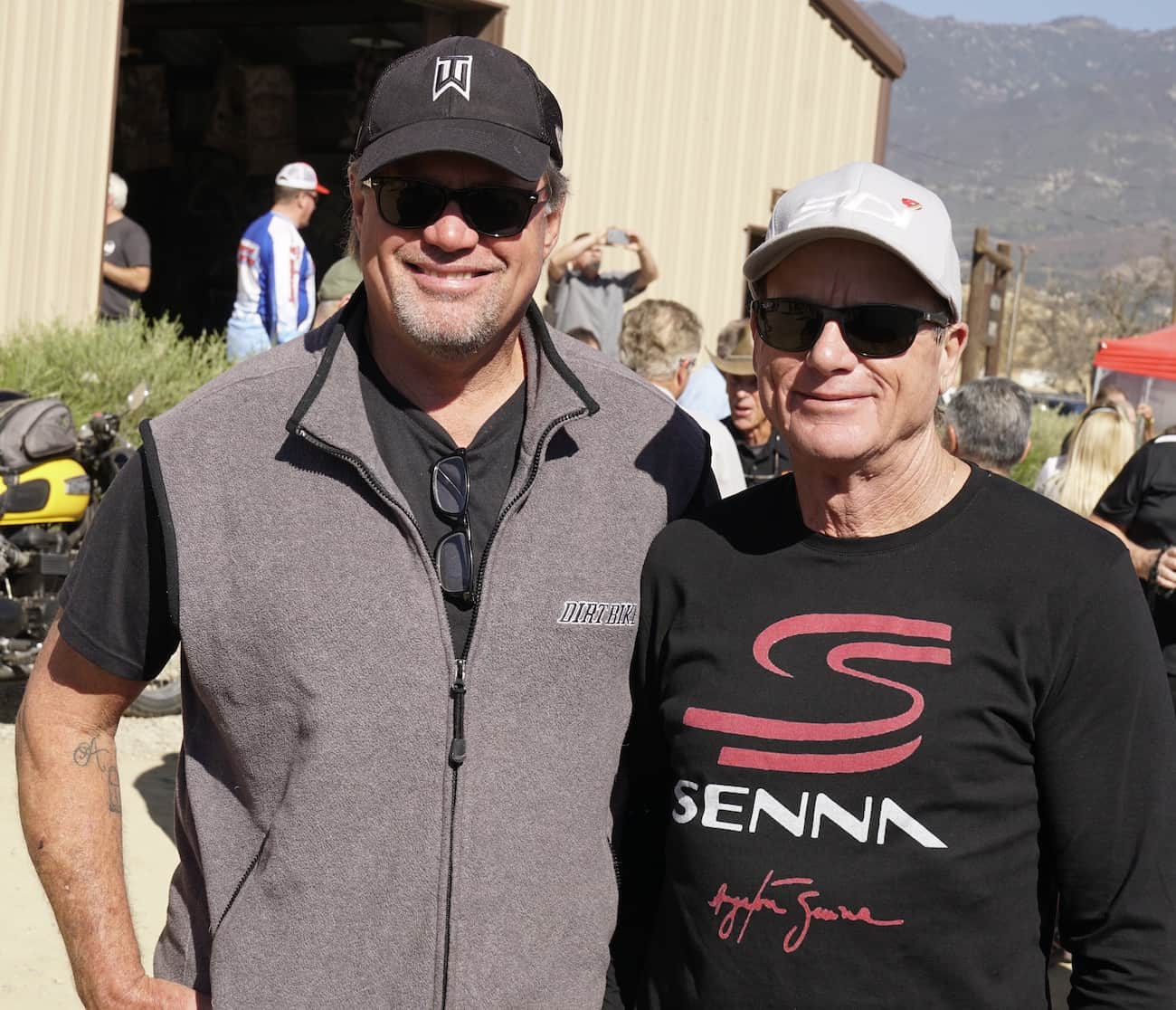 The Webbs—Tom, of Dirt Bike Magazine, and Mike, former factory Suzuki team manager, came out to Glen Helen to remember Tom White. Note the TW hat on Tom Webb. Photo by Jon Ortner

Tom's friend Jody Weisel made the keynote address to an overflowing crowd that extended outside the Museum. Photo by Kyoshi Becker
An overview of the Glen Helen track for Tom White Ride Day. Glen Helen's Bud Feldkamp donated the track so that everyone could come and ride for free in Tom's name. Photo by Rich Stuelke.
Flyin' Mike Brown, former National minicycle star (for Indian) and AMA Motocross Pro displays the TW80 T-shirt that was worn by many people at the memorial. Photo by Jon Ortner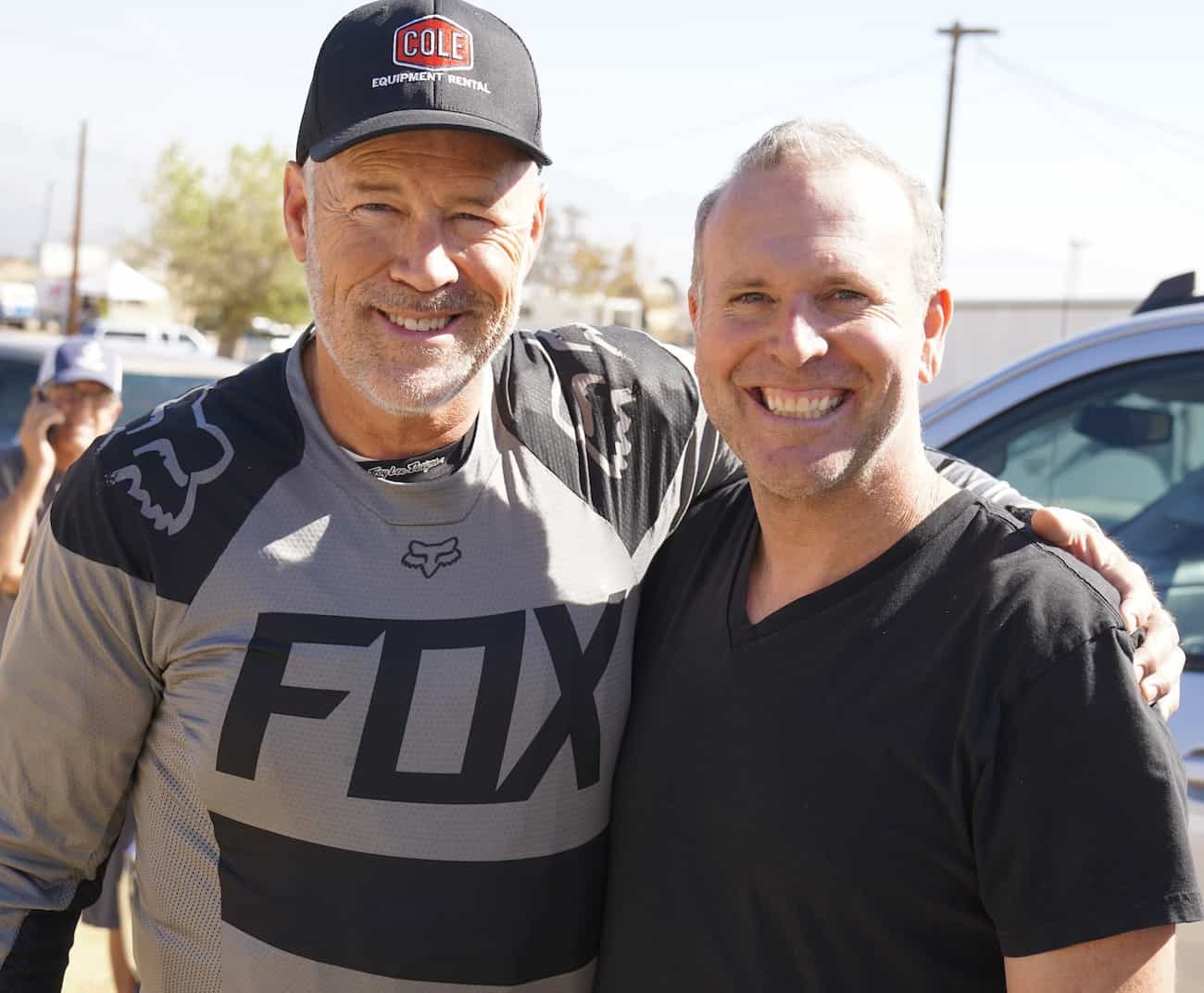 Former AMA Motocross Pros, Chris Cole and Billy Mercier, celebrating the legacy of the amazing TW by spinning laps and telling tales. Photo by Jon Ortner
Pam Skinner, with her son, Blake, shared the roost on the Glen Helen track. Pam was a former professional Jet Ski racer. Photo by Jon Ortner

Hollywood icon, actor, stuntman and supporter of everything with wheels. Pasha Afshar is an REM regular who is working on a new movie about motocross that is in post-production. Pasha brought out his recently finished Yamaha RD350 for people to see. Photo by Jon Ortner

REM motocross rippers, the Ziegler brothers. Nicholas and Dillon, came to say farewell to the man who announced hundreds of their races. Photo by Jon Ortner

The walls of the Glen Helen Museum were lined with photos of Tom from childhood up through his 68 years. Photo by Kyoshi Becker
CMC's Stu Peters. Honoring the memory and legacy of Tom White. Photo by Jon Ortner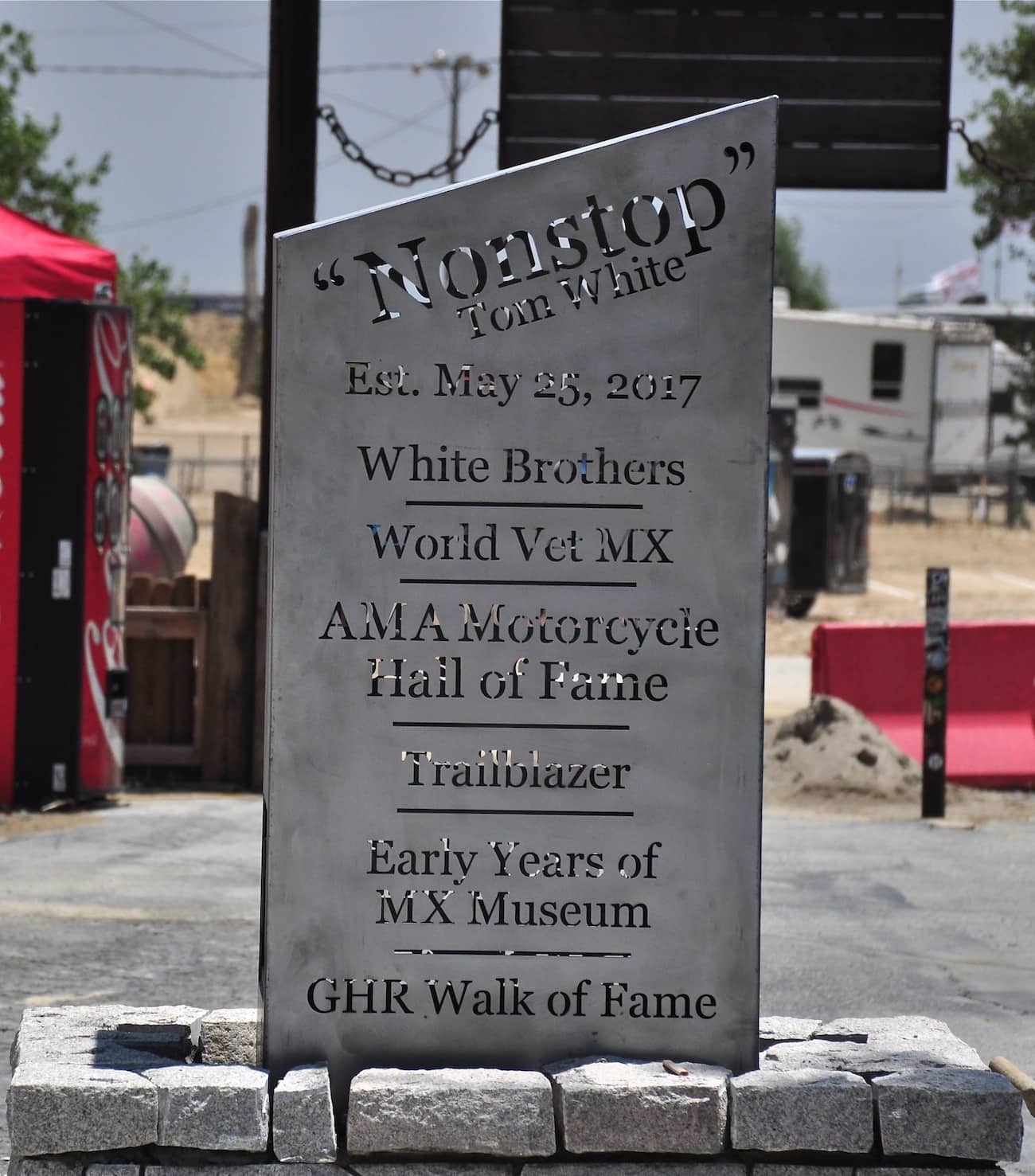 Glen Helen put up a monument on their Walk of Fame that lists a small number of Tom's accomplishments.
Click on images to enlarge.