TOMAC WINS TITLE DESPITE HIS SECRET KNEE INJURY // 2022 DENVER SUPERCROSS THE AFTERMATH

TOMAC TAKES THE CHAMPIONSHIP // 2022 DENVER SUPERCROSS THE AFTERMATH
The title for the 450 championship in the 2022 Monster Energy Supercross has finally been claimed by Eli Tomac. After joining Star Yamaha, it seemed like Eli's racing skills had been rejuvenated, and his attitude towards competing had completely changed. Happier, faster, and still 30 years old, Eli was on a mission to prove to everyone he still has what it takes to win another 450 title. In the 250 class, we had anticipated Christian Craig to get it done this weekend as well, but a series of events in the 250 Main would delay the championship once again.
There's a lot to break down during the daytime activities in Denver so scroll down below to find out what happened after the riders qualified for the night show in MXA's The Aftermath.
Photos by Trevor Nelson
Fun Facts by Ben Bridges
---
ELI'S 2022 DOMINANCE DESPITE KNEE INJURY
Eli Tomac has been on a roll this year. But it wasn't until he spilled the beans in his post race interview that we found out he had a knee injury.  
With a set of racers on new rides, we questioned who would do well during the season. Eli Tomac on Yamaha, Jason Anderson on Kawasaki, Malcolm Stewart on Husqvarna, and both Cooper Webb, Marvin Musquin, and Aaron Plessinger on brand new KTMs. By the halfway point, it was clear who the two top contenders were going to be when it came to figuring out their new bikes, Eli Tomac and Jason Anderson. While Malcolm Stewart was incredibly (and still is) consistent onboard his new Husky, he wouldn't be able to win a Main Event like the other two.
Another factor in the 2022 season was Eli's ability to stay healthy and on two wheels. In similar fashion to the 250 classes, the 450 class suffered many casualties in the 2022 season, knocking many of the top riders out of the races. While some weren't capable of maybe winning the championship, less riders meant less competition in the Main Events.
Eli Tomac had all the wins and the momentum going for him with a large points lead mid-season. However, Eli hasn't won since Round 12 at Seattle and he announced in his post race interview that he actually sustained a knee injury at the Atlanta Supercross that has severely hindered him lately and added lots of stress to his Championship-winning hopes. In the post race press conference, Eli mentioned that he didn't ride at all during the week leading up to the Denver Supercross, but when he woke up on Saturday morning to race, his knee felt better and he was confident that he'd be able to ride through the injury one more time.
The next question is, will Eli Tomac's knee feel good to race in Salt Lake City? Will he push for another win or just finish out the season smoothly? How much will this affect his training for the Nationals?
As the season started to come to an end, the competition boiled down to: When will Eli get the championship? And how many rounds will Jason Anderson delay this? Jason became the only factor to slow down Eli's progress to victory as winning multiple rounds near the end of the season slowed Eli's clinch on the season. However, by round 16, the points gap on first and second would become so large, that Eli would have to finish at least 14th to win the title.
Eli Tomac wins the title with a 5th place finish.
Tomac now has 6 total titles, 3-450MX, 2-450SX and 1-250MX.
It was Tomac's 107th Top 5.
For the 8th consecutive season Tomac has finished in the Top 4 in the SX points standings.
Tomac is the 9th different rider to leave a team and sign on with a new team and win the SX Championship in the 1st year of being on the new team.
He is the 7th different rider to win a SX title on a YAM.
https://www.instagram.com/p/Cc_cRmQjnY_/
The 450 riders celebrating Eli's championship victory.

Tomac is the 4th different rider to win a SX championship on 2 brands.  **Carmichael did it on 3 brands**
YAM now has 12 SX titles, it's 1st since '09.
After 5 consecutive seasons, where the title went down to the final race, Tomac clinched with 1 round to go.
https://www.instagram.com/p/CdCAehbM9Zt/
---
450 SX CLASS REVIEW // JASON ANDERSON GOES BACK-TO-BACK-TO-BACK
As entertaining as it was to watch Eli win the championship, it was just as entertaining watching a handful of riders not settle for anything less than winning in the Main Events. Jason Anderson may have been 43 points behind in the championship, but he was determined to continue his win streak in Denver. After getting a third place start in the 450 Main, Jason Anderson navigated the hard packed track to eventually make the pass on Chase Sexton who made a mistake in front of the mechanics. At the 15 minute mark, Jason Anderson made the move for first and would go to win his third race in a row.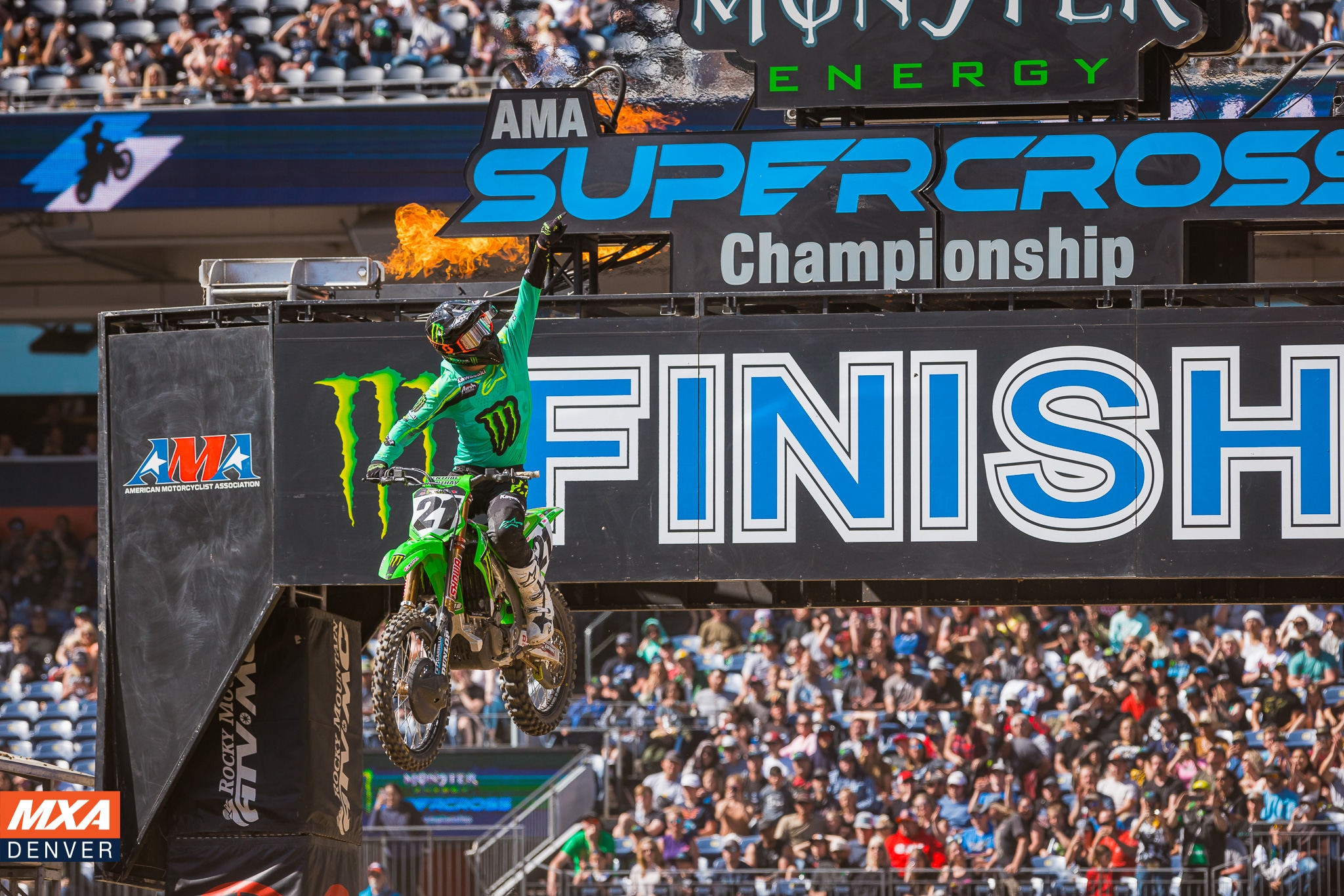 Jason wins three in a row.
Jason Anderson gets his 6th win of the season, 13th career.
KAW has 175 SX wins.
Malcolm Stewart would have one of the best Saturdays of his career as he would finish second place after passing Eli. Now that Malcolm had finished second and Justin Barcia had finished back in seventh, the two have flip-flopped in the points, resulting in Malcolm sitting third overall.
Malcolm Stewart gets 2nd, his 12th Top 5 of the season, 3rd time he was 2nd place.
Stewart sits 3rd in the points, all career-best for Stewart.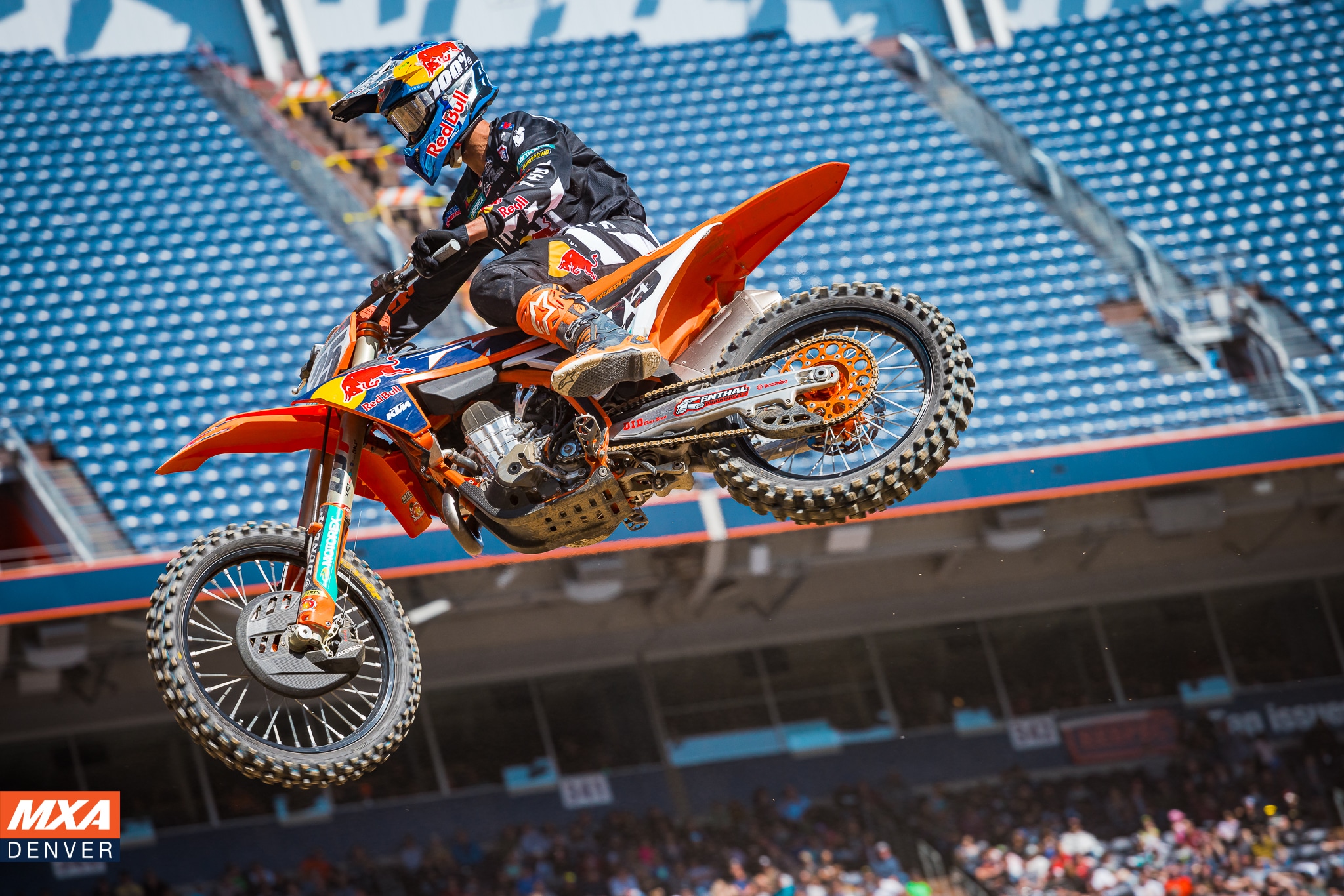 Marvin Musquin once again proved to everyone he is a top contender, finishing in third place.
Marvin Musquin took 3rd place; it was his 9th Top 5 of the season.
It was Musquin's 50th career podium.
Musquin sits 4 points out of 4th place in the SX points.
And back in fourth sat Chase Sexton, who sat back in eighth place after making his mistake while in the lead. Chase made his way through the field passing Brayton, Webb, Barcia, and eventually, Eli Tomac.
Chase Sexton was 4th, his 11th Top 5
The Justin's battling it out to see which one can keep their name.
450 SUPERCROSS POINT STANDINGS (AFTER ROUND 16 OF 17) – RACE RESULTS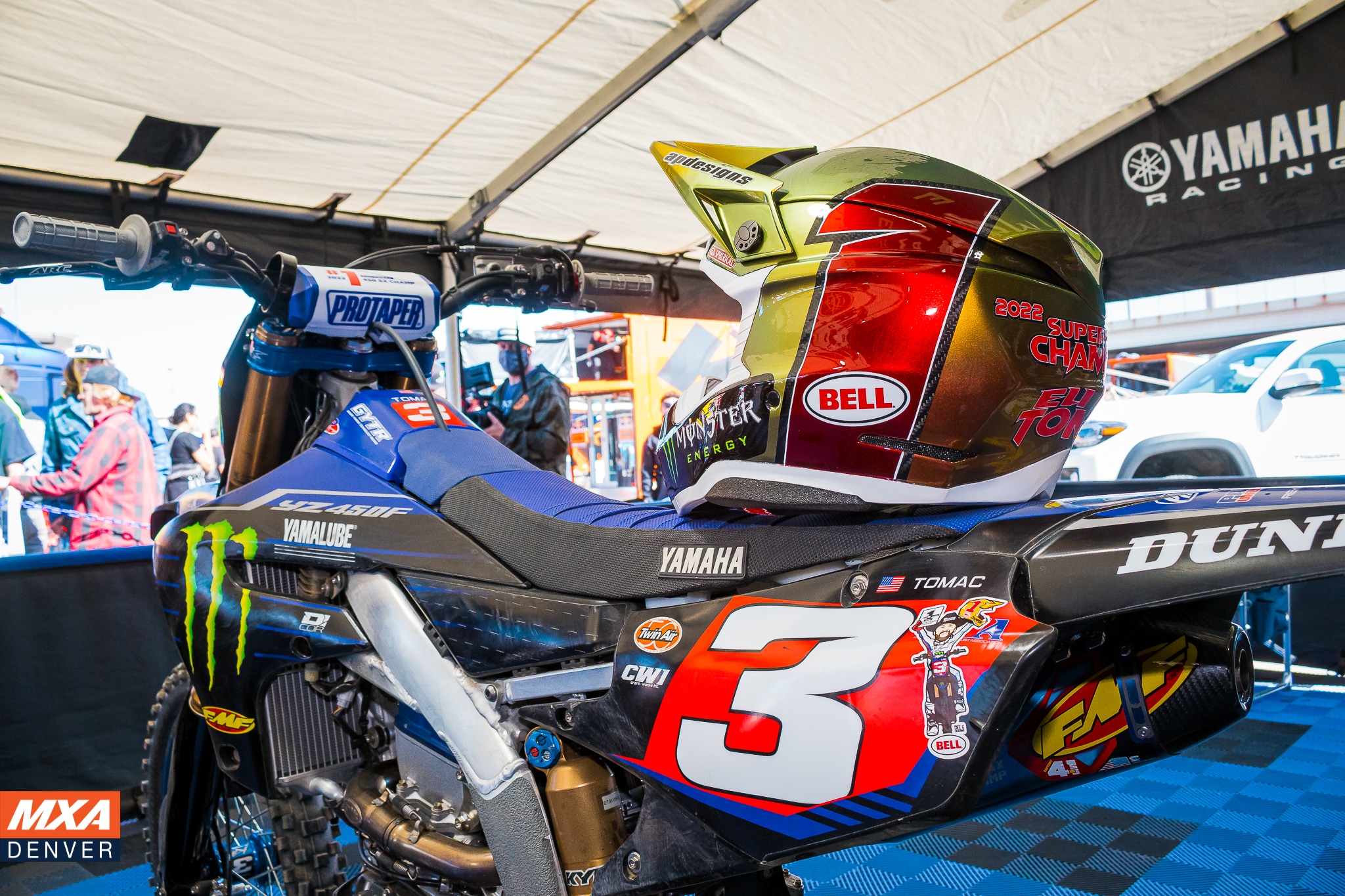 Eli Tomac is your 2022 champion.
POS.
#
NAME
Total
1
3
Eli Tomac

359

      
2
21
Jason Anderson
324   
3
27
Malcolm Stewart
295      
4
51
Justin Barcia
291      
5
25
Marvin Musquin
287  
6
23
Chase Sexton
269
7
1
Cooper Webb
261
8
41
Brandon Hartranft
163
9
10
Justin Brayton
160
10
15
Dean Wilson
152
Jason Anderson is in the perfect position for a second place finish in the season.
The battle for third in the championship is on, Malcolm sits just four points ahead of Justin Barcia, and Justin sits just four points ahead of Marvin Musquin.
---
250 SX CLASS REVIEW // 250 TITLE GOES TO THE FINAL ROUND
Hunter Lawrence hasn't been making it easy for points leader Christian Craig. Hunter grabbed the holeshot and would lead the race with Christian on his tail until the 10 minute mark, where Christian Craig would wipe out in the soft sand section and drop back to seventh. Hunter would win the race uncontested. 
This is what we mean when we say Christian was right on his tail.
Hunter Lawrence got 1st place.
He is 18 points out of 1st place.
Michael Mosiman would have a quiet second place finish as all the enegery was directed to Jo Shimoda holding off Christian and Hunter winning the race. Despite making a small hiccup mid-race, Michael would hold onto his position and finish on the podium.
Michael Mosiman was 2nd, his is 6th Top 5 of the season.
Jo Shimoda didn't let Christian by so easily. As Christian pressured Jo, the two would go back and forth trading positions. Eventually, Christian would get by and finish third, taking the championship to the final round.
Points leader Christian Craig got 3rd, his 9th consecutive podium, as he looks to win the championship in Salt Lake City.
Jo Shimoda finished fourth in Denver.
---
250 WEST SUPERCROSS POINT STANDING (AFTER ROUND 9 OF 10) — RACE RESULTS
Christian Craig is still on top in the championship with a large lead heading to SLC. However, he's now going to have to battle the East Coast 250s as well to earn his championship points. 
POS.
#
NAME
Total
1
28
Christian Craig

215 

     
2
96
Hunter Lawrence
197      
3
29
Michael Mosiman
181      
4
62
Vince Friese
144      
5
30
Jo Shimoda
144      
6
49
Nate Thrasher
126   
7
35
Garrett Marchbanks
117
8
69
Robbie Wageman
109
9
66
Chris Blose
106
10
31
Jalek Swoll
93
Hunter Lawrence sits 18 points behind Christian Craig.
And Michael Mosiman sits 16 points behind Hunter.
The only real battle left is the battle for fourth, as both Jo Shimoda and Vince Friese sit with 144 points each. 
---
DENVER SX CAPTURED
Here are some of our favorite moments from the day in Foxborough. Supercross may be fun from the other side of the TV but it's a thousand times better in person. Captured by Trevor Nelson.