TRAVIS PASTRANA TO RACE RED BULL STRAIGHT RHYTHM
TRAVIS PASTRANA TO RACE 2019 RED BULL STRAIGHT RHYTHM
Travis Pastrana posted this photo on Instagram to announce that he will be racing the 2019 Red Bull Straight Rhythm.
Travis Pastrana posted: "The RmZilla got a little rusty after @trevorpiranha sunk her in K-Dubs pond last year.. but after being called out on @dmxs_radio for a 500cc #2stroke showdown with @tylerbowers aka "TheUnit".. Its time to make this official. I am happy to confirm the #RmZilla will ride again at this years #Redbullstraightrhythm @nitrorednekhubert stripped the beast down and I told him to add the disco ball for the rebuild because the #RmZilla is going to party!
@redbull @fmf73 #imnotdeadyet #mdwreckingcrew @nitrocircus"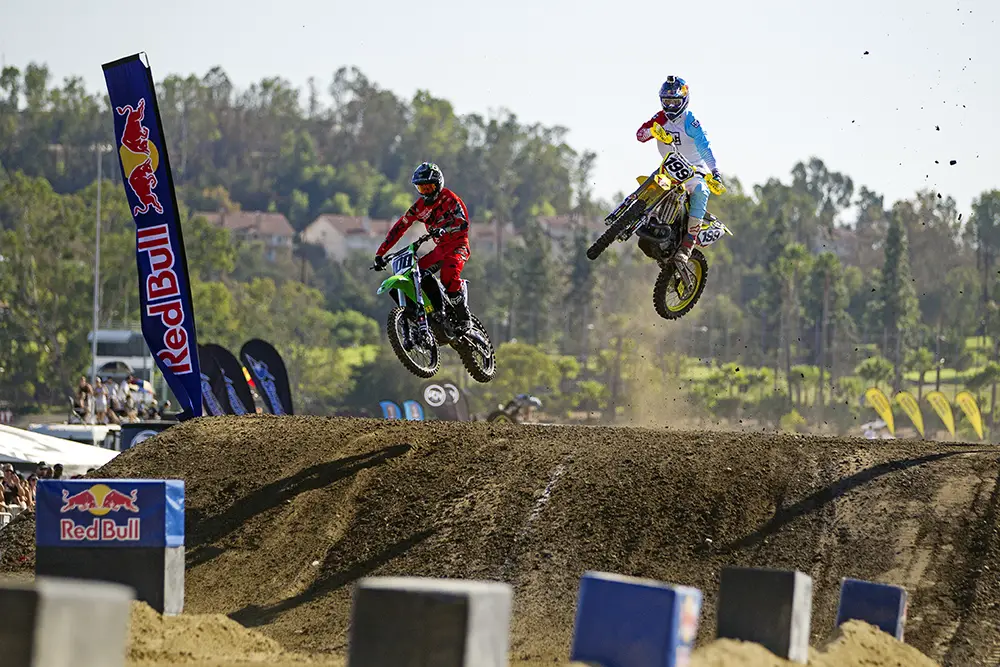 Travis Pastrana jumps high while Josh Hansen stays low in 2014. 
The 2019 Red Bull Straight Rhythm is set to go Saturday October 5th at the Fairplex in Pomona, California. The upcoming event marks the sixth year in a row that the Red Bull Straight Rhythm event has been running and for the second time ever, Travis Pastrana will be racing it on his custom RmZilla Suzuki 500cc two-stroke. Last year's event was the first time that it was a two-stroke only '90s retro themed race, and it was such a hit that they are following the same rules and theme for this year. The event will run from 1:00pm to 8:00pm with the main event beginning at 5:30pm. To learn more and to buy tickets, click here.
TRAVIS PASTRANA'S 2014 RED BULL STRAIGHT RHYTHM BACKFLIP FINISH
THE '90s MOTOSHOW WITH DAVE DESPAIN
RETRO BIKE BUILDS
A.J. Catanzaro raced the 125 class on a James Stewart replica KX125 last year and rumor has it that many other riders will be showing up with more replica builds this year.