TRAVIS PASTRANA'S MXDN RM250, MONSTER CUP & MORE | MXA MID-WEEK REPORT

#WHIPITWEDNESDAY
Rider: Nick Schmidt
Location: 2018 Monster Cup Supercross
Focal length: 300mm
Exposure: 1/640sec
F-stop: f/4.5
ISO: 3200
Photographer: Daryl Ecklund
TWO-STROKE SPOTLIGHT: ANDREW BOCCAROSSA'S 2005 YAMAHA YZ250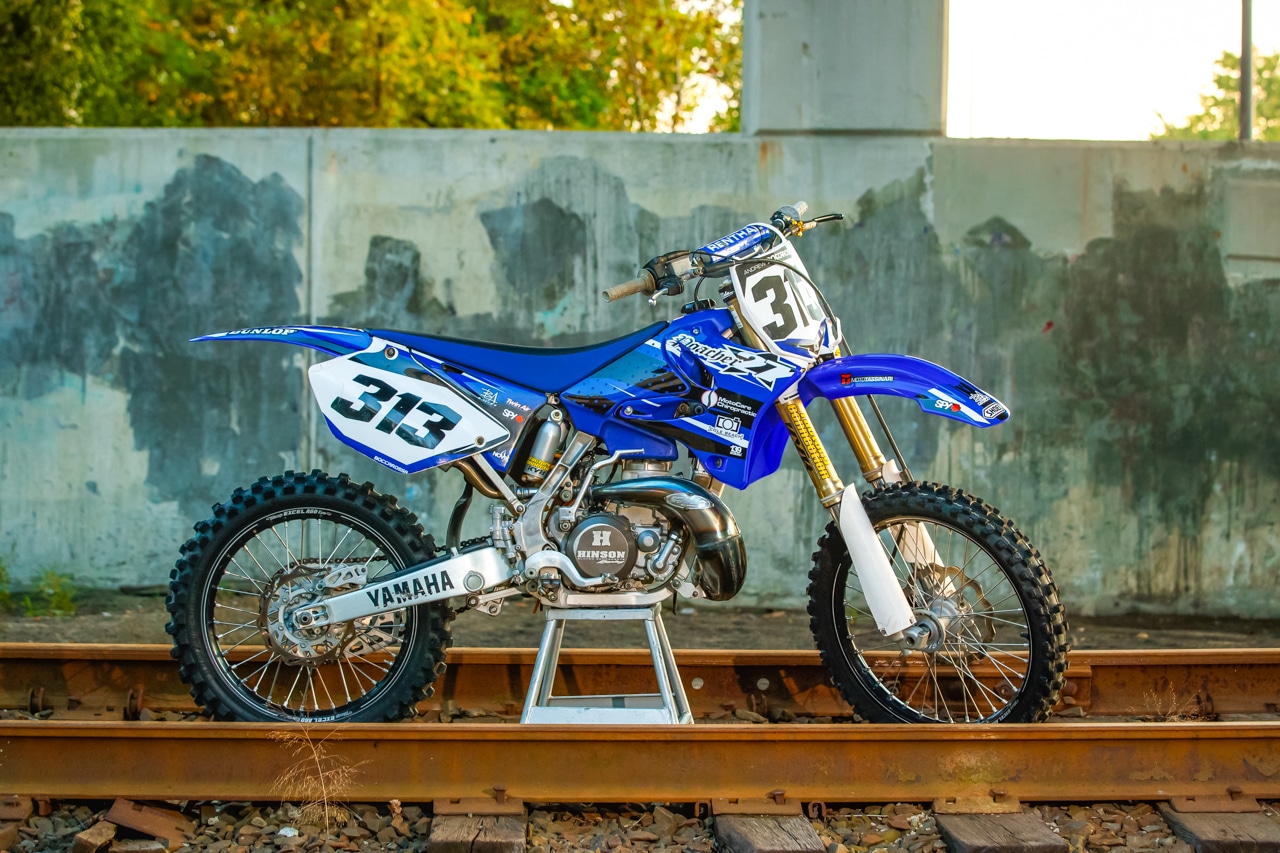 "Bought this bike this past May from a buddy of mine. The bike had been passed around a few owners, but had more wear from sitting rather than being ridden. It had maybe 10 hours on it when I got it. Original tires, chain sprockets, bars, top end, etc. Ended up scooping it up for super cheap and have been adding to it here and there since then. Recently been riding it more and noticed certain things need to go on and others need to go. Swapped out the original triple clamps (with the molded bar mounts) with a 22mm offset from Ride Engineering. Topped that setup off with a 999 Bend Renthal Twinwall bar and a Galfer 270mm Oversized front rotor.

Suspension was revalved for my weight by Factory Connection as well. The engine was left fairly stock other than a VForce 3 Reed Cage, Full Hinson clutch, FMF Works Pipe, OEM top end and Pro Circuit R304 Shorty. Laced together a set of Excel A60's to a stock hub and finished it off with a fresh set of Renthal chain and sprockets. All in all, this was a really fun build and an awesome bike for the price. Thanks for checking it out." – Andrew Boccarossa
EDITORS NOTE: Please keep those submissions coming. If you would like your bike to be featured in the "Two-Stroke Spotlight," please email me at 2005 Yz250. All I ask is that you give a breakdown of your bike and a detailed description of the build. Please also send a few photos of your steed. By submitting your bike for the "Two-Stroke Spotlight," you agree to release all ownership rights to the images and copy to MXA. Please don't email me spam or try selling me Taylor Swift concert tickets or email me spam. I already celebrate T-Swizzle's entire collective, and there will be "bad blood" if you send me junk mail. See what I did there? Happy submitting your smoker.
WHAT THE MXA WRECKING CREW IS UP TO
Travis Pastrana's MXDN bike came straight from Michigan to California for MXA to test ride it. First it got a lot of TCL from James Coy before it got in our hands. 
The FMF pipe is a thing of beauty. 
This factory RM250 engine is rumored to be one of Ricky Carmichael's engines from back when.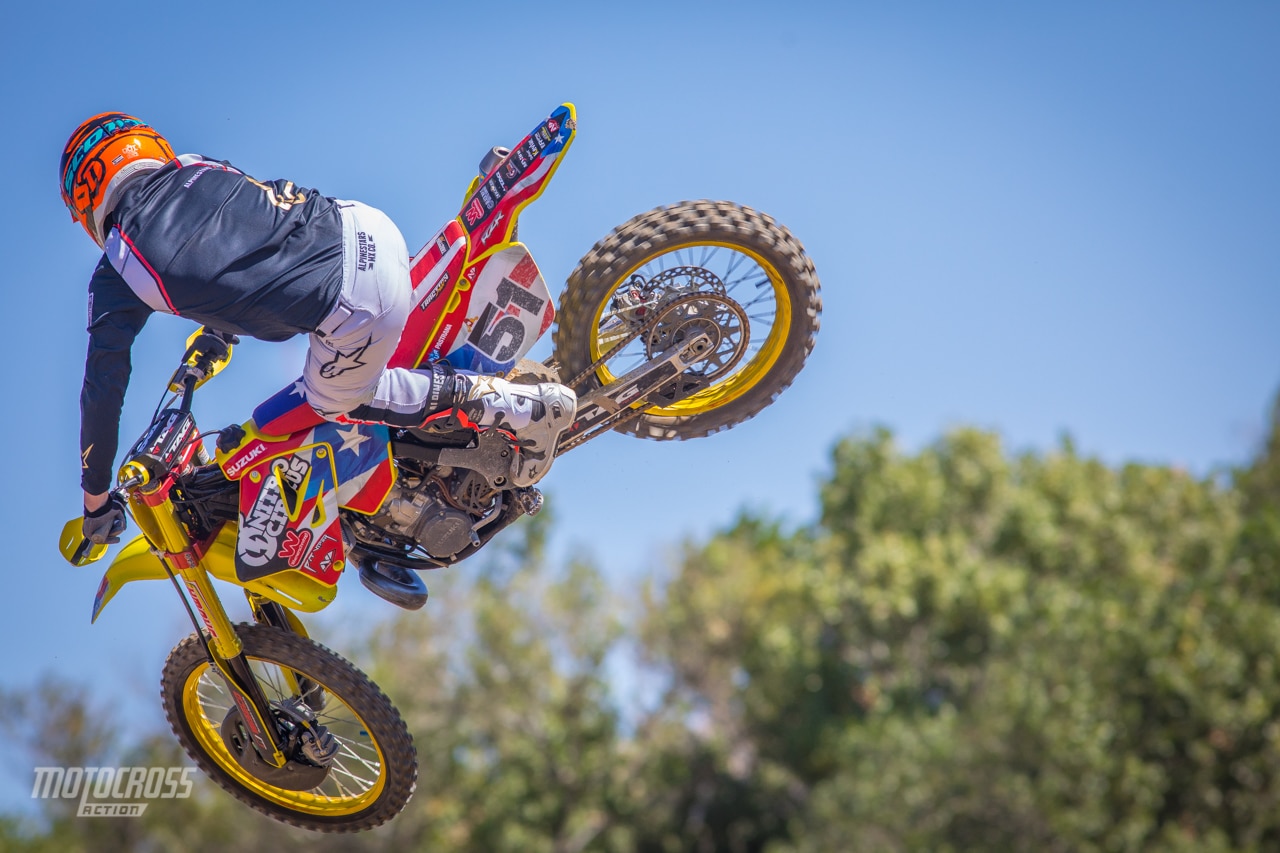 MXA's head test rider, Dennis Stapleton was the first to throw a leg over the factory smoker.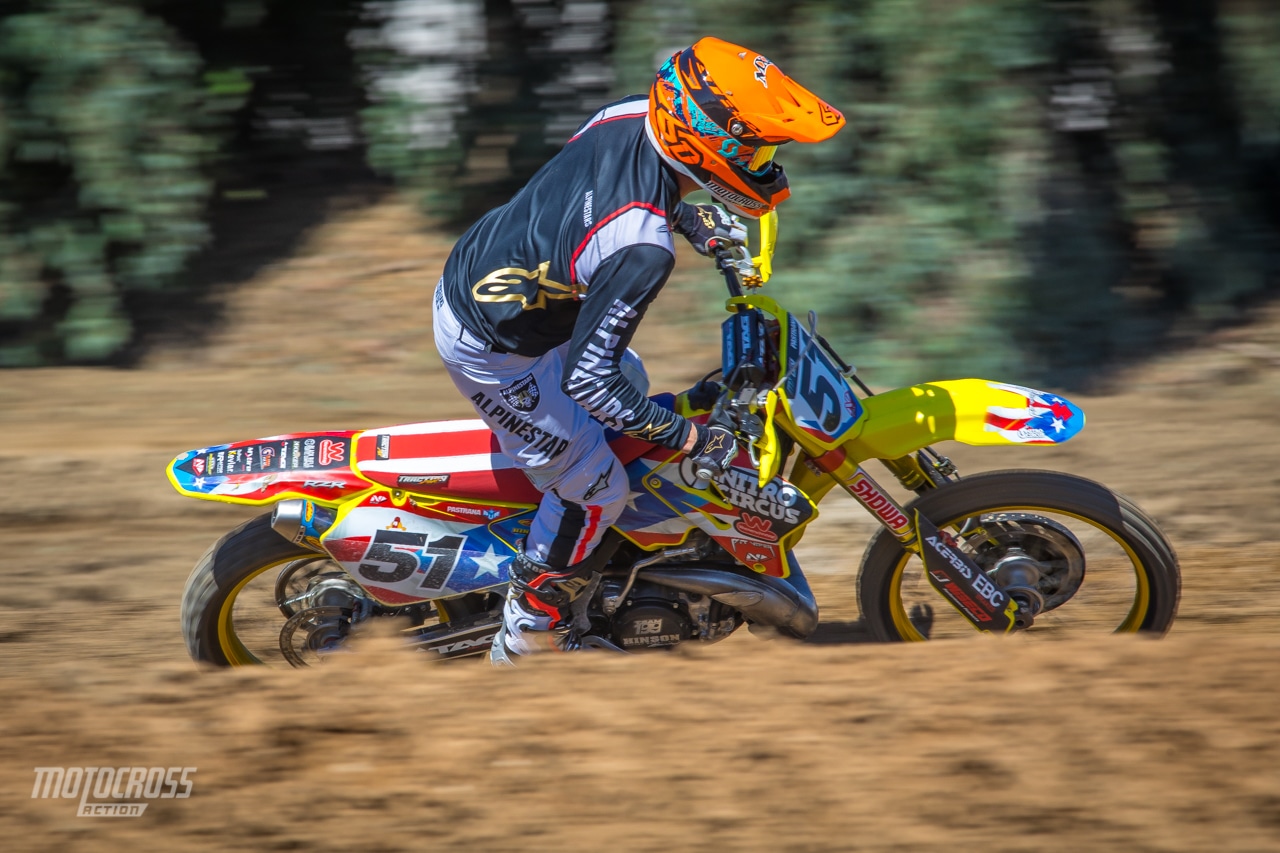 This thing had some serious power for being 13 years old. It was faster than any modern 250 two-stroke. 
We also were getting some time on the 2019 KTM 125SX. 
The engine on the 2019 KTM 125SX is virtually the same, but it has a new pipe, chassis and suspension for 2019. 
Christian Craig was out putting in some laps on his Geico Honda CRF250 at Milestone. 

MXA | MOTO | TRIVIA
Name the rider and year. Answer at the bottom of the page.
MONSTER CUP SUPERCROSS OVERVIEW 
Last years Monster Million winner, Marvin Musquin had tough luck throughout the night. 
The brave men that serve our country. 
Cooper Webb waves to the crowd. 
Chad Reed on the Autotrader Suzuki RM-Z450. 
A look from behind the Monster Cup gate. 
One of the three main event starts of the cup class. 
Ryan Villopoto surprised everyone as he came off the couch to race and did well for being out of the game for so long. 
What a ride for Joey Savatgy. We think he had a special blend of race gas from the looks of the flames coming from his muffler. He rode great, but we don't think he will get a cut of Eli's million dollars for letting him by. 
Jason Anderson wasn't even going to race. He finished third overall. 
Justin Barcia launching into the sand. 
Chad looks like he has potential to be up front. 
Eli Tomac will be the man to beat in 2019. 
The fast sand section was tricky. 
Just after Cooper Webb and Tyler Bowers got together in the sand section.
Malcolm Stewart on his new MCR ride.
Some follow the leader on the first lap. 
The million dollar man. 
WHAT WE SAW AT THE AIM EXPO | photos by Dennis Stapleton 

CRAIGSLIST FIND | 1974 SUZUKI TM400
Lookin for a clean TM400? You can pick it up for $4900. Check it out. 
LOST BUT NOT FORGOTTEN | 1983 HONDA CR250
TALK MOTO WITH MOTO MINDED PEOPLE. JOIN MXA'S FACEBOOK GROUP CHAT

We love everything moto and want to bring all moto junkies together into one place to share their two cents, ideas, photos, bike fixes, bike problems and much more. To check it out first you must need to or already have a Facebook account. If you don't, it isn't much work and you could even have an alias so nobody knows it is you. To join click HERE. After you request to join we will accept your request shortly after.
JOIN MXA'S SNAP CHAT FEED
If you are a Snap Chat user then add us to your stories. Get sneak peaks of everything moto. Our Snap Chat name is motocrossaction. Or just take a Snap of the picture above and it will add MXA automatically to your feed.
CLASSIC PHOTO

Blake Baggett back in 2013 getting roosted at the Glen Helen National.

---
Moto Trivia answer: Jason Anderson back in 2012.