TRICK TC125, 2019 YZ TWO-STROKES, 2019 SUPERCROSS PREP & MORE | MWR

#WHIPITWEDNESDAY
Rider: Carson Brown
Focal length: 300
Exposure: 1/1600 sec
F-stop: f/6.3
ISO: 400
Photographer: Daryl Ecklund
FOUR-STROKE SPOTLIGHT: CHRISTIAN CHAMORRO'S 2018 HONDA CRF450
"My 2018 Honda CRF250 has a complete titanium bolt kit, including axles and swingarm pivot bolts, carbon CRM subframe, Martin Racing Honda HRC tanks, HRC pegs, ported cylinder head, carbon Dubya hubs, FCP engine hangers and much more." –Christian Chamorro.
EDITORS NOTE: Please keep those submissions coming. If you would like your bike to be featured in the "Two-Stroke or Four-Stroke Spotlight," please email me at [email protected]. All I ask is that you give a breakdown of your bike and a detailed description of the build. Please also send a few photos of your steed. By submitting your bike, you agree to release all ownership rights to the images and copy to MXA. Please don't email me spam or try selling me Taylor Swift concert tickets or email me spam. I already celebrate T-Swizzle's entire collective, and there will be "bad blood" if you send me junk mail. See what I did there? Happy submitting your smoker.

6TH ANNUAL KURT CASELLI RIDE DAY

Press Release: Join Us At Fox Raceway To Remember Kurt Caselli & Support The Kurt Caselli Foundation. On Saturday, December 1st, the industry will once again join together in remembrance of Kurt Caselli at Fox Raceway in Pala, California for the 6th Annual Kurt Caselli Ride Day presented by Rocky Mountain ATV/MC. The event is open to the public, with all ages in mind. Saturday night camping will be available and can be reserved when you pre-register for the event. All proceeds will benefit the Kurt Caselli Foundation and help fund the growing list of safety initiatives and projects to protect and support the lives of off-road riders. Check out the 2018 budget and list of projects at https://www.kurtcaselli.com/programs. Pre-register now at https://give.classy.org/kc66rideday to save time with our special VIP entrance line and score a free commemorative event t-shirt!
What: The 6th Annual Kurt Caselli Ride Day presented by Rocky Mountain ATV/MC
When: Saturday, December 1st, 2018 | Gates open at 8:00 AM, Riding: 9:00 AM to 4:00 PM
Where: Fox Raceway | 12799 California Highway 76, Pala, CA 92059
Tickets: $25/person, Kids 12 & Under: Free | Get tickets here!
What You Get By Registering Early:
VIP Entrance
Free Commemorative Event T-Shirt (for each paid admission registrant)
Festivities include:
Riding open from 9 am to 4 pm.
Main Track
Vet Track
Off-Road Loop
Kids-Only Track
Kids-Only Practice Session On The Vet Track
Stacyc Learn To Ride demos for the kids!
Food, Music, Vendor Row & more!
The Caselli Team Challenge (your chance to team up with a Pro and compete!)
Presentation of the Kurt Caselli Scholarship Winner
Great Raffle Prizes & Giveaways including the Custom 2019 KTM 300 TPI Motorcycle
Silent Auction
Visit www.KurtCaselli.com for more information and to get tickets now!
MXA | MOTO | TRIVIA
Who is this rider and what year was it.
WHAT THE MXA WRECKING CREW IS UP TO
The boys from JMC Motorsports brought down Carson Brown's Red Bull Straight Rhythm winning Husqvarna TC125. This thing is super trick. We will be featuring a full test in a future issue. Make sure to get your MXA subscription now so you don't miss it.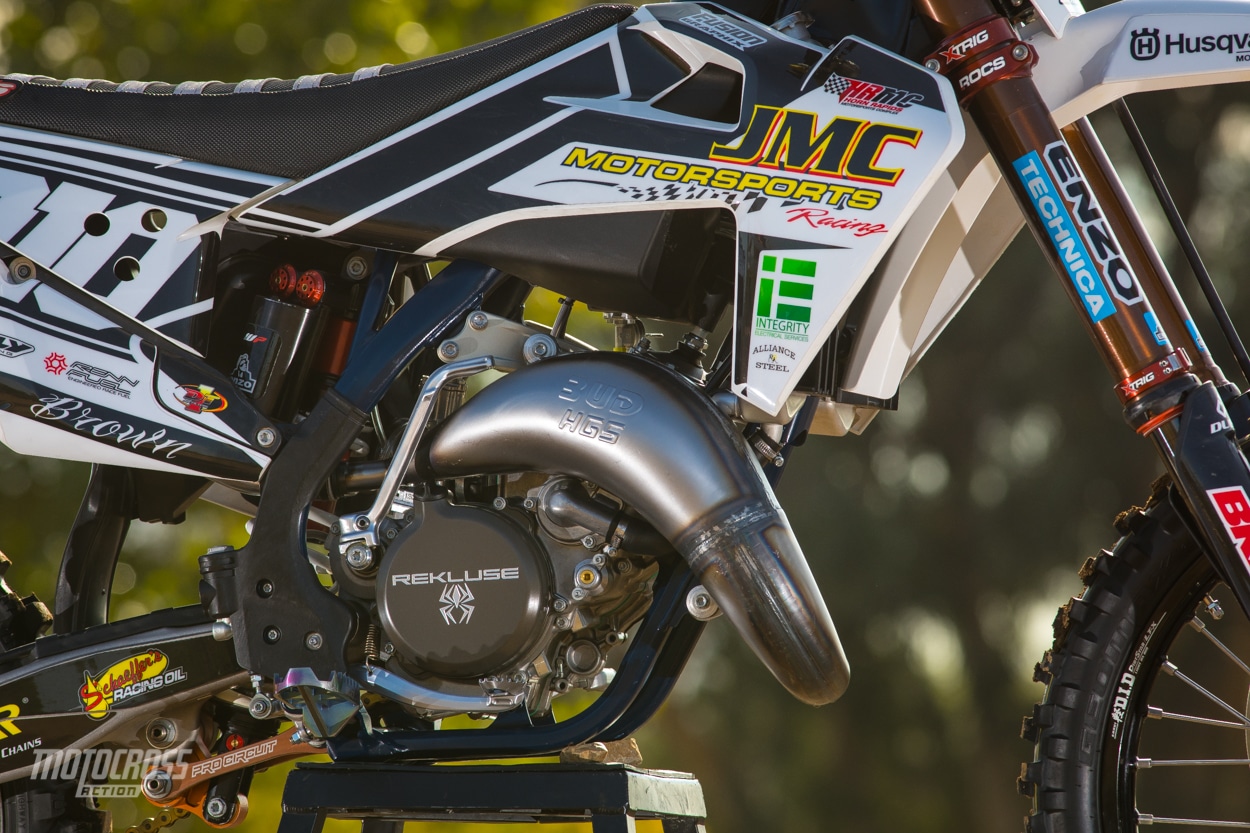 Up close and personal with Carson's 125. 
Carson with a helmet off. 
Carson shred his TC125 on the Milestone Supercross track. 
It even pulled through the big Supercross whoops.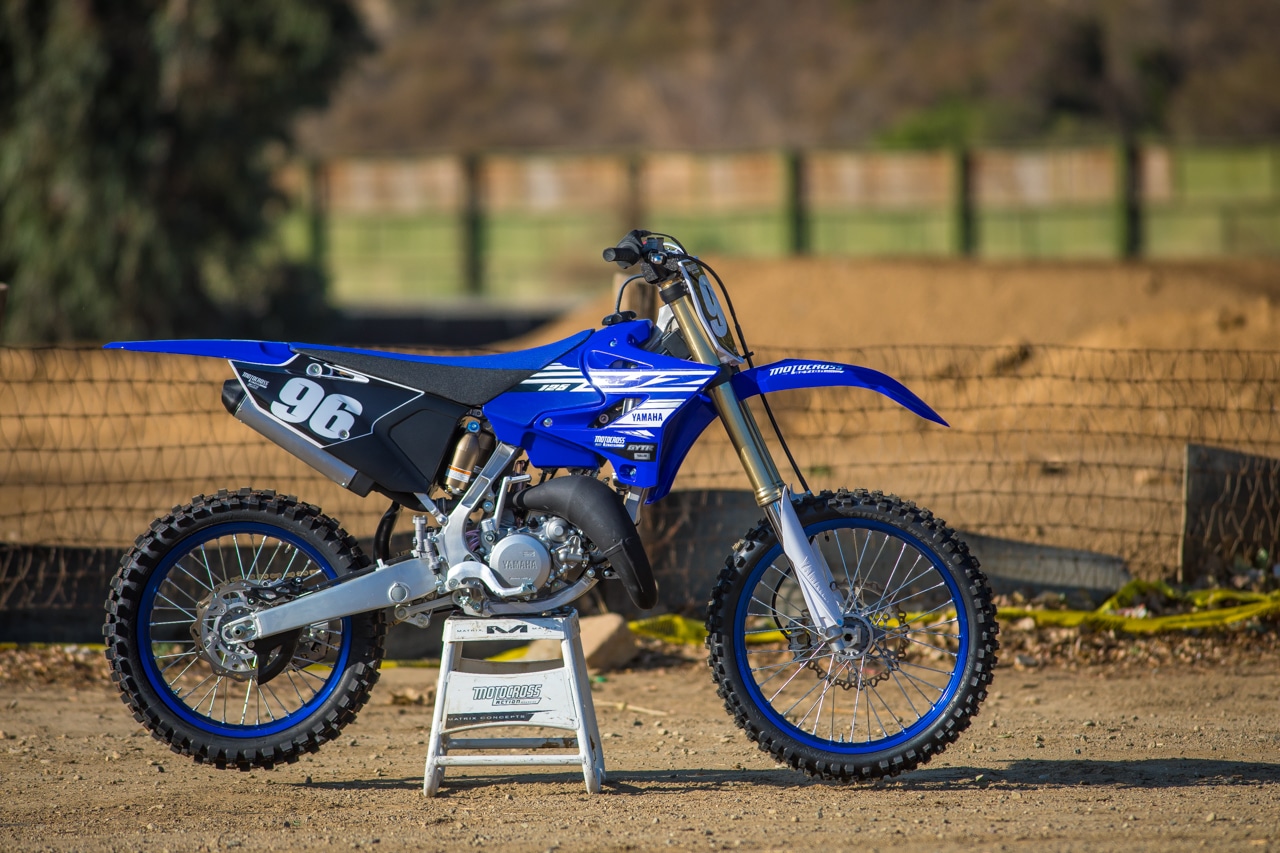 We got our hands on the 2019 YZs as well. 
2019 Yamaha YZ250.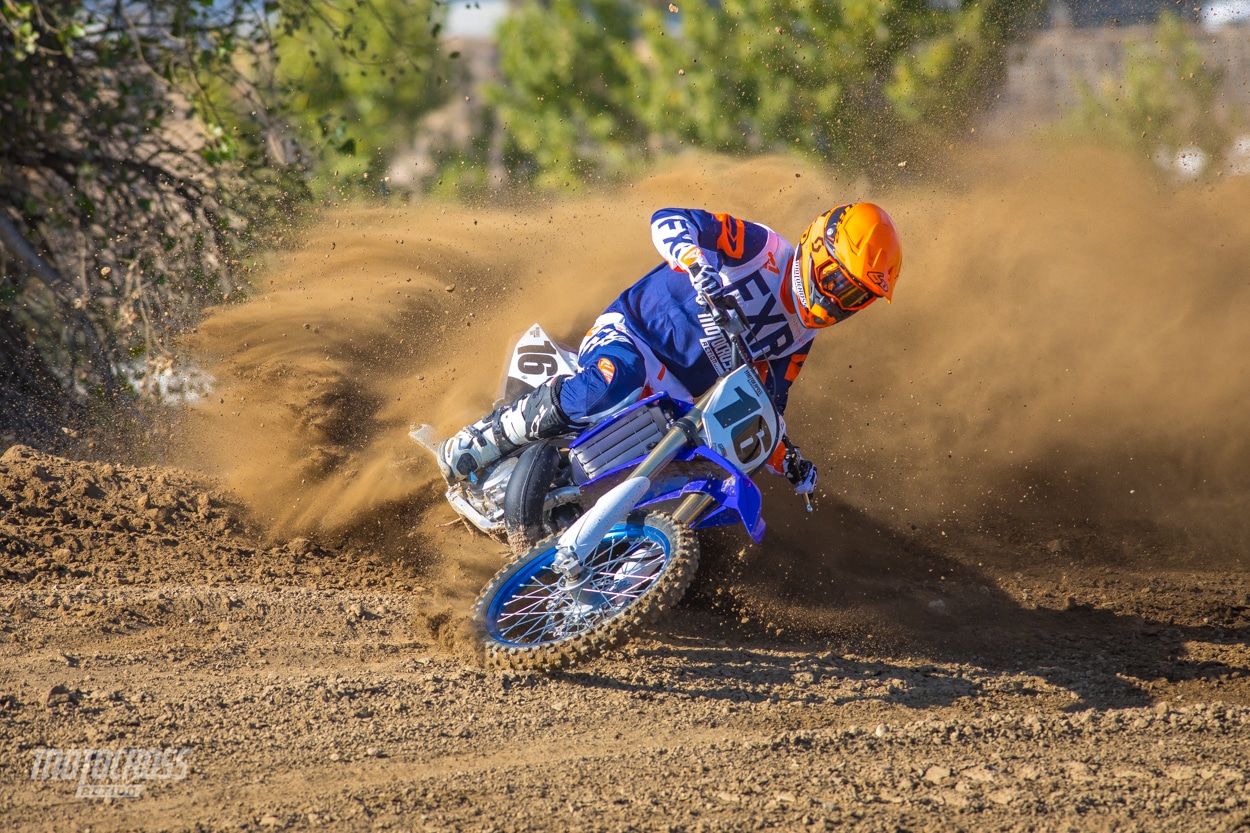 Josh Mosiman moves some earth on the YZ250. 
The 2019 YZ125 getting sideways. 
RIDE ENGINEERING HOLIDAY SALE

JASON ANDERSON KING OF BERCY SUPERCROSS SPEAKS
Jason Anderson: "The race was tough with some close racing on both nights and I'm happy with the overall win. The motos were short and I had to work a bit harder to make things happen. My lap times were not that good in qualifying and the superpole, but I was very happy with my speed in the motos and that's what matters the most. I showed some good racecraft this weekend and that's positive. I'm heading back to the US now. I hope I can come back even stronger for A1."
WESTON PEICK'S CRASH IN BERCY
MXA INTERVIEW: BEN WATSON
One of the cooler moments I had at the recent Red Bud Motocross des Nations was when Monster Energy had a meet and greet with their riders competing in the weekend's racing. This allowed journalists to get to talk to riders they normally only see in magazines. Anyways, one of the riders I was interested in talking to was Great Britain's Ben Watson. In the MX2 World Championship series, the class was dominated by the orange and white European bikes. Yet, Watson used his factory Kemea Yamaha 250 to finish a brilliant fourth overall. After a very solid 2018 campaign I suspect Watson could be the next Brit World Motocross Champion. If you were at Red Bud you no doubt witnessed on of the best motos of the day when the MX2 trio of Hunter Lawrence, Jorge Prado and Ben Watson all battled for second place in the MX2/Open moto behind winner Glenn Coldenhoff.
BY JIM KIMBALL
BEN, LET'S BEGIN WITH 2017, YOU HAD A DIFFICULT SEASON. Yes, last year was a tough one for me. I had a few problems, and I broke my foot in the 2016 season. So, I came back from missing a whole year, and it was difficult to get going into the 2017 season. So, I went to start the year, and was really struggling to get some points. It was a super tough start for me, but as the season went on, I slowly started to get back to myself. I was leading the British Championship, and then I wrapped that championship up. I also started to really find myself in the GP's, and later had a few top 10 finishes. I started coming in more where I should be. Yamaha picked me up, and we found an upswing solid season this year.
THE YAMAHA TEAM YOU ARE ON IS REALLY STRONG, IS IT CONSIDERED THE FACTORY YAMAHA MX2 TEAM? Yes, we are Yamaha's Factory MX2 team, so we have great support from Yamaha, and they do absolutely everything for us. The team has been a huge step in support for me. I have gone from doing a lot of things myself, and I just did not have a team with so much budget that could help me. It has been an incredible season in 2018, not only from my side, it has come a lot from the team and a lot from Jacky Vymond (former world champion) who is the full-time trainer both on the bike and off the bike. So, a lot of things changed. I moved over to Belgium and I have been living there from November until now. I've been training in Belgium and riding a few times in France. Almost everything changed, so it is hard to really point out one thing that made things click for me. I think just in general switching up the whole package, and me having a great winter was the change.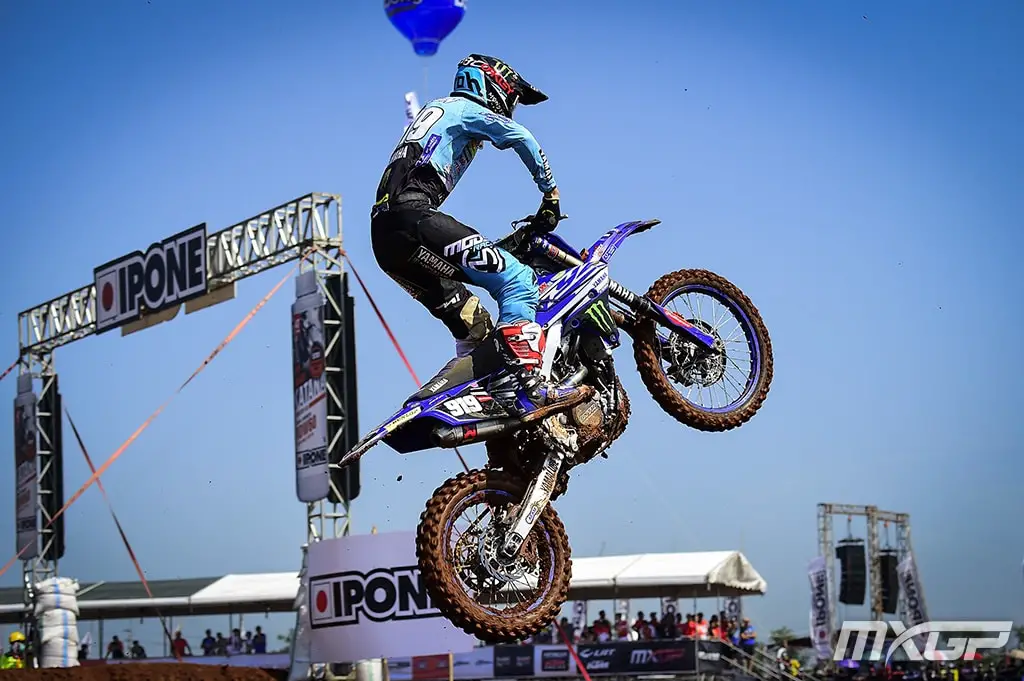 YOU FINISHED 4TH IN THE MX2 CHAMPIONSHIP THIS YEAR. IT WAS AN AWESOME JOB. I finished 4th in the World Championship, and if you said that to me at the start of the season, I would not have said that was a realistic goal for me. I think the team and myself were looking around between 6th and 8th as a championship hope. But I went to Argentina for the first round and went 4-4, and was only 1 point from my first World Championship podium. So that was a shock for us all, and especially a big shock for me. I then kind of maintained that throughout the whole season and always stayed around 4th every round. And maintained 4th from there on until the end of the season.
NOT SINCE TOMMY SEARLE, OR MAX ANSTIE HAS THERE BEEN A FAST RIDER FROM GREAT BRITAIN, UNTIL YOU CAME ALONG. It is hard to say because I have not been in the U.K. that much. I did go home for two days to celebrate my 21st birthday, but then I was straight back because I had to race the following week. So, I have not seen any good riders in the U.K. any more. The last couple of years, I have not done any of the amateur races, and I have stayed out of that picture, and concentrated on my job. It is difficult to see anybody really coming up through the ranks. Max is only around 25, or I think, 26. He is a little bit in between me and Tommy, but there is not really anyone let's stay a few years younger than me. We have Conrad Mewse in the World Championship, and me from the U.K. in MX2, so, yes, there are not many of us. It is hard to say really from my side as I don't actually follow the U.K. scene so much anymore.
YOU ARE A YOUNG GUY. DO YOU THINK AT ALL ABOUT A RACING CAREER IN AMERICA AT ALL? I turned 21 in June this year, and I have two more years left in MX2 and really, I see myself as a 450 guy. I really enjoy riding the 450, but I am of course coming into myself and showing my true potential now on a 250. I would absolutely love to come to America even if it was just for one race to see how it goes.
IT SEEMS LIKE AMERICA IS SIMILAR TO THE GP's AS THERE ARE MORE 250 OR MX2 RIDES AVAILABLE. IN THE 450 OR MXGP CLASSES THERE ARE FEWER FACTORY SPOTS. Yes, that is 100 percent true. Basically, we have an age rule that you can only stay until you are 23 in MX2, so people are getting more comfortable in GP's and then they turn 23 and are kicked out of the class. MXGP is now completely a stacked field in Europe. It is an incredible class. I really enjoy watching it because one rider can be first and then he can be 10th in the next race. The field is so deep in MXGP, so for someone that is not really a championship contender in MX2, it is impossible for them to get a ride in MXGP unless they are bringing money with them. From the outside it is really difficult, but for someone like me, I still have two more years left since I am 21. It is not a good thing, but it is actually allowing me to really build myself up, getting used to winning on the GP scene, and fighting for podiums before moving to MXGP. If you do not have any former success or near success then when you go to MXGP, it is just going to swallow you up, and you are really not going to be able to ride yourself into the top positions. So, MXGP is really difficult. You have to be on top of your game with a good bike and be a good rider to get good results.
JORGE PRADO WON THE CHAMPIONSHIP, AND HE WON IT A BIT EARLY, BUT IT DOES NOT SEEM LIKE HE IS UNBEATABLE. DO YOU FEEL YOU CAN WIN THE MX2 CHAMPIONSHIP IN 2019? Yeah, sure I do. Prado is consistent, and he has shown some excellence where the other riders are quite a long way from him. Herlings has won 19 or 20 races or something like that this season, so you could put a lot of money on him before a race and say that he is going to win it. With Prado, he won many races this year and he has been very dominant, but sometimes there are a few races that I know he is struggling. He is 17, and he is still growing up and learning, but there have been a few races where he had really not ridden like himself. He has gone outside the top 5 on a couple of occasions. But still he has been fast, and really did deserve to win the championship. He has made a big step over the winter with consistency, and this year he showed that he can handle pressure. He did deserve the championship, but he was not so dominating every single race like Herlings was. Next year I will have to stay positive and say that anything is possible.

DRC ENZO REAR SHOCK HIGH-SPEED COMPRESSION ADJUSTER

– ENZO DRC co-developed product.
– Click feeling allows easy adjustment of rear suspension high compression.
– Available for 14 mm and 17 mm adjuster sizes.
2019 SUPERCROSS PREP | MILESTONE RACEWAY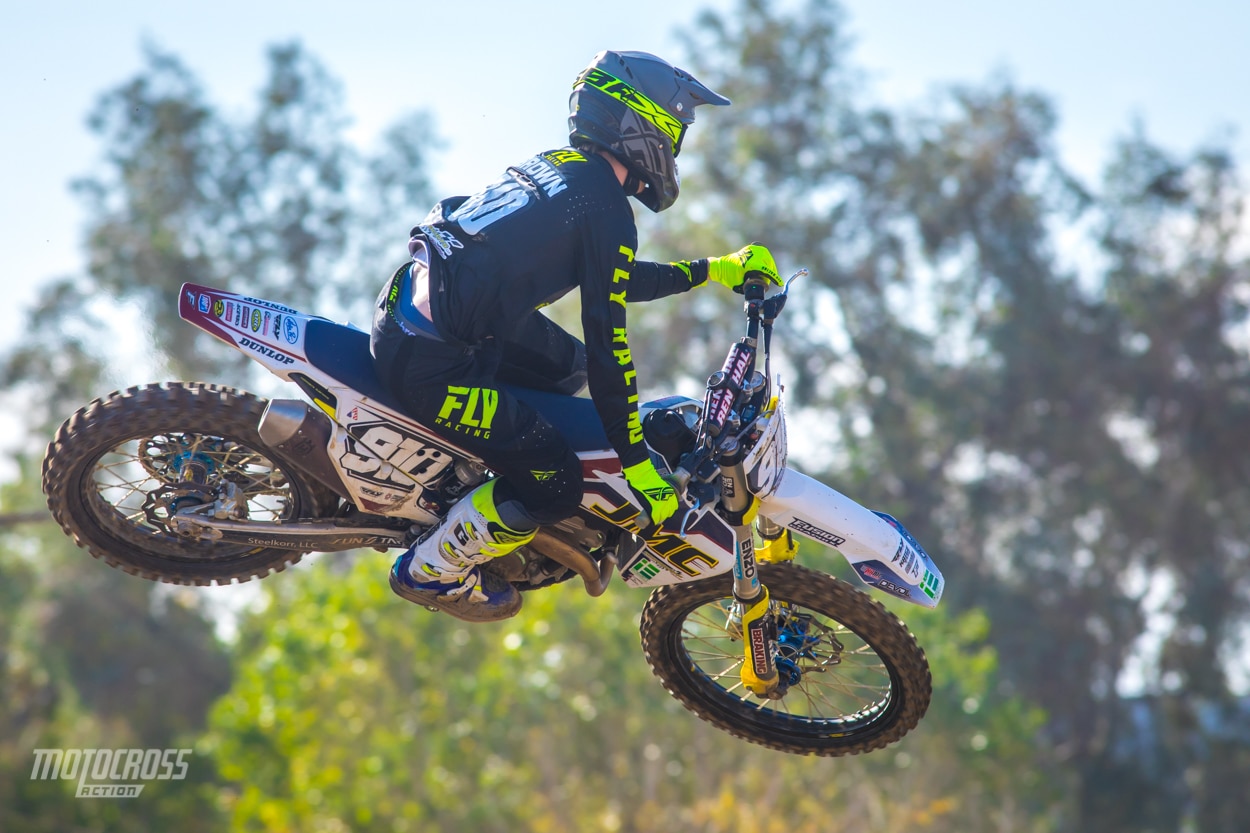 Carson Brown is on the JMC team getting ready for his first season of Supercross. He will be racing the 250 West series. 
The Geico Honda rider Chase Sexton puts in the laps. 
Christian Craig will be looking for a championship for 2019. 
The Geico Honda personal on the sideline are Jade Dungey and Dan Bentley.
Bradley Lionett looked good.
Blake Savage was working with riders.
TLD KTM rookie Mitchell Falk.
ATLAS BRACE – MATRIX CONCEPTS – TAG METALS ACQUIRES NEW CORPORATE HEADQUARTERS
Press Release: Group 6 USA, LLC motorcycle brands Matrix Concepts, Tag Metals and Atlas Brace ready for move this week to new corporate headquarters in Santa Clarita, California. Eddie Cole, CEO of GROUP 6 USA, LLC stated…. "we are very excited to make this move to our new home that will house our Management team, Accounting, Marketing, Customer Service, Sales and Product Development teams".
This move is a integral part of our new strategic plan to drive our brands forward, while continuing to exceed our customer's expectations with all their dealings with our company.
Additionally, we are pleased to announce a new relationship with a logistics provider in Santa Clarita that will use the latest logistics technologies to provide the very best warehousing, receiving, inventory control and shipping services for us starting November 25th.
Please note, during the transition move shipping could be interrupted temporarily for a couple of days between Tuesday November 20th to the 23rd.
Phone, 661 253 -1592, Fax, 661 288 -1700 and all email addresses remain the same, [email protected]
The new address is 28406 Constellation Rd., Santa Clarita, CA 91355.

LOST BUT NOT FORGOTTEN | BBR YZ80 CHASSIS WITH XR100 ENGINE
BBR YZ80 with a XR100 engine.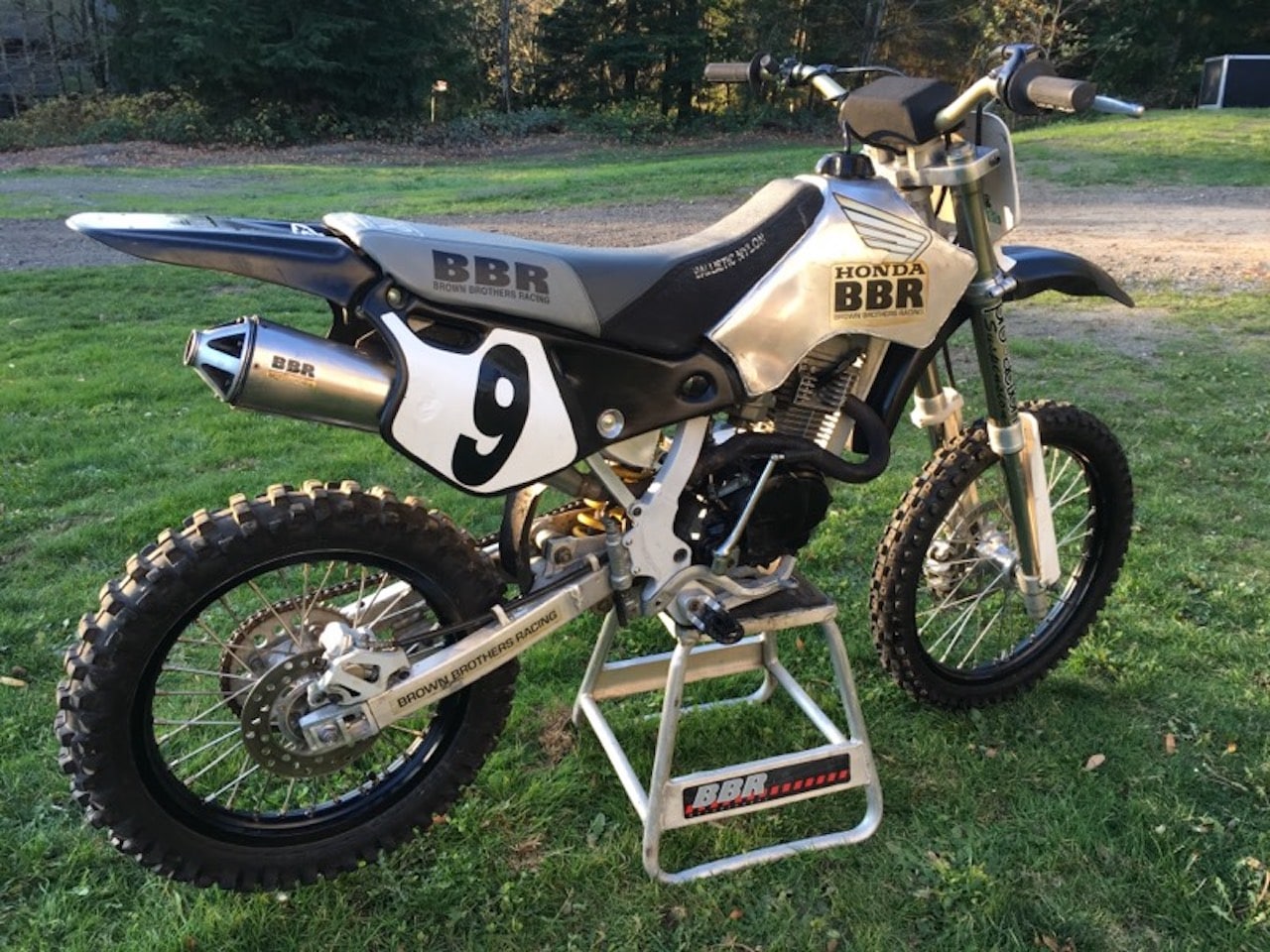 This BBR Motosports  build was built in 1994-/95. It is based off a YZ80. It used an XR100 engine. BBR custom built the frame, tank, air box, hubs, clamps, pegs etc. And all on a manual mill and lathe. It was featured in the April 1996 Dirt Bike issue and the August 1996 issue of  MXA along with BBR's 250 and 400. Still, 25 years later the OEMs can't build a good play bike for the back yard as well as BBR. BBR is still building trick one-off bikes.
TLD | GIVE YOUR GROM THE GIFT OF STYLE
Gifting your grom is at the top of most minds this time of year. What better way to stoke them out than with the TLD kit they've been wanting. Dozens of styles and combinations are available to make gift giving a breeze.
TALK MOTO WITH MOTO MINDED PEOPLE. JOIN MXA'S FACEBOOK GROUP CHAT

We love everything moto and want to bring all moto junkies together into one place to share their two cents, ideas, photos, bike fixes, bike problems and much more. To check it out first you must need to or already have a Facebook account. If you don't, it isn't much work and you could even have an alias so nobody knows it is you. To join click HERE. After you request to join we will accept your request shortly after.
JOIN MXA'S SNAP CHAT FEED
If you are a Snap Chat user then add us to your stories. Get sneak peaks of everything moto. Our Snap Chat name is motocrossaction. Or just take a Snap of the picture above and it will add MXA automatically to your feed.
CLASSIC PHOTO
A set of Gaerne boots from 18 years ago.
MXA QUESTION OF THE WEEK WINNER
Who is this KTM rider? The answer is Ryan Terlecki in the year 2000. The winner of the FXR swag is Dan Fitch. 

Moto Trivia answer: Greg Schnell from 2000.