TV WATCHER'S GUIDE TO WHO'S WHO IN THE 2020 SUPERCROSS SERIES
THE 2020 SUPERCROSS SERIES GUIDE BEFORE ANAHEIM 1 KICKS OFF THIS WEEKEND
---
The 2020 Monster Energy AMA Supercross season is only four days away. MXA wanted to provide a quick look at the top 15 contenders for the premier Supercross Championship. They are not in "favored son" order because if last year's Supercross Championship proved anything, it proved that a guy who was viewed with little regard as a title contender, in this case Cooper Webb, could confound the prognosticators and win the crown. So, here they are in alphabetical order.
Of course we have left off a lot of riders who have a chance to win, but like any season there are five riders who have a true shot at the top step and five who could pull out a Valentine's Day surprise—and the surprises are what make the Supercross interesting. We'd be thrilled if Malcolm Stewart, Blake Baggett, Martin Davalos, Justin Hill or Benny Bloss pulled off a big win.
JASON ANDERSON—ROCKSTAR HUSQVARNA
Jason Anderson might well have been a repeat Supercross Champion in 2019, but he suffered some practice related injuries over the last two years, which left the 26-year-old at a disadvantage in his pursuit of the 2019 Supercross crown. When he shows up at Anaheim I on Saturday night it will be his first AMA Supercross appearance since he won the title in 2018. Jason Anderson has a solid team behind him and the advantage of being able to race the same basic bike won the last five AMA Supercross Championships. Jason has great speed, an eclectic riding style, incredible bravery and, most importantly, his competitors are afraid of him. All he has to do is harness all of his energy and stay calm.
JUSTIN BARCIA—MONSTER ENERGY YAMAHA

Justin Barcia started the 2019 AMA Supercross season like a ball of fire by winning at Anaheim 1, but that was the highlight of his 2019 Supercross season. By round ten it was obvious that his results were slipping and after round 12 he took the rest of the AMA Supercross series off to get ready for the 2019 AMA Nationals. Over his 450 career Justin has been a better outdoor rider than Supercross racer. He has only scored in the top-five series points standings twice in his seven seasons in the 450 Supercross class—and those were back in 2013 and 2014. Justin has three main event wins—Phoenix Supercross in 2013, Seattle Supercross in 2013 and Anaheim I Supercross in 2019. The 27-year-old Justin is long-shot, but anyone who has won an AMA Supercross, let alone three, has to be taken seriously.
JUSTIN BRAYTON—TEAM HONDA

Justin Brayton, at 35 years old, is the oldest rider to ever win an AMA Supercross main event (Daytona 2028), but his career has really been as a traveling journeyman racer. His signing to be Ken Roczen's teammate for 2020 was not a surprise because Justin has filled-in or taken the second rider spot at many teams over the course of his career. So, when Cole Seely retired before the end of the 2019 AMA 450 Nationals, Brayton got the call for 2020. It didn't hurt that Justin had ridden for Team Honda before, 2012 to be exact, or that Honda was still helping him with bikes and parts for his off-season adventures—most notably in winning the Australian Supercross Championship four times. He is durable and will be a solid back-up for Ken Roczen. Brayton has a Supercross-only contract for 2020 (Chase Seton will take his place for the 2020 AMA 450 Nationals).
ADAM CIANCIARULO—MONSTER ENERGY KAWASAKI

Adam Cianciarulo has moved into the prime contender role because of a single 450 exploit. Over the winter of 2019 Adam won the non-points-paying Monster Energy Cup race in Las Vegas—beating his teammate Eli Tomac. However,  of the seven previous Monster Cup winners, only Ryan Villopoto managed to win the Supercross Championship in the following series. Kawasaki has banked on Adam Cianciarulo since he was a kid and they have always believed that the 23-year-old was their future in the premier Supercross class. And, now, he is here to show what he can do. But the step up to the actual AMA 450 Supercross class is much steeper than the limited field and melted down Monster Cup track. He has some learning to do. We'll have to see how fast he adapts.
MARVIN MUSQUIN—RED BULL KTM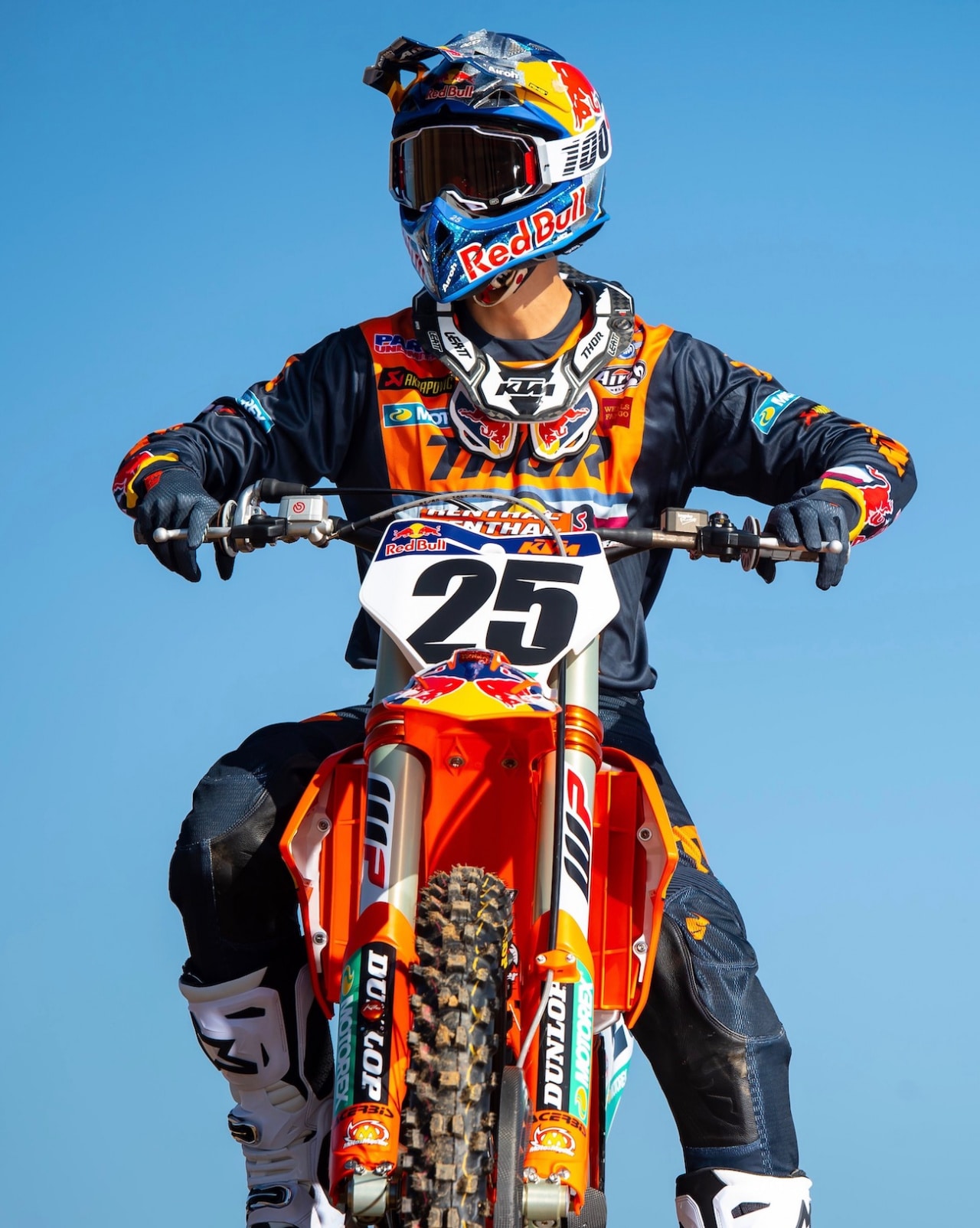 Marvin Musquin raced the 450 Supercross class in 2016, 2017, 2018 and 2019, but he will not be racing it in 2020. Marvin, who had been nursing a bad knee for the last two years, finally tore his ACL during a December practice session for the 2020 season. He immediately flew to France to have it operated on, but he will miss the complete 2020 AMA Supercross series—with hopes of finishing rehab in time of the AMA National Motocross Championship in May. Marvin had high hopes for 2020, after all in his four years in the 450 Supercross class he had finished 7th, 3rd, 2nd and 3rd.
FREDRIK NOREN—JGRMX SUZUKI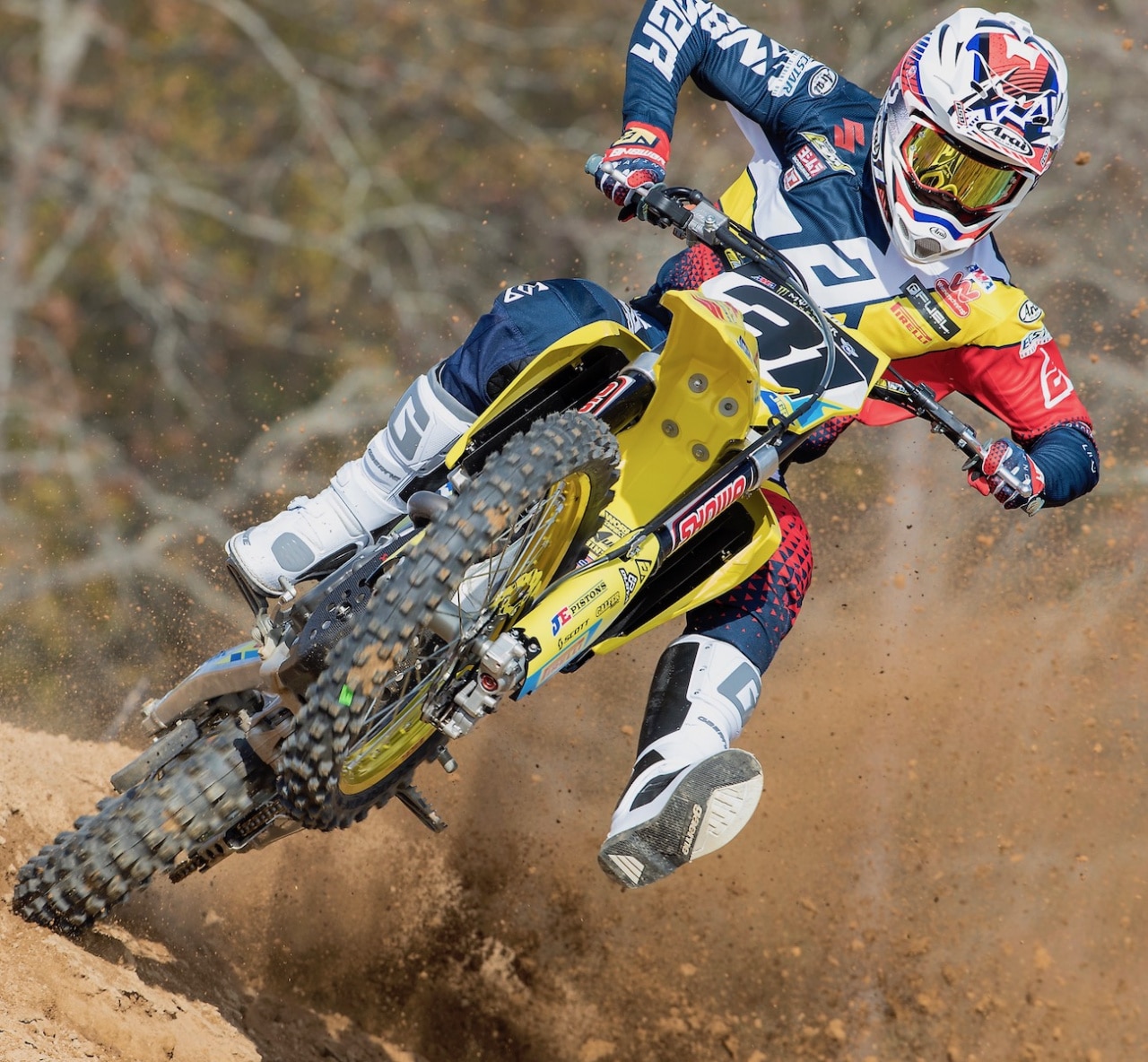 Fredrik Noren is a super privateer who is on the short list for teams looking for a fill-in rider. His first big fill-in ride was a six-race gig at Team Honda in 2014 for the injured Justin Barcia. Honda called him back in 2015 for ten rounds and again in 2016. When JGR Suzuki was looking for a rider to replace Justin Hill for the 2019 AMA 450 Nationals, they called up Fredrik Noren at Southwick to finish out the last seven races of the outdoor series. They were so impressed that, when they finally got their 2020 sponsorship package figured out, they offered Fredrik a full-time ride at JGR Suzuki for 2020. The last time Fredrik raced Supercross was in the 250 East back in 2017—and he has only raced two 450 Supercross events — as all of his fill-in rides have been for the outdoors.

ZACH OSBORNE—ROCKSTAR HUSQVARNA
Zach Osborne is a 30-year old Supercross racer who has only raced 11 Supercross races in an AMA career that dates back to 2006. He spent several years in Europe (from 2008-2011) and the rest of it in the 250 East/West class. He wanted to race his first-ever 450 Supercross at Anaheim 1 in 2019, but got injured and missed the first six rounds. When he came back he hung outside the top ten for the first couple races, then at his eighth race he made the top five and capped that off with a second overall in New Jersey. In essence, 30-year-old Zach Osborne is an up-and-comer (after 14 years in the sport). If his rapid rate of improvement continues, he could be the 2020 champ.
AARON PLESSINGER—MONSTER ENERGY YAMAHA
Aaron Plessinger won both the 2018 250 West Supercross Championship and 250 National Motocross Championship. Yamaha, seeing potential in the tall and lanky rider, moved him to the 450 class in 2019. He didn't set the world on fire in the first half of the season, but at race nine of the series in Atlanta he cracked the top five for the first time. Unfortunately, two races later he would break his heel and miss the rest of the 2019 AMA Supercross series and the start of the 2019 AMA 450 outdoor series. Plessinger, much like Zach Osborne, is really only at the beginning of his 450 Supercross career.
CHAD REED—MOUNTAIN MOTORSPORTS HONDA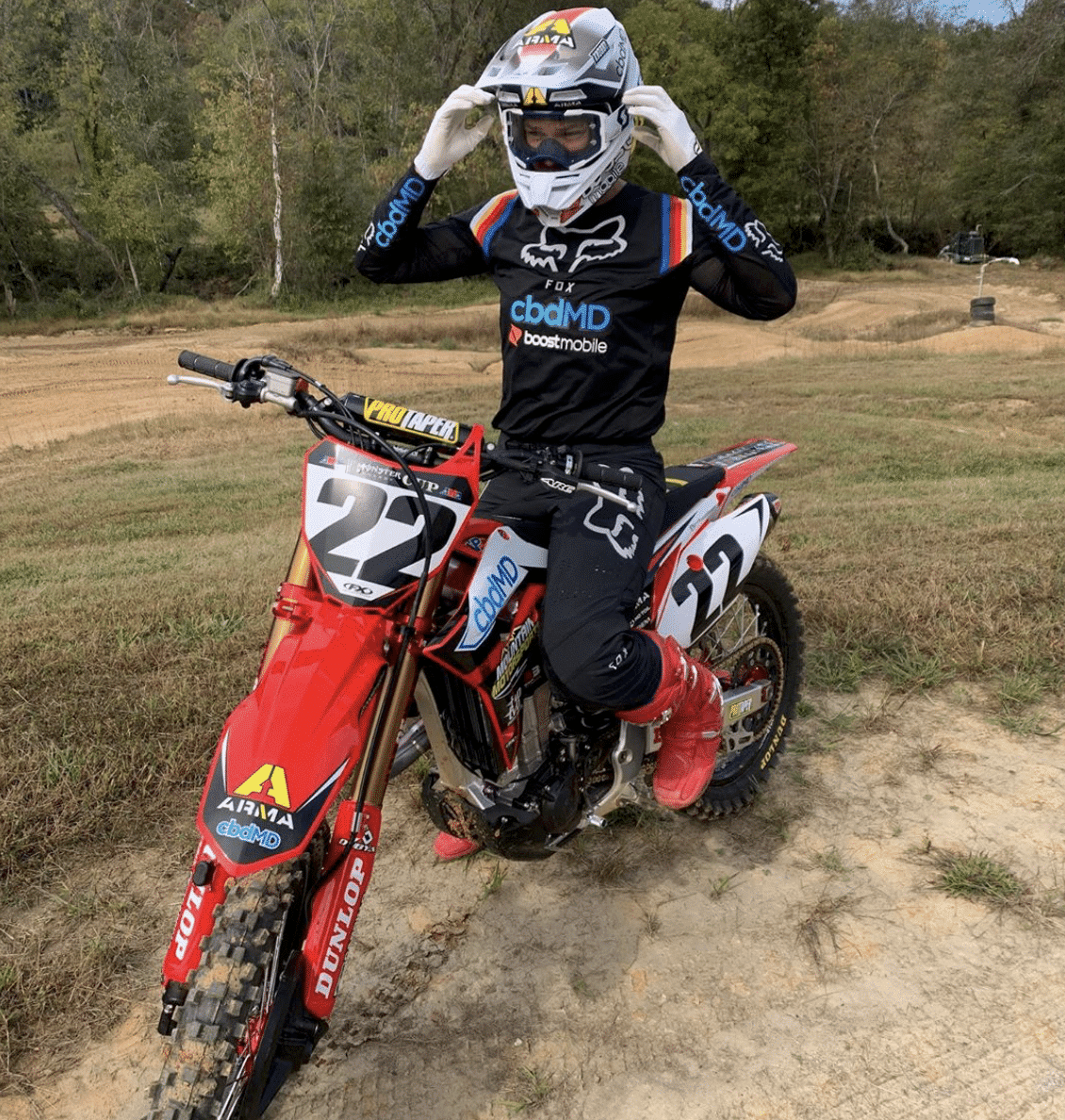 Let's be realistic about Chad Reed's chances of winning the 2020 AMA Supercross Championship or even finishing out the complete series. In truth, what Chad wants is fairly simple. (1) He wants to go to Anaheim 1 and make the 450 main event. If he does, that will give him 250 main events starts in the premier class (he already holds the record for the most mains at 249, but he'd like to make it a milestone-number at 250). (2) Chad, hoping that lightning will strike his 37-year-old body, wants to win a main event in 2020 so that he can recapture the oldest rider to win an AMA Supercross record—a record he held at 32 years and 11 months old before 33-year-old Justin Brayton won Daytona in 2018.
KEN ROCZEN—TEAM HONDA
It would be foolhardy to suggest that every Supercross fan wants Ken Roczen to win the 2020 AMA Supercross crown, but even in the hearts of the naysayers, there is an emotional tug for the German rider to make a triumphant return from his catastrophic arm injuries. As any racer who has every been seriously injured knows (and few have ever been hurt as badly as Ken Roczen), there is more to recovering than just the bones knitting back together. Roczen, for all of his prowess as the 2011 FIM 250 World Champion and 2014 and 2016 AMA 450 outdoor champion, has not made as big a mark on the sport as his talent originally hinted at. Roczen, like Tomac, really wants to win the AMA Supercross crown that has eluded him since coming to America. Ken will turn 26 during the 2020 Supercross series.
JOEY SAVATGY—JGRMX SUZUKI
When Pro Circuit alumni Joey Savatgy pointed out of the 250 East/West in 2018, he got a ride as Eli Tomac's teammate at Team Kawasaki for the 2019 AMA 450 Supercross series. Now, with the next-big-thing Pro Circuit alumni, Adam Cianciarulo, pointing out of the 250 East/West and moving to the 450 Supercross class for 2020, Savatgy lost his Kawasaki ride after only one season. Joey Savatgy was lucky to find a seat on the JGR Suzuki squad for 2020. Unfortunately, Savatgy's JGR Suzuki debut will be delayed as he heals up from an injury to his foot suffered at a round of the 2019 Australian Supercross Championship. JGR says that the 25-year-old will be racing before the Supercross series is over.
ELI TOMAC—MONSTER ENERGY KAWASAKI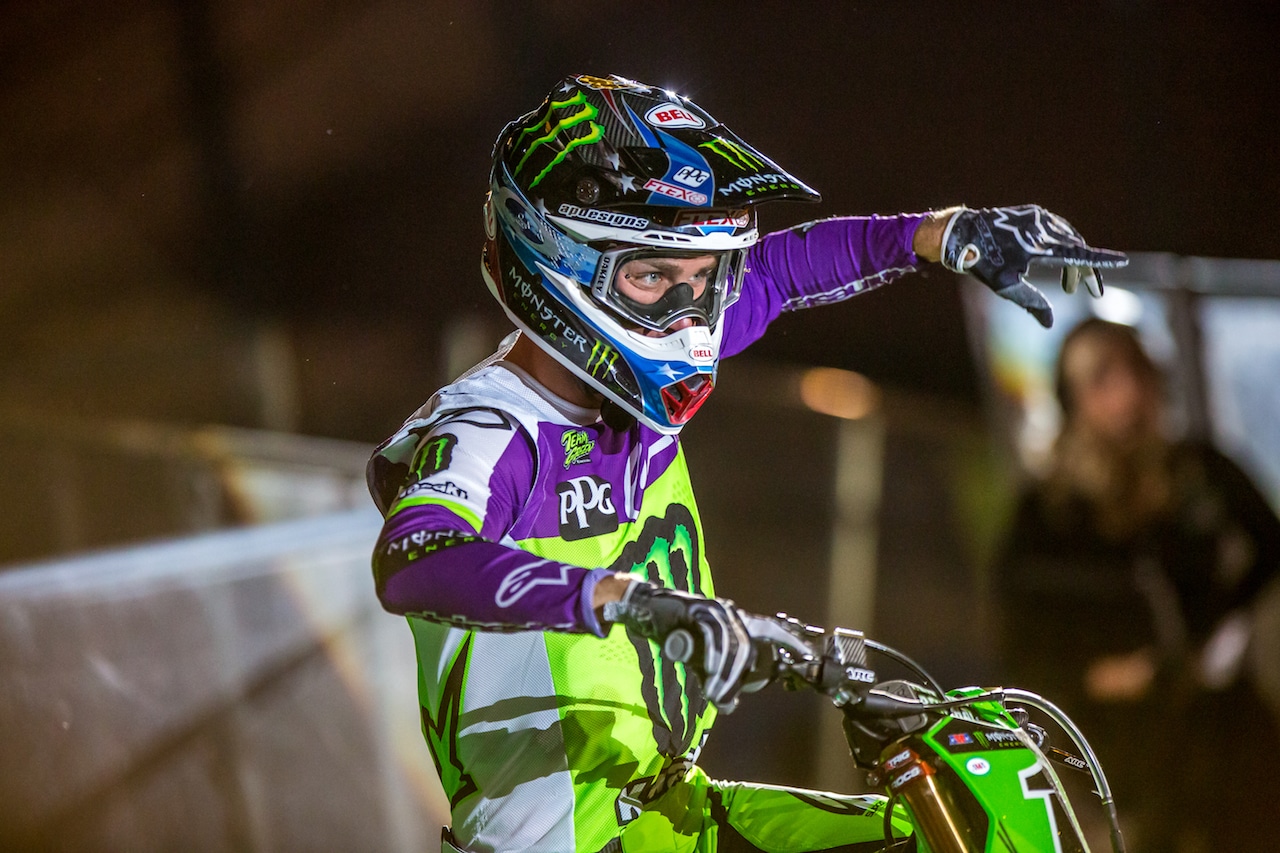 Eli Tomac has entered almost every 450 Supercross series as the odds-on favorite to win—which is surprising given that he has never won the AMA 450 Supercross title. And to many pit pundits, Eli is the most likley 2020 Supercross Champion at series end. Tomac's problem has never been speed—it has been race savvy. He can't put it all together for 17 rounds. Last year Tomac won six events, but threw more than a few wins away—especially with a 12th in Dallas. Time is not on Eli's side, as he is now 28 years old. However, by 2020 standards that makes him relatively young chronologically.
COOPER WEBB—RED BULL KTM
Heavy is the crown on Cooper Webb's head. As the 2019 AMA 450 Supercross Champion he is expected to repeat in 2020. We say this with conviction because, apart from Jason Anderson's 2018 title run, every Supercross Champion in the last ten years has kept right on winning—including KTM's Ryan Dungey who won three-in-a row and Ryan Villopoto, who won four-in-a row. To find a one-time Supercross Champion (apart from Jason Anderson who still has a shot at it) you would have to go back 23 years to one-time Supercross Champion Jeff Emig in 1997.  Thus, the statistics are on Webb's side of the equation to repeat his winning 2019 performance.
DEAN WILSON—ROCKSTAR HUSQVARNA

Dean Wilson is a crowd favorite. His AMA career started in 2010 with Pro Circuit Kawasaki and in 2011 he won the AMA 250 National Motocross Championship. Dean was runner-up in the AMA 250 East Supercross series twice, but was anxious to get to the 450 class. In 2014 he got his chance to race four 450 Supercross races between his prime assignment in the 250 East. In 2015 he started the season as a 450 racer, but only made it three rounds before getting injured. 2017 was the first year that he competed in and completed all 17 rounds of the 450 Supercross series. He was eight overall in the points and followed that up with seventh overall in 2018 and sixth overall in 2019. He dislocated his hip at the 2019 Monster Cup in Las Vegas and has worked hard to be ready for the 2020 series.