TWO-STROKE TUESDAY | 1988 MUGEN HONDA CR125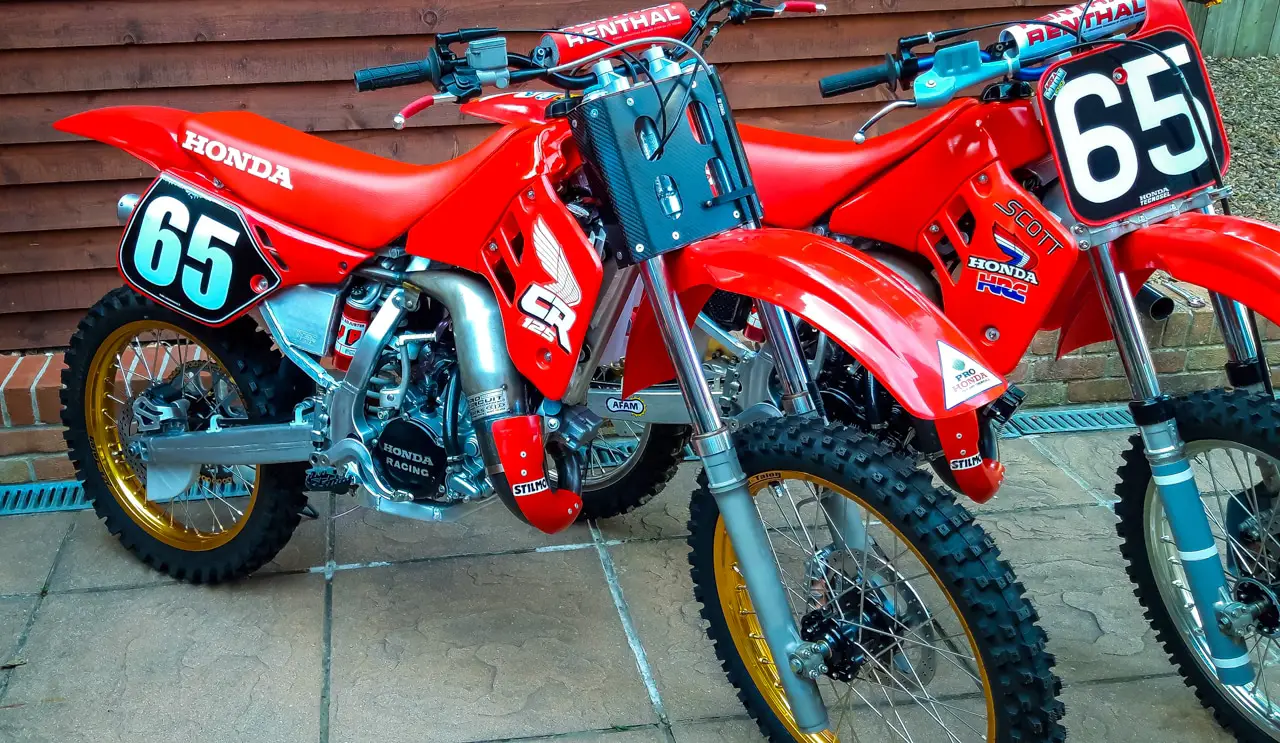 TWO-STROKE TUESDAY | 1988 MUGEN HONDA CR125
"I have two alloy  framed 1988 CR125 Mugen Hondas.  Where do I start? I have owned a 1988 CR125 from new. I absolutely love the bikes. Over the years I collected huge quantities of aftermarket parts for the bike, as you know one bike turns into two and three.
"I have always wanted the Mugen type alloy frame, but have never been lucky enough to find one. Then I met Boris, from Bormi parts in Italy. He was making tanks, swing arms, subframes and all sorts of nice alloy parts.
I spoke to him about making me an alloy Mugen type copy frame, he said it is possible but a lot of work is involved so he looked into making some.
"Four years later, Boris finally told me he was going to make me a Mugen type frame, of course, I asked for two being that I had two different 1988 Mugen bikes built up.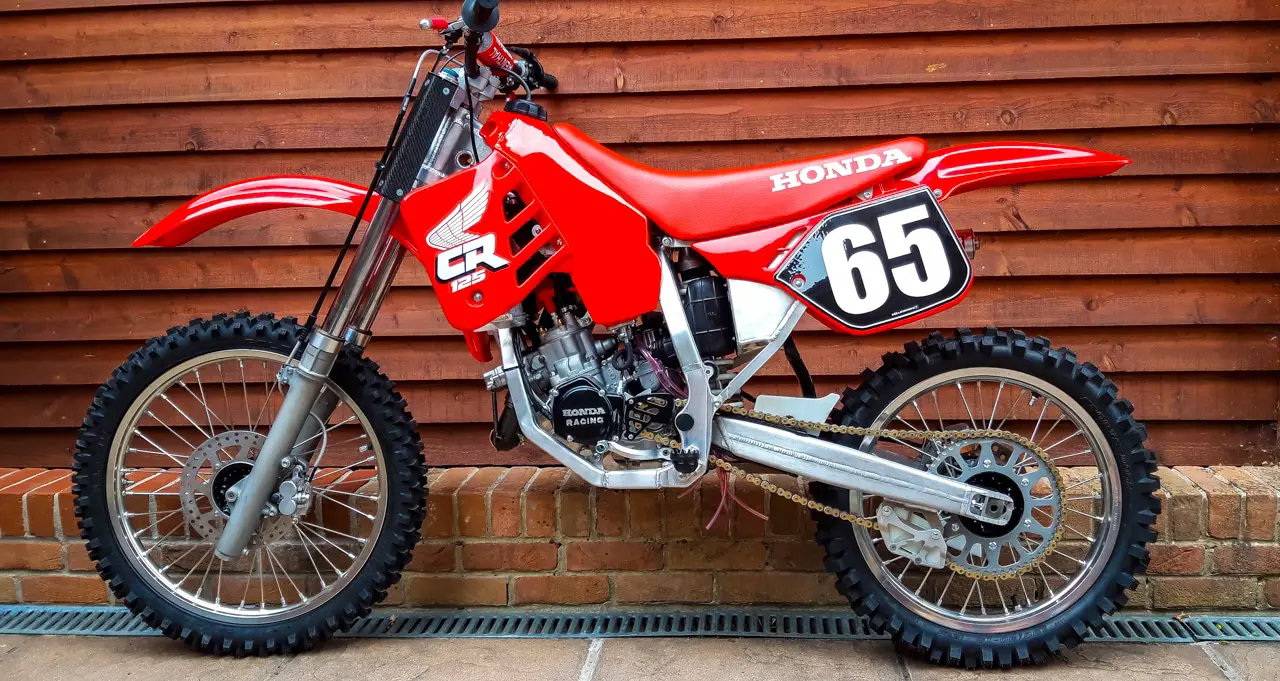 "He said, 'of course, not a problem.' Some months later two frames turn up in a box. So I set about stripping my spare Mugen bike that was really nice. Two evenings later a bike appeared into something I've always wanted. An alloy framed CR125 with parts fitted. Vented alloy tank, alloy airbox, subframe, combo Bormi swing arm, Bormi alloy frame, Willy Frasca Mugen type carbon front plate with billet clamps, Tallon wheels, Mugen front forks, Pro Circuit full works pipe, hydraulic clutch, Mugen cylinder and more.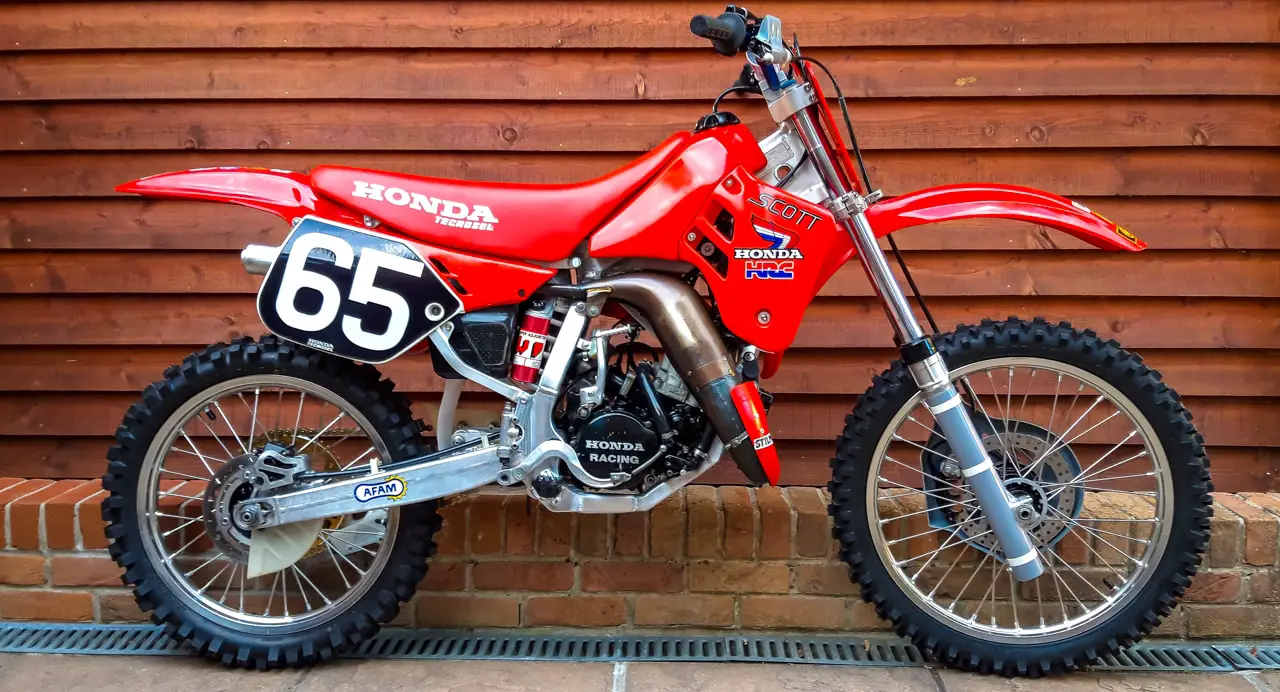 "With that bike finished I set about building my race bike, not mint but a good clean well looked after race bike. Couple of nights later that was built. I still have to fit the Bormi parts such as the alloy airbox and alloy tank to finish it off.  Both bikes are built. I just have minor bits to change. Hope you like the pictures thanks." –Richard Wareham
Editor's note: Please keep those submissions coming. If you would like your bike to be featured in the "Two-Stroke Spotlight," please email me at [email protected] All I ask is that you give a breakdown of your bike and a detailed description of the build. Please also send a few photos of your steed. By submitting your bike for the "Two-Stroke Spotlight," you agree to release all ownership rights to the images and copy to MXA.