TWO-STROKE TUESDAY | 2001 KAWASAKI KX125 | COMPLETE TEST
This is an archived MXA test from the December 2000 issue of Motocross Action Magazine. Get your MXA subscription today.
QUESTION ONE: IS THE 2001 KX125 FAST?
What kind of fast are you looking for? Pull-your-arms-out-their-sockets fast? No. Blast-through-berms fast? No. Clear-the-big-triple-easily fast? No. Loves-to-climb-steep-hills fast? No. Easy-to-ride fast. Yes.
QUESTION TWO: WHAT IS THE DEFINITION OF "EASY-TO-RIDE FAST"?
In the official MXA Dictionary of Ambiguous Terms it means a bike that uses other power to make up for a lack of powerband.
QUESTION THREE: WHAT'S WRONG WITH THE KX125 ENGINE?
Nothing, if you ask Kawasaki. It's just the same old KX125 engine we have learned to live with. We, like just about everyone else on the planet, thought (prayed actually) that Kawasaki would throw some serious R&D dollars into the KX125 for 2001. They did! But, they threw most of the money away. They dumped the heavy flywheel they added last year, changed the reed cage, swapped the Keihin for a Mikuni and moved the ports around. They just didn't make the powerband any wider.
QUESTION FOUR: WHAT DID THEY GET FOR THEIR R&D MONEY?
They got an engine that produces competitive horsepower, but doesn't produce it in a way that translates into greatness. Don't get us wrong; the 2001 KX125 is Kawasaki's best 125 in the past three years. It is closer to its competitors powerwise than ever, it just lacks the breadth, usability and versatility that makes the other 125's effective.
QUESTION FIVE: WHAT KIND OF POWERBAND DOES THE KX125 HAVE?
Mid-and-up. But, not the same kind of mid-and-up that the YZ125 or KTM 125SX have. The KX is closer to the CR125's mid-and-up in the social strata of screamers. The KX125 does nothing down low. All the power comes on in the middle. Unfortunately, Kawasaki's upper-end hook doesn't go as far or fast as Yamaha's and KTM's.
To go swiftly on the KX125 you will need a hair-trigger finger on the clutch, a quick left foot and Asteroids-style timing. You can win on the KX125, but you will work harder than your competitors.
QUESTION SIX: WHAT ABOUT THE GEARING?
Don't hesitate to change the gearing. The biggest improvement you can make to the 2001 KX125 is to dump the 49-tooth sprocket for a 50 tooth (maybe even a 51 for supercross-style tracks).
QUESTION SEVEN: WHAT ABOUT THE JETTING?
We had some problems with the jetting on our KX125. It was rich down low and through the middle, but lean on top. We fixed it with a richer main and leaner pilot.
Here is what we ran in our bike for SoCal's sea-level tracks:
Mainjet: 370 (360 stock)
Pilot jet: 45 (50 stock)
Needle: 6BEF16-69
Slide: 5.5
Air screw: 1.5 turns (2 stock)
Clip: 3rd (4th stock)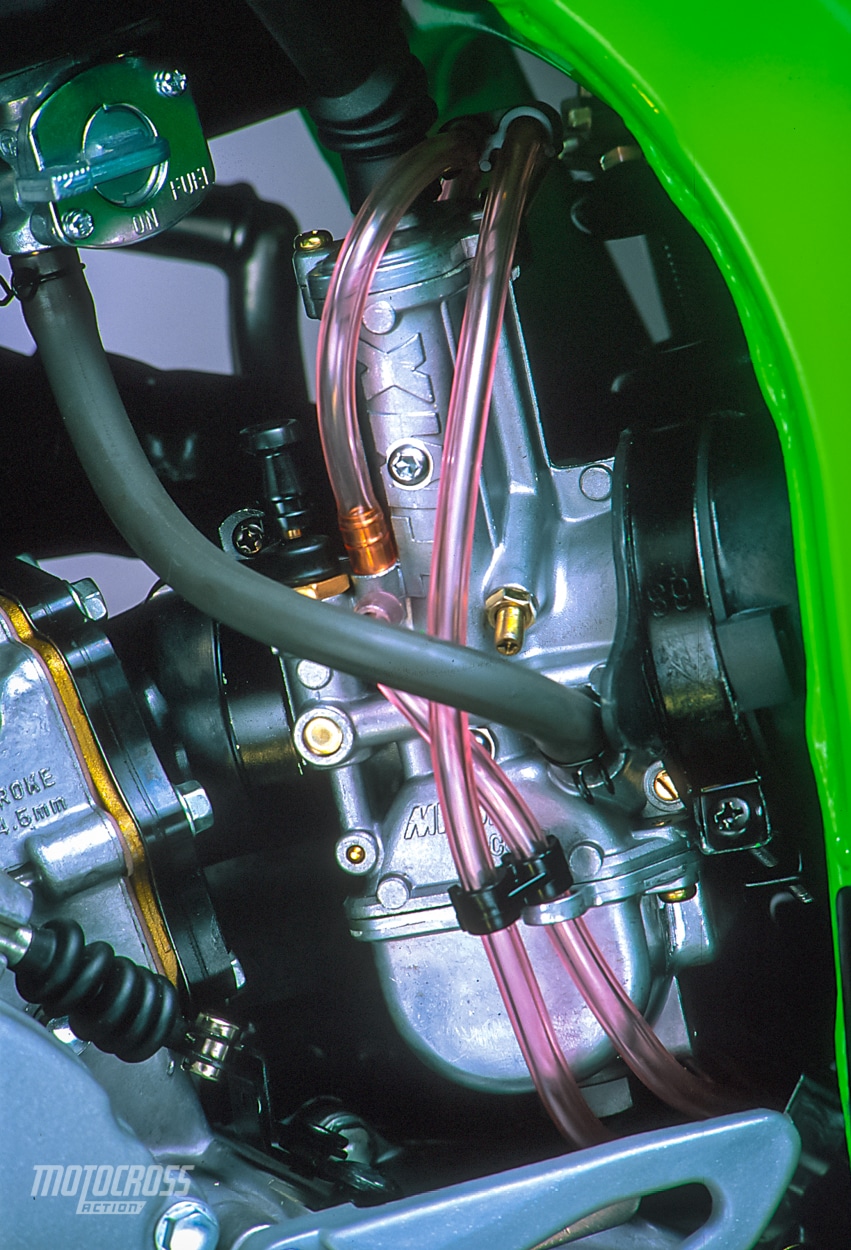 QUESTION EIGHT: WHAT ABOUT THE REAR SUSPENSION?
Rejoice! Kawasaki has dumped their previous progressive-rate shock spring in favor of the straight-rate 4.9 kg/mm shock spring (this is what we ran last year). The stock shock is good. It has excellent valving and dual compression adjusters.
About the only problem we had with the rear shock was its slight tendency to kick on braking bumps.
What was our best setting?
Spring rate: 4.9 kg/mm
Race sag: 97mm
Hi compression: 1 3/4 turns out
Lo compression: 12 clicks out
Rebound: 13 clicks out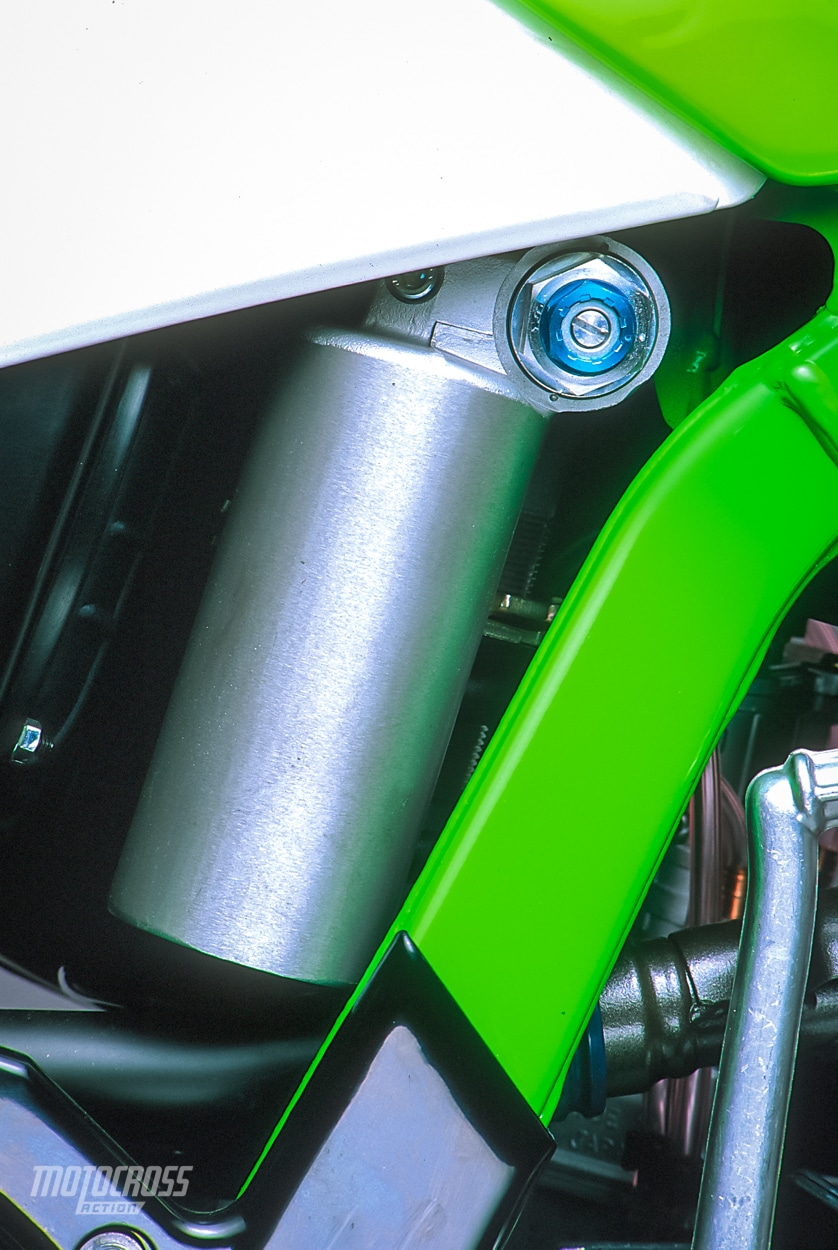 QUESTION NINE: HOW GOOD ARE THE FORKS?
Stiff. Kawasaki's SASS (Speed Activated Spring System), or bladder fork as it is known to the rest of the world, is in its second year, and Kayaba made a few changes to it. The biggest change is that they decreased the amount of air in the system by raising the oil level 20mm. This alone could be the cause of the stiffness.
How do they work? Other than being exceptionally stiff, quite well. You will have to turn the compression adjuster all the way out before they actually begin to move. You're probably thinking, how could Kawasaki make them this stiff with .41 kg/mm springs when Honda and Yamaha have .43 kg/mm springs? It's a combination of valving and oil height. In our opinion, the stiffness is a plus. We can't remember how many sets of forks we've tested that start out perfect and by the time we've raced them for a month they have gone soft.
Our suggestion? Ride with the clickers all the way out until the forks begin to break in. Then you can turn the compression clicker in to stiffen them up.
QUESTION TEN: WHAT ARE THE BEST FORK SETTINGS?
What was our best setting? For hardcore racing we recommend this set-up:
Spring rate: 0.41kg/mm
Oil height: 90mm
Compression: 20 clicks out
Rebound: 14 clicks out
Fork leg height: 5mm above top of stanchion
Notes: Like Honda, Kawasaki is offering a 20-inch front wheel as an option. However, unlike on Honda where the 20-inch tire feels awesome, the 20-inch feels terrible on the Kawasaki. At first, we thought it was because we weren't running the 20-inch Dunlop 739FA that we had grown to love on the Honda–except we were. The 20-inch turns the otherwise stable Kawasaki front end into a deflecting monster.
QUESTION 11: HOW DOES IT HANDLE?
Like a 200. No, not a KDX200, a KX200. What's a KX200? There isn't such a thing, but the KX125 handles like one anyway. It feels like a small KX250, which means that it feels bigger than your standard tiddler. Why is this? The steel perimeter frame is big, wide and girthy.
This isn't necessarily a flaw. Every MXA test rider liked the larger feel. It may seem like Kawasaki is using the same frame for both their 125 and 250, but they aren't. The KX125 frame is considerably smaller (15mm shorter at the steering stem and 10mm shorter at the swingarm). These small differences make the KX125 a little more agile than its big brother.
The extra room doesn't necessarily make for a great 125, but it doesn't seem to hurt. The KX125 shared most of the upright handling traits of its big brother–which means that it's adequate, but not spectacular (especially not in berms and sweeping corners).
QUESTION 12: WHAT DID WE HATE?
The hate list:
(1) Decals: We like the gold in the new decals, but just like the old ones they start to chip from day one.
(2) Gas tank: Mr. KX, please mold the gas tank in green plastic. It's not as though you're saving millions of dollars by making them all black. The black gas tank makes it hard to see the fuel level.
(3) Bar clamps: We mounted a KX250 top triple clamp to our KX125. The KX125 comes with solid bar mounts, while the KX250 bar clamps are rubber-mounted and reversible. We felt the need to move the bars forward in the clamps.
(4) Handlebars: The stock handlebars are prone to bending–and it doesn't necessarily take a crash before they start flaking paint at the crossbar juncture.
(5) Shifting: It's a little notchy.
(6) Clutch: The clutch is borderline, although it can take more abuse than the KX250 pack.
(7) Rims. The U-rims are nice looking, but we'd rather have standard-issue hoops.
(8) Side panels: There is a reason why Ricky Carmichael runs Berg Racing's side panel guards. He catches his boots on the side panels and so do we. Kawasaki should fix this problem so that we don't have to spend $100 on a carbon fiber solution.
(9) Front brake lever: Kawasaki used to have the second most over-engineered front brake lever in the biz, but since Yamaha copied them this year, they both have a brake lever that has too many parts for the job it does. Simplify it.
QUESTION 13: WHAT DID WE LIKE?
The like list:
(1) Pipe: The gray pipe coating is durable, non-rusting and trick-looking.
(2) Air filter: The air filter locating system uses two prongs. We like this, but always reach in the airbox and make sure the bottom prong is in the hole.
(3) Front brake: No longer can we complain about Kawasaki having a bad front brake. They fixed the problem and we give them props for doing it.
(4) Frame guards: Only Kawasaki and KTM offer plastic frame guards to keep the frame spars from scratching.
(5) Black boxes: This is a minor thing, but Kawasaki down-sized the humongous black box that used to eat up air box space. We like the small unit better.
(6) Silencer: The 6mm screws in the silencer end cap make it easier to remove. The silencer itself is 2 inches shorter than last year.
QUESTION 14: WHAT DO WE REALLY THINK?
Power is not as important as powerband. The 2001 KX125 makes good power, and if you tap dance on the shifter and slip the clutch enough, you can make it go fast. But, it's too much work. We'd love this bike if the Kawasaki engineers would show it some love–by putting the engine's tired old castings out to pasture and giving it a new heart.