TWO-STROKE TUESDAY | 2004 KAWASAKI KX250 FAN RESTORATION BUILD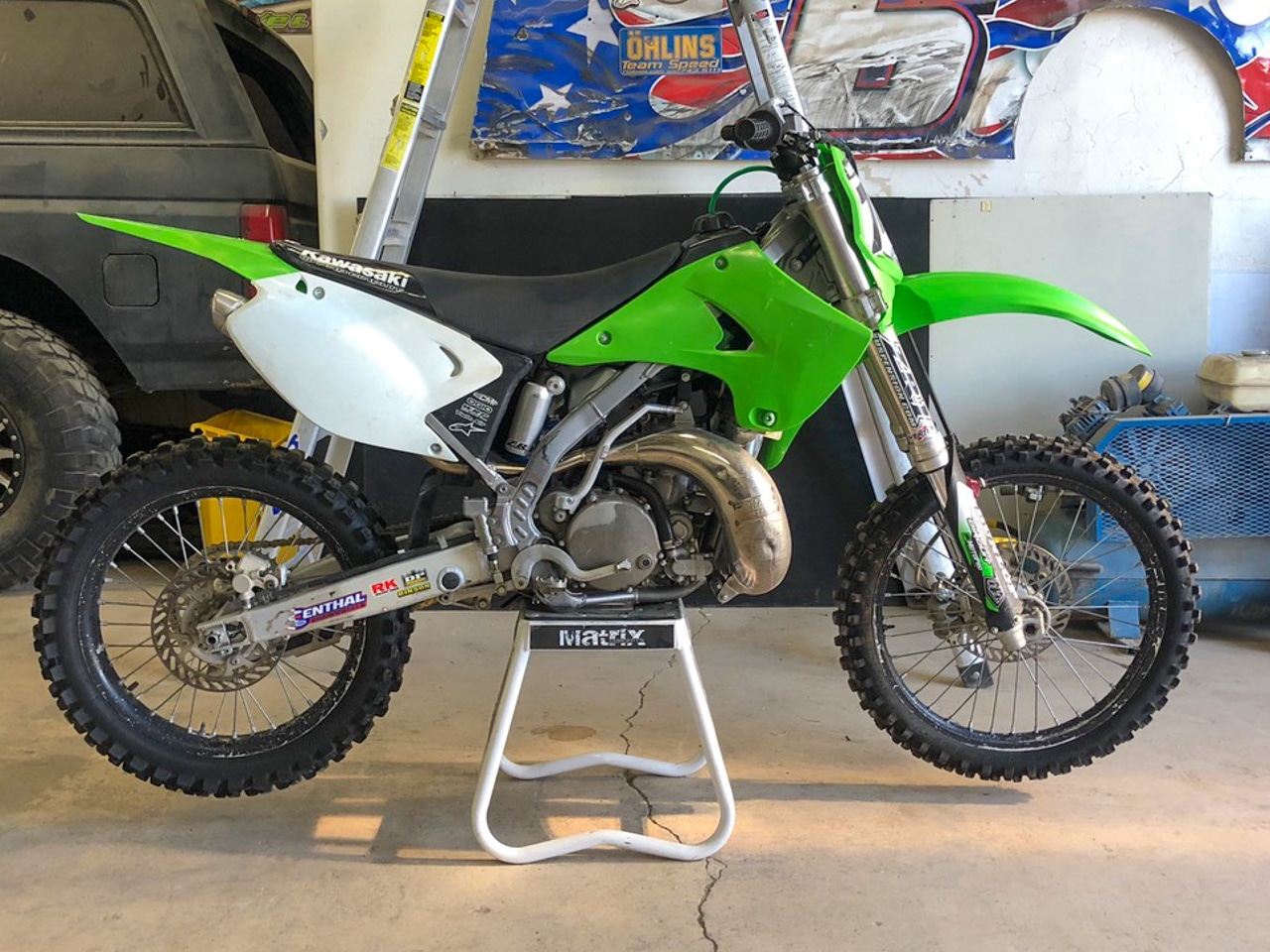 The before pictures aren't that bad. Michael started out with a decent shape 2004 KX250 two-stroke.
"I wanted to submit my 2004 Kawasaki KX250 for Two-Stroke Tuesday. The idea begin in February 2016. I was on month five of trying to sell my 35 hour 2015 KX450F. I bought it brand new in August 2014 and being so busy with work, I hardly had time to ride it. I told my wife that when I get my next bike, it'll be a two-stroke, built how I want it and paid for. I'm not going pro, I just want to ride and have a great bike under me when I get the chance.
"Honestly I thought it was going to be a YZ250 since it was the most available and still being produced. Fast forward to 2018 and that itch to ride again became too much. I figured I'd find a bike, tear it down and slowly start to build it up. A friend of mine had a 2004 KX250 that had a bit of redone engine work; cylinder was re-chromed, crank rebuilt, new top end. Externally it wasn't in the best of shape, but definitely not the worst. So we made a deal for $1700 and a set of graphics and I loaded it into the van.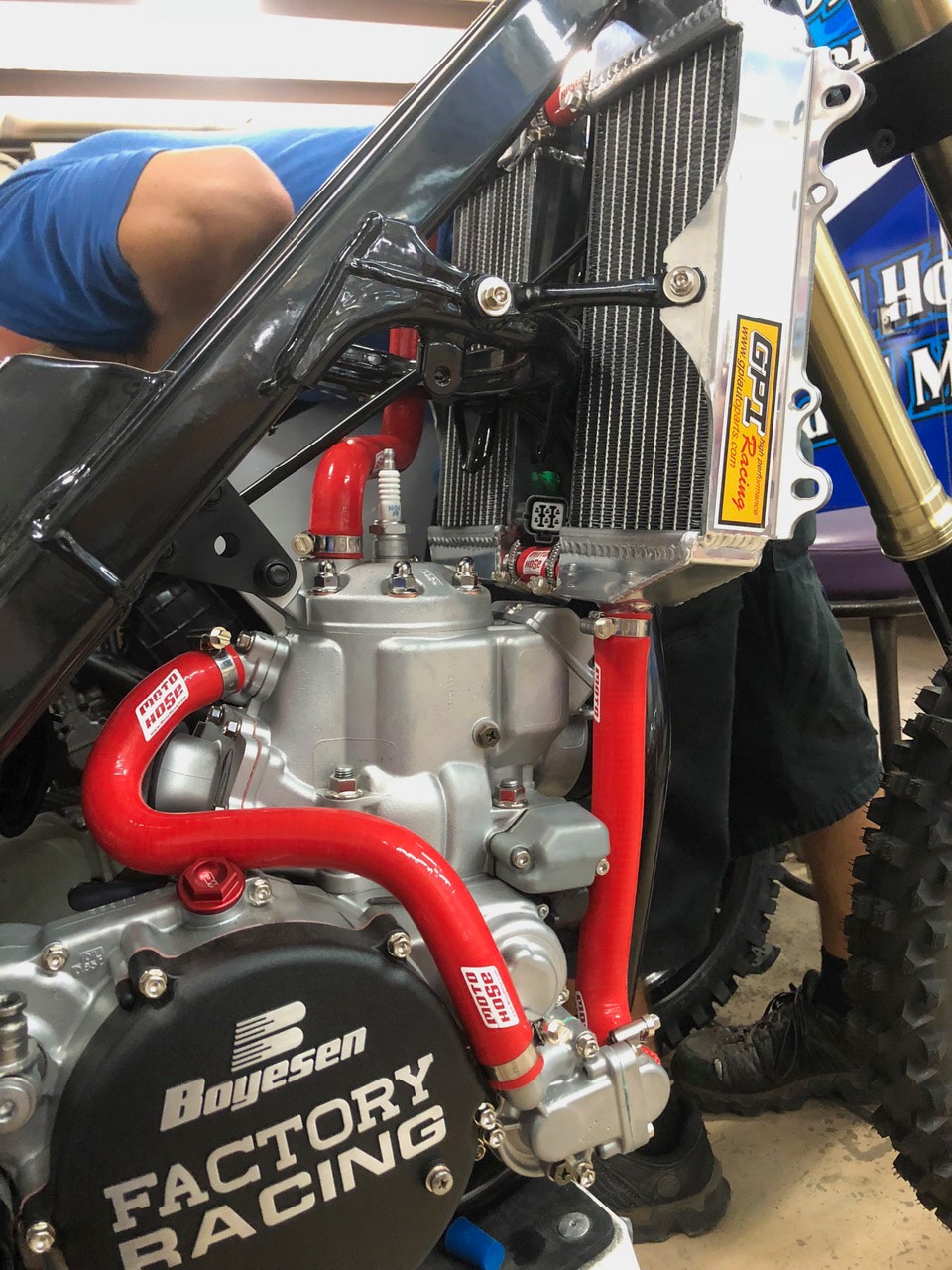 Getting the engine back in after the frame was power coated. 
"I started right in and tore it down to the frame. Didn't even ride it, other than the test ride. What I planned on being a long term build turned into a four-month marathon. It was an addiction that I just kept wanting to improve on. I knew I wanted the 2017-2020 KX250F plastic kit on it. That's actually the main reason I went with a KX over a YZ; tank graphics and the modern look. Plus I had a 1996 KX250 I really loved back in the 90s. I'm not sure what I bought first, but I began the accumulation of parts as I dropped off the frame for powder coating. I wanted different hubs than OEM. I looked into having the OEM hub machined, but at the end of the day, the best route was to buy some blue Tusk hubs. I rarely heard of anything negative about the Tusk wheel-sets, especially from a couple of locals who really run things through the wringer. Problem was, I didn't want blue. My color palette was Kawi green, red accents, black frame and A60 rims. I loved the magnesium look, but I wasn't sure which parts I wanted burnt bronze or matte black. During the build, I also picked up a 2014 KX100 for my wife and she wanted black everything, so weighing the cost of getting things Cerakoted versus putting together my own set up that I can use for my other projects, I decided to put together the equipment needed to do Cerakote. So the hubs, master cylinders, calipers, clutch perch, GPR triple clamps, motor mounts and some bolts all got the Cerakote treatment.
Michael cerakoted the KX250 parts himself. See how they turned out below. 
Not bad, Michael. 
"So the Tusk hubs were laced to a pair of A60 rims and I stretched some Pirelli Soft-Mid MX32's on them. I replaced all the bearings in the swingarm and linkages, added a set of GPR KX450F Triple clamps, but had to machine the lowers for the 2009 KX250F forks that Craig Decker at Enzo convinced me to go with. I topped off the triple clamps with some Chad Reed bend Renthal TwinWalls mounted with a BRP 106 bar clamp and ODI grips. I utilized a Trick Engineering steering stop adaptor to get the 2010 KX450F triple clamps to work. For the rear, Craig Decker worked over the 2004 shock.
The radiators were pretty munched so I ended up trying out some GPI radiators. I wanted the accent color to be red, so anything anodized red that Works Connection, Ride Engineering, Zeta and Airtime had to offer, I got it. I mounted up a 2009 KX250F rear brake pedal so I could utilize a red anodized tip. I was able to pick up a MotoHose red silicone hose kit to add more red to the center of the bike. To keep me connected to the bike, I had to go with some Bud Racing Titanium pegs and had to do a little grinding to make them fit. After the first few rides, I changed out the shifter to a +5mm Hammerhead shift lever.
2009 KX250F forks and 2010 KX450 triple clamps were used.  
"For the brakes, I wanted matching rotors, so I ended up with a 260mm front Braking rotor and a matching standard size Braking rotor for the rear. I didn't want to wear through the powder coat right away, so I went with some Lightspeed Carbon frame guards. I added Lightspeed carbon rear disk and caliper guards to the rear and a Pro-Carbon tank cover to add a little bit of trick a look.
"For the body, it took some waiting but I eventually was able to pick up a Bike Werx conversion kit through Jon Primo at Pro Circuit. OEM parts include the 2017-2020 KX250F airbox, seat, fuel tank, plastics and subframe. I added a Cycra Stadium plate to roost protection to the triple clamps. The bike came with a Motion Pro throttle assembly, but I aced that and ponied up to purchase the 2004 OEM throttle assembly.
The beautiful finished product. 
"The engine was massaged by Ryan and Craig Wilson with Factory Edge with some porting and tuning tricks they've developed through the years. I chose to go with a Boyesen Rad Valve to handle the intake duties. The engine was bead blasted and finished off with Boyesen covers, Super Cooler pump and a Specbolt nickel kit. What is a two-stroke Kawasaki without the iconic Pro Circuit factory pipe and carbon shorty silencer. The graphics I designed and printed in-house.
Up close with the KX250 engine. 
"I hadn't ridden in about two and a half years. I didn't know what to expect from the bike given that the 2018 body sits a little higher than the stock 2004 subframe and plastics. I didn't know how it'd handle with the mix of parts that I just felt were the best of everything, in my mind. I have to say, it was love at first ride. I had my gearing off and stepped down to a 49-tooth Renthal rear sprocket and that made it perfect for me. The Enzo suspenders were perfect out of the box and this bike is the most balanced, nimble, fun having bike I've ever had! It was easy to gain confidence on it after dropping the forks down 5mm in the clamps.
A Pro Circuit carbon fiber silencer was used. 
"During the process, the two-stroke bug bit me hard. When four-strokes came out, I wanted one so bad. After owning a few, I really missed and appreciated the simplicity of the two-stroke, especially with running my business and the limited time I get to ride. We had sold my wife's CRF150 in 2016 as well and replaced it with a 2014 KX100. She loves it more than her 150. On top of all this, I accumulated a 2011 KX250F with a blown engine and a 1997 KX500 that had been sitting since 2006. The KX500 runs well, but the rest of the bike was weathered so much, I decided to build a 500AF out of the 2011 with 2017-2020 KX250F body/subframe that bolts right on! It's still a work in process, so I'm just having the time of my life riding the 250 when I get time." —Michael Weining.