TWO-STROKE TUESDAY | THE BEST & WORST TRAITS OF THE 2007 HONDA CR250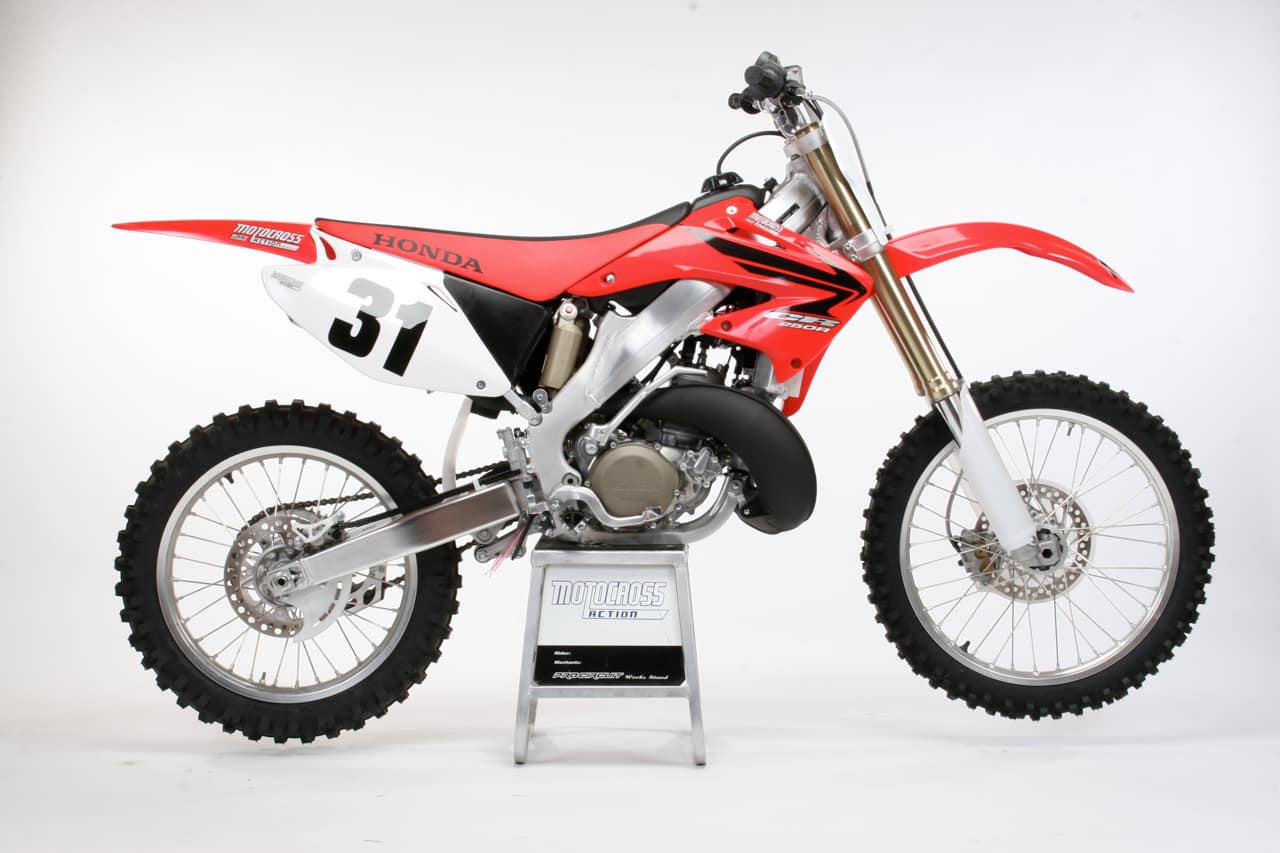 The 2007 Honda CR250 in the MXA studio. 
It's sad to say that 2007 was the last year of the Honda CR250. This was a storied machine, from its introduction in 1973 (with Steve McQueen as the spokesman and Gary Jones at the controls) to its omnipotent days in the hands of Johnson, Bailey and O'Mara, to its introduction as the first aluminum-framed production bike in 1997.
The CR engineers began to think that they were infallible—and, in the process, they gambled on blowing the competition away with a totally new engine design in 2002. Unfortunately for Honda, the all-new revolutionary case-reed engine, with its electronic power valve, traction control ignition and high-tech carburetor, never lived up to its promise. Sales dropped when Yamaha and Suzuki's 250 two-strokes got better and plummeted when four-strokes took over (although there was some solace for Honda in the fact that CR250 riders became CRF450 riders).
HERE ARE THE BEST TRAITS OF THE 2007 HONDA CR250
Handling: For those of you too young to remember the glory days of Honda handling, suffice it to say that Jeremy McGrath loved his 1993 CR250 so much that he never raced a 1994, 1995 or 1996 Honda during his time at Team Honda. And, when the first aluminum-framed CR250 came on the scene in 1997, Jeremy rode it a couple of times and bolted from the Honda fold. Jeremy was astute. The '93 chassis was awesome, and the '97 Delta-box was gruesome. After '97 Honda spent more money on frame development than any of the four motorcycle manufacturers and, in the process, massaged the bugs out of the aluminum frame making a bike that was excellent at turn-in, rock steady at center-out and clean on the exit—albeit always fighting excessive frame rigidity.
Quality: Honda had the best metallurgy, quality control and reliability. This was a bulletproof machine.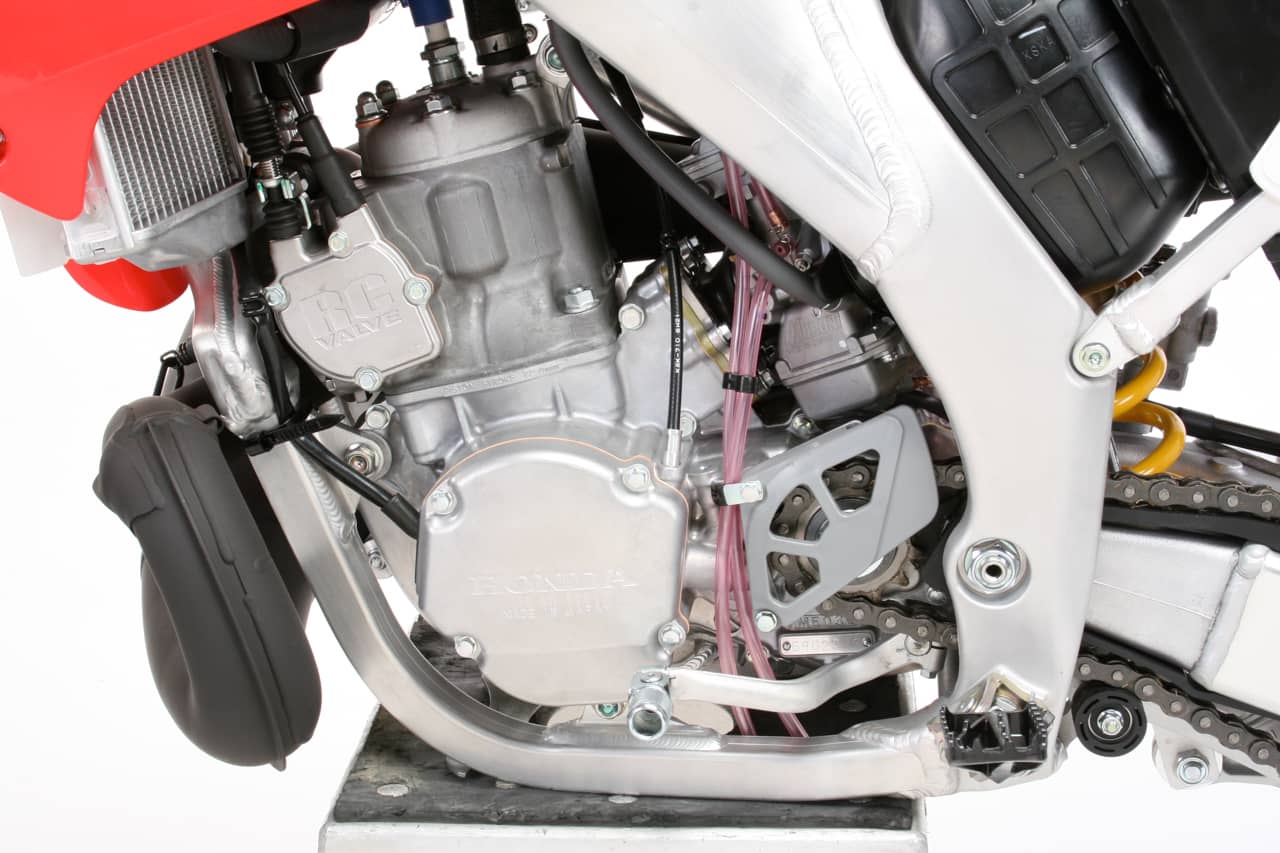 The case-reed CR250 suffered from a weird low-to-mid transition. Down low, where it should have been pulling like an Alaskan sled dog, it was huffing and puffing.
HERE IS THE WORST TRAIT OF THE 2007 HONDA CR250
Jetting: This was a mystery machine. It's not that we couldn't get the jetting to be spot on, it's just that we couldn't keep it there for more than three hours. Every day we spent with the CR250 was an adventure in brass. We eventually learned to accept that today's lean jetting would be tomorrow's rich jetting. Even the slightest change in one direction or the other would send the CR250's jetting into gurgle, diesel and ping land.
MXA'S RECOMMENDED 2007 CR250 JETTING SPECS
Main Jet: 420
Pilot Jet: 38 (40 stock)
Needle: 6DGY-26-65
Clip: 2nd from top (3rd stock)
Air screw: 2 turns out
Note: Honda jetting is rich on the bottom, but lean everywhere else. When you lean out the bottom, the CR's pinging gets more ominous. On a daily basis, our best solution was a dose of race gas, a leaner pilot, and lots of fiddling with the clip position.
WHY DID THE 2007 HONDA CR250 HAVE SUCH A WEIRD POWERBAND?
No mystery. In 2002, Honda dropped their trusty reed-valve, piston-port design for a case-reed configuration. This was a radical engine choice for Honda and one that had previously been deemed best suited for 125 two-strokes. But Honda gambled on the rock 'em, sock 'em benefits of shoving the carb throat directly into the cases (instead of into the cylinder). They rolled snake-eyes!
From day one, the case-reed CR250 suffered from a weird low-to-mid transition. Down low, where it should have been pulling like an Alaskan sled dog, it was huffing and puffing. It mysteriously went "wah, wah wah." Once the rpm and fuel velocity built up, the engine ran fine, but not below it and not much above it.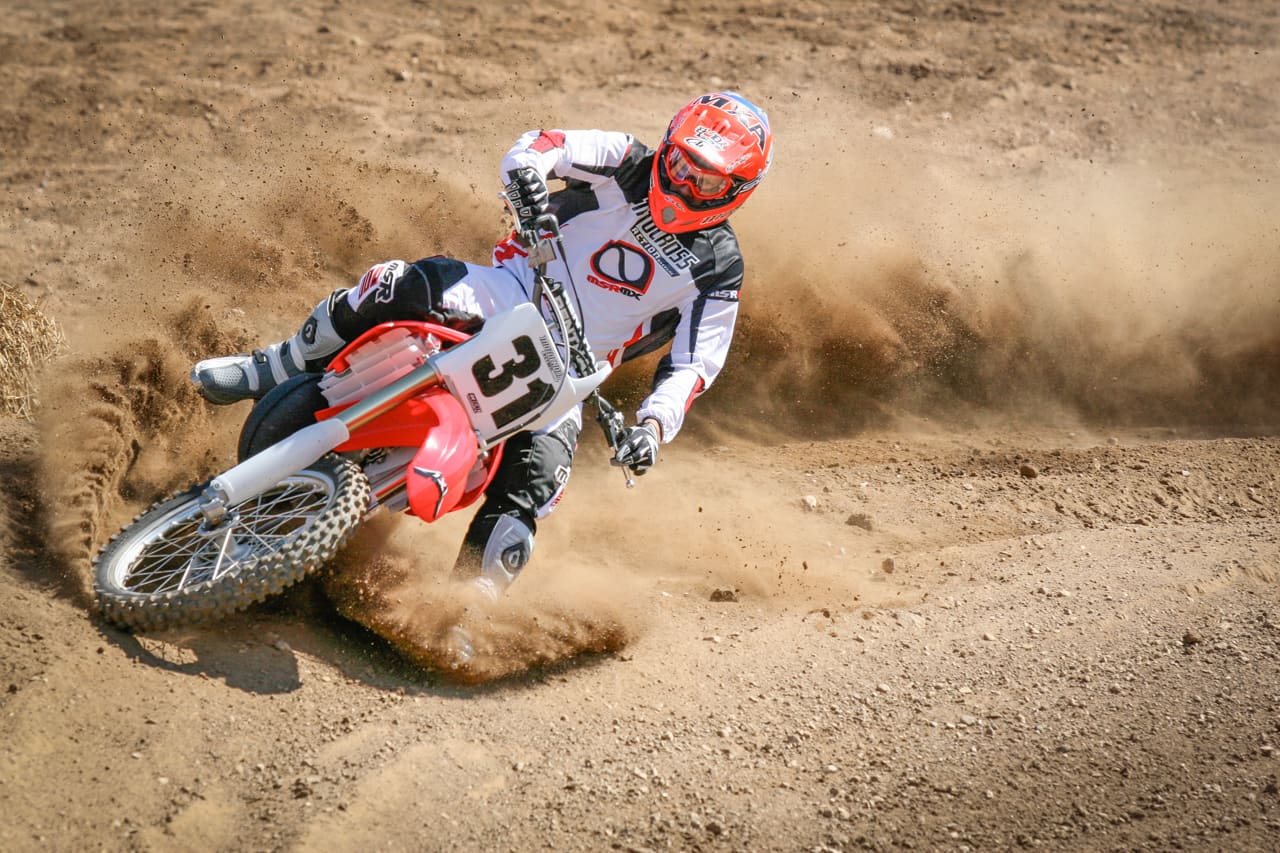 Was the Honda CR250 faster than the competition? In the hands of a rider who can carry beaucoup speed out of the corners and unerringly shift on peak, the CR250 powerband was competitive.
THE BEST WAY TO RIDE THE 2007 CR250?
First, never let the engine linger below dead center in the rpm range. Second, keep two fingers on the clutch at all times. You have to use your clutch hand like the trigger finger of a gunfighter. Third, don't get trapped into thinking that over-revving the engine will help keep it in the middle. It won't. If you overrev, the CR250 will go flat on top and bring the power profile down instead of moving it up. Finally, never cruise. The CR250 has one good power setting, and that is wide open in the midrange. No coasting. No half-throttle solutions. No rolling it on.
THE MUST-HAVE AFTERMARKET PARTS FOR THE 2007 CR250
You could make this bike better, you just need a little extra dough. 

1. Reed valve: To make the low-end appreciably better, bolt on a Moto Tassinari VForce3 reed cage. It makes the low-end power cleaner, crisper and stronger. Moto Tassinari–(603) 298-6646.
2. Pipe: The powerband is shorter than it is long, so bolting on Pro Circuit's Works pipe adds a ton of midrange and some extra rev so that you won't be fretting about the bottom. Pro Circuit–(951) 738-8050.
3. Gearing: The CR250 really benefits from lower gearing. We added one tooth to the rear sprocket (from a 49 to a 50). This tightened up the gear ratios, got us into the meat of the power quicker and helped the CR out of corners.
4. Radiators: Put Works Connection on your speed dial, because Honda's radiators are not very strong. The are weak enough that just the banging of your knees while riding will bend them. Works Connection makes regular radiator braces and ultra-strong radiator cages. Go for the cages. It will save money in the long run. Works Connection–(530) 642-9488.
5. Electric power valve: Every time we felt that our CR250 was going off song, we would round up all the usual suspects (broken reeds, worn rings, bad jetting) to no avail. The problem was normally in the HPP valve. The cables on the power valve have a tendency to go slack. Once we tightened them up, we got our lost power back.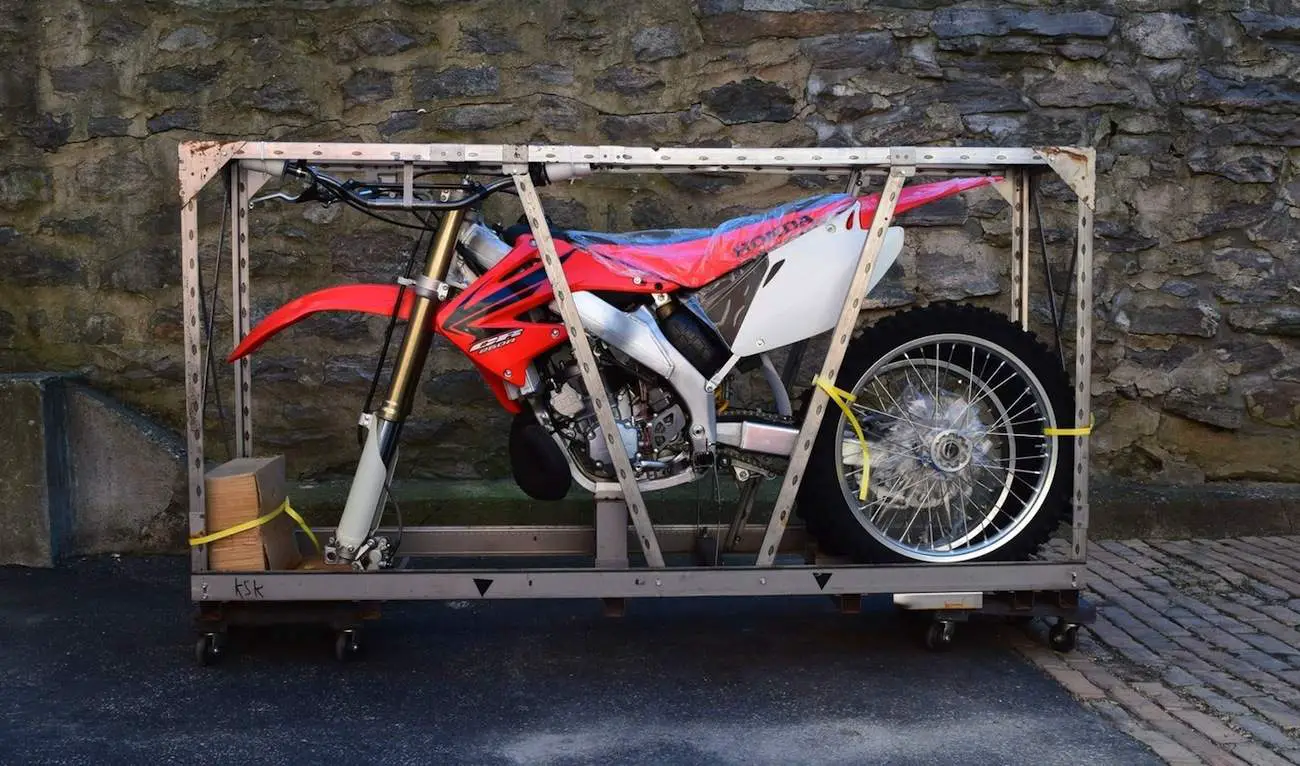 What we would pay to get our hands on a brand new crated up 2007 Honda CR250.
MXA'S RECOMMENDED 2007 CR250 FORK SETTINGS
Spring rate: 0.44 kg/mm
Oil height: 384cc
Compression: 10 clicks out
Rebound: 14 clicks out
Fork leg height: 5mm up
Note: The 2007 CR250 forks are 7mm longer than the CRF450 forks because they are the forks that were designed to go with the 20-inch front wheel (which Honda offerrd as an option).
MXA'S RECOMMENDED 2007 CR250 SHOCK SETTINGS
Spring rate: 5.2 kg/mm
Race sag: 105 mm
High-compression: 2-1/2 turns out
Low-compression: 7 clicks
Rebound: 7 clicks
Notes: Make small (about 1/8th turn) adjustments to the high-speed compression. Its standard setting is two turns out (and then an extra twist to align the punch marks). We had our best luck going farther out instead of in on high-speed.