TWO-STROKE TUESDAY | 2019 HONDA CR125 BUILT IN RUSSIA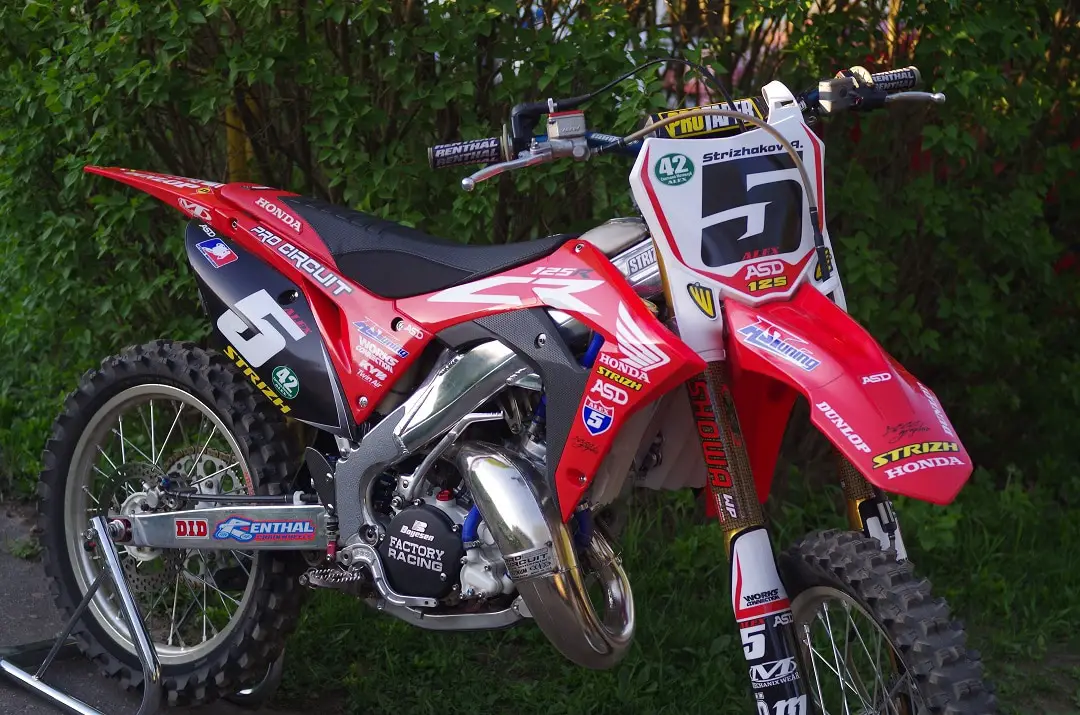 How awesome is this CR125 build? We want it. 
This is Aleksandr Strizhakov's dream bike. He wanted to make a replica of the 2018-19 CRF250 with a CR125 engine. He has been in the works of this build from early 2017. We featured his bike on MXA back in September of 2017 when it was in the works. It is worth a look to see the start of the build. When Aleksandr sent us the email that his build was finished we were excited to see the final product. Take notes Honda, or Russia is going to build them for you. Take it away Aleksandr: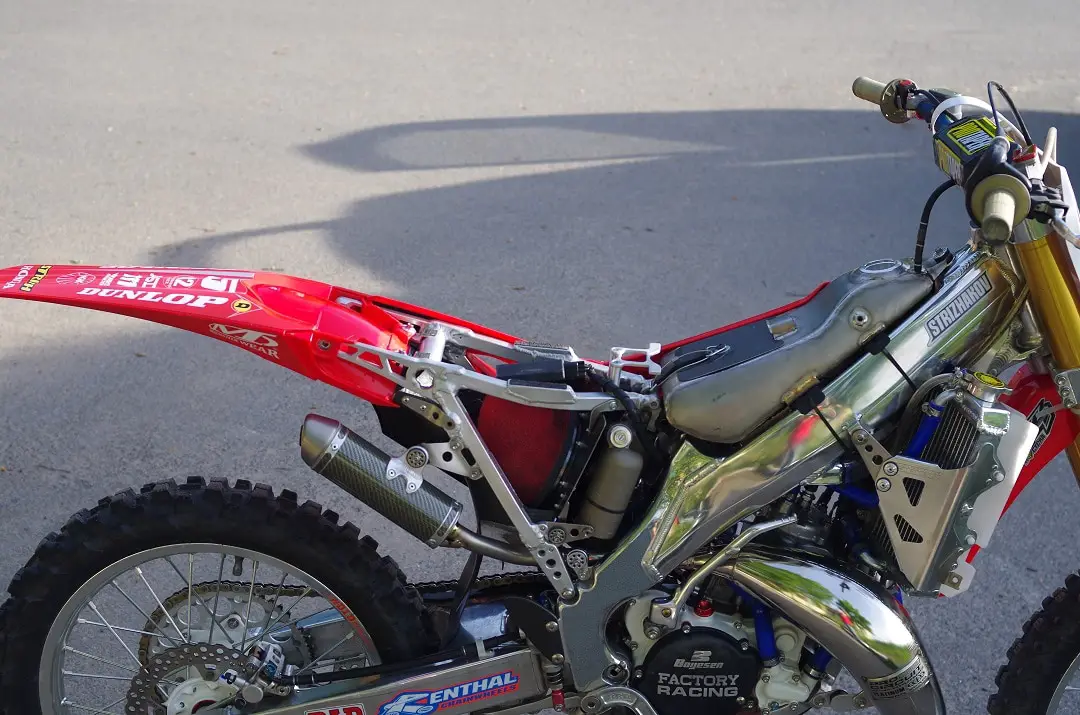 Underneath the CR125's clothes. 
"The construction of the bike of my dreams was somewhat delayed, but it has finally come to fruition. I am an engineer and a designer that really loves motocross. I like the handling in the frame of the third generation Honda CR125, and I decided to put it in the hull of Honda's new design body. It was an excellent and interesting job. I hand built the subframe and transmission and carbon air box. Since I needed a new fuel tank, I decided to make it out of titanium. I applied my method of hydroforming the sides of the tank using a hand grease pump. Next, I worked with sheet metal and after that the entire tank was TIG welded by a friend and our best welder, Vladimir. This is the titanium gas tank that can be seen on my bike! I am a perfectionist and decided to build a motorcycle from the best parts in the world, and many parts are made by me. The bike is very light and handling is amazing. It has a powerful Motostuff front motor that is controlled by an RE caliper. Of course the engine is inferior to the engines of the KTM and Husky and even Yamaha. But I am 55 years old and the engine suits my riding capability perfect. I also used a hydraulic clutch to help the engine.  But I can install any two-stroke engine in this frame. Here is a list of details and work: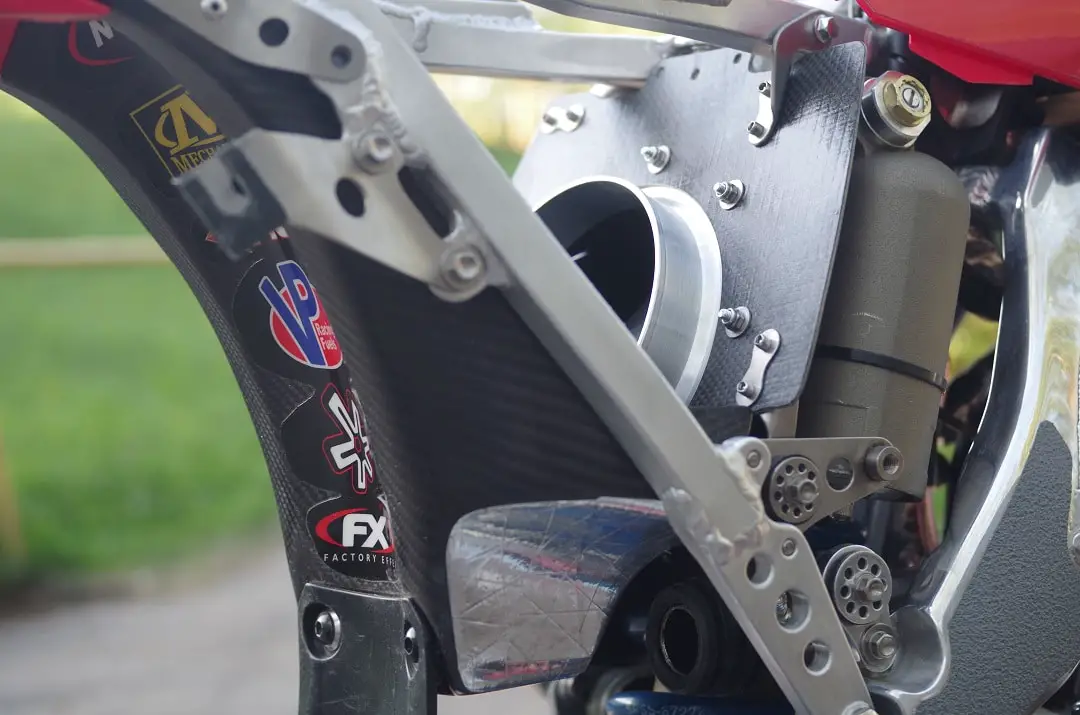 An up close look of the hand-made carbon fiber airbox and subframe. 
Chassis: 2004 Honda CR125 frame and swingarm. Honda 2017 plastics and seat (I installed the front wing of the 2016 model, which is more suitable for a light 125). D.I.D. LTX rims that I lightened and powder coated the hubs.
Suspension: 46mm Öhlins front forks that have titanium nitrided lower tubes. Emig modified and polished triple clamps. KYB KX250F rear shock (shorter than the Honda at 6mm, which lowered the  rear of the bike).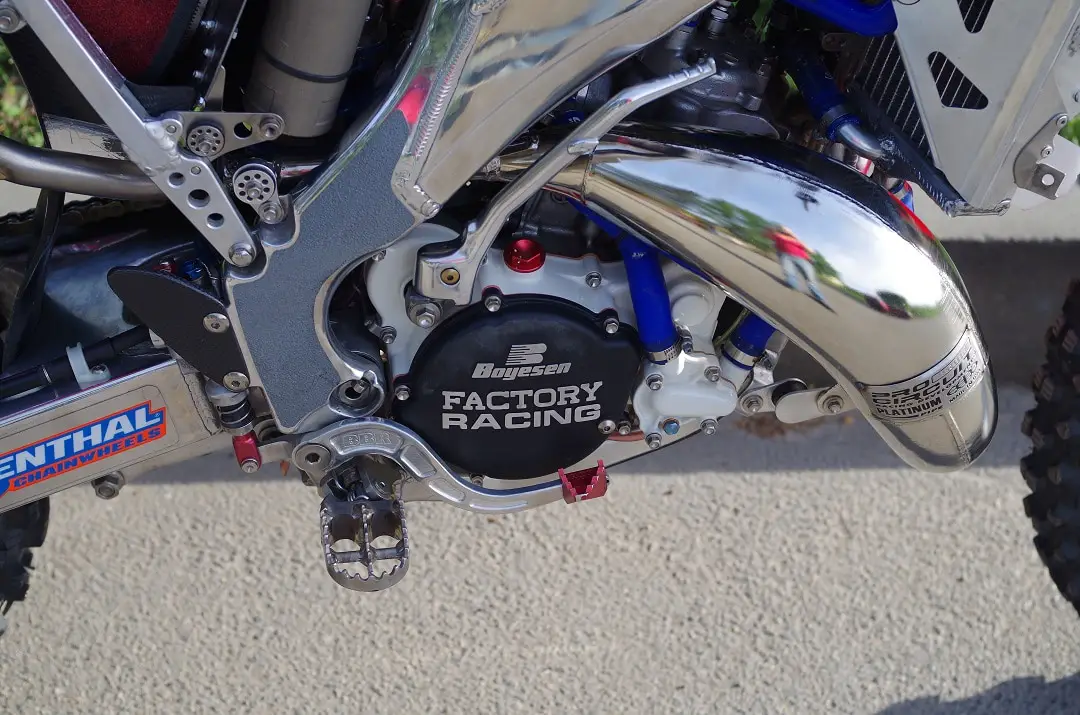 The 2004 Honda CR125 engine.

Engine: A2004 Honda CR125 was used with a Wiseco piston, V-force valve, Pro Circuit pipe and carbon-titanium silencer, Barnett clutch basket and pressure plate and I powder coated the right side engine for a works factory look. AJP hydraulic clutch master and main cylinder.
Brakes: Motostuff 270mm front rotor and Ride Engineering caliper (hand modified and polished for works factory view). Used the stock rear caliper that I vented the body on by drilling and used a titanium piston and BBR pedal/ titanium LS footpegs.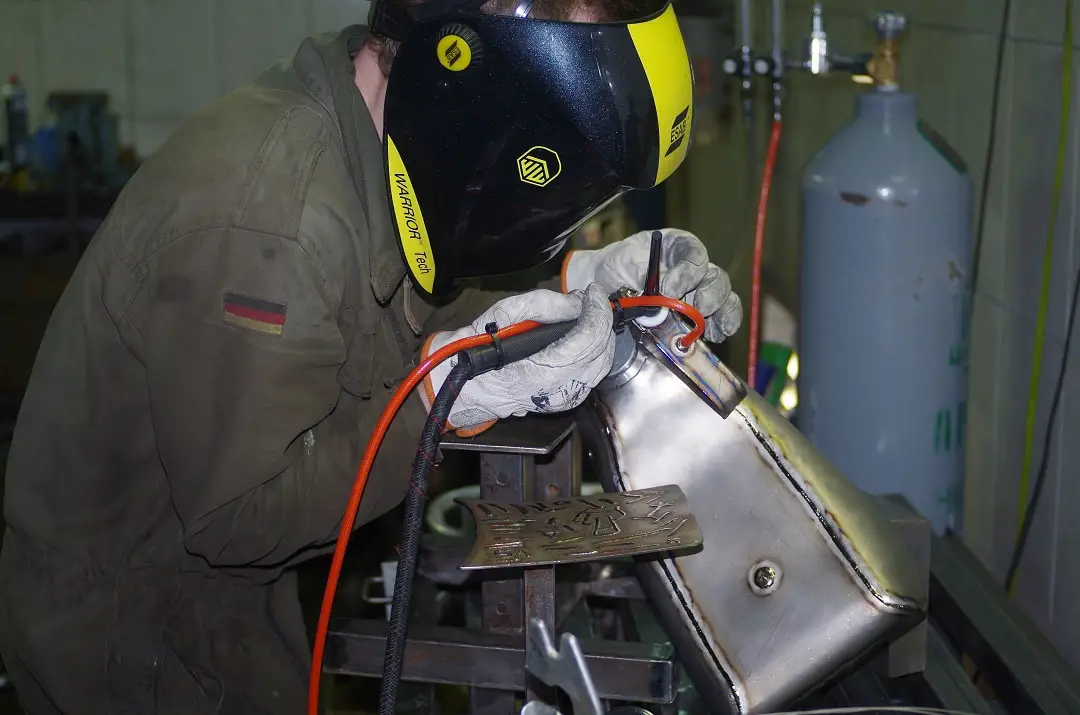 Aleksandr welding his hand-made titanium tank.
Hand made: Titanium thickness 0.8mm gas tank. Aluminum subframe. Carbon fiber air box. Full complete titanium bolts. Titanium front/ rear axle and swingarm pivot bolts. Titanium footpegs bracket and more titanium small parts
Best regards,
Aleksandr Strizhakov. Russia. Sankt-Petersburg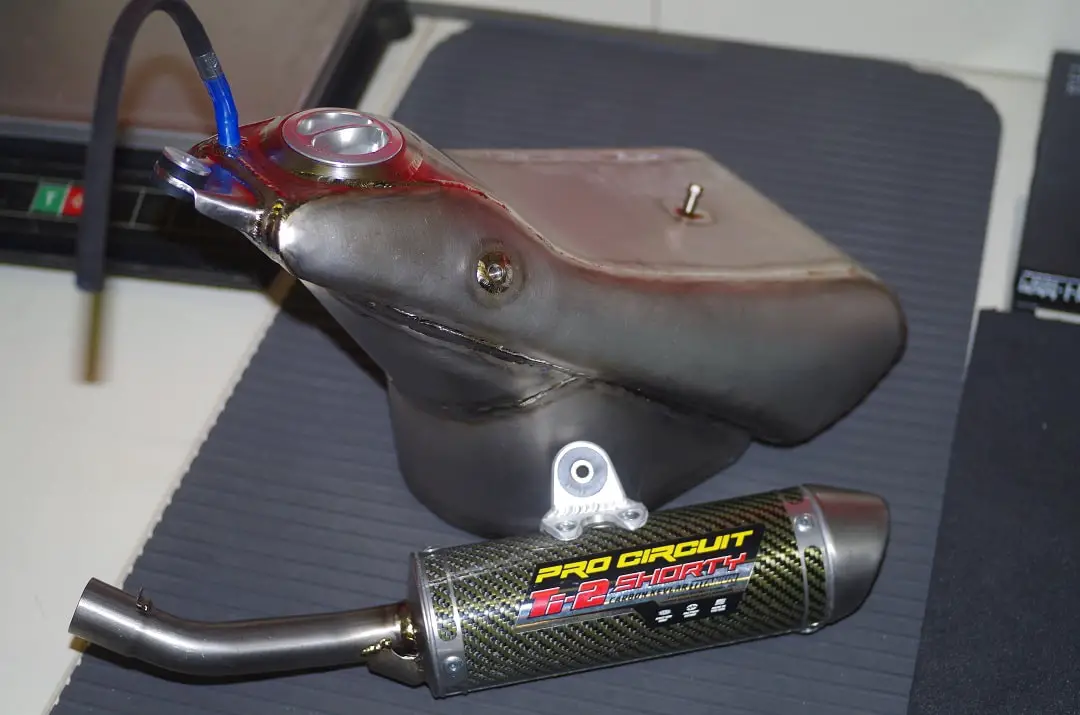 The finished product. 
Aleksandr was finally was able to ride his dream build after more than a year and a half. 
Motostuff front brake rotor with a custom brake caliper. 
How trick is the mounting of the CDI box.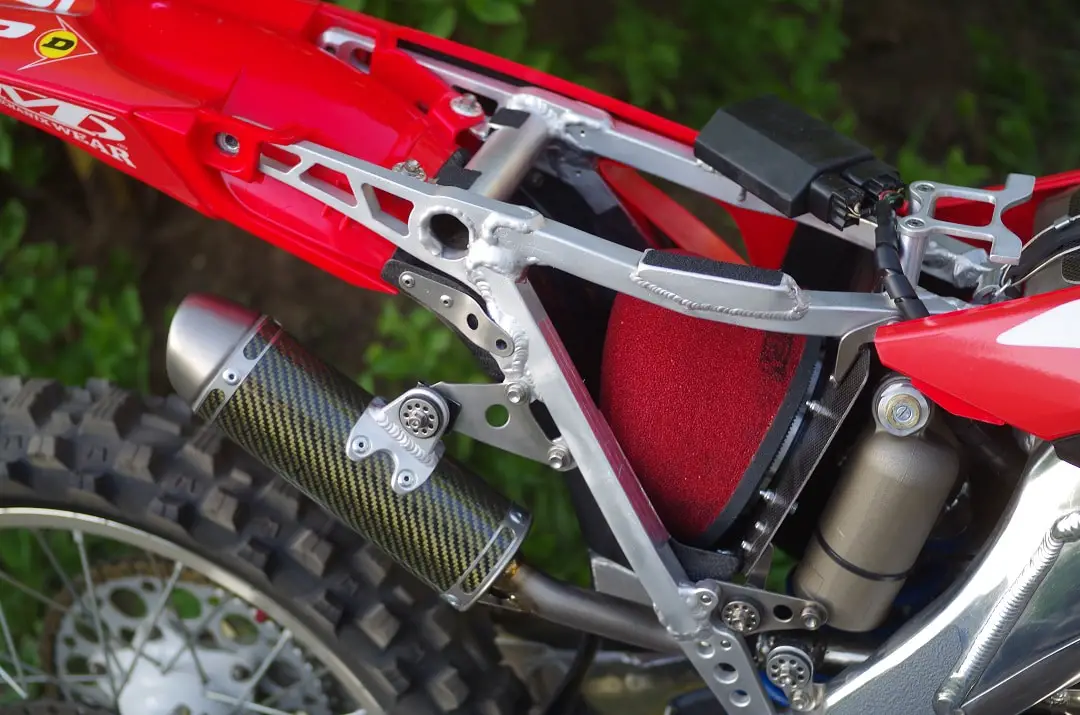 A close look at some of the customization of the subframe and silencer bracket.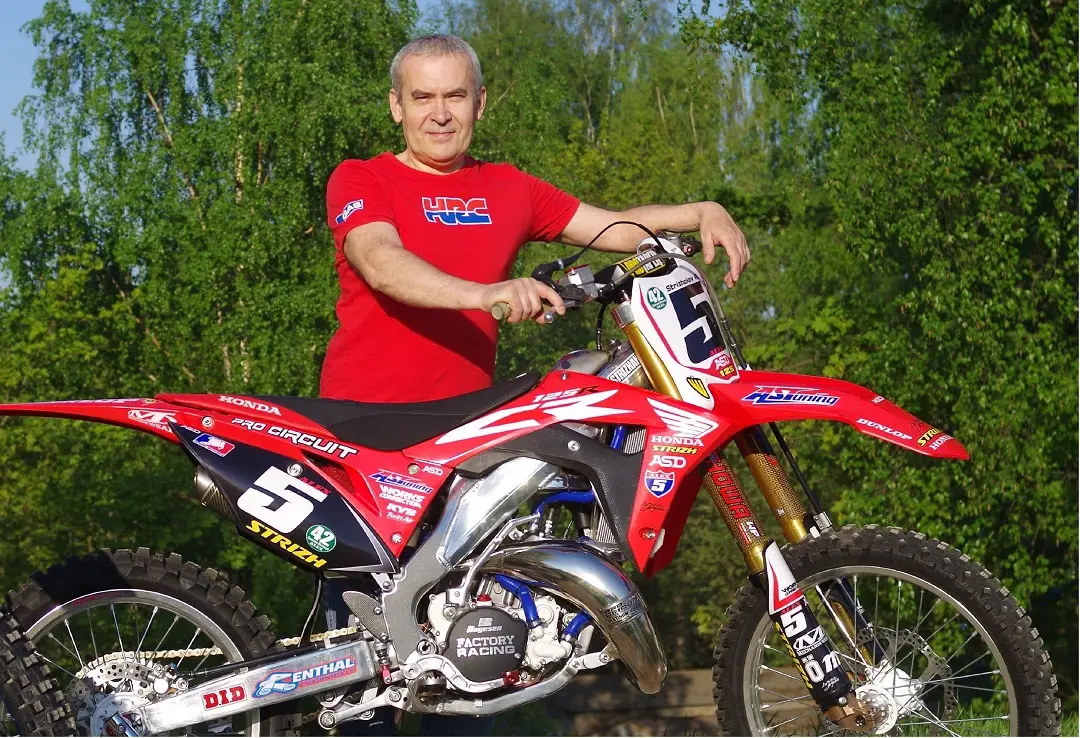 Aleksandr Strizhakov and his dream build CR125.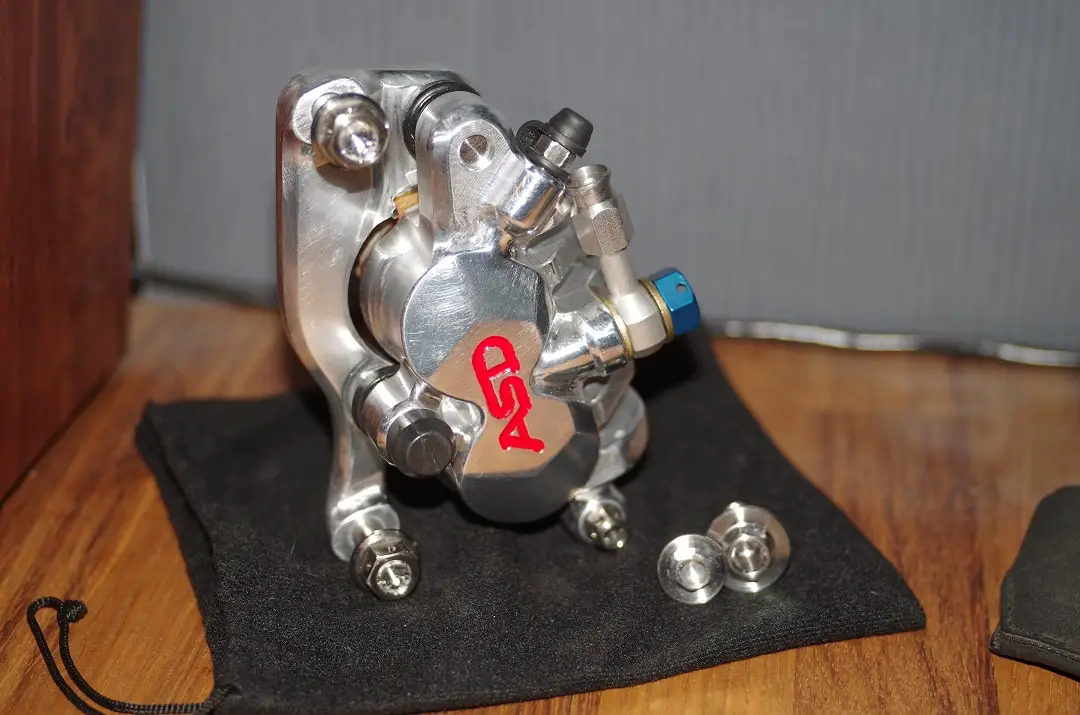 Closer look of the caliper.


Up close with the hand-made subframe.