TWO-STROKE TUESDAY: HUSQVARNA TX300 MOTOCROSS VERSION
Click on images to enlarge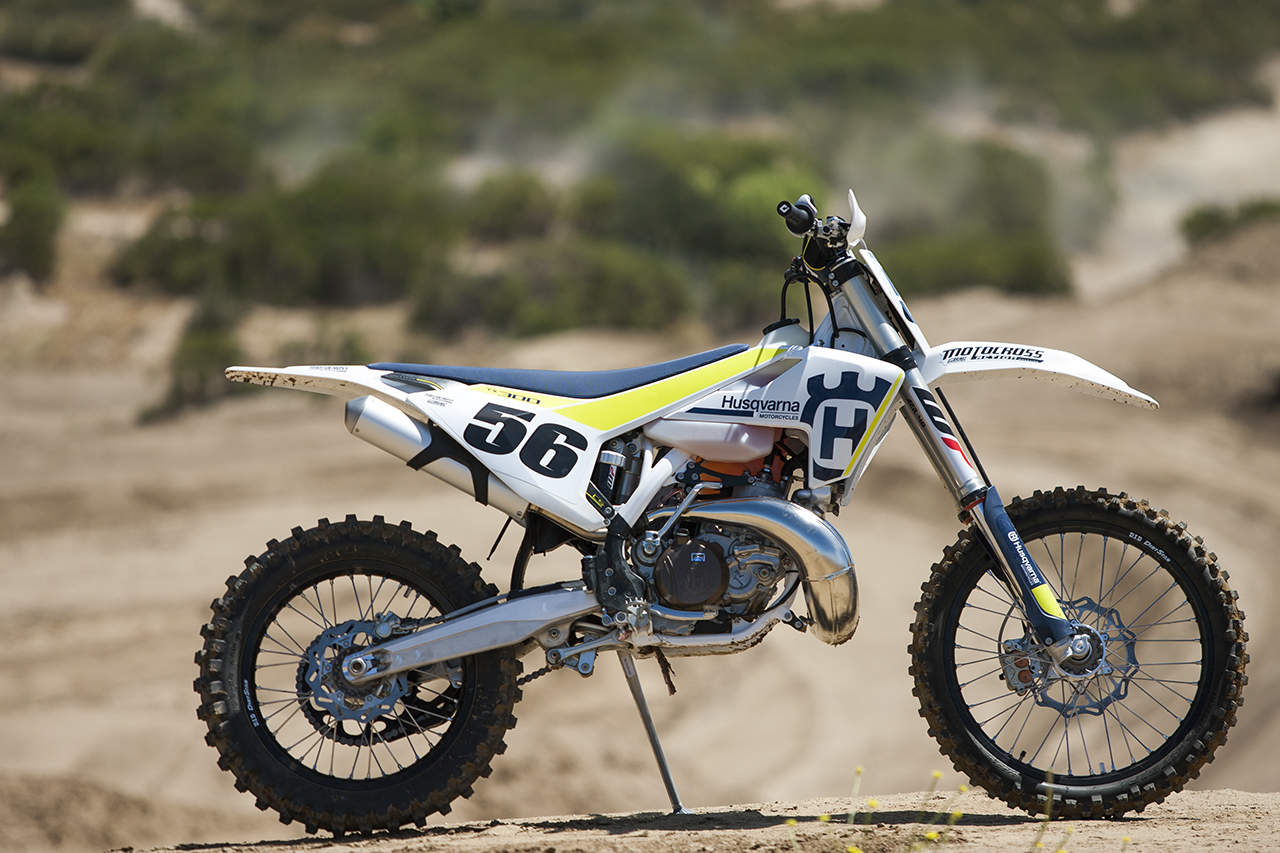 The MXA wrecking crew loved the TX300  (above) so much that we converted it to a TC300 (below). Husky doesn't make one, but we asked them to make one for us.
Back in September, Husky asked us if we wanted to test the TX300 off-road model two-stroke. Since we wanted to test the differences between the TC250 and the TX300,we said, why not? Many riders that had ridden the TC250 wanted something mellower, broader and more usable. The 2017 Husqvarna TC250 is an aggressive bike to ride. It is a race machine, bottom line, but one that caters to fast guys. Oh, don't get us wrong,  Vets or slow pokes can ride it race it and enjoy it, but we were hoping the TX300 would cater to these riders need better.
The TX300 gets the power to the ground like a four-stroke. It has a very linear, easy-to-ride powerband that sticks to the ground like glue. Don't mistake linear for slow. It has the bottom-end needed to get you moving, as well as the top-end to keep you moving. It had more power than the TC250 off the bottom and it revved out further. It was what the masses want, but most motocrossers don't wants the 18-inch rear wheel, oversize fuel tank, kickstand and soft offroad suspension. Surpringly, the MXA test riders didn't mind the semi-close ratio transmission or the electric start. We will take the extra few pounds for a push button any day (especially on a bike that is already fairly light).
The one and only Husqvarna TC300 two-stroke. Motocross suspension, 19-inch rear wheel, small gas tank and electric start.
The mellow, easy-to-ride powerband of the TX300 warmed our hearts so much that we wanted to modify it so we could race it on a motocross track. Husky granted us our wish.
After the two-thumbs up from the entire MXA wrecking crew, we asked Husqvarna to convert our TX300 into a TC300. The steps were simple: (1) They put on a 19-inch rear wheel. This gave us a wider selection of tires to choose from for motocross use. (2) Although the oversize translucent TX300 tank wasn't obtrusive, we didn't need that much fuel for racing and wanted a sleeker looking machine. The tank was a straight across swap for a TC250 tank. (3) The kickstand was taken off. We knew that to race the TC300 in motocross, we had to take it off, but we did grow to love it while it was on there. It made life easier. (4)  The offroad suspension settings were changed out for motocross settings. (5) We could have gone gizmo, gadget and bling crazy, but we decided to keep the TC300 as stock looking as possible. It's a sleeper.
Thanks to weeks of never ending rain storms, we haven't ridden our TC300 yet. We will start testing this Thursday — if the weather gods give us clear skies. Look for a full test of the one and only TC300 in a future issue of Motocross Action Magazine.