TWO-STROKE TUESDAY | PRO CIRCUIT'S GIANT KILLER RM125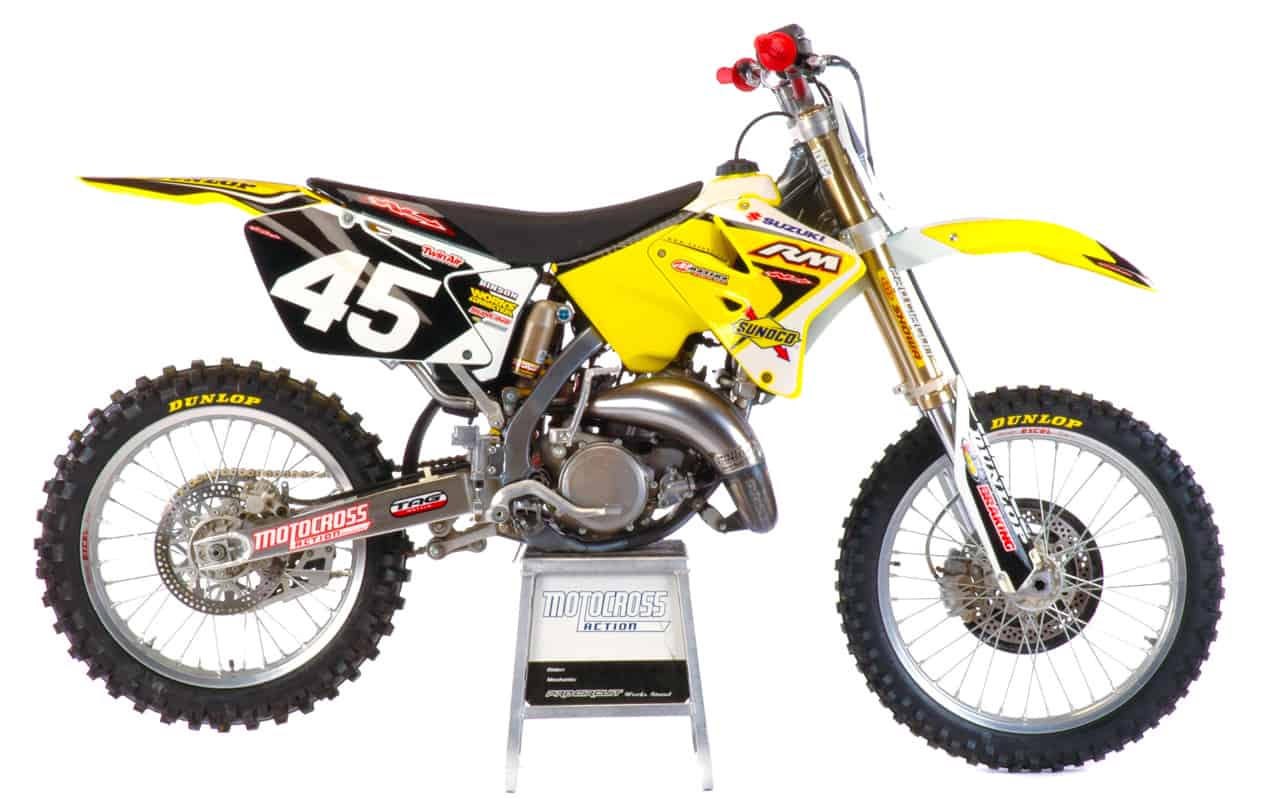 The bike test is a flashback to the June 2005 issue of MXA.

TWO-STROKE TUESDAY | PRO CIRCUIT'S GIANT KILLER RM125
By John Basher

Unless you've been living under a rock, you have noticed that 125 two-strokes have disappeared from the racing scene. Despite the undeniable fact that 250 four-strokes outnumber 125 two-strokes on the starting lines, I still couldn't accept that valves and cams were superior to a piston and ports. I grew up racing 125 two-strokes, and while I have spent beaucoup time in the saddle of every F-model made, I just feel faster on the 125. I must admit that I began to doubt myself as the new four-strokes got faster and lighter. But, my faith was reaffirmed when James Stewart made easy work of the 125 class in the 2004 Nationals on his tried-and-true KX125.
Unfortunately, I'm not Bubba. Every weekend I diced with a host of thumpers on my two-stroke and every week I struggled to come on equal terms with them (there was little solace in telling myself that when those four-strokes blew up it would cost those guys a lot of money). I needed help in the engine and suspension department and if I didn't get it, I'd be switching instead of fighting.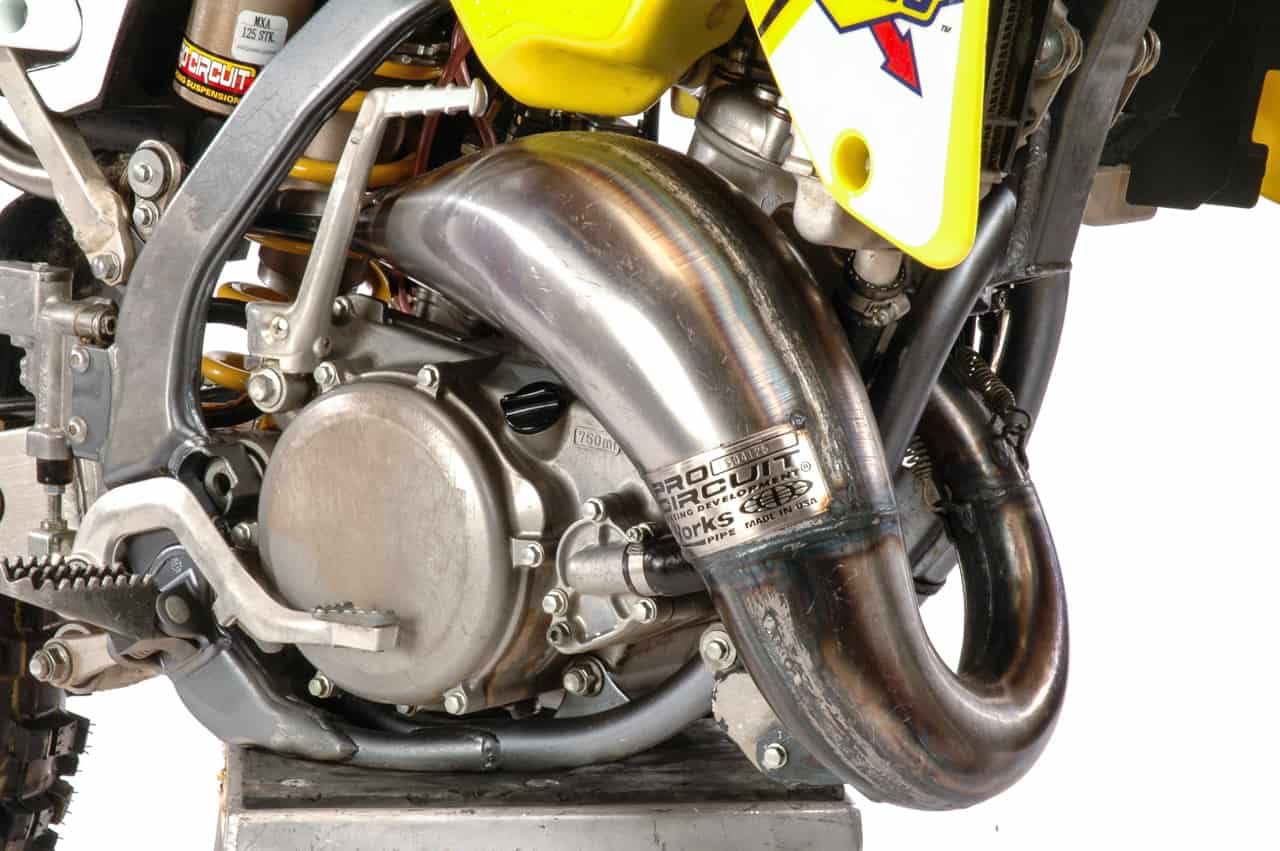 When I told the rest of the MXA wrecking crew that I wanted to build a 125 two-stroke that could beat the omnipotent 250Fs, they giggled. When I said that I wanted to start with a Suzuki RM125, they laughed. When I said that I didn't want to spend more than $1000 on the project they started rolling on the floor. Once the hilarity ceased they told me that my cause was noble, but that I should start with the much lighter and faster aluminum-framed YZ125 and that it would take a lot more than a grand to turn me into a winner. But, Jody and Tim (Olsen) gave me the okay, Suzuki handed over a new RM125 and I was ready to get started.
That's where Pro Circuit came in. I talked to Pro Circuit head wrench Dave Chase, and told him that I wanted to build a 125 two-stroke that could beat the omnipotent 250Fs, he giggled. When I said that I wanted to start with a Suzuki RM125, he laughed. When I said that I didn't want to spend more than $1000 on the project, he started rolling on the floor. But Chase was up to the challenge. Pro Circuit had lots of RM125 experience, and had built most of Davi Millsaps' engines before he deserted the RM125 and traded it in on an RM-Z250 (what a quitter). I, unlike Millsaps, wasn't going to give up.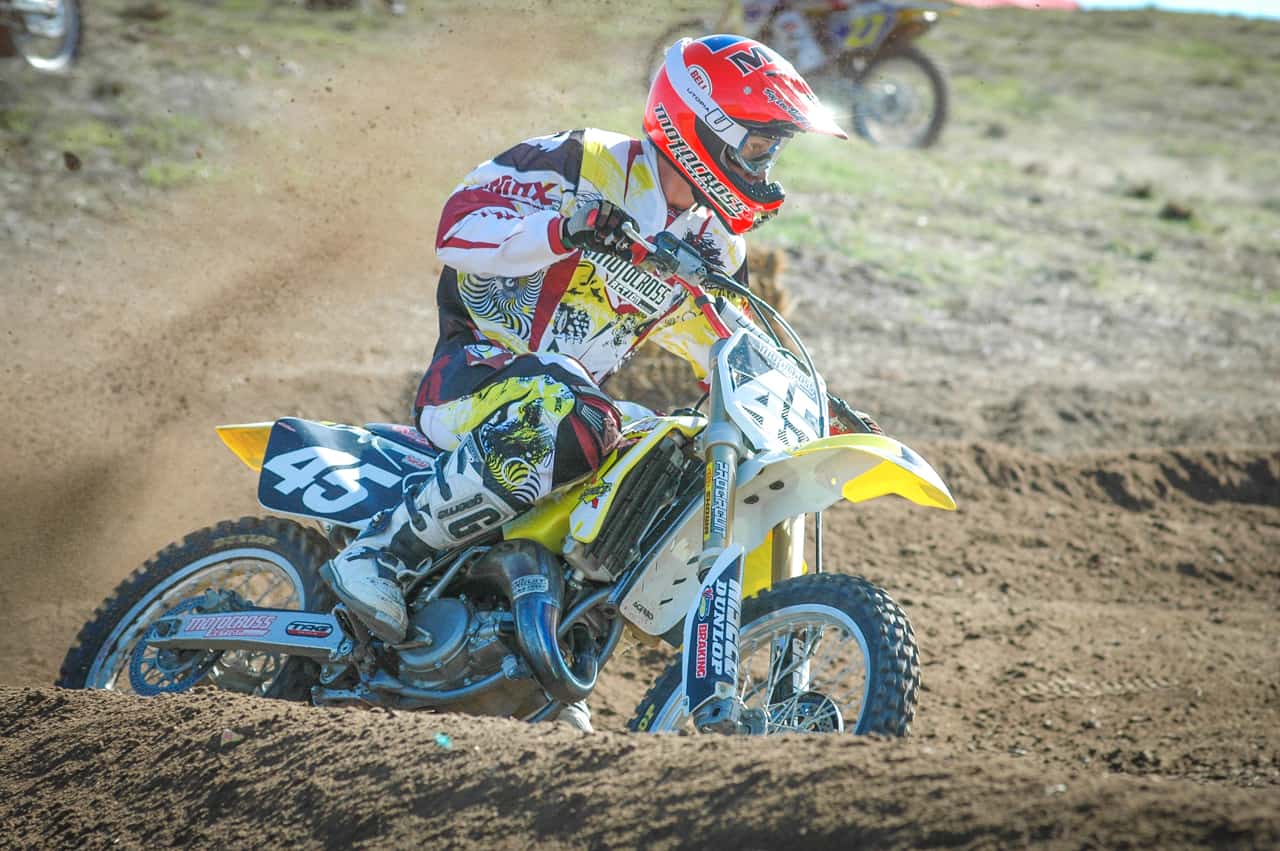 When it came to establishing a budget, Pro Circuit said that they could give me the same cylinder and head modifications that were on Davi's last factory RM125 for $329.95. Additionally, a Moto Tassinari VForce3 reed cage would set me back $148.00, a Pro Circuit Works pipe $229.95 and silencer $119.95. Yikes! I had spent $830 on the engine alone, but I didn't have any choice. I needed as much horsepower as I could get to offset the broad torquey powerbands of the KX-F, RN-Z, CRF and YZ-F. It was money that I had to spend.
But it only left $170 for the suspension. Pro Circuit suspension guru Bones Bacon, said that he could work within my budget (he lied). The Suzuki RM125's stock suspension is way too soft for anyone weighing more than 130 pounds. Bones stiffened up the suspension and revalved it for $199.90 ($109.95 for the forks and $89.95 for the shock). You don't need a calculator to see that I went $30 over budget. My bill came to $1027.75. When I whined to Bones, he said that if anybody called to have the MXA mods done, he would knock $30 off the final price tag. I was under budget.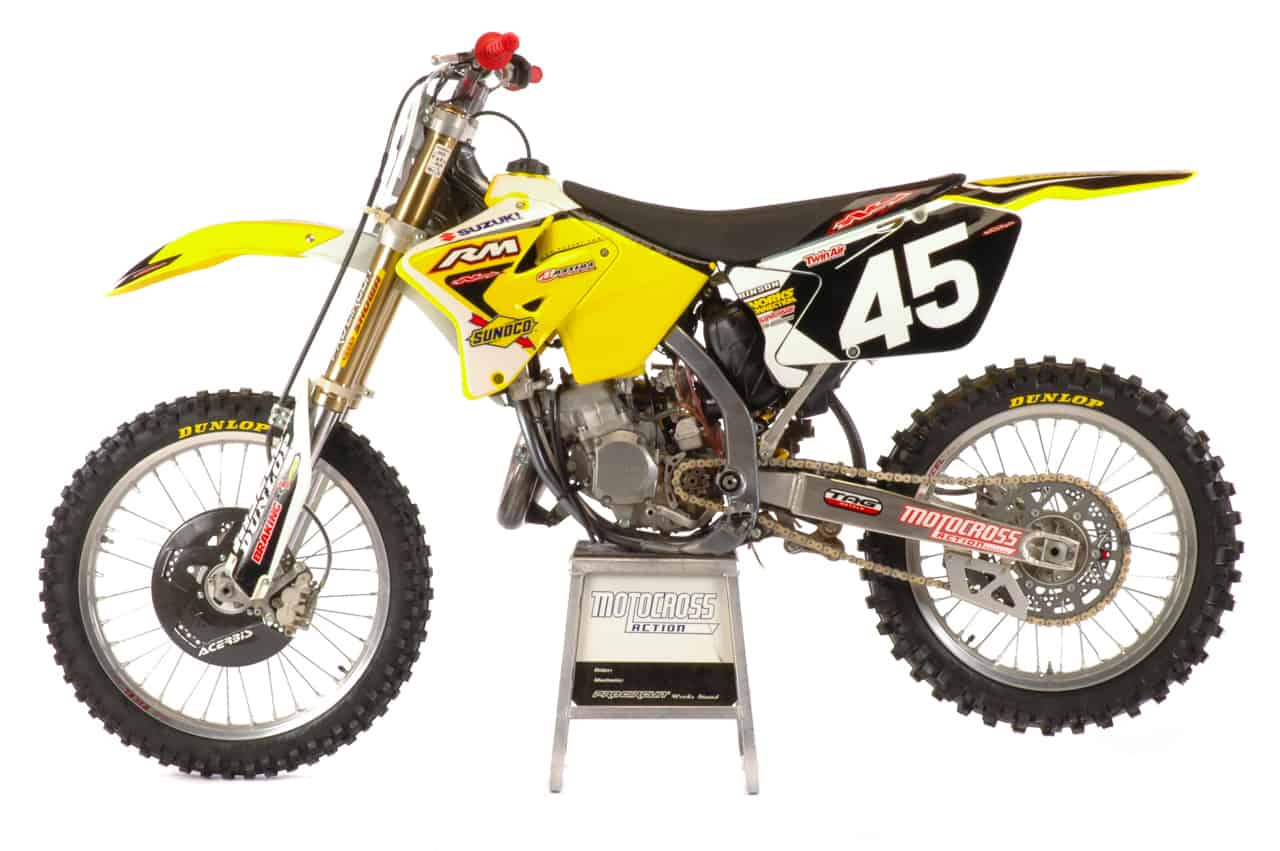 The time had come for me to face down the four-stroke competition that had been making my life miserable for the past year. I was proud as a puppy and ready to do battle. There is nothing that will ever replace the ringing and whining of a 125 two-stroke at full-tilt boogie.
I don't think I ever raced with as much passion or heart as that first day on my giant killer Pro Circuit RM125. I rang the engine out around the track. I waited as long as possible before shifting into the next gear. I smashed into berms. I skated through hard pack corners. I accelerated up jump faces. I bounced through the whoop sections. I panic revved over the gigantic tabletops (something I have a tendency to do no matter what bike I'm riding). I felt fast. I was staying with 250 four-strokes and having a great time. The engine pulled beautifully and the suspension was stiff enough for my weight and skill, yet not harsh enough to where I felt like I was riding a Supercross bike. I was in the zone. However, as the laps wore on something happened.
I got tired. I was expending so much energy trying to hit my lines perfectly and staying on the pipe, that my arms turned to Jell-O. Sweat poured down my face and the pesky 250Fs that I had been embarrassing just a lap earlier were chewing on my rear fender. At the 15-minute mark, they started to stream on by. No worries, I still had the second moto. All I needed was a Snickers bar, swig of Jolt Cola and a chance to catch my breath.
I was a little hampered by the concrete starting pad, as I spun while the four-strokes hooked up, but I got to the corner near the front half of the middle of the pack (which means I wasn't at the back or the front). My hot rod RM125 was better than the thumpers in the tight corners and worse on the hills. It gave up ground on the flat turns but made it up over the jumps and on the entrance to turns. I dueled with anyone I could get close to, but I had to race with a hyperactive intensity while the four-stroke pilots seemed to be trail riding. I was hammering the throttle, while they were rolling it on.
The Pro Circuit RM125 was light, fast, and well suspended. I couldn't have asked for a better 125 (especially for the $1000 I spent), but I was putting out more than $1000 worth of effort. The plus side was that I never had as much fun racing a four-stroke as I did on the Pro Circuit RM125. But riding it was like a sudden-death playoff in every turn. When I made a mistake, I knew it immediately. There wasn't any torque to save me from myself. My goal, whether I said it out loud or not, was to be the James Stewart of my local track, to put the hurt on the 250cc four-strokes that had been causing me pain for the last year. My first outing was promising. The RM125 was a contender, but I was not a winner. But, I still think I can do it and I want to prove that the 125 two-stroke is not as extinct as everyone thinks.