TWO-STROKE TUESDAY: THE LAST WORKS 125 TWO-STROKE

What was the upside of racing a 125cc two-stroke in Supercross? The YZ125 weighed 22 pounds less than its 250 four-stroke competitors.
As Yamaha released the 2005 aluminum frame YZ125, the smokers were already on there way out. In the 2005 Supercross season, only one brave soul piloted the YZ125 against the powerful four-strokes. This man was Brett Metcalfe, aboard his Yamaha of Troy factory built YZ125.
The big question was for Brett was, why? Did he want to stand out from the crowd? Did he have something to prove? Was he worried that his transition to four-strokes would be a difficult one? It actually had nothing to do with Brett and everything to do with Yamaha. The answer was actually quite simple. Yamaha invested oodles in the development of the brand-new, aluminum framed, laid-down-engine YZ125. They wanted the bike to be raced. They didn't keep it a secret from their riders. Both Brett and Kelly Smith were hired to be YZ125 pilots, although Smith opted out and was allowed t0 switch to a YZ250F.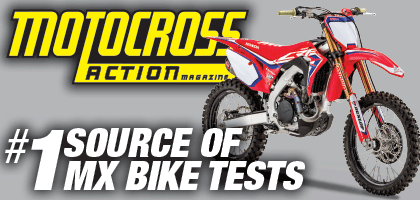 James Stewart won 11 AMA Nationals on a 125 two-stroke in 2004, but nobody rushed out and bought one. Brett Metcalfe's works YZ125 in 2005 was the last of the Mohicans.
Brett didn't complain. He made the best of it by putting the smoker in the top ten again and again. Brett's smoker was 22 pounds lighter than the 250F thumpers at the time and made the same horsepower, the problem lies in the displacement. AMA killed two-stokes by allowing the four-strokes to have double the displacement, which converted into tons of torque. This only hindered the two-strokes, the final blow was when the AMA banned leaded gas. This ban killed high-compression, high rpm two-strokes, with having no effect on the thumpers.
Brett's works YZ125 had air-scoops and air-vents on the front number plate and the front fender to cool the high-strung two-stroke.