TWO-STROKE TUESDAY | THE SPLITFIRE PRO CIRCUIT TEAM 1993-2001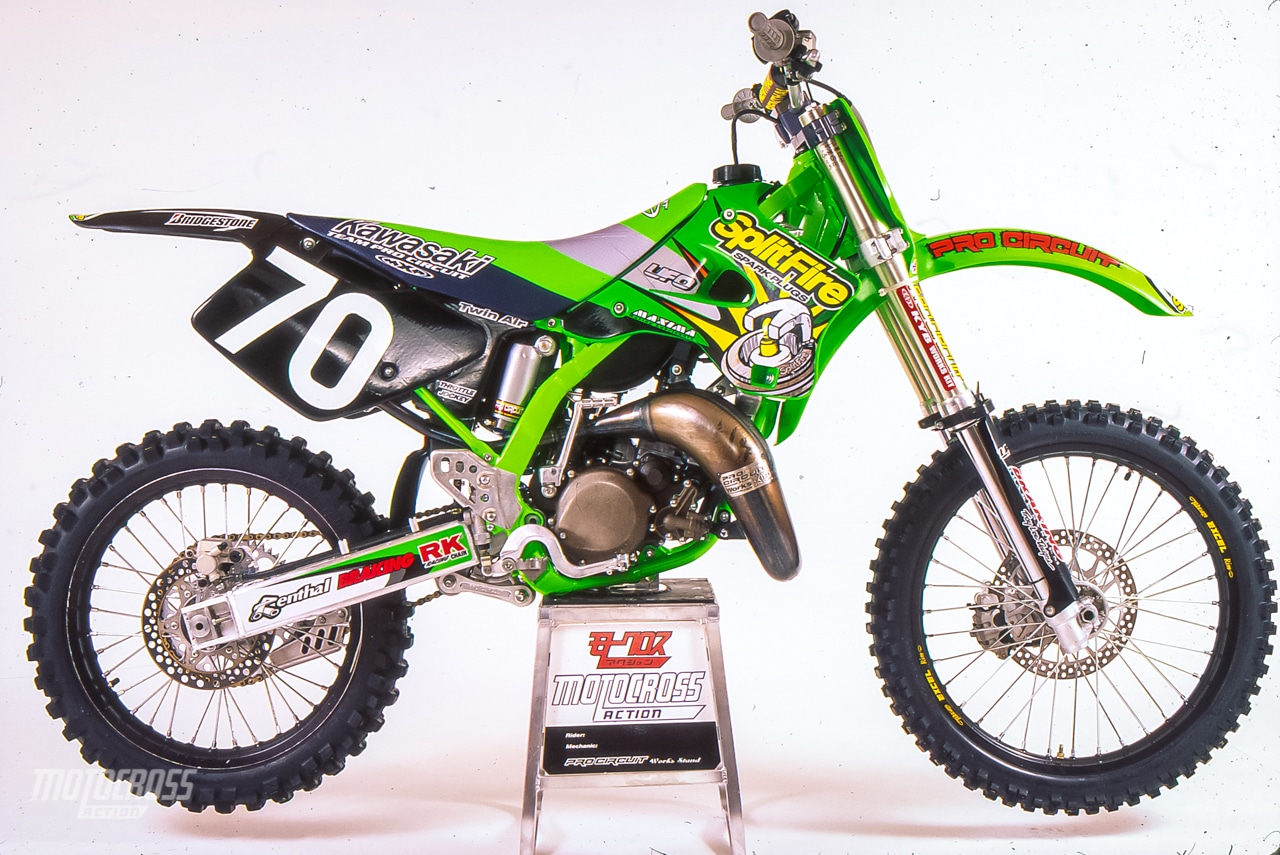 Ricky Carmichael's 1997 SplitFire Pro Circuit KX125.
Pro Circuit has made a footprint in pro racing since 1991. Since then, they have been a dominate force with over 200 race wins and 29 AMA titles. With Pro Circuit's primary focus on their 125/250 team, they breed top level riders and groom them for the premier 450 class. With each year, the Pro Circuit roster changes. With new riders being signed on, and old riders moving to other teams or moving up a class. We are going to take you back into the 90's and bring back some history of the Pro Circuit team.
1993: Jimmy Gaddis won the West coast Supercross title for Mitch the first year after they made the switch from Honda to Kawasaki. 
In 1993, it was Pro Circuit's first year on Kawasaki. Not because they wanted to make the switch, but because Honda dropped their support for no good reason. They won two 125 tittles on Honda's in 1991 and 1992 with Jeremy McGrath. They weren't even looking for another manufacturer to help as they thought they were secure. Late into the 1992 offseason, Mitch didn't have bikes or the money to go racing. Kawasaki had come to the rescue with bikes and parts, but no money as it was already budgeted to other teams. Hot Wheels came to the table as the money sponsor, although it wasn't without a fight. Hot Wheels had a racing game coming out called, "Pro Circuit." Mitch went to the Hot Wheels office and told them to either pay him royalties for using his trademarked name or sponsor his team. The rest was history. The team went racing. They hired Mike Chamberlin, James Dobb, and Jimmy Gaddis. Jimmy ended up taking the 125 West title in 1993 for the team that year.
1994: Ryan Hughes rode for Mitch and placed third in the outdoor championship. 
1995: Mickael Pichon's racing in Washougal on the Splitfire/Pro Circuit/Kawasaki KX125.
1995: David Pingree (center) finished third in the 125 West coast Supercross championship. The guy leaning over the bike is Randy Lawrence. 
1996: Frenchman, Mickael Pichon, went on to win the 1996 125 East Coast Supercross title riding for Mitch. 
1997: Casey Johnson placed 3rd in the 125 West coast Supercross championship and 6th outdoors. 
1998: Ricky Carmichael went on to win both the 125 East coast Supercross series and outdoor title that year. He also won the 1997 and 1999 outdoor championship for Mitch. 
1999: Nathan Ramsey went on to win the 125 West coast Supercross title and finished 5th in outdoors. 
Mike Brown won the 2001 125 AMA outdoor National series on Mitch's KX125.