TWO-STROKE TUESDAY | THE STORY BEHIND A 2009 KX500AF BUILD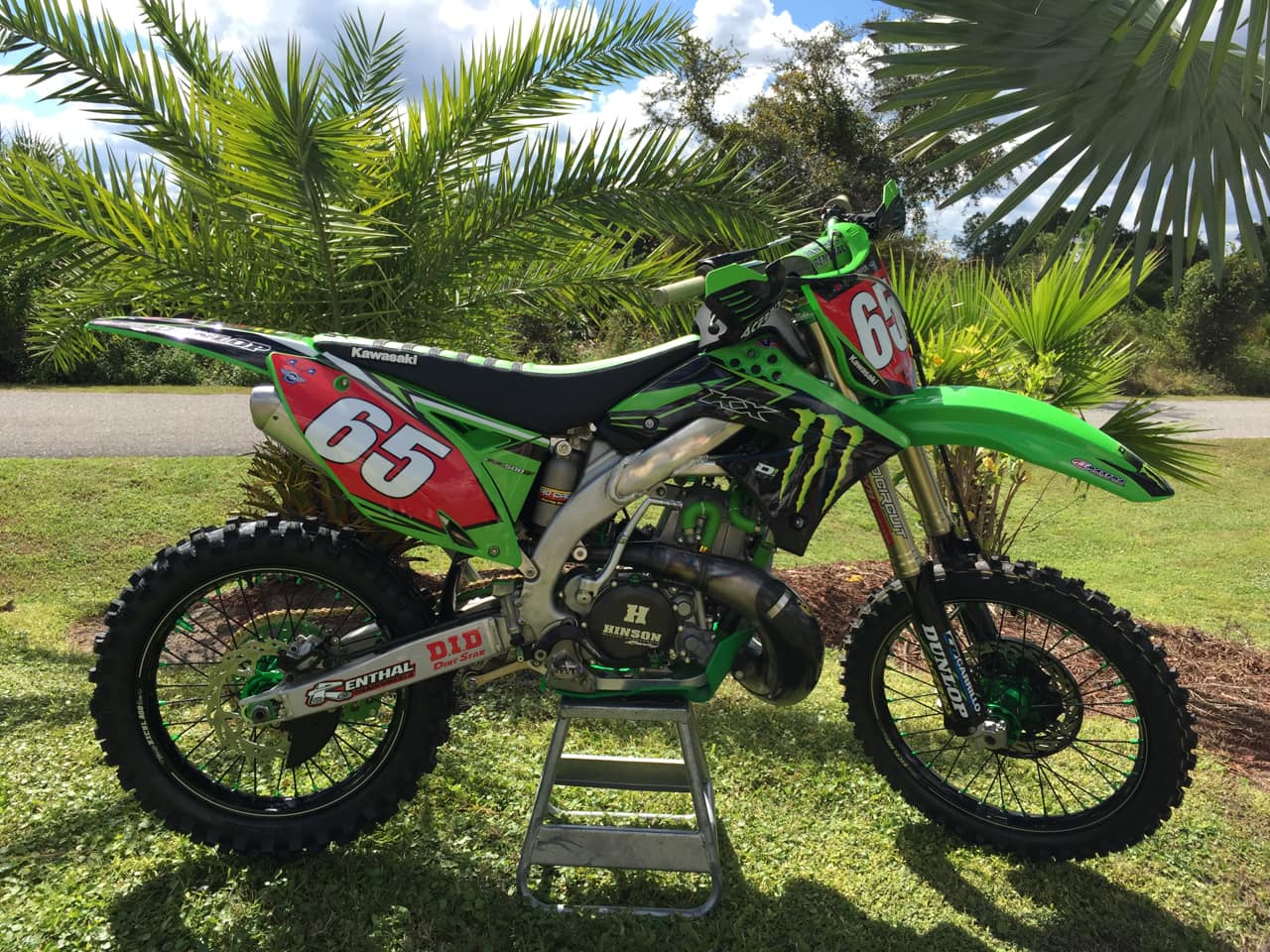 A father and son project that came to fruition.
By Brett Coop
I would like to proudly present to you my 2009 KX500AF. It all started when my father and I took on the project early last year and spent several months creating mounts and fitting parts. My father was a cabinet builder for 20 plus years, so he knew his way around woodworking, so the transition to metal working wasn't too big for him. It all started with buying a neighbor's 2000 KX500 and a dream to put it into an aluminum frame; the best of both worlds. Shortly after buying the KX500, we were able to locate a 2009 KX450F. We of course knew of the challenge we had ahead of ourselves, seeing as how we don't have big fancy CNC or lathe machines. Everything was accomplished using a table saw, a grinder, a jig saw, and a drum sander, which resulted in countless hours of precision hand crafting and tuning. All in all, I believe the project took about 8 months from start to finish.
The KX500's engine was torn apart down to the cases. We started by boring out the KX500 cases to accept the larger swing arm bolt of the KX450F. The down tube/rails from the Y piece to the cross member on the KX450F were replaced with longer rails made of 6063 aluminum.  Any obsolete or unnecessary mounting tabs (like the amplifier mount) were removed from the frame. The stock Y piece was sanded down and modified to remove the stock KX450F four-stroke engine mounting point. The KX500 motor mounts were made out of 5/8" thick 6061-T6 aluminum. They were created by using a table saw to mill down a solid 1" thick block, as well as a grinder for shaping, and a drum sander for finish work. We were most concerned with making a very strong head stay; the actual mounting point was created out of 1-1/8" thick 6061-T6 aluminum. The actual head stay brackets were made from ½" thick 6061-T6 aluminum.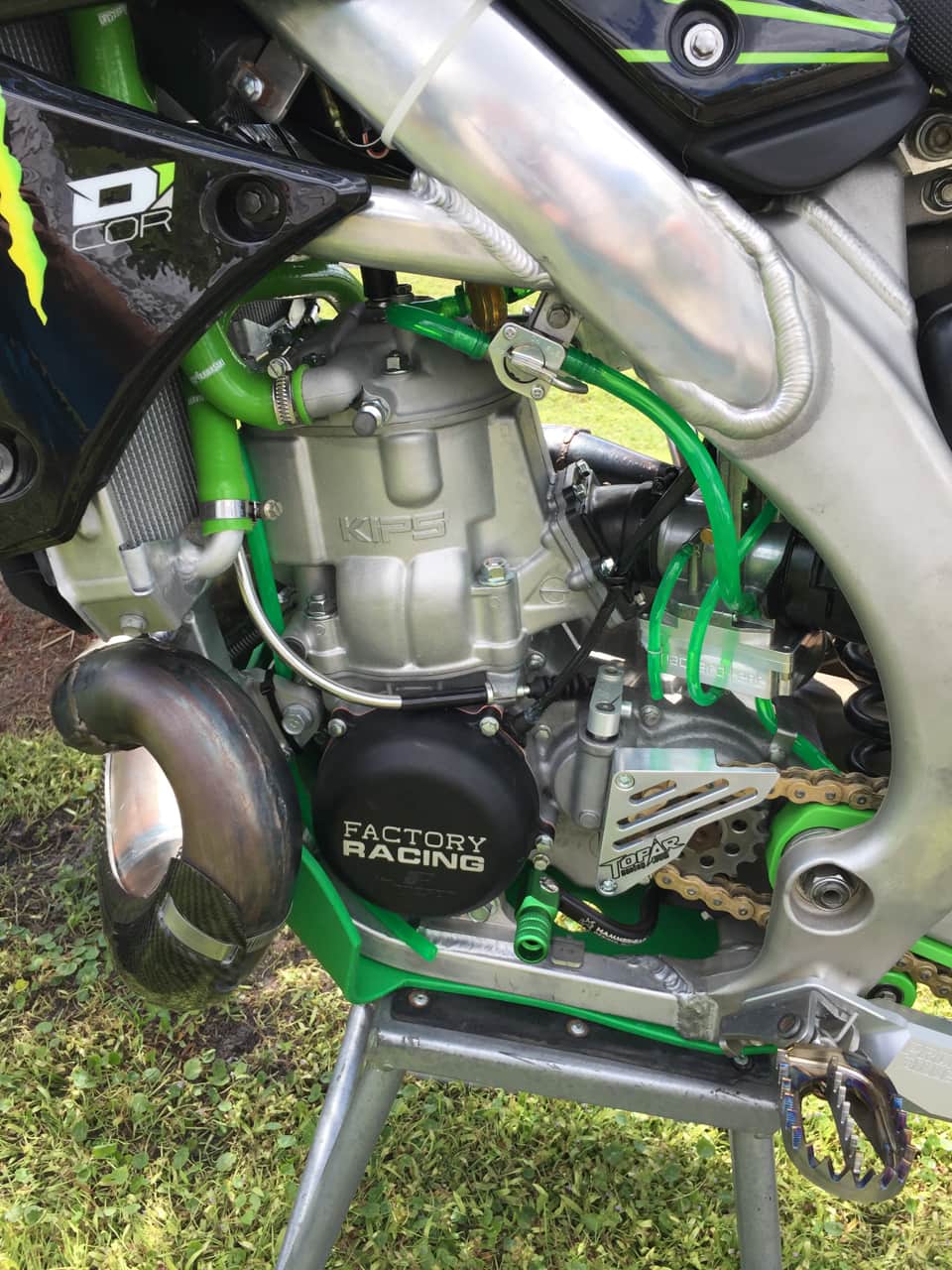 The KX500 engine and all its glory.
After much test fitting, we had workable motor mounts that were welded on by a professional welder. Now it was time to turn our attention to the fuel tank; as this was a 09 bike, it was fuel injected. After much deliberation, we decided on replicating the stock fuel pump plate (which is a hex shape – we made this also out of 6061-T6 aluminum), and had an aluminum barbed fitting welded to the plate, which we then bolted to the fuel tank using the OEM fuel tank o-ring. After this portion was done, we fabricated a block off plate for the air box out of 1/8" thick 5053 aluminum and riveted it to the air box using washers on the plastic backing. We then used a 2003 KX250 air boot/cage assembly and matched it to the aluminum plate, which worked out really great for fitment with the carburetor. The pipe cone mount and silencer tab mount were the only 2 parts sourced from conversionparts500.com.
The biggest headache of this build was the exhaust pipe (because we wanted to keep everything stock looking – so the silencer mounting points were the same as the 450). We started with a CR500 pro circuit works pipe and welded the "nose" off a KX500 pipe onto it. The lower mount on the pipe was put in a vise and bent a small amount. The tail section was then rotated and extended so that it would allow the silencer (a CR500 Pro Circuit 304) to remain in the stock KX450F location tucked nicely behind the number plate. For the mid-pipe mounting point, we replicated a CR500 mount (only extended it) and welded a thick piece of aluminum inside the frame and bolted that on. With the exhaust sorted, we made a coil mount out of 3/16" 6061-T6 aluminum. We opted to run the Service Honda green radiator hoses, so we sent off the OEM radiators to Myler's for our specified work. They come back with zero leaks and zero fitment issues.
The new-aged KX500 has a compression release installed to keep the cases and the leg kicking it intact.
With the frame now fully fabricated, we turned our attention to the engine. Every single piece was torn apart and for the most part, was replaced. Every single bearing, washer, circlip, everything you could imagine, was replaced just for peace of mind. The crank was sent off to crankworks to be rebuilt with an OEM rod kit, as well as have the connecting pin welded (we were worried about distortion over time). The cylinder was matched with a Pro-X piston and was turned over to PowerSeal USA to be re-Nikasil plated. The OEM cylinder head was sent to a gentleman by the name of Larry Weichman who lives in IL to have a compression release installed (we were worried about breaking the case…and our leg). I also contacted Mike of OEM-Cyle for one of his 2-piece clutch covers. With all of the parts back in hand, the assembly went over smooth than we could of thought.
After we were happy with all the fabrication, we decided to litter the bike with all kinds of billet goodies. It features DubyaUSA Kite elite wheels with Dunlop MX3S tires & MotoMaster flame rotors (270mm on the front – covered by an Acerbis carbon disc guard), numerous Hammerhead Designs parts (brake caps, spacers, shifter, etc), green Renthal fatbars, Twinring Sprocket, Raptor Titanium footpegs, P3 Carbon pipe guard, Pro Moto Billet Kickstand, TM Designworks slider, chain guide, etc. The carburetor is a 44mm Lectron with a Packard Racing oversize bowl. We also used a Moto Tassinari Vforce2 reed assembly. The skid plate was custom fabricated out of HDPE green plastic using a TM Designworks mounting kit for a KTM. To finish the bike off, I made a call to Danny at D'Cor for a custom Monster Energy KX500AF graphics kit. We unfortunately ran into the problem of overtightening the fuel plate bolts on the stock tank, which resulted in cracking the threads. Not to be discouraged, we were leaning towards an oversize tank anyhow–an Acerbis 2.7 gallon tank.  It's a good thing we upgraded, because this thing loves to drink fuel. The bike fired up in a few kicks (very easily with the compression release) and ran like a bat out of hell after some slight carburetor tuning (which is incredibly easy on a Lectron). Overall we are very happy with our build. I think we may try our hand at a CR500AF next–keep on the lookout for us! Thanks for reading, I hope you enjoyed it!
Editor's note: Please keep those submissions coming. If you would like your bike to be featured in the "Two-Stroke Spotlight," please email me at [email protected]. All I ask is that you give a breakdown of your bike and a detailed description of the build. Please also send a few photos of your steed. By submitting your bike for the "Two-Stroke Spotlight," you agree to release all ownership rights to the images and copy to MXA. Please don't email me spam or try selling me Taylor Swift concert tickets or email me spam. I already celebrate T-Swizzle's entire collective, and there will be "bad blood" if you send me junk mail. See what I did there? Happy submitting your smoker.