UNADILLA NATIONAL: ALL QUIET ON THE 450 FRONT, BUT THE 250'S ARE CRAZY

Ryan Dungey: Even a homeschooled AMA 250 Pro could tell that Ryan Dungey has the math on his side. With two races left in the 450 National Championship, Ryan has a 79-point lead over second place rider Justin Barcia. With only 100 points left (25 points per moto), all Ryan has to do is score 21 points over the next four rounds. That is the equivalent of getting 15th place in the last four motos—assuming that Justin Barcia wins all four. Barring a freak lightning strike, we can assume that Ryan will leave Miller Motorsports Park, for its last appearance as a National track (the worst one on the schedule), as the 2015 AMA 450 National Champion.
Ken Roczen: Once a 450 contender and still a possible 450 runner-up, this crash into the fallen Christophe Pourcel ended Ken Roczen title defense of his 2014 National Championship. Roczen is now 92 points behind Ryan Dungey (with 100 points left to earn) and 13 points behind Justin Barcia for second. If Dungey finishes in 13th place in one of the next four motos, he beats Roczen, assuming Roczen wins the next four motos—which based on Roczen's revival in the second moto at Unadilla, could be a possibility. On the other hand, Dungey could finish 19th in the next four motos and still beat Roczen.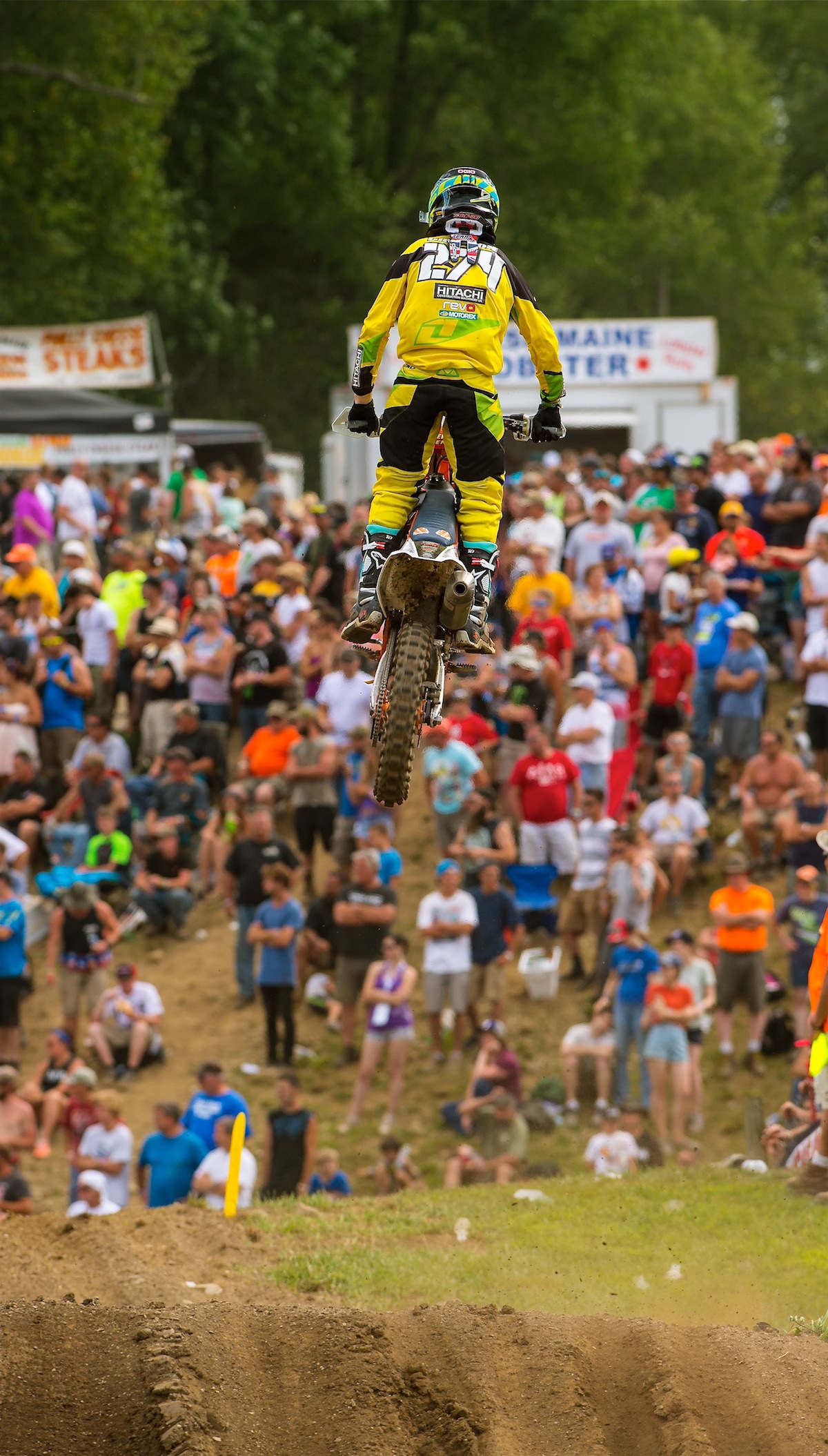 Shaun Simpson: Last week's 450 Grand Prix winner Shaun Simpson came to Unadilla to fulfill a "bucket list" wish to race an AMA National. Simpson finished 4th overall with a 4-8 day. Simpson and the rest of the GP gang will in back for a second shot at the Americans at Glen Helen on September 20.
THE ROCZEN POURCEL CRASH: WITH FRENCH/GERMAN SUBTITLES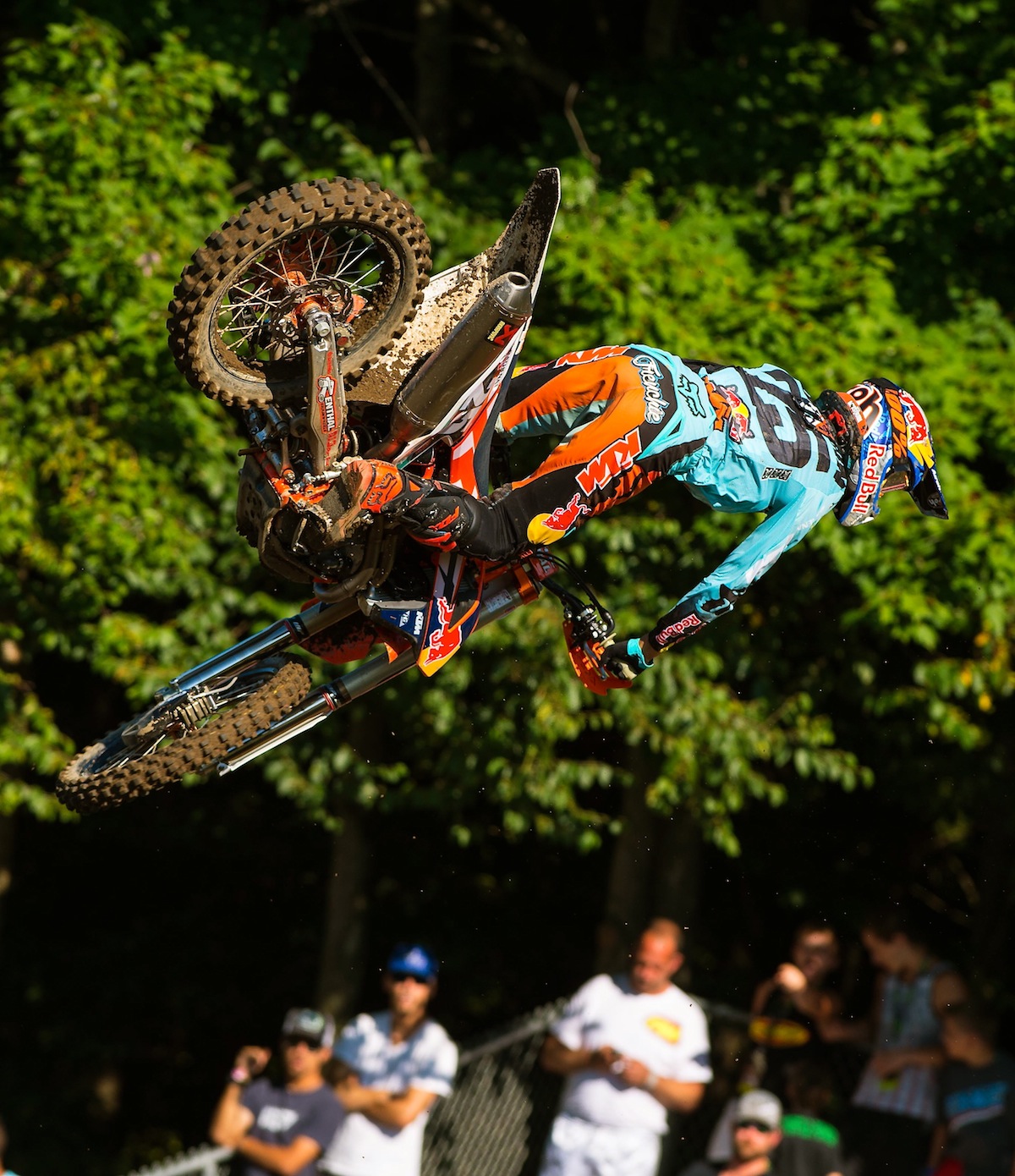 Marvin Musquin: After 20 motos (and 500 possible points), Marvin Musquin and Jeremy Martin are only separated by 2 points. Musquin has won 9 motos and Martin 8. Musquin has 3 seconds, Martin has 2. Musquin has been out of the top five in 4 motos, Martin in 3. At Unadilla Musquin went 4-1 for second overall and Martin went 1-5 for third. They are both more than 100 points ahead of third place, so this is a two-man duel to the end.
Joey Savatgy: A lot has been made about how Pro Circuit has lost their touch in 2015, but most of that has been do to the injuries and illnesses of Adam Cianciarulo, Arnaud Tonus and Tyler Bowers. It's hard to win races when your three hand-picked stars are sidelined. But, Joey Savatgy, who was Mitch Payton's gamble signing, came through at Unadilla to win a 250 National for the Pro Circuit Kawasaki team. Savatgy is now third in 250 points. As for the rumors of Pro Circuit leaving Kawasaki for Husqvarna. Not true.
THE LAST LAP OF THE SECOND 450 MOTO: DUNGEY AND ROCZEN


Jessy Nelson: Jessy went 6-4 at Unadilla and moved to fifth in 250 series points. Jessy said, "Overall it was a good day for me. I stayed out of trouble and ran near the front. Happy to see I'm alone in fifth overall now. We still have four motos left and I'm only 11 points back of fourth so that will be something I can try and reach for during these last few rounds."
Christophe Pourcel: The Frenchman was looking forward to Unadilla. It is his favorite track on the AMA circuit, but his first moto crash with Ken Roczen left him 23rd by the end of the moto. He came back to finish third in the second 450 moto, but 23-3 only netted him a 12th for the day. Christophe is currently 5th in 450 points.
Dean Wilson: Dean made his return to AMA racing after a very long lay-off to have both knees operated on. With only one REM Glen Helen race as a warm-up, Dean put in a respectable 10th overall at Unadilla. That was ahead of Christophe Pourcel, Jason Anderson, Andrew Short, Fredrik Noren and Justin Bogle. Plus, Dean beat Weston Peick, Blake Baggett and Josh Grant in at least one moto during the day.
Jason Anderson: There is a intramural struggle going on at Team Husqvarna between Jason Anderson and Christophe Pourcel. They are separated by 4 points in the battle over 5th overall for the year. Anderson has made the top five in 7 motos this season. Pourcel has been in the top five in 9 motos. They both have finished out of the points twice. At Unadilla, Anderson beat Pourcel by one place as his 7-14 garnered him 21 points to the 20 points that Pourcel got for 23-3.
The players: Heading into the first turn, Ryan Dungey (5) has the lead with Josh Grant (33), Ken Roczen (1), Dean Wilson (15), Weston Peick 23) and Justin Barcia (far right) in pursuit. As you would expect from a right-hand first turn, there were crashes on the starts.
Fredrick Noren: Freddy went 5-18, but don't let the 18th fool you. The Swede passed 18 riders after crashing on the first lap of the second moto
UNADILLA RESULTS: 450 CLASS
1. Ryan Dungey (KTM)…1-1
2. Justin Barcia (Yam)…2-3
8. Trey Canard (Hon)…3-6
4. Shaun Simpson (KTM)…4-8
5. Ken Roczen (Suz)…16-2
6. Broc Tickle (Suz)…6-9
7. Weston Peick (Yam)…12-5
8. Blake Baggett (Suz)…13-7
9. Josh Grant (Kaw)…9-11
10. Dean Wilson (KTM)…11-10
Other notables: 11. Jason Anderson; 12. Christophe Pourcel; 13. Andrew Short; 14. Fredrick Noren; 18. Justin Bogle; 22. Justin Brayton; 39. Phil Nicoletti.
HOW COOPER WEBB WENT 18-23

UNADILLA RESULTS: 250 CLASS
1. Joey Savatgy (Kaw)…2-2
2. Marvin Musquin (KTM)…4-1
3. Jeremy Martin (Yam)…1-5
4. Jessy Nelson (KTM)…6-5
5. Alex Martin (Yam)…8-6
6. Shane McElrath (KTM)…7-8
7. Christian Craig (Hon)…5-10
8. Aaron Plessinger (Yam)…16-3
9. Matt Biscelgia (Hon)…12-9
10. R. J. Hampshire (Hon)…15-7
Other notables: 11. Chris Alldredge; 12, Mitch Oldenburg; 13. Zach Osborne; 15. Justin Hill; 17. Martin Davalos; 21. Cooper Webb; 22. Hayden Mellross; 40. Toshiiki Tomita.
Shaun Simpson and his dad with Roger DeCoster.
2015 AMA 450 NATIONAL POINTS STANDING
(After 10 of 12 races)
1. Ryan Dungey…450
2. Justin Barcia…371
3. Ken Roczen…358
4. Blake Baggett…297
5. Christophe Pourcel…267
6. Jason Anderson…263
7. Broc Tickle…253
9. Weston Peick…223
8. Phil Nicoletti…209
10. Fredrik Noren…206

2015 AMA 250 NATIONAL POINTS STANDING
(After 10 of 12 races)
1. Jeremy Martin…416
2. Marvin Musquin…414
3. Joey Savatgy…284
4. Zach Osborne…277
5. Jessy Nelson…266
6. Alex Martin…261
7. Aaron Plessinger…228
8. Shane McElrath…208
9. Matt Biscelgia…195
10. R.J. Hampshire…189
Photos: KTM, Husqvarna, troy leee Designs, Shaun Simpson Instagram, Ken Roczen Instagram