USED IT, ABUSED IT, TESTED IT: UFO PLASTIC YZ125/YZ250 RESTYLE KIT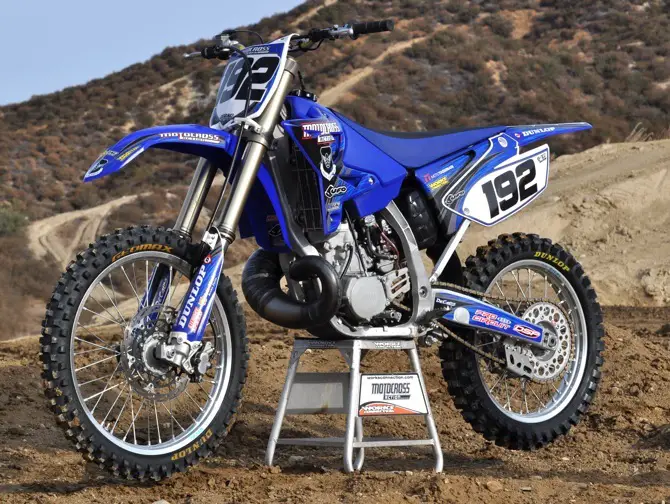 YZ250 kit with DeCal Works graphics.
The UFO Plastic YZ125/YZ250 restyle kit is a complete makeover in a box. It turns the outmoded Yamaha two-stroke from frumpy and inelegant to modern and sleek. The $229.95 kit includes radiator shrouds, side panels, front number plate, rear fender and front fender (all designed and drill to fit on the two-stroke's chassis and available in blue or white). The UFO pieces are based on the current YZ250F plastic.

MXA's 2013 YZ125 in white.

The basic look of the UFO kit comes from the YZ250F four-stroke plastic. Do we think Yamaha will change the YZ125 and YZ250 plastic for 2014? No, we don't think they will.
VERDICT: With the exception of the need to transfer the aluminum collars from the stock YZ125/YZ250 plastic to the UFO parts, every piece of the UFO Restyle kit bolted on with ease. Not only did every part line up perfectly, but the quality was superb. We ordered a graphics kit from DeCal Works that fits perfectly on the UFO parts and were amazed in the transformation of the overall look of the bike. We must admit that the edgy YZ250F design isn't our favorite look, but the stock YZ250 plastic is vintage at best. $229.95?www.ufoplasticusa.com or (815) 756-9400.