VALKENSWAARD MOTOCROSS GRAND PRIX OF THE NETHERLANDS RESULTS: HERLINGS DOES WHAT SAND MASTERS DO & SO DOES TONY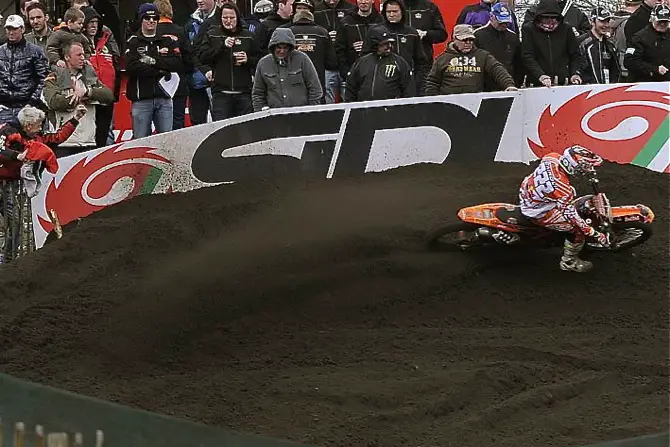 Antonio Cairoli already is off to good start on winning his sixth title.                                    Photo: Youthstream
In a rare event, most of the FIM World Championship classes gathered in the same place on the same (the MX1, MX2, MX3 and Women all raced in Valkenswaard, Holland). The only class missing the Veteran World Cup, which is being seriously downgraded by Youthstream and will have its sole race in England later this year.

Clement Desalle and Cairoli are back where they started 12 months ago. Photo: Youthstream

Steven Frossard was a solid 3-3.                                                                        Photo: Youthstream

David Philippaerts didn't make the top                                Photo: Youthstream
MX1 (450) RESULTS: VALKENSWAARD
1. Cairoli, Antonio (KTM)…1-1
2. Desalle, Clement (Suz)…2-2
3. Frossard, Steven (Yam)…3-3
4. Paulin, Gautier     (Kaw)…4-7
5. Strijbos, Kevin (KTM)…6-5
6. de Dycker, Ken (KTM)…5-6
7. Goncalves, Rui (Hon)…10-4
8. Simpson, Shaun (Yam)…11-8
9. Leok, Tanel (Suz)…9-11
10. Boog, Xavier (Kaw)…8-14
Other notables: 11. Davide Philippaerts; 14. Christophe Pourcel; 15. Jonathan barrgan; 17. Evgeny Bobryshev; 21. Sebastien Pourcel; 30. Gregory Aranda
450 WORLD CHAMPIONSHIP POINTS
(After 1 of  16 races)
1. Tony Cairoli…50
2. Clement Desalle…44
3. Steven Frossard…40
4. Gautier Paulin…32
5. Kevin Strijbos…31
HERLINGS DOMINATES THE 250 CLASS…AND THE 450 CLASS ALSO

Jeffrey Herlings (84) was three seconds a lap faster than everyone…including the complete 450 class.  Photo: Youthstream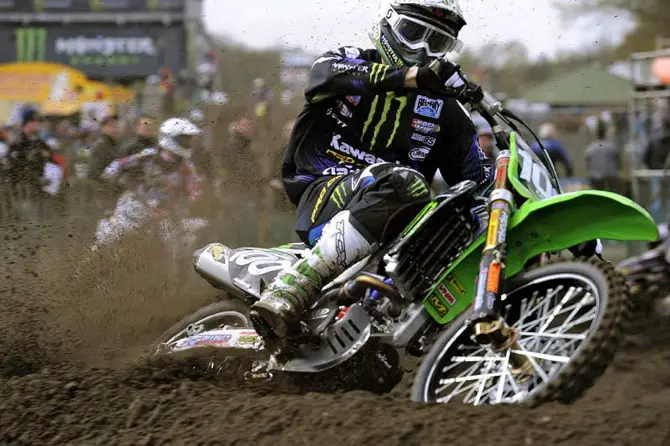 Tommy Searle ended up third, but in the sand that is good enough for his title hopes. Photo: Youthstream
MX2 (250) RESULTS: VALKENSWAARD
1. Herlings, Jeffrey (KTM)…1-1
2. Roelants, Joel (Kaw)…3-2
3. Searle, Tommy (Kaw)…2-3
4. van Horebeek, Jeremy (KTM)…4-4
5. Tixier, Jordi (KTM)…6-7
6. Nicholls, Jake (KTM)…5-9
7. Anstie, Max (Hon)…11-5
8. Ferrandis, Dylan (Kaw)…10-8
9. Teillet, Valentin (Kaw)…9-10
10. Pocock, Mel (Yam)…8-12
Other notables: 13. Harry Kullas; 19. Peter Petrov; 28. Jordan Booker; 35. Jose Butron.
250 WORLD CHAMPIONSHIP POINTS
(After 1 of  16 races)
1. Jeffrey Herling…50
2. Joel Roelants…42
3. Tommy Searkle…42
4. Jeremy van Horebeeck…36
5. Jordi Tixier…29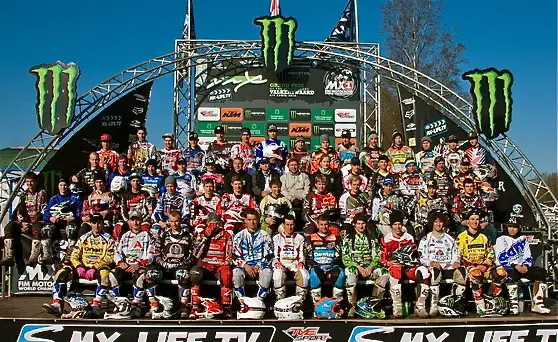 The class of 2012. The MX3 class.                                                                 Photo: Youthstream
MX3 (450-650cc) RESULTS: VALKENSWAARD
1. Wouts, Kevin (Kaw)…2-1
2. Martens, Yentel (Kaw)…1-5
3. Walkner, Matthias (KTM)…6-2
4. Lonka, Lukasz (Hon)…5-4
5. Pyrhonen, Antti (Hon)…4-8
6. Lindstrom, Kim (Kaw)…11-3
7. Law, Jamie (KTM)…9-6
8. Van Daele, Marvin (Kaw)…8-10
9. Schmidinger, Gunter (Hon)…7-11
10. Hool, Michael (TM)…10-9
Other notables: 11. Rasmus Sjoberg; 12. Ceriel Kromhof; 16. Juss Laansoo; 22. Marco Kovalainen; 38. Martin Michek.
450 WORLD CHAMPIONSHIP POINTS
(After 1 of  10 races)
1. Kevin Wouts…47
2. Yentl Martens…41
3. Matthias Walkner…37
4. Lukasz Lonka…34
5. Antti Pyrhonen…31
THE WOMEN'S FINAL RESULTS

The Valkenswaard start straight was smooth as glass.                                                  Photo: Youthstream
There is a great divide in women's motocross between the established stars and the young guns. The big names in European Women's motocross are Steffi Laier and Livia Lancelot, while the up-and-comers are represented by Chiara Fontanesi. Lancelot and Laier don't like the way the women have been treated by the Grand Prix promoters (most notably demoting them to the MX3 series, where they have to travel to the hinterlands to race in front of smaller crowds and, thus, with less support).



Chiara Fontanesi will win the 2012 Women's Championship barring injury…that is obvious after round one. Photo: Youthstream
In protest, Lancelot announced a year ago that she wouldn't race any women's races that weren't held with the big guns in the Men's 250 and 450 classes. And true to her word, she pulled out of the Women's Championship (racing only the opening round in 2011). This year, Steffi Laier announced that she also didn't want to race with the MX3 men and that she would only race the WMX Championship when it was paired with the MX2 and MX1 series (which will only happens three times in 2012).



Steffi Laier was second, but has vowed to only race the WMX series when it is held with the MX1/MX2 men. Photo: Youthstream
Chiara Fontanesi can't pick and choose. She isn't a former Champion. She is still trying to make a name for herself…so she is willing to suffer through the convoluted WMX series so she can get her chance to protest and pull out…once she gets as fed up as Laier and Lancelot.



Livia Lancelot was third. In what may be her only appearance in the Women's World Champion. Photo: Youthstream
However, at Valkenswaard, the FIM put all of the classes together (MX1, MX2, WMX and MX3), so the old stars of the Women's racing agreed to show up. In the end, it didn't matter as Fontanesi (1-1) handed their hats to Laier (3-2) and Lancelot (2-3). And Fontanesi doesn't have any worries for the rest of the series, because Livia and Steffi vow not to return until they are paired with the best of the men…which will only happen two more times this season.
WOMEN'S RESULTS: VALKENSWAARD
1. Fontanesi, Chiara (Yam)…1-1
2. Lancelot, Livia (Kaw)…3-2
3. Laier, Stephanie (Kaw)…2-3
4. Pettersson, Sara (KTM)…5-4
5. Kane, Natalie (KTM)…4-8
6. Van der Wekken, Britt (Hon)…6-6
7. Veenstra, Marianne (KTM)…9-5
8. Ostlund, Frida (Hon)…7-7
9. Klink, Nina (KTM)…8-9
10. Borchers, Anne (Suz)…13-10
WOMEN'S WORLD CHAMPIONSHIP POINTS
(After 1 of 8 races)
1. Chiara Fontanesi…50
2. Livia Lancelot…42
3. Steffi Laier…42
4. Sara Pettersson…34
5. Natalie Kane…31