WANNA TEST RIDE A 2014 KTM 125SX, 150SX, 250SX, 250SXF, 350SXF OR 450SXF? GO TO THE KTM MOTO TOUR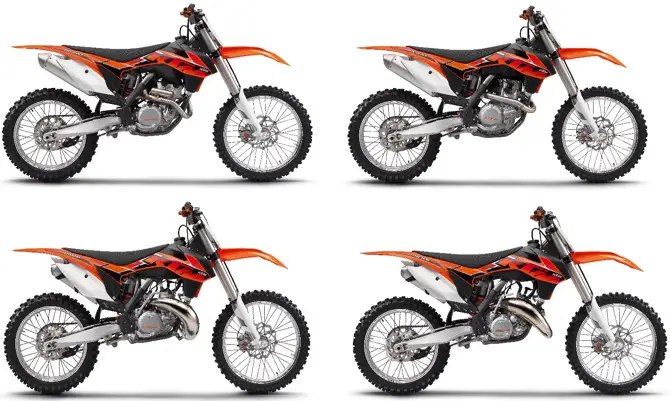 The 2014 KTM Moto Tour program is a chance for riders to demo the new KTM SX models prior to purchase. In addition, each participant will also receive special offers from the Ride Orange sponsors. All full-sized 2014 KTM SX model motorcycles (two-stroke and four-stroke) will be available to test at each stop.
Interested participants must obtain a pass from their local KTM dealership to participant in a Moto Tour demo ride. Participants must be 18 years of age or older and have a valid photo ID. All riders must also come prepared with the appropriate riding gear, including: a DOT approved helmet, jersey, riding pants, gloves, goggles and boots.
For more info visit your local KTM dealer or go to www.ktmusa.com.
2014 KTM MOTO TOUR SCHEDULE
July 7…….Briar Cliff, OH (Briar Cliff MX Park)
Aug. 12…Winchester, NH (Winchester Speed Park)
Aug. 18….Buchanan, MI ( Red Bud MX)
Aug. 25….Millville, MN (Spring Creek MX Park)
Sept. 16…Lakewood, CO (Thunder Valley MX Park)
Sept. 23…Salt Lake City, UT (Throttle 215 MX Park)
Sept. 30…Washougal, WA (Washougal MX Park)
Oct. 14…..Rancho Cordova, CA (Prairie City OHV Park)
Oct. 21…..San Bernardino, CA (Glen Helen Raceway)
Nov. 18….Conroe, TX (3 Palms Action Sports Park)
Nov. 22….Okeechobee, FL (Thundercross MX Park)
Nov. 26….Gainesville, FL (Gatorback MX Park)