WE BUILD A WIDE-OPEN FACTORY SERVICES 2015 KTM 350SXF
It only made sense to the MXA wrecking crew that we should let the KTM factory build us a hopped-up 2015 KTM 350SXF. KTM has everything a racer would need at its SoCal headquarters: the PowerParts division handles aftermarket goodies, KTM Factory Services works on engines, and the new WP Factory Services shop does suspension upgrades.
The plan was simple. We'd have KTM Factory Services build us a fire-breathing 350SXF engine, WP Factory Services re-valve our 4CS forks and shock, and KTM PowerParts provide us with whatever aftermarket parts our little hearts desired. It was a brilliant idea. After all, KTM is the only factory to offer its customers full service after the purchase. Try sending your forks to Yamaha, Kawasaki, Suzuki or Honda to get them re-valved!
But, as brilliant as our idea was, there were a few hitches in our giddy-up as the bike build progressed.
THE SUDDEN INFLUX OF KTM-SUPPORTED SUPERCROSS TEAMS MEANT THAT FACTORY SERVICES COULDN'T KEEP UP WITH THE DEMAND. SOMETHING HAD TO GO.
The first problem was with KTM Factory Services. Although it was originally conceived to build engines for support riders, shop teams and customers, the sudden influx of KTM-supported Supercross and AMA National race teams meant that Factory Services couldn't keep up with the demand. Something had to go, and it was customer engines.
Factory Services' engine shop provides each of its teams with a full supply of race engines for every rider. The teams have their engines hopped-up and kept running throughout the season, and that means that used race engines pour into the KTM shop in droves. The workload was so great from the BTO, Troy Lee and Rockstar Husqvarna teams that Factory Service begged KTM management to let them out of the idea of building customer engines. They got their wish.
THE NEXT STEP WAS TO GET WP FACTORY SERVICES TO DO OUR KTM 350SXF SUSPENSION. WE WERE POSITIVE THAT THIS WAS GOING TO BE A LOT EASIER THAN OUR ENGINE DILEMMA.
Even though Factory Services was too busy to build our full-race engine, we are smarter than the average ostrich. Rather than stick our heads in the sand and give up, we remembered that we had a full-race Factory Service engine left over from the year that Ken Roczen raced the 2013 Daytona Supercross on a 350SXF. It was sitting on a shelf. All we had to do was dust it off and throw in a new piston, valves, gaskets and cam.
We stuck our 2013 Factory Services engine in our 2015 350SXF frame and all was well with the world. Well, not exactly. It turns out that when the engine was pulled out of the 2013 chassis (so the stock engine could be put back in), the super-exotic, high-tech factory black box was left on the frame. This 15,000 rpm black box housed all the mapping magic, and it was long gone. No problem. We had a back-up plan! We hand-carried our stock 2015 black box into the bowels of the KTM factory race shop and had Ian Harrison remap it to the works bike spec.
All of this was good for the MXA gang, but doesn't help you very much. So, to cover our bases, we borrowed a full-race Pro Circuit KTM 350SXF. This engine had a high-compression piston, ported head and Mitch Payton's magic touch. It ran great. Okay, maybe not as great as our KTM works engine, but our Factory Service engine package isn't available to mortal man—and even when it was, it cost $3500 for the mods. You can pick and choose the mods you want from Pro Circuit and come in well under that price.
Getting the engine hopped-up didn't work out the way we planned, but at least we had an option, and, even better, we had the unobtainable engine in spite of Factory Service's busy schedule. The next step was to get WP Factory Services to do our KTM 350SXF suspension. We were positive that this was going to be a lot easier than our engine dilemma. How so? WP Factory Services will not only work on KTM owners' suspension, but they have set up special service centers around the country that are authorized to do the work also.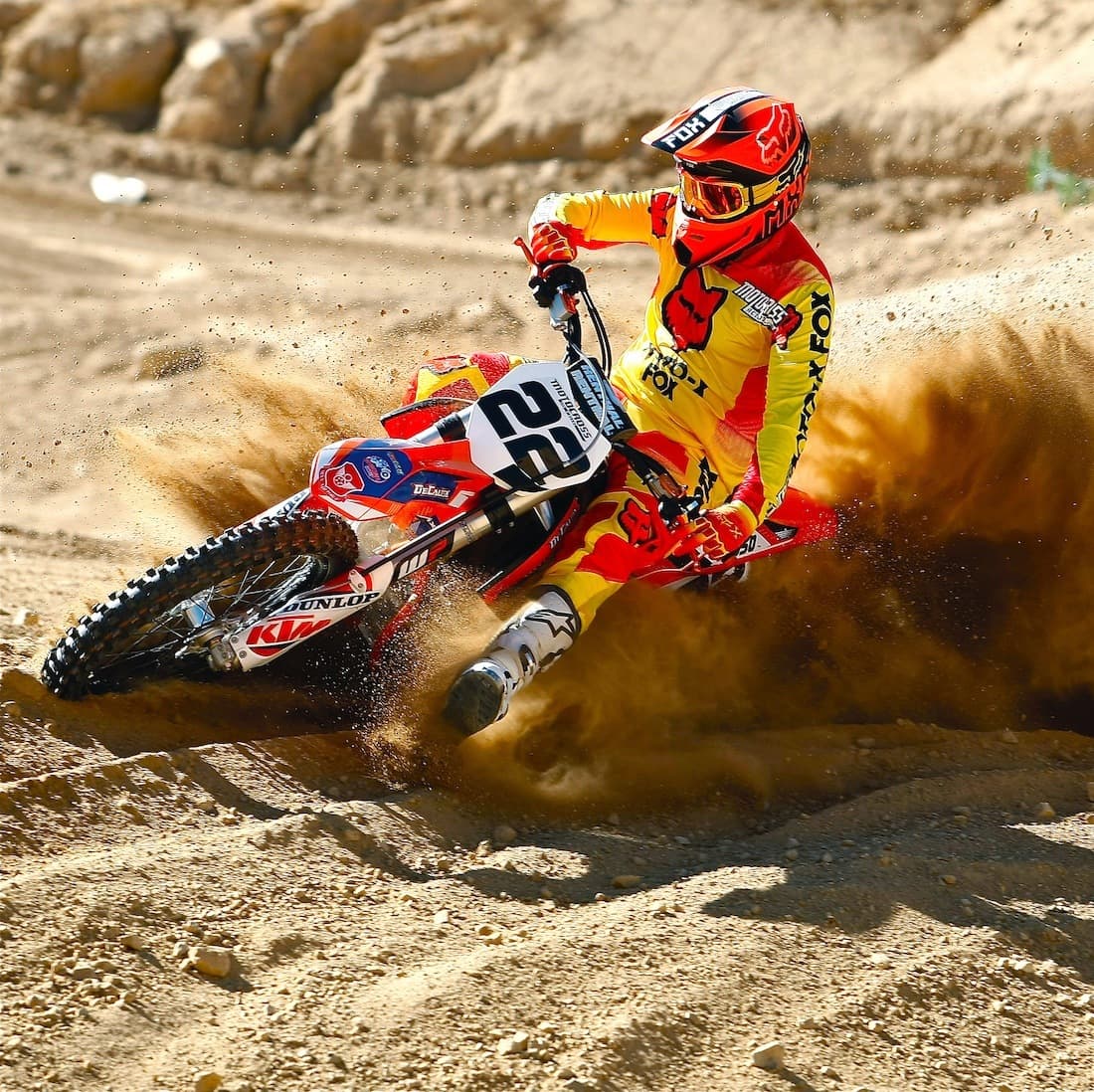 WP always stresses that they are not owned by KTM; however, WP is owned by Stefan Pierer, who just happens to own KTM and Husqvarna. WP Factory Services takes care of the same Rockstar Husqvarna, Troy Lee Designs and BTO KTM teams that the Factory Services engine department babysits. The workload is equally great at WP Factory Services and entails making 40 sets of suspension for each team, many of them special works forks and Trax shocks, including the WP air shock and the prototype WP air fork. Even with their busy race schedule, the folks at WP want KTM owners to send their suspension to them, although they probably regret extending the offer to the MXA wrecking crew.
WP Factory Services re-valved a fork and shock for us to get started. Although they volunteered to send the WP crew out to re-valve the forks for us on the spot, we turned them down. Why didn't we want them to come to us? That's simple; they wouldn't be coming to a regular customer.
The first set of forks they built for us was very stiff. We weren't surprised, because we find this to be a common problem when dealing with suspension shops that use AMA Pros as test riders. The Pros want their stuff very firm, and Pro Circuit, Enzo and Factory Connection give them what they want. We forgive them for thinking that everyone wants what the Pros want.
Not surprisingly, our Pro test riders liked the stiff forks, while the Intermediate, Vet and Novice test riders said they were too stiff. We talked to WP Factory Services, and they said to keep the stiff forks for our Pros and they would make us a new set of softer forks for the slower test riders. They did, but by the time those forks came back, our Pro test riders had decided that the first set of stiff forks was too stiff. They took the new, supposedly softer, forks and declared them perfect for their Pro speed. That left the slower riders with forks that, although softer than the first set, were still too stiff.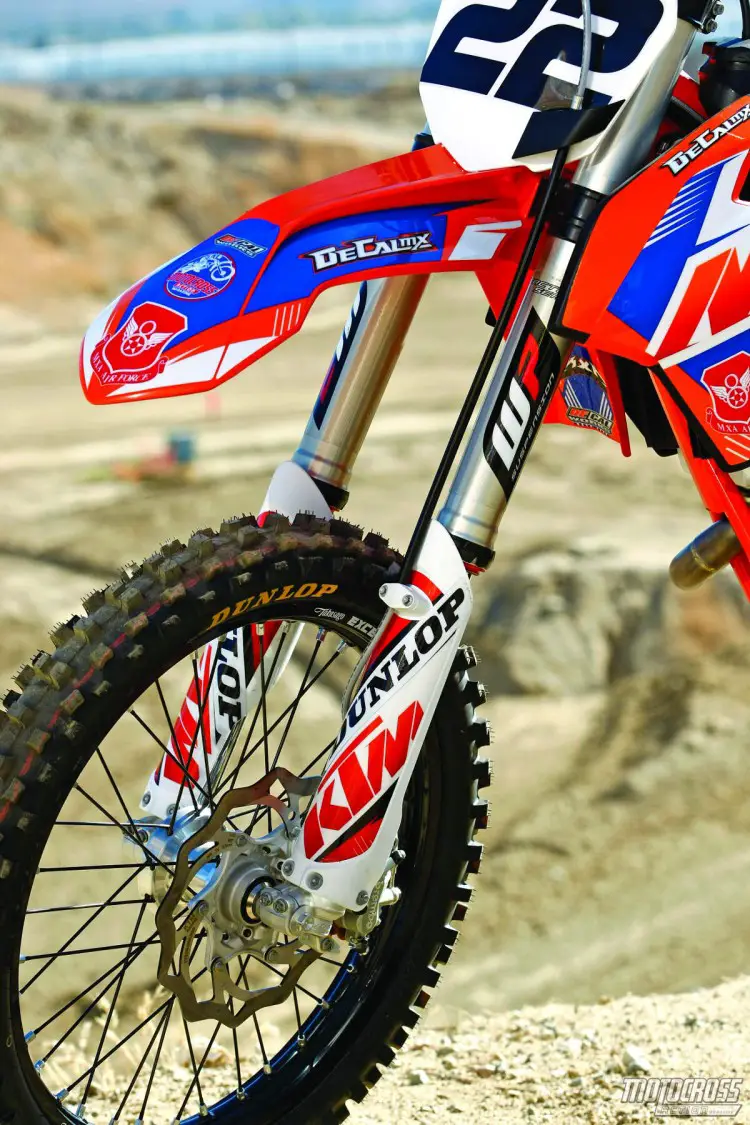 We sent both sets of forks back to get the stiff ones softened up and the soft ones softened even more. Now, we were on fork number four. It was very good in the first half of the stroke but was firm at the end of the stroke and tended to pack in consecutive bumps. We didn't let our Pro riders test these forks out of fear that they would take them away from us again.


WE WERE GETTING CLOSER TO WHAT WE WANTED. MORE IMPORTANT, WE KNEW THAT WE DIDN'T WANT FORKS SET UP FOR AMA NATIONAL RIDERS, BUT INSTEAD FORKS THAT WORKED FOR THE KIND OF PEOPLE WHO ACTUALLY BUY KTMs.
You already know what is coming: fork number five. We were getting closer to what we wanted. More important, we knew that we didn't want forks set up for AMA National riders, super-fast local heroes or Supercross tracks, but forks that worked well for the kind of people who actually buy KTMs. We wanted them to interact with regular racers to see what they should be aiming for. In the end, we were happy with our WP Factory Services suspension—and we hope that our experience aids WP in making others happy.
The next step after the engine and suspension was to troll through the KTM PowerParts catalog and pick the parts we wanted to accessorize our 350SXF with. You can view the massive catalog at your local KTM dealer or online at www.ktm.com.
Since KTMs come so well spec'ed from the assembly line, we really didn't go crazy. Instead, we limited our picks to things we felt the bike could use. Here is the list.
FMF exhaust. We added an FMF Factory 4.1 exhaust system with a MegaBomb head pipe. We have had good luck with the pipe on KTMs.
Clutch slave cylinder guard. KTM makes a CNC-machined guard that protects the delicate hydraulic clutch cylinder from thrown chain damage.
Iron-phosphate battery. It weighs 2 pounds less than the stock Yuasa lead-acid battery. We couldn't pass up such an easy weight savings.
Throttle cable protector. This aluminum clamshell clamps over the throttle cable ferrules to protect them in a crash and can even be used to repair the ferrules if they are cracked in a crash. This is a must-have.
Orange anodized parts. Okay, we admit that we were dazzled by some fluff, but we kept it down to engine plugs, reservoir covers and levers.
Our original plan was to let KTM, with its in-house performance divisions, build us a full-race KTM 350SXF. The key ingredient of our project bike was the engine package. Imagine how cool it would be to send your engine to KTM and have them send you back Ryan Dungey's engine. That was KTM's original plan, but they couldn't do it. However, since the MXA wrecking crew had hoarded away a Factory Services KTM 350SXF engine two years ago, we were able to feel the thrill of what Factory Services is doing for Troy Lee Designs, BTO and Rockstar Husqvarna.
First, you have to imagine how far a 15,000 rpm rev limiter is away from what you are currently racing. Even though the stock KTM 350SXF revs to 13,400 rpm, it is not comparable to 15 grand. There were sections of racetrack where we never had to shift out of second gear; we just let it rip. On the start, we could carry each gear so far that all of the other bikes were shifting while our KTM 350SXF was just laying down tracks out front. Now we know how Tony Cairoli is able to get holeshots against works Hondas, Yamahas, Kawasakis and Suzukis.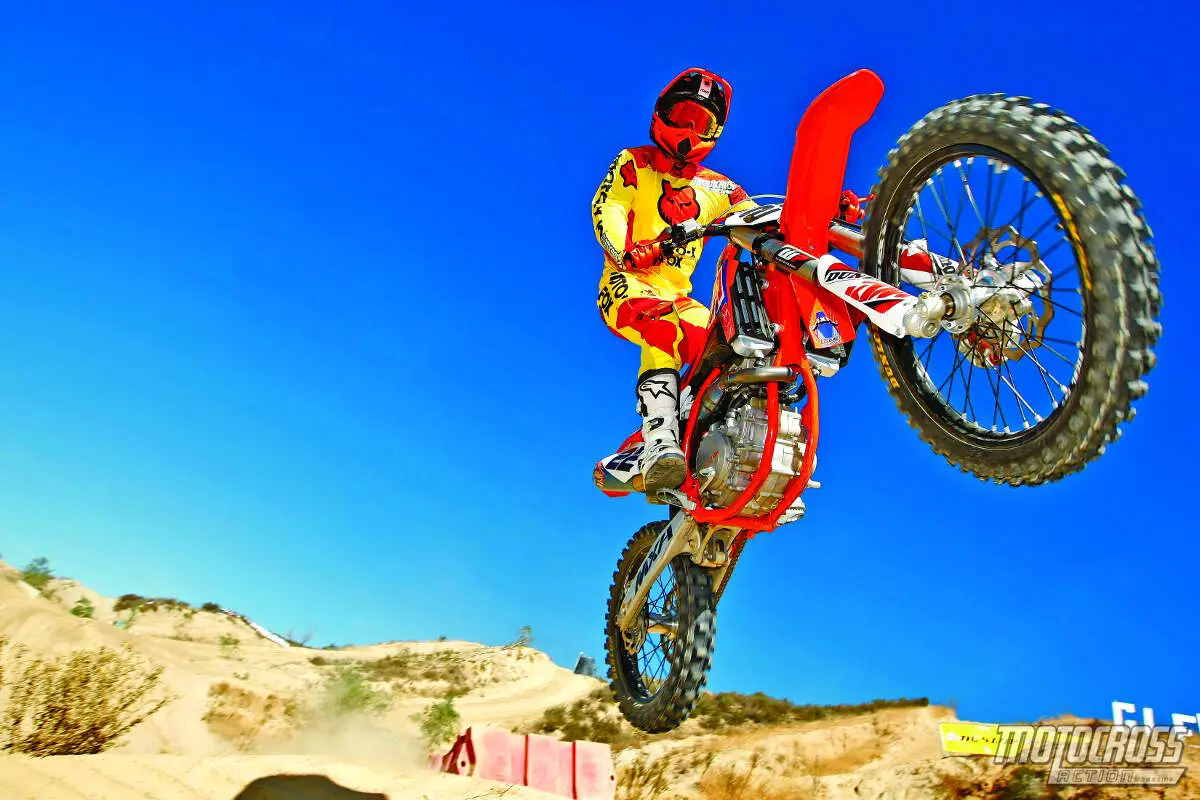 EVEN THOUGH THE STOCK KTM 350SXF REVS TO 13,400 RPM, IT IS NOT COMPARABLE TO 15 GRAND. THERE WERE SECTIONS OF RACETRACK WHERE WE NEVER HAD TO SHIFT OUT OF SECOND GEAR.
Our bike had more midrange and unlimited over-rev. It revved so far that we often shifted too early because our senses fooled us into thinking we were at the point where the cows come home. We weren't.
The $3500 worth of work in our leftover engine was mainly focused on blueprinting the engine, adding special pistons, valves and cams; but, the best thing was the tender-loving care they gave the engine, which included dynoing it before sending it back to us.
But, no sense in blabbering on about the unobtainable. Unless you get a gig on one of the three factory-supported teams, you'll never feel this engine's sensations. However, Pro Circuit can get you close, and with some extra cash thrown into a GET ignition system, you might get to 15,000 rpm. But, be forewarned: more rpm means a greater load on the drivetrain and a shorter lifespan between rebuilds.
We are happy to report that WP Factory Services has not shut its doors to helping WP customers. Plus, they have service centers at PG Suspension, Factory Connection, SDI Suspension, Race Tech and Super Plus Suspension. You can find out more at www.wpfactoryservices.com or (951) 234-2254.