WE BUILD A KTM 250SXS WORKS BIKE:
Imagine Team Honda selling its works bikes to the public. Okay, you are right, that isn't going to happen. Guess what? KTM is more than willing to sell its high-end, big-buck, hot-rodded, factory Grand Prix bikes to Joe Racer. For the last couple years, KTM has offered special editions of their works bike to consumers (and last year even sold the actual race bikes of their Grand Prix riders). The price tag? It varies from $10,500 to $14,000.
But there is a slightly cheaper way to get KTM's Grand Prix technology?the SXS engine kit. There are two SXS engine kits offered: one for the 450SXF and one for the 250SXF. The MXA wrecking crew called our friendly local KTM dealer and ordered a complete KTM 250SXS engine kit. It set us back $3899.99.

WHAT DO YOU GET FOR THE MONEY?
The 250SXS engine kit includes assorted parts. Here is the list:
Crankshaft: The SXS kit comes with the works bike crankshaft, which is highlighted by an ultra-light PANKL connecting rod. It is precision-ground and DLC-coated to withstand the higher rpm levels of the Grand Prix engine.

Cams: KTM's racing department developed special cams that offer more lift on the exhaust side and more duration on the intake side.

Piston: A coated piston is included in the kit and is equipped with a DLC-coated wrist pin for less friction.
Valve springs: The SXS beehive valve springs are stiffer than the stock 250SXF springs and come with lightened and hardened retainers and washers.

Ignition: One of the easiest ways to produce more horsepower is to spin the engine faster. KTM's works bikes use a special black box that moves the rev limiter up 14,000 rpm.
Radiators: Horsepower is heat, and the KTM 250SXS kit comes with enlarged radiators and high-tech hoses.

Gearbox: The SXS kit gets three new gears for the six-speed transmission. The third and fourth gear sliding gears (and matching third gear) are machined from Aubert & Duvall high-grade steel.

Clutch: Since Hinson provides the clutch components used by most AMA National riders, it is no surprise that the KTM Grand Prix riders also use a Hinson basket, inner hub and pressure plate.

Clutch cover: The KTM Motorsport's clutch cover may look trick, but its real function is to provide a stronger and thicker clutch cover to protect against crash damage.

If you were an up-and-coming rider on the GP circuit, this is the works engine kit that the KTM factory would give you. It includes oversize radiators, three new transmission gears, high-compression piston, Hinson clutch, gaskets, hoses, works crankshaft (with trick connecting rod), new cams, stiffer valve springs and a 14,000 rpm black box.
HOW MUCH WORK WAS INVOLVED?
How hard was it to install the KTM 250SXS works engine kit? The engine had to be torn all the way down to install the works crankshaft and special GP transmission gears. The rest of the kit is basically a run-of-the-mill top-end job (all the gaskets are included in the kit).
This isn't a do-it-yourself job for a neophyte, but anyone with four-stroke experience can do it. Your local shop would charge an extra $500 to do the work for you.
WERE THERE ANY SPECIAL NEEDS?
The 250SXS works kit does not come with an exhaust system, but it needs one. The 2010 KTM 250SXF comes stock with the restrictive 250XC muffler. We added an FMF 4.1 exhaust with a MegaBomb head pipe. This is a good choice.
MXA's project bike started life as a 2009 KTM 250XC. Why didn't we start with the 250SXF? First, we wanted to build an electric-start 250 because it would be cool, and second, the only differences between an SXF and XC are slightly softer fork and shock valving, a half gallon more gasoline and an 18-inch rear wheel.
WERE THERE ANY ISSUES?
(1) KTM's stock gearing is too tall for American motocross tracks. We exchanged the stock 48-tooth rear sprocket for a 49.

(2) We had jetting issues off idle that required a lot of fiddling.
(3) Low-end power is nothing to write home (although it is about marginally more responsive than the stock 250SXF engine).
WHAT WAS IS IT LIKE TO RIDE?
It is a rocket (and we mean that in the Cape Canaveral way). It lifts off with a steady, but slightly mellow, low-end power delivery. Then, as the booster rockets kick in, it starts to gain steam into the midrange. From the midrange to its shrieking top-end (and we are talking about 14,000 rpm), there is nothing in the U.S. Air Force arsenal that can keep up with it.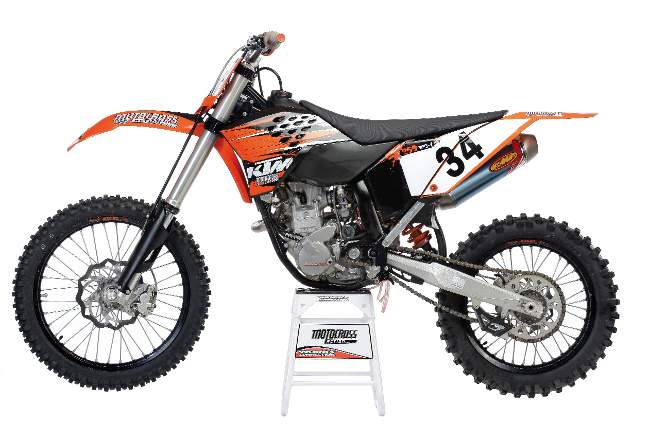 The MXA wrecking crew cheated and mounted the KTM 250SXS works engine kit on an electric-start 250XC. Why? Because we thought it would be cool to have a works engine with e-start. The 250SXS produced 39 horsepower at peak and, most impressively, was still making 34 horsepower at 14,000 rpm (when all the other 250Fs had signed-off 1000 rpm earlier).
HOW FAST WAS IT?
When ridden correctly (and by that we mean held wide open until your ears bleed), there is nothing that can stay with it. It revs higher, pulls longer and gives you the full dose of what a World Champion's bike feels like (this is the engine that Tommy Searle, Tyla Rattray, Rui Goncalves and Marvin Musquin used last year). It was obvious on the track that the SXS-kitted bike was faster than the stocker, but we needed empirical proof to confirm our feelings. On the dyno the kit parts (with an FMF Factory 4.1 exhaust system) added two horses at 10,000 rpm, 1.5 horses at horses at 11,000 and 34 more horses at 14,000 rpm. If you think that the 34 horsepower gain at 14,000 rpm is a misprint?think again. After every other engine on the planet has signed-off, the KTM 250SXS is still pumping out the ponies.
For more information, see your local KTM dealer or go to www.ktm.com.