WE BUILD A PRO CIRCUIT YAMAHA YZ250F FOR AN AMA PRIVATEER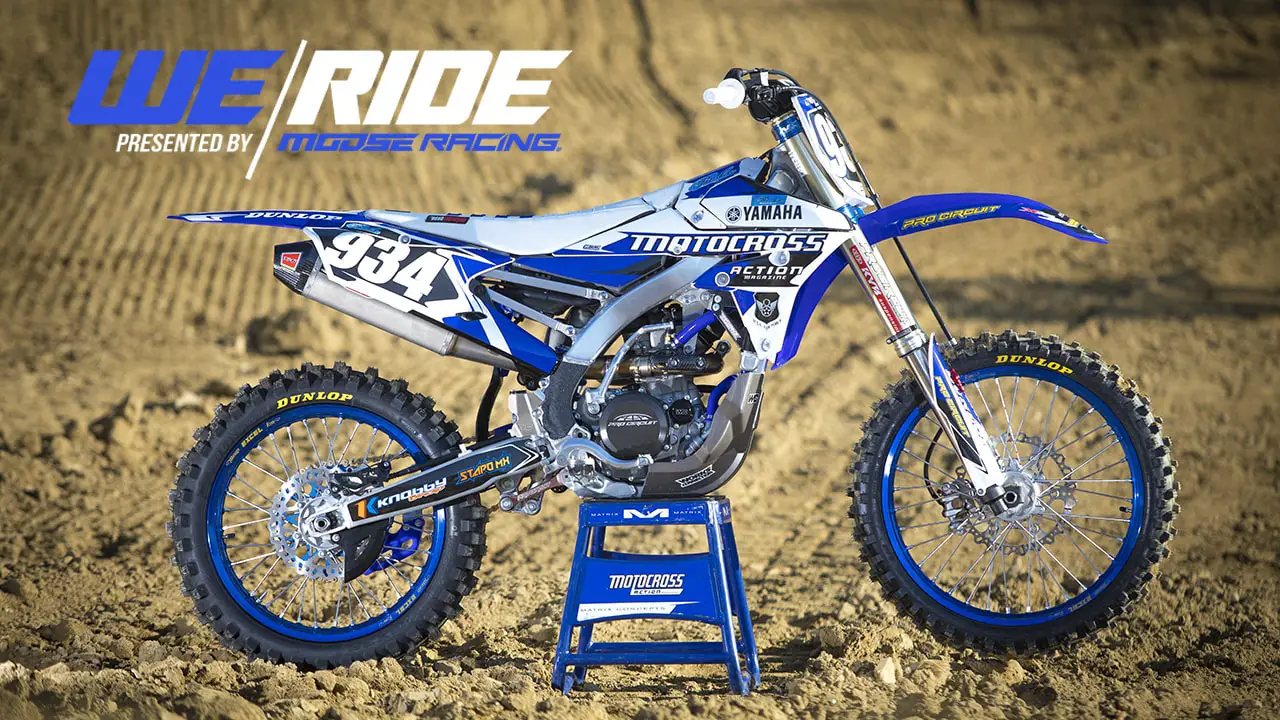 How do privateers afford such an expensive career path, one that pays little to nothing at all? In the good old days, when two-stokes were king, most struggling Pros would answer with, "Ma and Pa." Dad would pick up extra shifts at work while mom tightened the budget for a few months to get Johnny to the Nationals. Today, the Pro world is Thumperville, and there aren't enough extra shifts to cover the cost of building an AMA National-worthy four-stroke.
The rising costs of four-strokes and almost equal cost of making them competitive have forced Ma and Pa to pray that Johnny finds a cheaper career path. They tell Johnny that if he got a good job, he could afford to race for the rest of his life as a hobby. There are families that are able to mortgage the house, buy a motorhome and send one parent to the races while the other stays at home and works, but that's not the family sport that we enjoyed back in the 1970s.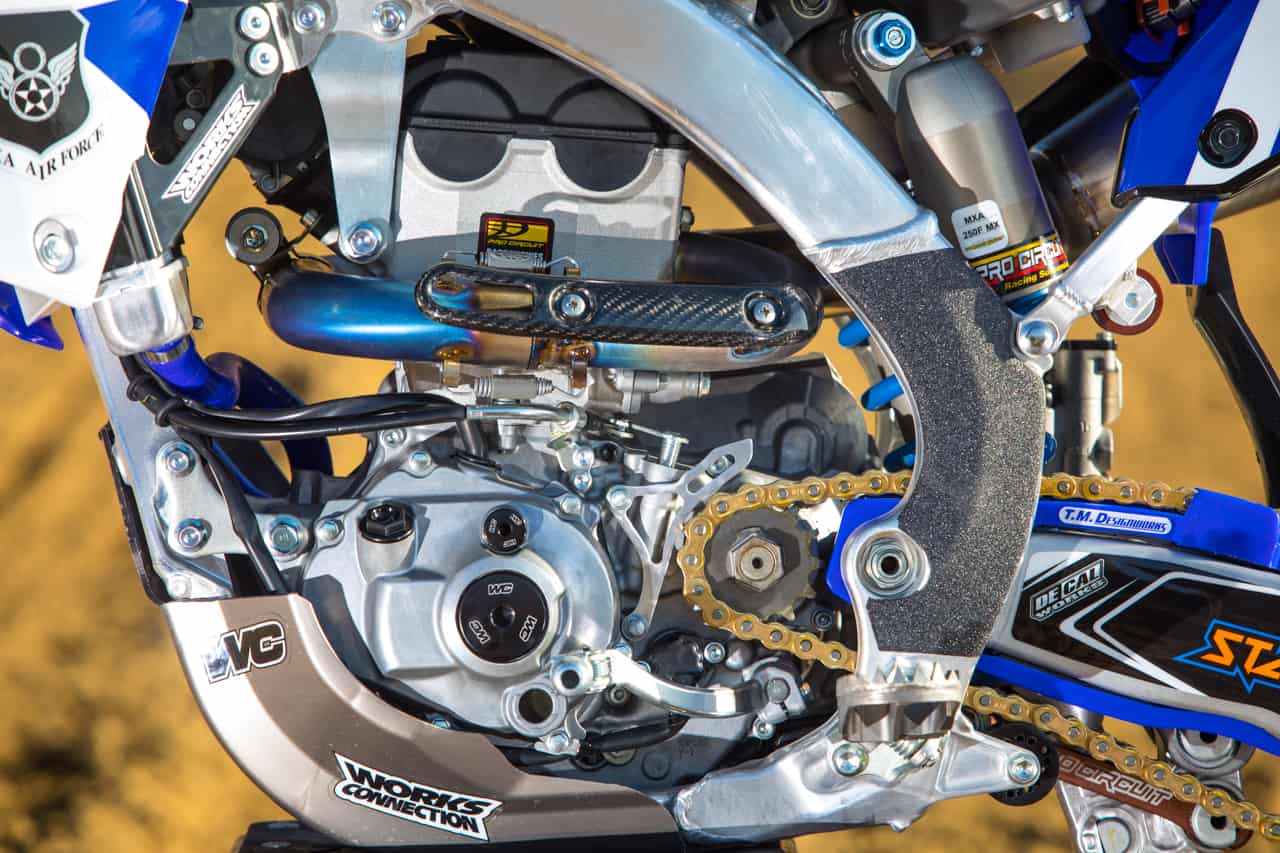 So how do AMA privateers afford to go racing if their family name isn't Gates, Zuckerberg, Buffett or Ellison? The majority of privateers identify with MXA test rider Brian Medeiros. Brian holds down a 40-hour-a-week, Monday-through-Friday job. Every extra penny he earns, he dumps into racing. The young Hawaiian, who moved to California to face tougher competition, doesn't make enough purse money in SoCal to pay for an $8500 bike, especially one that needs another $5000 in suspension and engine work. When you throw in the travel money, a practice bike, bike maintenance, race fuel and gate fees, it is a losing game for the young Pro from Kaui.
THEY CHOPPED 10mm OUT OF THE SUBFRAME AND WELDED TALLER TEETH ON HIS FOOTPEGS. THIS GAVE BRIAN MORE CLEARANCE (STOPPING THE SADDLE FROM HITTING HIM IN THE BUTT
THROUGH THE WHOOPS).
 
This is where Pasha Afshar of Pasha Racing comes in to help hard-working privateers live their dreams. Pasha, a hardcore Glen Helen REM racer, is one of the many unsung heroes behind the scenes of AMA Pro racing. Pasha helps 10 different riders in a variety of ways. Some he gives a monthly stipend for race expenses. Some he helps with the cost of keeping their bikes running, and some, like Brian Medeiros, he goes all out to help. Pasha doesn't come from a rich family. His family emigrated to the USA when his homeland was torn by civil strife. Pasha's father raised his family to work hard and help others. Pasha asks for nothing in return, just that the riders he helps run his Pasha Racing logo on their bikes and jerseys. As a Hollywood stuntman with movie connections, Pasha loves motorcycles—and he gets enjoyment out of helping kids live their dreams. Guys like Pasha are rare.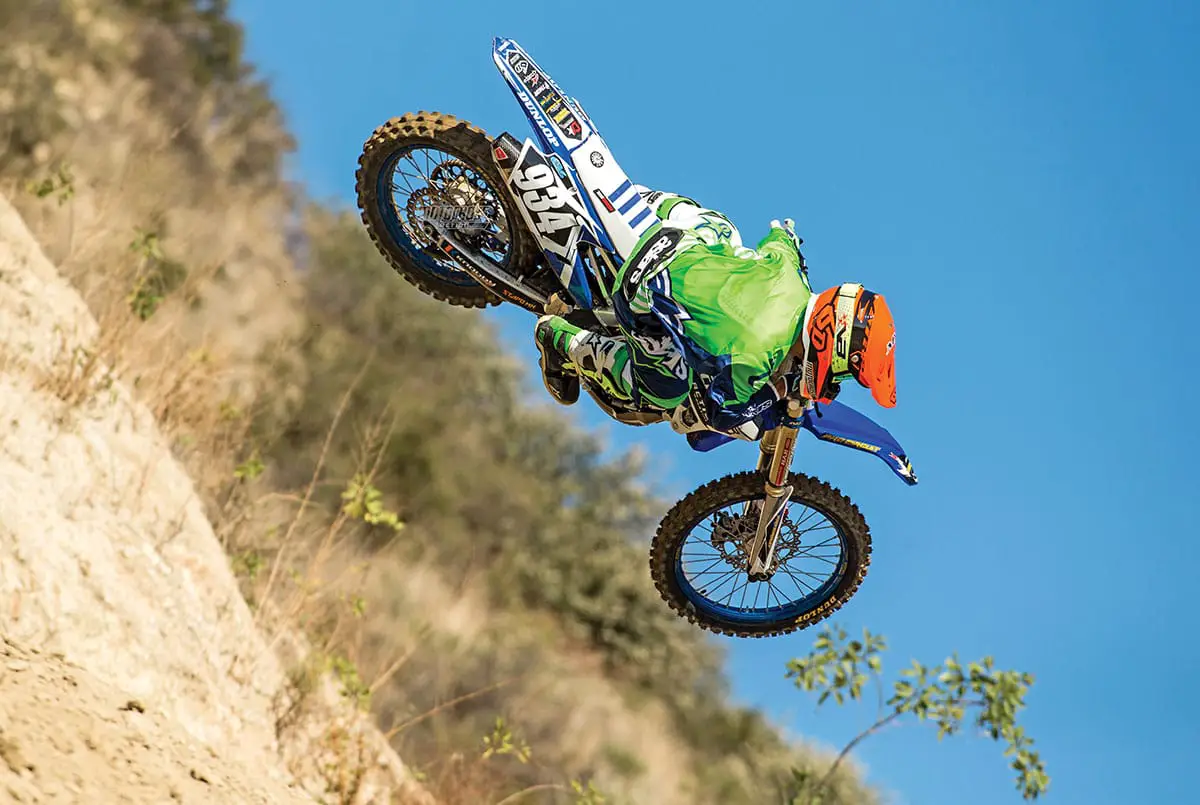 With Pasha Racing bringing the money to the table for a new 2018 Yamaha YZ250F, MXA stepped in to help Brian get a competitive bike for the 2018 AMA 250 Nationals. Why? Because along with being supported by Pasha Racing, Brian is an MXA test rider. You've seen his photo many times in the magazine. Of course we help our own, so we enlisted Pro Circuit to hot-rod Brian's YZ250F engine and Bones Bacon to massage the already-good Kayaba SSS components. Did we mention Brian is the size of a jockey? He is 5-foot-5 and 130 pounds soaking wet. To get him comfortable with the chassis, his YZ250F had to be brought to a chop shop.
In stock trim the 2018 Yamaha YZ250F is a great-handling machine with even better suspension components. Anybody—fat or skinny, tall or short—can get comfortable with a few tweaks to the suspension to get it in the ballpark. That being said, the 2018 Yamaha YZ250F is on the tall side, leaving Brian unable to touch the ground. Brian's chassis setup needed to be a home run to compete against the factory team's home-run hitters.
The highly regarded MetalTek magicians worked on Brian's YZ250F to get it to fit him. They ended up chopping 10mm out of the subframe and welding taller teeth on his footpegs. These changes, which are very common on factory bikes, gave Brian more clearance (stopping the saddle from hitting him in the butt through the whoops).
Bones Bacon took the stock Kayaba SSS forks and set them up for Brian. He also brought different sets of forks to Glen Helen for Brian to choose between on different occasions. Bones installed Pro Circuit's 1.5mm-longer shock link arm to change the starting point of the rising rate (and lower the rear of the bike even more).

The AMA Nationals are a war zone once the gate is dropped. To keep the radiators and frame from damage, Works Connection's radiator braces and a Titan plastic skid plate were used.
THE 2018 YAMAHA YZ250F ENGINE IS A LOW-TO-MID MONSTER. IT HITS HARD, PULLS HARD AND SIGNS OFF WAY BEFORE ITS COMPETITION DOES. UNFORTUNATELY, THAT WON'T CUT IT IN THE WORLD OF AMA PRO RACING.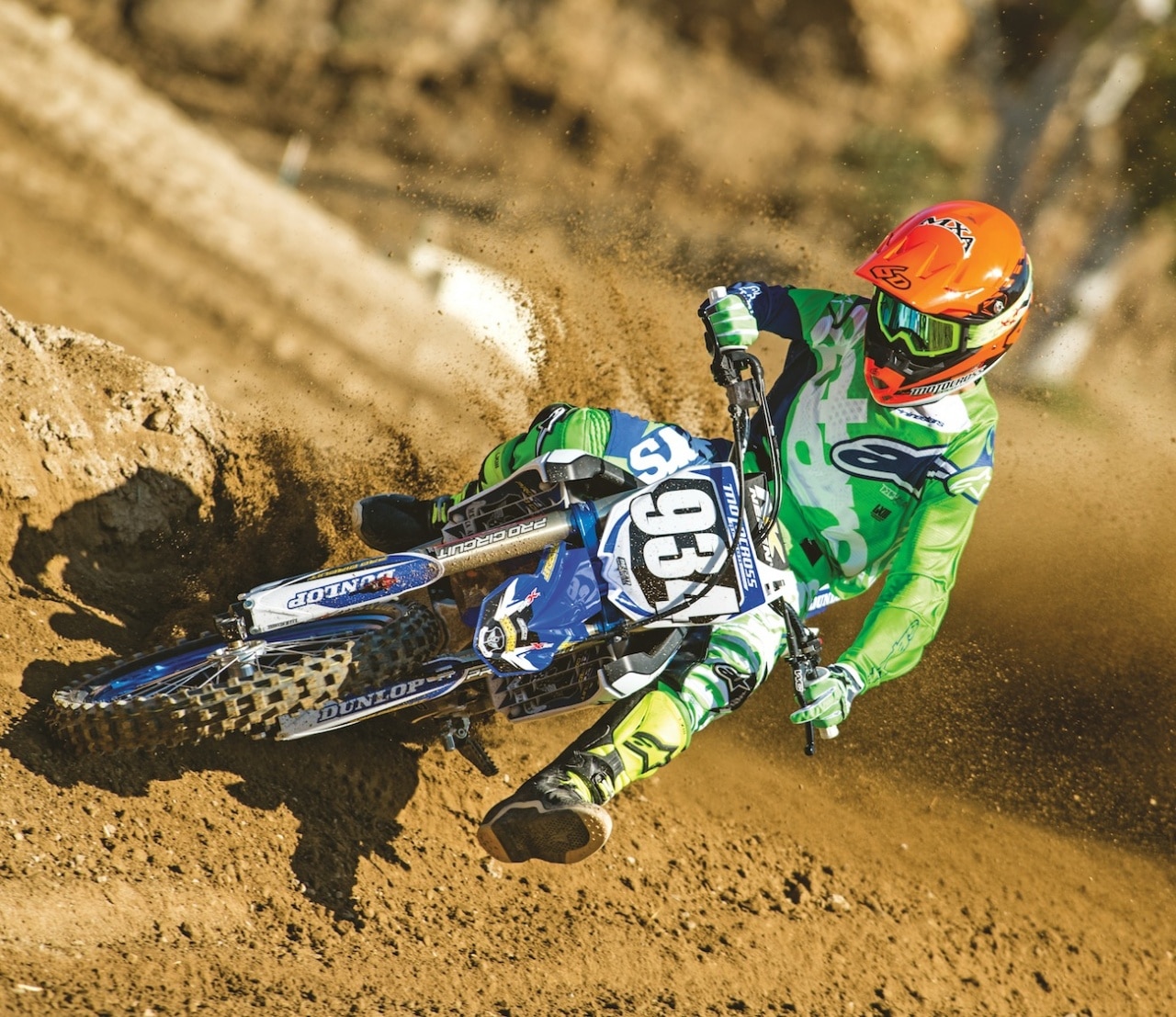 Pro Circuit's Mitch Payton knows how to compete against the factory teams and has proven it by winning over 200 AMA Pro races. When we asked Mitch to help Brian with his YZ250F engine, he agreed immediately. Mitch knows better than anyone how much it costs to get a stock engine to run with the factory-backed bikes of Geico Honda, Troy Lee KTM, Star Yamaha, JGR Suzuki and Pro Circuit Kawasaki. In a sport where Loretta Lynn engines can cost $5000, Brian would have been looking at $7000 if Mitch had charged him.
On a modern YZ250F four-stroke, a serious racer will need a high-lift Pro Circuit camshaft, Del West Ti valves, cylinder head porting, a Pro Circuit piston kit and Pro Circuit Ti-6 exhaust system. The cold hard numbers, which cover only the hard parts—without any labor or extras—are as follows: titanium valves ($720), valve springs ($320), camshafts ($915), coated tappets ($920), piston kit ($395), GET ignition ($995), Ti-6 Pro exhaust ($1065), ported head ($650) and Hinson clutch ($1000).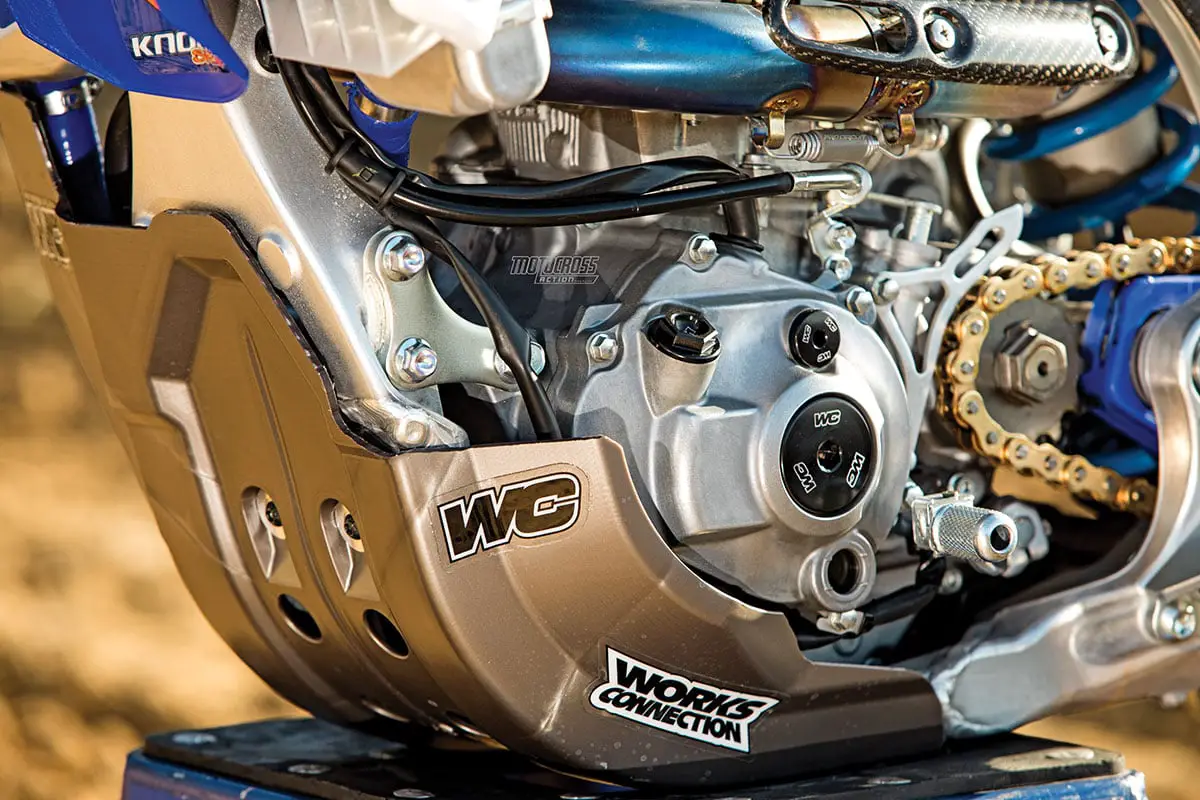 It's no secret that the 2018 Yamaha YZ250F engine is a low-to-mid monster. It hits hard, pulls hard and signs off way before its competition does. Unfortunately, that won't cut it in the world of AMA Pro racing. In the big leagues, you need top-end to deal with long straights, big hills and power-robbing loam. In stock trim the YZ250F lacks the type of power that a Pro rider needs. Not only that, it gives up almost 4 horses to a stock KTM 250SXF. Modern Pros don't use as much bottom-end as mere mortals to keep the bike moving. Mitch's engine work was focused on beefing up the top-end and letting the engine rev out further with the help of a GET ignition.
We've ridden the personal race bikes of almost every factory star since the sport started, and when we throw a leg over Travis Pastrana's, Ricky Carmichael's, Grant Langston's or Ryan Dungey's bikes, we aren't riding them to criticize the setup. It's their bike, not ours. We test them to learn more about their personal tastes, wants and desires. In most cases, their demands are so specialized that not a single Novice, Intermediate or Vet racer would like their factory bikes, but everybody wants to get a look behind the curtain. And so it was with Brian Medeiros' Yamaha YZ250F.
For any racer who is tall or heavy, Brian's YZ250F would feel horrible on the track. It sat really low in the rear, and the suspension was not so much stiff as harsh in the middle of the curve. MXA test riders would come back from riding Brian's bike and say, "Too low," "Too cramped" or "Too strange"; however, when smaller test riders took it out for a spin, they came back overjoyed. They were awestruck to finally ride a YZ250F that fit them to a tee. There is no doubt that most production motocross bikes sit a couple inches taller than necessary, but the only way to downsize them is to make compromises for the vertically challenged. Small riders on lowered bikes are positioned lower to the ground, especially when they lean it over in berms. There is no teeter-totter effect, and they feel more confident. The cut-down subframe, taller MetalTek pegs and overall reduced cockpit give short riders the leverage they need from front to rear to help them maneuver the bike—and the mods have the opposite effect if a tall rider climbs on board.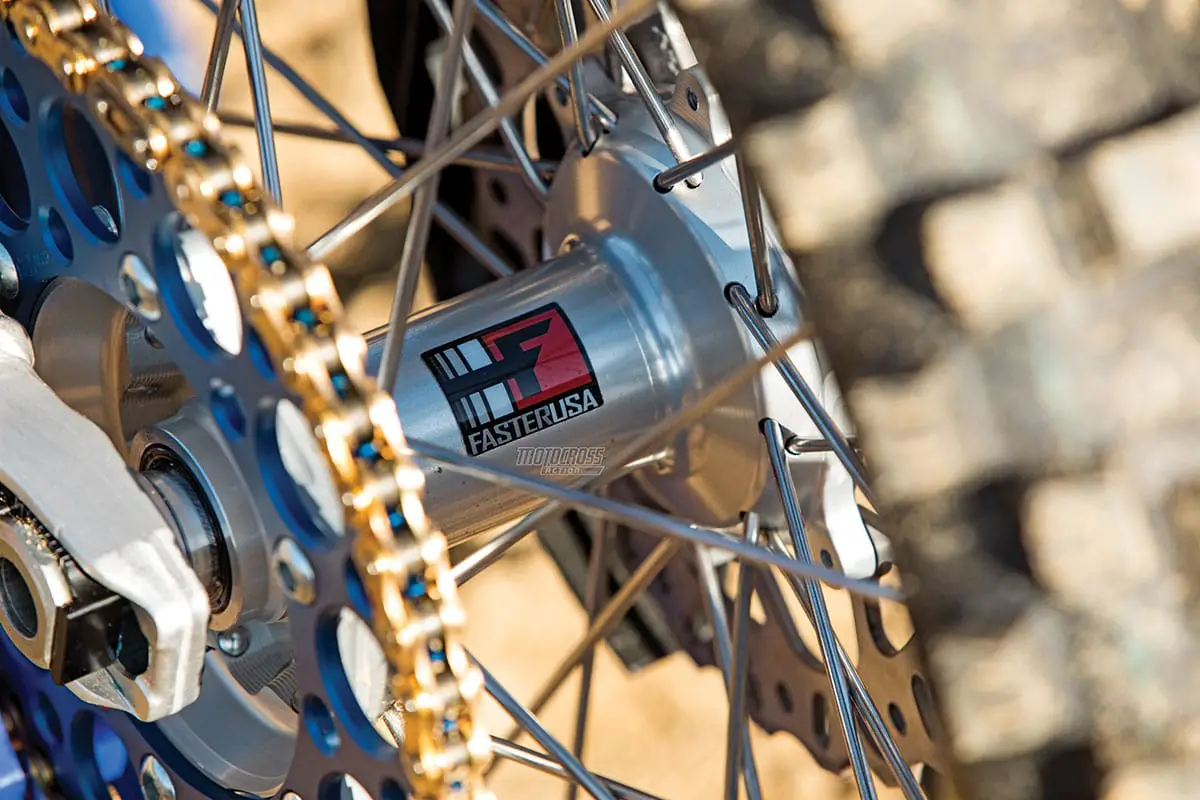 The Pro Circuit suspension felt soft yet harsh for our heavier riders, but it turned out to be ultra-plush and forgiving for our lighter test riders. Why the difference? The added weight of the bigger test riders pushed the shock's stroke too deep into the rising-rate curve. That didn't happen with a 40-pound-lighter rider. Bones set the Kayaba components up to be plush over chop and then gradually get stiffer for the hard hits of jockey-sized Pros. The bike settled in the rear better and stayed in the sweet spot of the stroke. It had a very planted feel on the entrance of corners, thanks to the suspension and the overall lower center of gravity.
The Pro Circuit engine was deceptively fast. Mitch traded the YZ250F's signature low-to-mid punch for broadness and lots of over-rev. Without the often too-aggressive YZ250F hit, there was a stream of smooth, consistent power that worked in harmony with the suspension. With the increased mid-to-top powerband, test riders were able to control the bike across a wider swath of power—and it should be noted that, although it seemed that Brian's new powerband had given up low-to-mid power, it actually made more horsepower than the stock midrange power output. The added benefit was that the power was very broad, didn't sign off so soon and had the breadth to get to the next turn without the rider having to shift as often.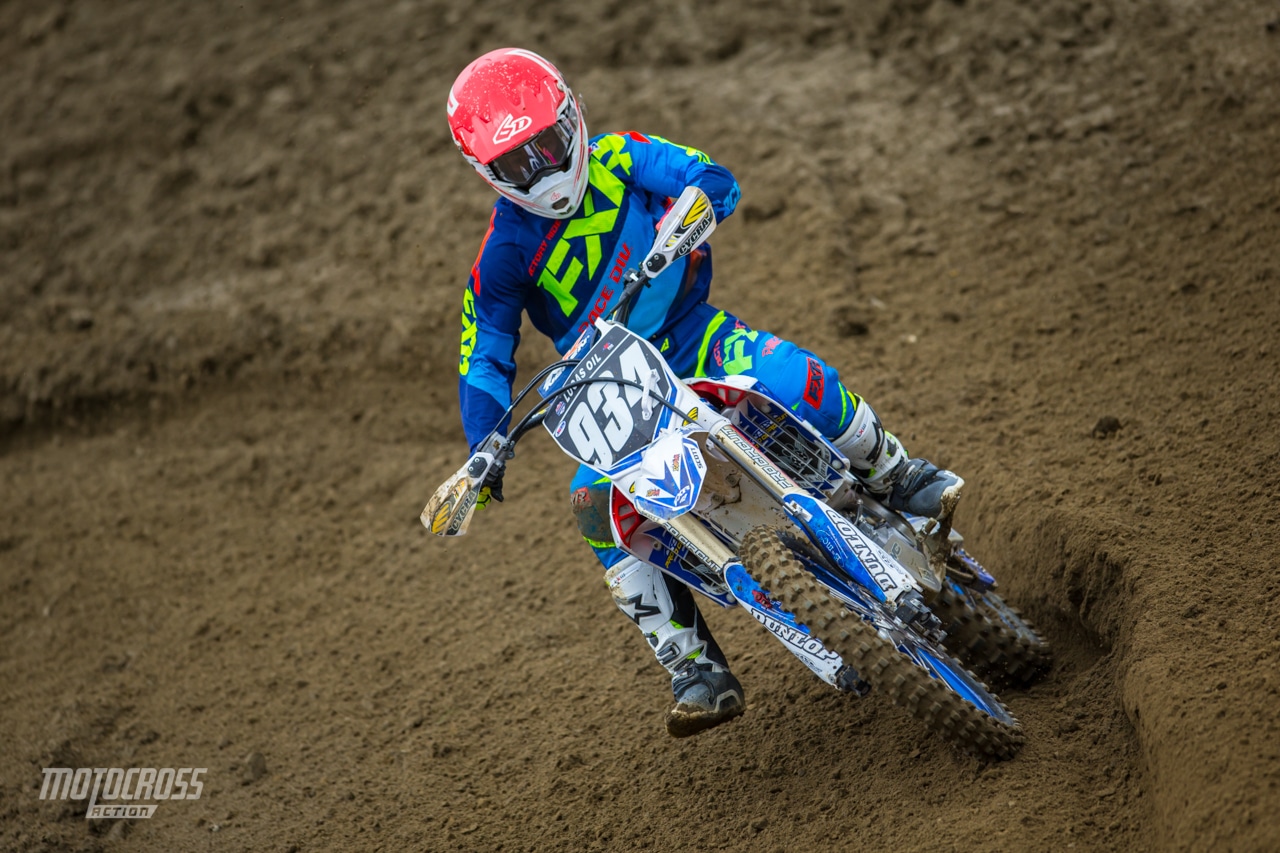 We think the 2018 Yamaha YZ250F is the greatest all-around bike. For the average local racer, it might well be the best 250 in the class, but that doesn't make it a great bike for an AMA Pro. When you go to the line against factory 250s, you don't want a really great Novice bike. You need a KTM fighter. You need lots of horsepower. You need lots of rev. You need a smooth powerband that doesn't jerk you around and sign off too soon. Plus, you need lots of money. Thanks to Pasha Racing, Brian Medeiros got a bike that was built especially for him, with the invaluable support of some of the smartest minds in the sport. This bike was built for a jockey-sized rider, not for a rider the size of a horse.