MXA BUILDS A 2022 GASGAS MC 450F FACTORY EDITION
Tired of building KTM and Husvarna project bikes that look like shopping trips through the Power Parts catalog, MXA chose the forks, shock, engine mods, graphics, wheels, tires, bars, triple clamps and brakes from the best possible choice even if that meant Power Parts.
MXA BUILDS A 2022 GASGAS MC 450F FACTORY EDITION
Motorcycles are very personal things. They may appear to be made of metal and plastic, but the real substance is hopes and dreams. Every new bike is filled with possibilities. It brings a giddiness to even the most grizzled veteran of the sport when he throws a leg over a new bike for its maiden voyage. Project bikes are no different; if getting a new bike is like hanging a Renoir over the mantel, a project bike is like a painting with the fervor of Picasso. A project bike is a blank canvas—throw paint at it however you wish. You choose every part to satisfy only one guy—you!
"YOU CAN DO WHATEVER YOU WANT WITH IT. WHY DON'T YOU BUILD A GASGAS FACTORY EDITION OUT OF IT AS A PROJECT BIKE? YOU HAVE  COMPLETE CONTROL OVER HOW YOU BUILD IT—GO WILD!"
The story started with a hardcore KTM racer named Kent Reed. Please forgive Kent for having more money and less self-control than the rest of the guys he lines up with behind the starting gate at his local track. He loves KTM Factory Editions; he loves expensive parts; he loves lavishing money on his bike.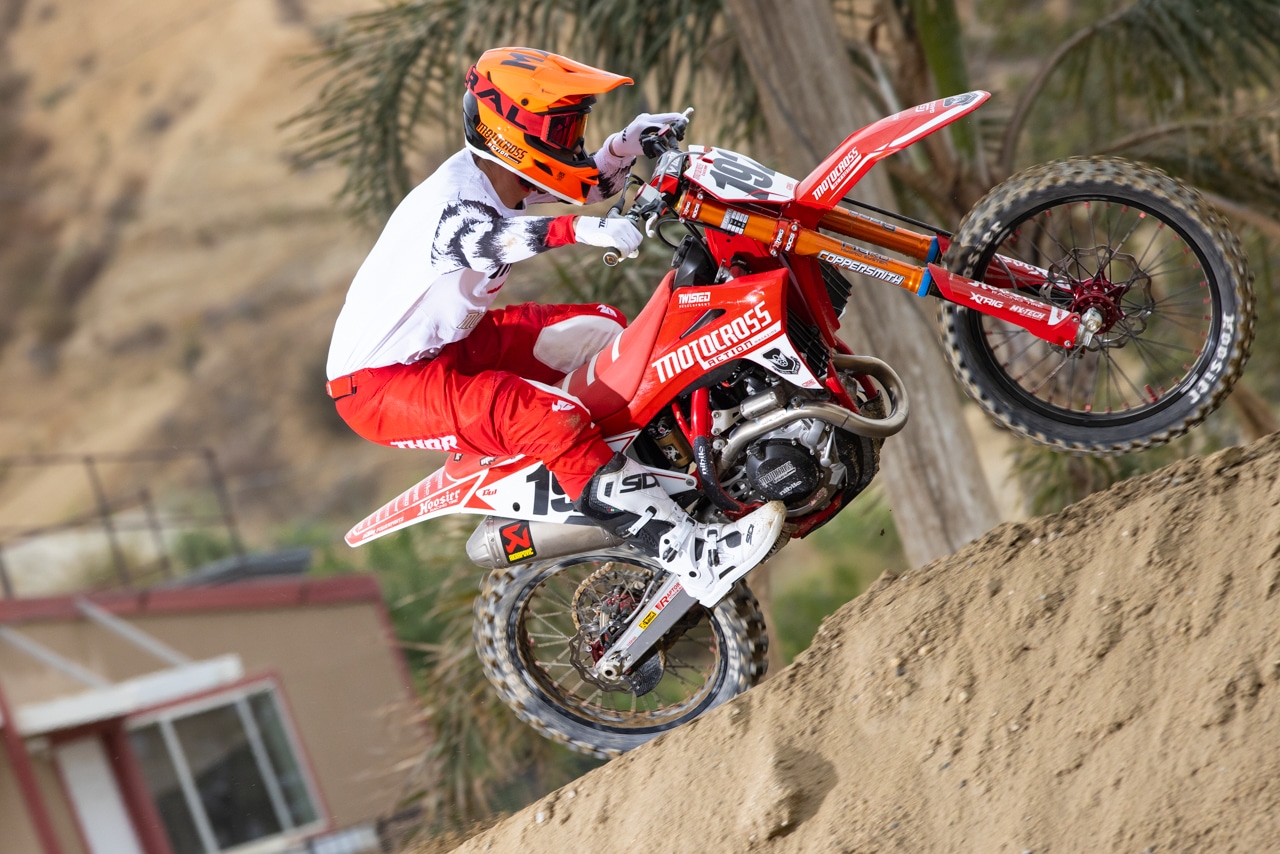 Thanks to the Twisted Development maps the engine ran in one long and strong linear pull from top to bottom. That allowed the Coppersmith Aero/Hybrid fork and MX-Tech National shock to do their best work. THE GEAR: Jersey: Thor MX Pulse Air. Pants: Thor MX Pulse Air. Helmet: Thor MX Reflex. Goggles: Viral Brand Factory Series. Boots: Sidi Atojo.
We give you Kent's backstory because Kent decided to switch from KTM to GasGas out of the blue. The MXA gang was shocked! Now, you might think that a GasGas is just a red KTM, but to Kent, it's the blankest of all canvasses. He was ready to unleash his inner Pablo.
Unfortunately, fate stepped in to halt Kent's GasGas dream in its tracks. His neck started hurting when he turned it. Kent's doctor said that three of his cervical vertebrae had collapsed, and it was a good thing that Kent came to see him when he did, because if Kent had sneezed, he could have been paralyzed. They did emergency surgery to stabilize the three vertebrae by caging them. When that didn't work, they went back in a couple months later and built an exotic-looking suspension bridge devised of bolts, brackets and cables to stabilize the titanium cages.
Test riders loved the Coppersmith Aero/Hybrid fork kit. It uses an Ohlins damper and coil spring in one fork leg and very low air pressure in the other leg.
One day Kent called Jody and said, "I just picked up my new GasGas MC 450F, and I'm going to stop by your house on my way home." It seemed odd that Kent had gone through with the purchase of the GasGas when he couldn't drive a car, turn his head or look down. An hour later, his red Ford pickup, driven by a petite woman with Kent riding shotgun, pulled down Jody's long driveway.
"Help me unload it," said Kent to Jody, which in Kent-speak meant, "unload it for me."
"Why am I unloading your GasGas at my house? Why don't you take it to your house?" said Jody.
"Because I can't unload it. I can't pick it up, and I can't ride it, so I'm giving it to MXA."
Jody replied, "We have our own GasGas. We don't need yours."
"You can do whatever you want with it. Why don't you build a GasGas Factory Edition out of it as a project bike? You have complete control over how you build it—go wild!" With that, Kent got back in his truck and his brunette chauffeur drove him away.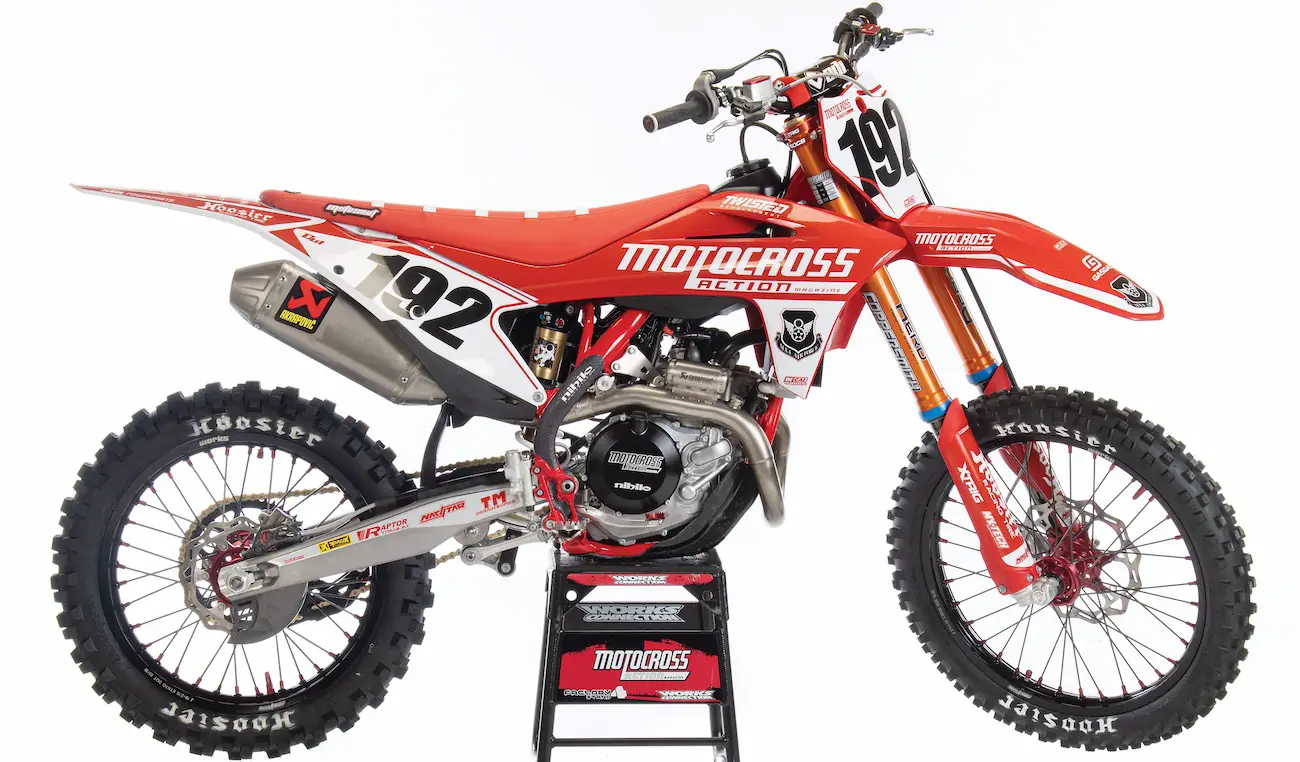 SURPRISINGLY, FOR A RICH GUY, KENT'S IDEA OF GIVING US HIS NEW BIKE MADE SENSE. JODY, DARYL, JOSH AND DENNIS SAT DOWN AND FORMULATED A GAME PLAN

Surprisingly, for a rich guy, Kent's idea of giving us his new bike made sense. Jody, Daryl, Josh and Dennis sat down and formulated a game plan.
(1) We thought we could build a race bike better than a Factory Edition by breaking the mold of what parts to spec.
(2) We didn't want to build another project bike with KTM Power Parts triple clamps, Power Parts wheels, a Power Parts seat, Power Parts levers, Power Parts cone valve forks, a Power Parts Traxx shock and Power Parts plastic. Nothing against building a Power Parts-equipped project bike, but we have done it too many times before.
(3) We decided to choose the forks, shock, engine mods, graphics, wheels, tires, bars, triple clamps and brakes from the best possible choices that we had good experiences with, even if that meant Power Parts.
(4) We would focus solely on performance mods—that meant forks, shock, brakes, engine, tires, gearing and mapping—no Foof'. Kent's wants and wishes weren't ignored. After all, it was his bike; but, when he asked for some aftermarket parts, the word "no" was used more than the word "yes." In fact, Kent only got the Raptor footpegs and Hoosier tires from his lengthy list.
(5) We would not rush the project, largely because during the pandemic the chosen parts weren't always readily available on a moment's notice. But rather than switch to an alternate supplier, we all agreed to wait, in part because Kent vowed to return to racing as soon as he got his doctor's release, which gave us four months at least.
(6) By a vote of 3 to 1, we all agreed that Dennis Stapleton would build the bike and the rest of us would track down the parts.
What follows is a breakdown of the parts we chose, why we chose them, and why we think KTM Factory Editions need to follow our blueprint, not necessarily our parts list, but our plan to focus on the parts that matter, not just the Foof' and the stuff they have on hand in the—dare we say it—Power Parts catalog.
KTM's Powers Parts selection is great! It has hundreds of really cool parts, especially when it comes to the suspension components, but those Cone Valve forks never make it on to a Factory Edition. We think the Factory Edition of the future should be more like the Red Bull KTM factory bikes and less like a shopping spree through what's available. Put the good stuff on it and charge us for it. That is what we tried to do with our GasGas MC 450F project racer.
WE HAD NO DOUBTS ABOUT WHAT WE WANTED WHEN CHOOSING THE BEST FORK FOR OUR PURPOSES
There is one air-to-spring conversion kit that combines the best of both worlds. In essence, the Coppersmith Aero/Hybrid fork kit is 50 percent Ohlins (damping) and 50 percent WP (air spring).
The idea behind the Coppersmith Aero/Hybrid fork kit is to use the Ohlins TTX cartridge and coil spring to handle the small- to medium-sized bumps and, as the fork moves through its stroke, to have the air pressure kick in to stiffen the forks. When it is set up properly, you get the supple feel of a coil spring with the bottoming resistance and consecutive-bump recharging of an air fork.
MXA ran a 4.5 N/mm fork spring in the damping leg with the compression and rebound clickers set on 14 clicks out. In the WP air fork leg, we ran 55 psi. Why so little air pressure? Because the 4.5 N/mm coil spring handles all of the initial fork control, and the low air pressure doesn't interfere with the fork feeling like a coil spring fork. In fact, it felt identical to an Ohlins coil-spring fork. Then, as the fork moved upwards in its stroke, the air pressure inside the WP leg increased to provide big-hit hold up and bottoming resistance. Riders could fine tune the feel of the forks with Ohlins' compression and rebound adjusters. It should be noted that Ohlins clickers are much more effective than Showa, Kayaba or WP adjusters. It felt like one click was the equivalent of two clicks on a normal fork. Test riders never varied more than a couple clicks in either direction to get the fork dialed in. Additionally, the air pressure can be increased or decreased to change the fork's overall resistance.
We used the zip-tie method to choose the best air pressure setting. We set the pressure until we had 1 inch of unused travel between the zip-tie and the fork's bottom; however, if the air pressure had to be increased above 95 psi, we traded the 4.5 N/mm fork spring for a 4.7 N/mm spring. This only happened with Pro riders.
Test riders loved the Coppersmith Aero/Hybrid fork kit. Installing the Coppersmith Aero/hybrid kit in only one fork leg saves weight over a traditional coil-spring fork, cuts shipping cost by half, and gives it Ohlins damping. It retails for $895.00 (with do-it-yourself installation instructions). Our forks, however, were coated by Coppersmith, which raised the price significantly. For more information, call Coppersmith Racing at (330) 724-2900 or visit www.coppersmithracing.com.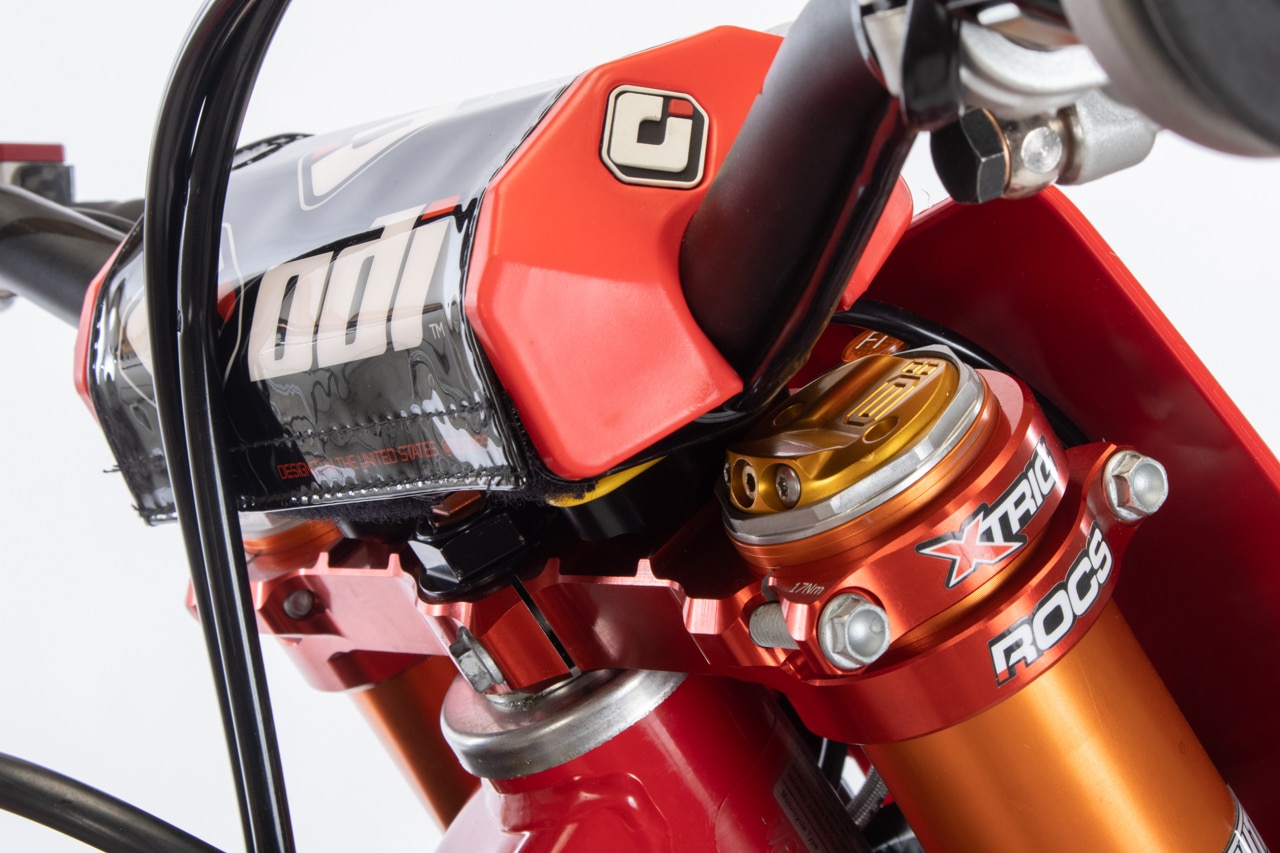 Test riders complained about oversteer into the corners and understeer out with the stoc GasGas forged triple clmaps. The red-anodized X-Trig ROCS triple clamps solved that.
MXA DELVES INTO THE THINGS THAT YOU GRAB HOLD OF AND HANG ON TO
Every MXA test rider has been critical at one point or another of the GasGas MC 450F, MC 250F or EX 350F front end oversteering into the corners and understeering out. Eventually, our critical eye fell on the 22mm-offset, forged, GasGas triple clamps. Our first fix was to up the GasGas triple clamp's torque specs. We felt that the 17 N/mm on the top clamp and 12 N/mm on the bottom clamp that we had borrowed from our test KTM was not stiff enough. We upped the top triple clamp to 20 N/mm and set the bottom ones at 15 N/mm. This seemed to help—and some test riders went to 22 N/mm on the top clamps.

But, in subsequent test sessions, we ran the stock GasGas triple clamps (at 20/17 N/mm) against the stock KTM billet triple clamps. The billet clamps improved corner accuracy, and the KTM triple clamps came with rubber-mounted handlebars instead of the GasGas' solid-mounted bars.
In what mimics the "Domino Theory" in Southeast Asia during the Vietnam War, as we went from the stock triple clamps to more torque on the bolts, to the stock black KTM clamps, it became evident that this was only going to stop once we put on X-Trig ROCS (Revolutionary Opposing Clamp System) split triple clamp ($899) with the new low-profile Flex Fit bar mounts ($190).
So, we contacted Technical Touch and got a red anodized set of ROCs clamps for our GasGas MC 450F. All of our steering quibbles with the GasGas disappeared, and the added cushion of the Flex Fit cut down on vibrations from the previously solid-mounted GasGas bar mounts. For more information, call Technical Touch at (909) 949-4155 or visit www.technicaltouchusa.com.
The MX-Tech National shock's astronaut logo is fitting because this shock is space age. It has the most adjustability of any shock available.

WE WENT SEARCHING FOR THE ULTIMATE SHOCK FOR OUR PROJECT GASGAS
Unlike in the good old days when a racer could choose between Koni, Arnaco, Girling, Bilstein, Ceriani, Hiiesalu, Fox, Works Performance, Corte Cossa and Marzocchi shocks, today's racers only have three choices for modern motocross—Ohlins, WP or MX-Tech. We chose to go with the MX-Tech National shock because it is equipped with interesting technology, great coatings and the most adjustability of any shock currently available. Plus, it is handmade in the USA. It costs $2400 but has almost unlimited tuning potential. It features high-speed compression, mid-speed compression, low-speed bypass, low-speed rebound and mid-speed rebound.
All those adjusters baffled some of the test riders, but during our test regimen we adjusted them one at a time. We sent the rider out to try a setting and then, and only then, would we move on to the next clicker. We started with the low-speed bypass. The low-speed bypass clicker is exactly what it says it is—a bypass circuit. It opens up the shock's movement at low speeds so it becomes freer in all directions. In short, more of the damping force is allowed to bypass the circuit. Next, we adjusted the mid-speed compression clicker. The mid-speed clicker controls the amount of pressure shuttled between the main compression valve and the low-speed compression damping. Thus, we could increase the low-speed bypass adjustment range by increasing the mid-speed compression. Next, we adjusted the high-speed compression clicker. It works via a tapered cone and progressive spring. It has its biggest impact on higher shock-shaft speeds. Finally, we adjusted the low-speed rebound clicker. Don't adjust the rebound until you feel you have a good understanding of how the three compression adjusters work.
We took our time learning how the adjusters not only worked but interacted with each other. Once we got it in the ballpark, it was a thing of beauty. Yes, it required time to set it up, but it is equipped with the best technology, uses the best coatings and has the most adjustability of any shock available. The shock is more than a pound lighter than stock. It features an 18mm, DLC-coated, induction-hardened shock shaft, and the shock body is Kashima-coated. There is a Huck Valve speed-sensitive bottoming control system in it that arrests the shock at full travel without the harsh spike found in most stock shocks.
Once dialed in, it defies the rubble, rabble and jolts of a motocross track. It is worth the money—if you are willing to take the time to learn how to use it. For more information, call MX-Tech at (877) 850-5114 or visit www.mx-tech.com.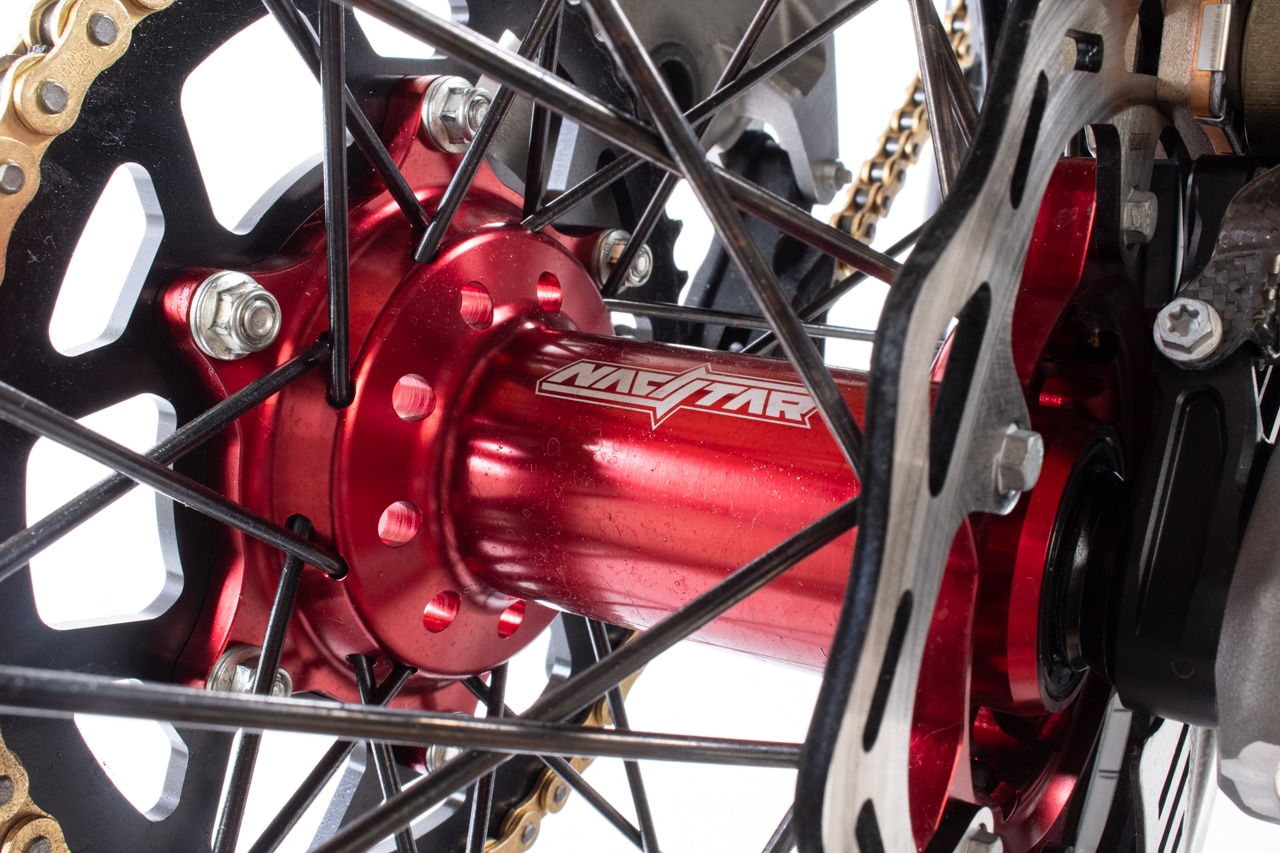 The search for ready-made wheels with red forged hubs, black rims and red spoke nipples led us to Danish-built NacStar wheels.
WHAT IN THE WORLD ARE NACSTAR WHEELS?
MXA wanted a set of quality wheels that wouldn't bust the bank. Plus, we wanted ready-made wheels with red forged hubs, black rims and red spoke nipples. Our search was aided by former KTM mechanic David O'Connor, who suggested that we talk to Lasse Andersen at NacStar. NacStar wheels was started in Denmark in 2018. Within two years of development, they came up with their Works wheels.
Nacstar uses Japanese-sourced, black-anodized 7050-T6 aluminum rims laced to forged, CNC-machined, 6061-T6 aluminum hubs with stainless steel 304T spokes and 7075 aluminum nipples. Additionally, the NacStar rear wheel has three bearings (two on the sprocket side and one on the disc side). KTM's OEM rear wheels only have two bearings. Best of all, the complete NacStar wheelsets retail for only $599 per set for Husky, KTM, GasGas, Kawasaki, Honda, Suzuki and Yamaha. The forged hubs are available in black, blue, gold, orange, green and red (the spoke nipples can be ordered in the same colors).
The MXA test riders were nervous to be riding on new wheels from a new company, but after the first ride we tightened the spokes and essentially forgot about them. Once they took a set, they held up well. We checked them on race-day morning and never suffered a single problem. For more information, call Nacstar at (951) 219-9675 or visit www.nacstar.com.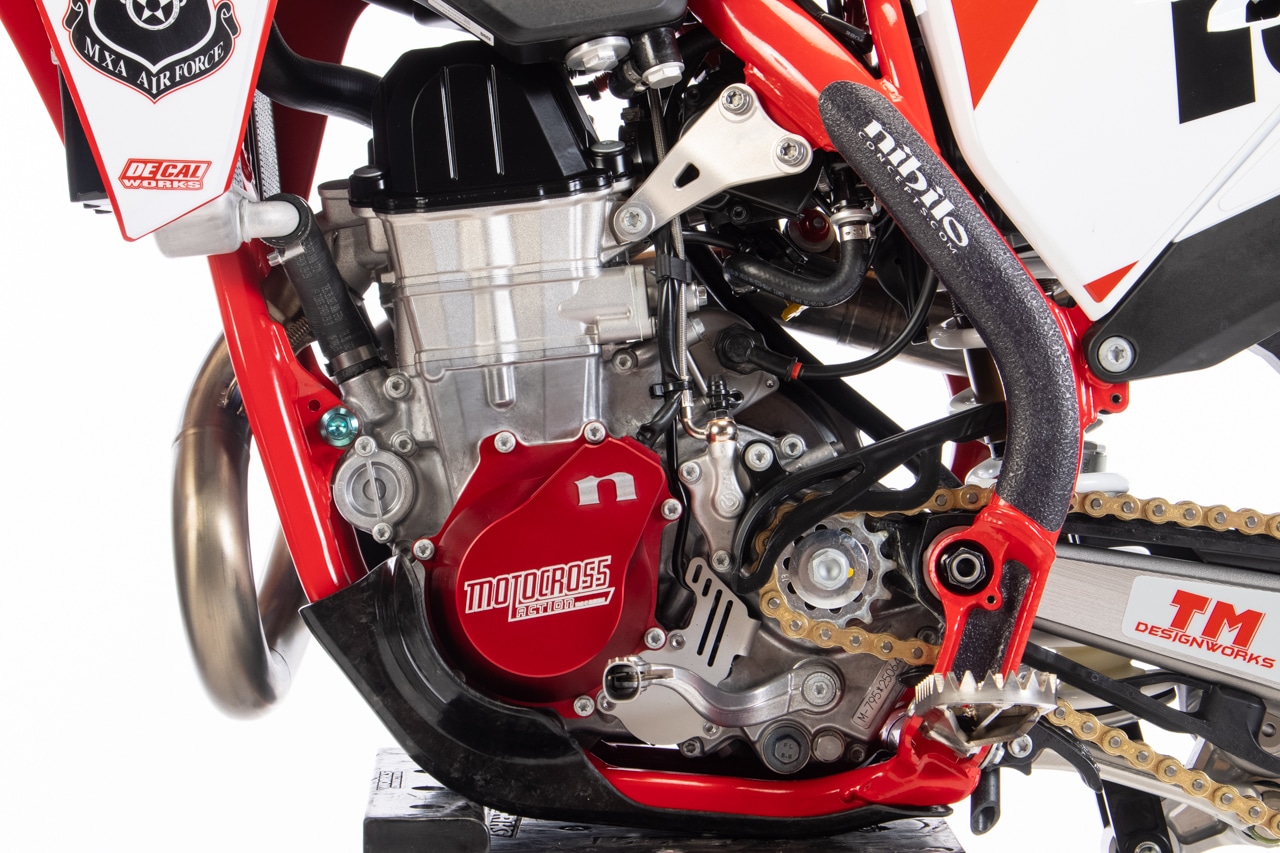 Nihilo engraved the MXA logo into their CNC-machined ignition and clutch covers and supplied us with gripper frame tape, master cylinder covers and brake tip. We added FCP head stays, Power Part bolt-on skid plate, Pro-X sprockets and TM Designworks chain guides.
MAKING THE MOST LOGICAL ENGINE DECISION FOR OUR PROSPECTIVE RACER
Half of the MXA test riders saw no reason to work on the stock GasGas engine's dynamics unless we were planning to make it even easier to ride. They didn't want anything more aggressive. The other half wanted better throttle response, a harder hit and quicker rev through the midrange. The two sides were at loggerheads. One group didn't want to mess with head porting, high-compression pistons, valve springs or race gas. The other wanted to go full bore.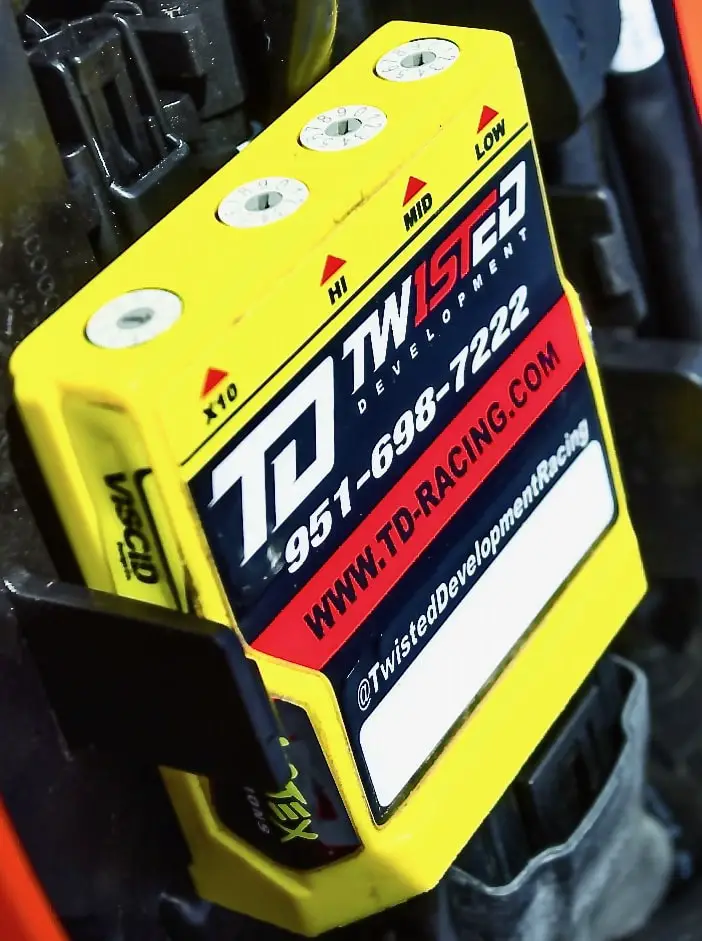 When in doubt, we always call Jamie Ellis at Twisted Development for advice. Jamie said that he could satisfy both groups of test riders without touching the engine. We would have to add the electronic multi-switch from the KTM Power Parts catalog, and he would install a Vortex X10 ignition box with two maps in it. Map 1 would be more aggressive, hit harder and rev quicker. It would boost the power for more drive out of corners. Map 2 would decrease engine braking so that the GasGas MC 450F could freewheel into turns without as much decompression braking, which in turn would work well with the softer low-to-mid transition. What a slam dunk engine mod. Everyone was happy, and not surprisingly some of the test riders who didn't want more power preferred Map 1, and some of the power mongers decided that Map 2 was perfect for them.
This is a simple mod, but it's not cheap, as you have to buy a Vortex X10 ECU and have Twisted Development map it for you; however, the Vortex is easy to tune once mapped and holds up to 10 maps—and it works with all of the GasGas, née KTM, ignition sensors, plus traction control and launch control.
Believe it or not, you can buy Brembo works brakes from the Power Parts catalog.
LET'S PUCKER UP AND STOP THIS BEAST WITH THE BEST BRAKES AVAILABLE

Three years ago, MXA selected three test riders and built a special one-minute course that included loam, soft berms, hardpack and one fast straight that required maximum braking. We also had a crew of mechanics on hand to change between the Brembo, Magura and Factory Brembo brakes that we were testing. We focused on front brakes only, and here is what we found.
The winner was the Factory SXS Brembo brake. At first, we thought that the Factory brake was too powerful. The big difference between the Brembo Factory brake and the stock Brembo brake is the rigidity of the caliper. The Factory brake caliper is beefier and supports the pads with a stronger structure. You can feel the rigidity when you grab the Factory brake. Once you adapt to how quick the progression is, you can use one finger [even your pinkie finger] to stop; however, if you were going slow, the quick progression of the Factory Brembo brakes made them feel too powerful. But, when you were going fast, the Factory brakes were a dream. Compared to the grabby-feeling Magura front brake or the overly progressive stock Brembo front brake, the Factory Brembo brakes came on hard and fast, but after about 50 percent of braking power, they seemed to become more progressive. It felt like two brakes in one system.
Amazingly enough, these Brembo works brakes are offered to the public through the KTM Power Parts catalog. The kicker? They cost $1000 apiece and are just the calipers. You have to use the master cylinder and brake line from your stock GasGas to make them work. And work they do.
TEST RIDERS ARE A PICKY LOT. THEY FEEL COMPELLED TO COMPLAIN ABOUT SOMETHING — OR EVERYTHING IF THEY CAN GET AWAY WITH IT. NOT THIS TIME. A LITTLE SPIFF NEVER HURT ANYBODY. IT'S BLING THAT IS A MISTAKE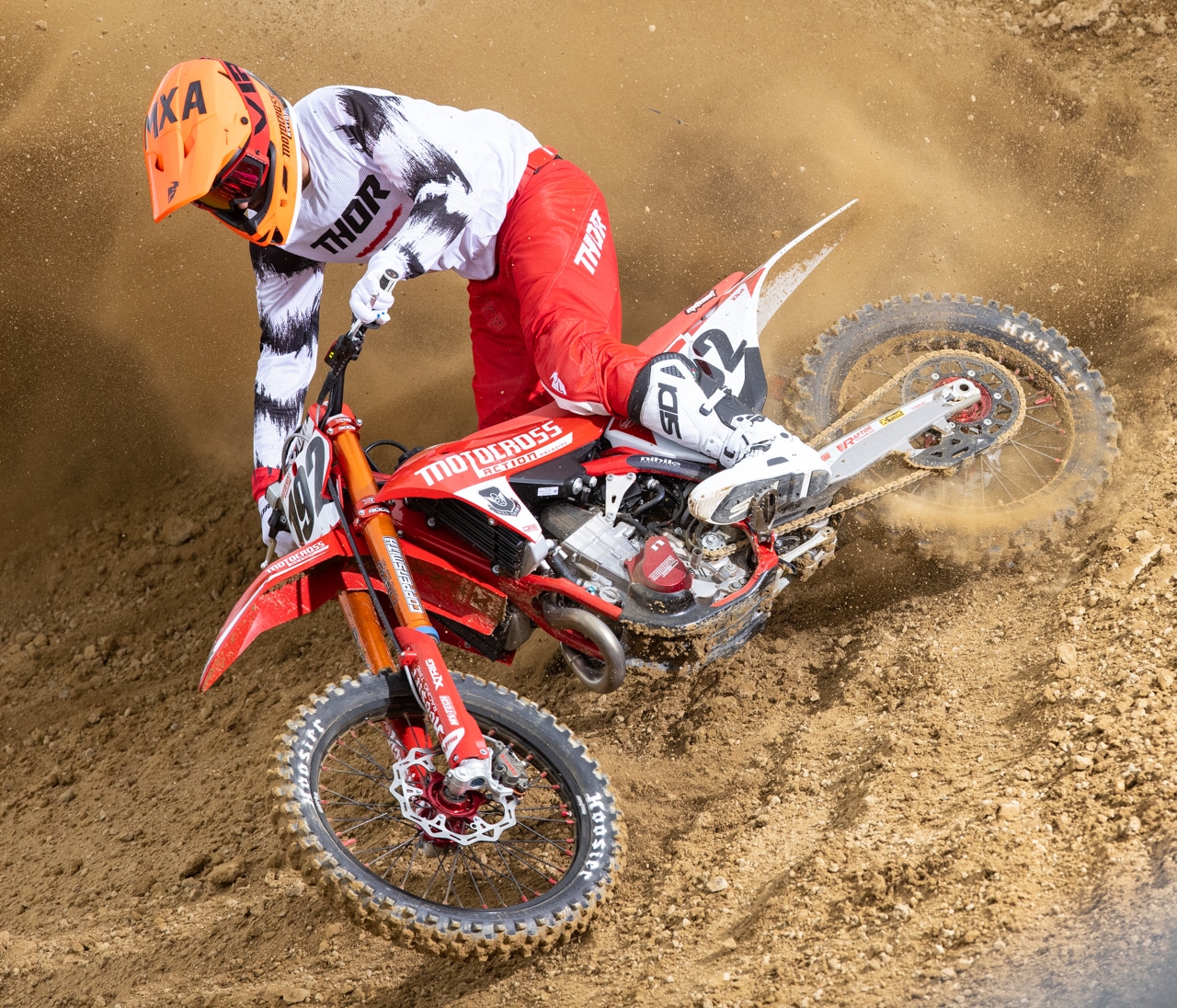 Not wanting to goober up MXA's project GasGas MC 450F too much, we carefully selected Nihilo Concepts, FCP, Decal Works, Motoseat, ODI, TM Designworks, Raptor and Hoosier for the final touches.
Graphics. We like the way the GasGas off-road models added more white to the graphics package and decided to copy it. We sent Decal Works a rough diagram of what we wanted. They sent us back a sample proof. We made one change, and when the graphics came back, they looked awesome.
Clutch/ignition covers. We didn't like the unfinished look of the stock clutch cover, so we called Nihilo Concepts in Florida to CNC-machine and engrave us special Motocross Action covers. The ignition side was anodized red, and the clutch side was anodized black. Plus, we also added brake and clutch master-cylinder covers, brake pedltip and form-fitting grip tape for the frame.
Bars/grips. We swapped out the stock silver GasGas Neken handlebars for ODI Podium Flight MX bars (model 626) and outfitted them with ODI Emig Pro V2 lock-on grips.
Drivetrain. We went with Pro-X sprockets and TM Designworks chain guides and buffer pads.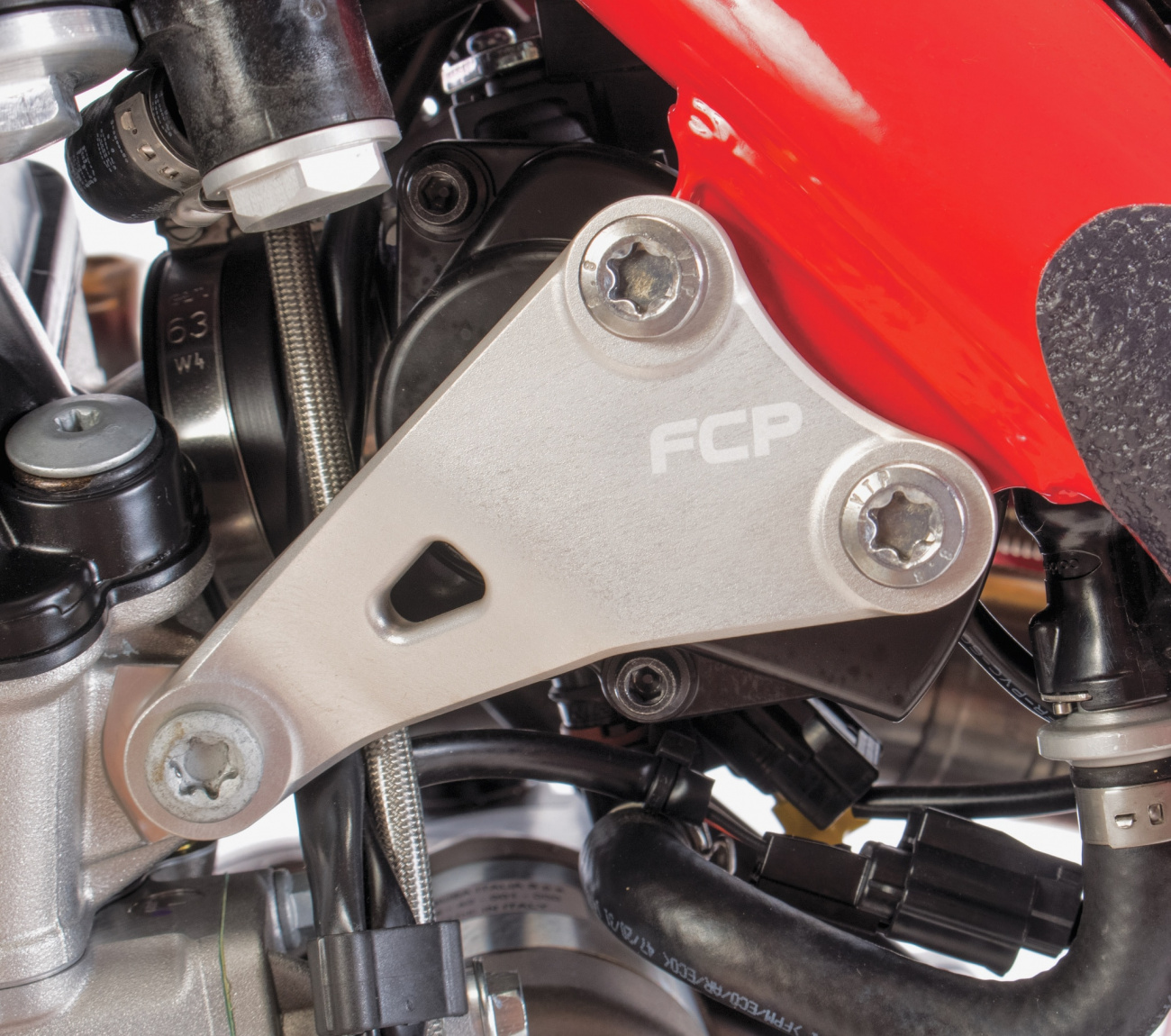 Head stays. We have had good luck on KTM frames, which includes Husqvarna and GasGas frames, with FCP aluminum heads stays. The $400 head stays deliver a plusher feel and are engineered to improve handling, cornering and traction. We also added their $109 titanium footpeg pins.
Seat cover. Virtually every MXA test rider had issues with the slickness of the stock GasGas seat cover, but, as this is often a matter of personal choice, we had to balance out the wishes of those who don't like aggressive gripper seats and those who do. Our solution was Motoseat's five-rib traction seat cover. We ordered the $59.95 seat cover in solid red with white pleats.
Kent's wish list. The only things on Kent's list of products that he wanted and got were the Raptor titanium footpegs, the Hoosier IMX25S front tire and IMX25 C100 rear tire. We wanted a 110-19 rear, but Hoosier's 110 tires are closer to 100s, while the 120s are much closer to 110 than 120. So, we put a 120-19 rear on.
If your feet can slip off of the Raptor Apex titanium footpegs, then the soles must have come off your boots.
AND THEN THE TIME CAME TO WEAR OUT THE BIKE WE BUILT FOR KENT
This was probably one of the most amazing project bikes we have ever built. Yes, it looks cool, but that wasn't what made it amazing. Yes, it had an esoteric mix of parts on it, but so do most project bikes. What was so amazing about it is that every test rider loved it. When the first test rider assigned to ride the GasGas MC 450F got through with all the setup required on the Coppersmith Aero/Hybrid forks and MX-Tech MXT National shock to suit his weight, speed and style, the next test rider rode it for three motos and never changed a thing. The third test rider came in and said, "Don't change a thing; it's perfect." We made the fourth test rider make some changes, but he always returned to the settings that the first rider had selected two days earlier.
We've never seen that before. Test riders are a picky lot. They feel compelled to complain about something—or everything if they can get away with it. Not this time. Now that Kent Reed got his doctor's release and wants to start racing next weekend, we are hesitant to give this bike back to him.