WE BUILD THE ULTIMATE VET WEAPON: 2013 KAWASAKI KX450F
Would you be surprised if we told you that aside from the top-tier racers on the professional circuit, the most tricked-out bikes on the planet can be found on the starting line of the Over-40 and Over-50 Intermediate classes? It shouldn't. These are the men who have the money to finance their dreams. Their kids have grown. Their jobs are stable. And their wives don't care what they do anymore. Thus, it is the old guys who have the trick bikes, '32 roadster hot rods and custom boats.
As the saying goes, "Work hard and save all your money so that when you're old, you can afford things only young people enjoy." Everybody is jealous of the gray-haired guy in the pits with the totally decked-out bike, but he is actually the man who deserves it the most. How so? Most old riders scraped and saved 30 years ago to buy a used 125 beater so that they could race. Then, they tried to juggle school and work to keep the dream alive into their 20s. Finally, they settled down with a wife (or two) and 2.5 kids. They put money in a 401K, paid off the house and saved for their kids' college funds. Finally, after paying their dues, they have earned a little reward, like the bike they dreamed of during those late nights at the office.
WHAT WOULD YOU DO?
MXA is friends with SoCal Vet racer Phil Segundo. Phil had a brand-new 2013 Kawasaki KX450F, and he had big plans for the World Vet Championship and the Mammoth Mountain Motocross. Additionally, Phil had a wish list a mile long for his 2013 Kawasaki KX450F. The MXA wrecking crew felt that this was the perfect opportunity to see what a dream bike would look like when it was done. We assigned MXA test rider Dennis Stapleton to facilitate the project and help Phil build the ultimate Vet weapon. The only catch was that at the end of the project Phil had to hand the bike over to the MXA wrecking crew for a couple of days. We told him that we would break it in for him.
STEP ONE: A VISIT TO PRO CIRCUIT'S MITCH PAYTON
The first step in building Phil Segundo's ultimate Vet weapon was to visit the Pro Circuit Race Shop. In stock trim, the 2013 KX450F produces an impressive powerband, so the goal wasn't to make it a fire breather but to boost the power across the range to ensure holeshots on Glen Helen's fifth-gear start and Mammoth's high-altitude climb. Since this is a Vet bike, we wanted to keep it usable and friendly for the casual pace of a guy with brittle bones.


If you weren't worried about money, what would your dream Kawasaki KX450F look like??We're betting that it would resemble Phil Segundo's race weapon.
This is where Phil got to break into his wallet for the first?but not the last?time. Pro Circuit reshaped the ports by hand for better flow ($549.95) and installed a high-compression piston ($289.95). Removing and replacing the cylinder head cost ($274.95). Further enhancing the power was a Pro Circuit T-5 stainless exhaust system with a resonance chamber ($779.95). Ka-ching! That's $1895 in one fell swoop.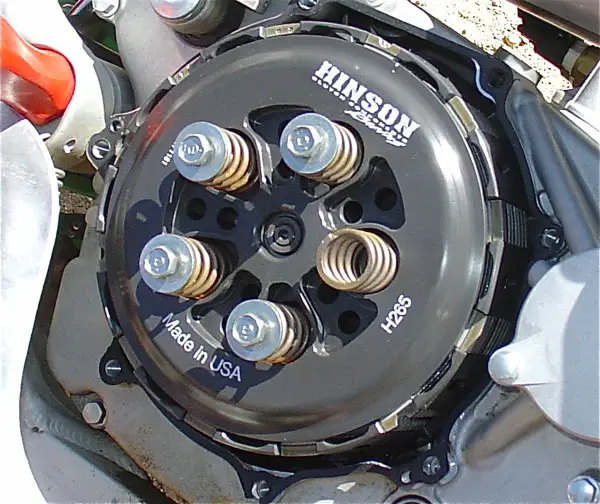 STEP TWO: A VISIT TO HINSON'S WAYNE HINSON
Powerful four-strokes demand a lot from their clutches?more than the typical Japanese stock clutch can withstand. Rather than have to fuss with the stock clutch after a couple months of riding and racing, we sent Phil's KX450F to Hinson to get a complete Hinson clutch right off the bat. The billet Hinson clutch's crisp, tight tolerances would feel great for this test, but the real plus would come a few months down the road when it still operated smoothly without getting notchy. What did it cost? Clutch basket, $249.99; Hinson clutch cover, $169.99; fiber plates, steel plates and spring kit, $199.99; and inner hub and pressure plate, $499.99 pair. Ka-ching! $1120.
 


Thanks to an increase in horsepower, our Vet KX450F desperately needed a complete Hinson clutch.
STEP THREE: A VISIT TO ENZO'S ROSS MAEDA
The KX450F suspension was sent to Enzo for tuning. Enzo's first step was to balance out the bike for Phil's 205 pounds. They replaced the stock 5.5 kg/mm shock spring with a genuine Kayaba 5.7 kg/mm spring ($122). The 2013 KX's PSF air forks saved the $112 it would have cost for a pair of firmer fork springs. Enzo also shortened the shock 2mm ($40) to balance the KX chassis and improve cornering. Enzo finished up by revalving the fork and shock ($180 each). Their goal was to firm up the suspension a bit overall for racing, keeping initial plushness for little bumps but increasing bottoming resistance. Ka-ching! $525.
STEP FOUR: A VISIT TO RENTHAL'S BRAD CAMERON
Getting the handlebars and controls just right is a priority on any dream bike, so Phil replaced all the stock components. Phil started with Renthal 976 TwinWall handlebars ($119.95), then added a Pro Circuit aluminum throttle tube ($59.95) and Renthal Kevlar grips ($19.95). He also swapped the stock levers for Pro Circuit's forged brake lever ($24.95) and forged clutch lever ($19.95), and installed Works Connection rotating bar clamps ($27.50) to help prevent damage during tip-overs. Ka-ching! $273.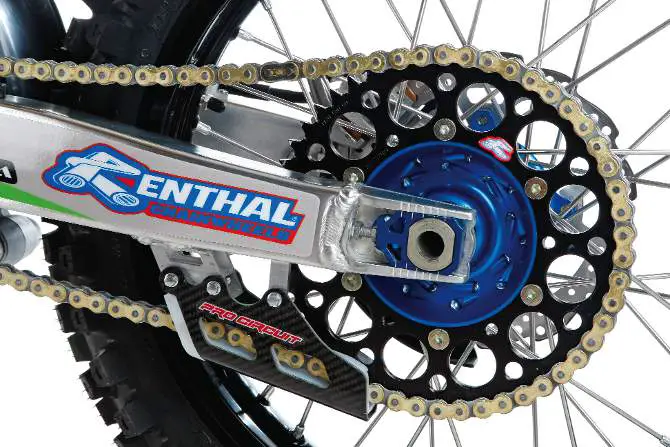 Many factory teams rely on Talon billet hubs, DID?Dirt Star ST-X rims, Bulldog spokes and Renthal sprockets. 
STEP FIVE: A VISIT TO DUBYA'S KRISTIN ANDERSON
Phil decided to go all out with the wheels, so the call went out to Dubya, which is the place to go for Talon or Kite Components in North America. Their selection is awesome. Phil chose Talon billet hubs, which have a five-year warranty, Bulldog spokes, spline-drive aluminum nipples, D.I.D. Dirt Star ST-X rims, and all-new bolts for the rotors and sprocket. Ka-ching! $1439.90.
STEP SIX: A VISIT TO DUNLOP'S BRIAN FLECK

Brian mounted Dunlop Geomax tires on the new wheels with a soft-terrain MX31 front ($56.95) and an intermediate MX51 rear ($135.95). For increased stopping power, Phil chose a Galfer Tsunami 270mm oversize brake kit for the front that included the adapter bracket and brake pads ($339). He decided on a Renthal Ultralite 50-tooth aluminum sprocket for the rear ($64.95), along with a Renthal 520 R1 Works chain ($77.95) for good measure. To keep the chain on track, Phil added a Pro Circuit chain guide ($299.95) that was longer and stronger than the stock unit. Ka-ching! $975.

Pro Circuit did a great job of broadening an already excellent powerplant. It suited Vet riders perfectly.
STEP SEVEN: A VISIT TO WORKS CONNECTION'S ERIC PHIPPS
Works Connection provided an assortment of useful items, along with a couple of trick-looking parts. Works Connection's radiator braces ($69.95) don't offer as much protection as some of the offroad radiator braces on the market, but they aren't heavy, bulky or ugly?and we know they work firsthand. We love Works Connection's hour meter ($37.95) with the tank mount kit ($14.95), because we can look down and see the rpm or when we need to change the oil while sitting on the bike. Their skid plate ($139.95) provides some extra protection. Lastly, we indulged in Works Connection axle blocks ($49.95) and a rear billet brake cover ($27.50) just because they were pretty. Ka-ching! $341.
STEP EIGHT: A VISIT TO FACTORY EFFEX
At ($299), the Raptor titanium footpegs were a luxury, but who can resist the opportunity to have a part run by some of the factory guys? Other goodies included a higher-pressure 1.6 radiator cap to replace the stock 1.4 and blue Pro Circuit radiator hoses. To finish off the looks of the project bike, we ordered a Factory Effex complete kit with a seat cover for some extra posterior traction ($189.95). Ka-ching!
STEP NINE: A VISIT TO THE RACETRACK


Pro Circuit did a great job of broadening an already excellent powerplant. It suited Vet riders perfectly.
Rolling out onto the deeply ripped dirt of a freshly prepped track on Phil's KX450F Vet weapon, we weren't disappointed with the amount of power the bike pumped out. Test riders immediately noticed a nice boost of bottom-end torque compared to the stock KX450F. As the lines on the track developed, that torque let us ride a gear higher coming through a couple of turns, which made cornering and transitioning onto straightaways smooth and seamless.
Climbing through the rpm on the Vet weapon, the bike seemed to make a little more power everywhere. Whereas the stock KX450F powerband would start to flatten out on top, the ported 450 would rev a little further. We definitely achieved our goal of a friendly yet powerful engine. Our only complaint was that for Intermediate and Pro riders, it was a little too friendly. Some testers wanted some hit in the midrange to help get on top of deep terrain and stand the bike up if it got leaned over too far in a rut.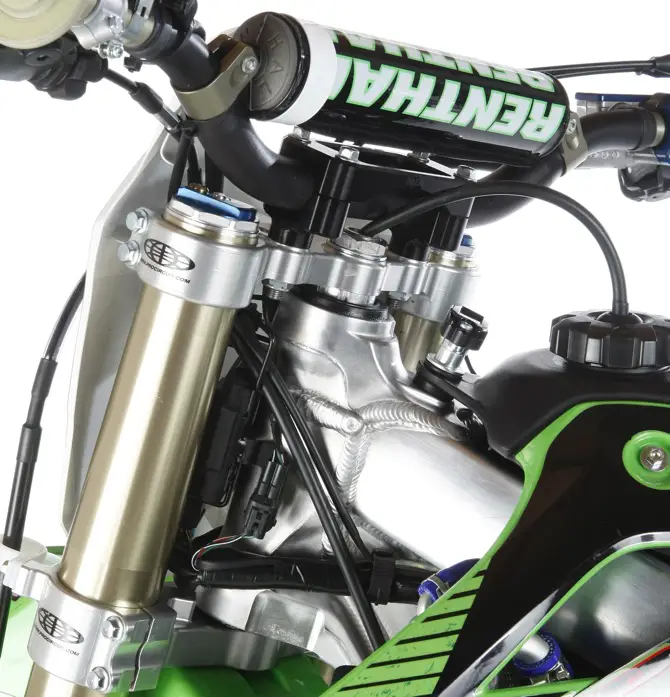 Changing the KX450F triple clamp offset from 23.5mm down to 22mm is a must-do for improving cornering.
When bumps were involved, we really paid attention to the suspension. The suspension was set up well for heavier and faster guys, but the forks were a little stiff. We ended up a few clicks softer on the compression with the fork's air pressure set at 36 psi. After that, the revalved air forks worked fairly evenly through their stroke until the end, where they ramped up and resisted bottoming very well. Our only complaint was that the shock seemed slightly under-valved for the firmer spring. We had to go in on the rebound adjuster and compression clicker to tame it a bit.
After getting all the clickers dialed in, we were happy with the Enzo suspension. It gave the bike a more stable, race-style platform at speed, and it eliminated the stock KX450F's suspension wallow. Overall, we have a hunch that it might be a little too stiff for Phil, but the forks and shock can be adjusted to a softer setting.
All the cool little pieces contributed to making the Vet weapon a good package, but some pieces really stood out on the track. The Galfer Tsumani front brake was crucial. Even in light braking situations, it was nice to be able to get the job done with a feather touch rather than a deliberate squeeze of the front brake lever. Love 'em or hate 'em, the Renthal TwinWall handlebars are markedly stiffer than stock. Their personality says "Pro" rather than "Vet," but it all comes down to personal preference. The Raptor footpegs not only looked trick, but they gripped our boot soles like glue. The Pro Circuit exhaust not only contributed to the healthy powerband, but was much quieter than the raspy stock system, which pumps out 120 decibels wide open.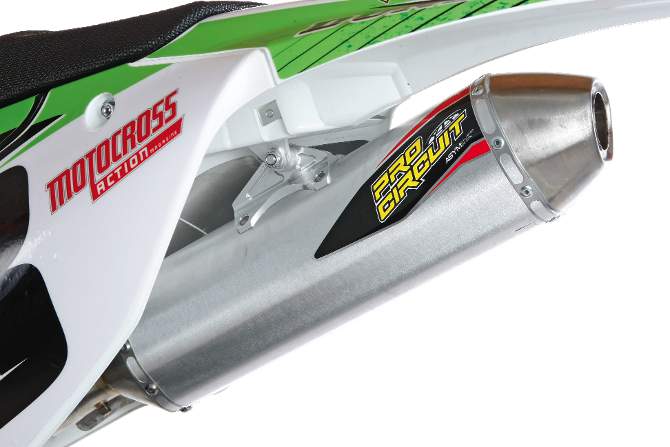 The Pro Circuit T-5 stainless exhaust system improved bottom-end torque without breaking the bank. 
Overall, Phil's Vet weapon proved that the already potent 2013 KX450F can be improved even further, and there are plenty of aftermarket options to make it happen. As for the MXA wrecking crew, it gave us some perspective on the stock 2013 KX450F that we are still testing products on. Plus, it showed us the potential for improving the all-new Kayaba PSF air forks.
We weren't too sad when it was time to give Phil Segundo his bike back. Why not? We have a lot of testing to do on our Kawasaki KX450F, and now we have a target to shoot at.