WE RIDE A KAWASAKI KX450F BUILT FOR THE AMA NATIONALS: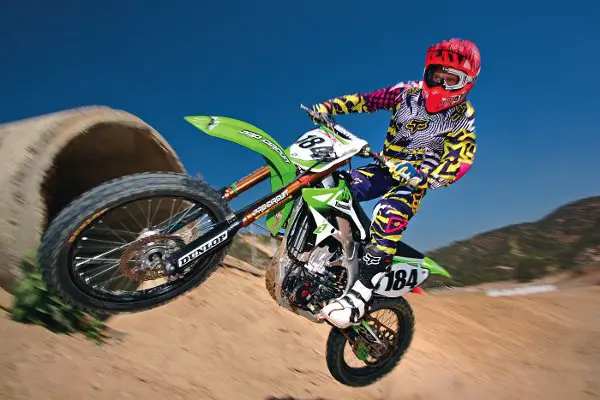 The MXA wrecking crew has a soft spot in our hearts for underdogs. To show our support for those who are not given a chance to show their might on a factory machine, we devised a plan. Instead of $500,000 salaries, $100,000 per race bonuses and airline tickets to every race, we decided to take an alternate route. A few months ago, we decided to build a bike that would allow us to race the AMA 450 Nationals on a shoestring. Our goal was to build a purpose-built motocross bike; one that would be competitive against the works bikes; one that would cut no corners; one that would give its rider a fighting chance. We wanted to see if such a bike could be devised, built and raced to success. With affordability in mind (and unfortunately, affordability in National bikes is measured in five digits), we wanted to show racers that they could beat the pampered and babied factory boys if they tried (a fact that was reinforced by Tommy Hahn during the 2009 450 Nationals).
In a world where it costs $200 to sign up for a National, $339 for an AMA credential and thousands of dollars in hotel rooms, parking, bike maintenance and other expenses, it's obvious that motocross is not a cheap sport.
We budgeted a total $13,000 for our National bike ($20,000 if you count the cost of the bike). That may sound like a lot of money, but it is less than the cost of a Kia, Hyundai or Scion?and they aren't designed to be raced in the toughest series in the world. It's not that we didn't want to save money, but more that we didn't want to waste our time. We focused our attention on the two most important areas of any motocross bike?the engine and the suspension. And, since we were building a full-race, AMA National-caliber KX450F, we trusted Pro Circuit with most of the labor and parts. Who would you have gone to?

SHOP TALK: WHAT'S UNDER THE PLASTIC?

We wanted to use the best possible components for every area of our National KX450F. When the time came to add up all the charges, prices and bills, we hit the ground running at roughly $12,500. Compared to the factory bikes that we would be sitting next to on the AMA National starting line, our KX450F price tag was miniscule. Need an example? Works footpegs on a Team Honda CRF450 are valued at a ridiculous $5000, whereas the most expensive part on our National-caliber KX450F was the $6750 Showa A Kit suspension.
Pro Circuit not only has the most experience competing against the works teams, but they normally beat them. The bulk of the aftermarket parts we chose were made by Pro Circuit, while the other items were distributed through Pro Circuit. When we sat down with Mitch Payton to discuss our needs and wants, we told him that we wanted a serious race bike, but that we didn't need any fluff or filler. We weren't interested in anodizing, doodads or gizmos. We told him that we wanted every penny that went into building our National bike to be spent on improvements that would make the bike better.
Engine work:
In our opinion, the 2009 Kawasaki KX450F has the best engine in the class. Not hard-hitting like the CRF450 or slow-revving like the YZ450F, the KX450F power comes on strong and steady, builds like a crescendo into the top-end, and doesn't have the flat top-end of a typical fuel-injected bike.
We discussed changing the cams, installing new valves or going with bronze valve seats, but we didn't do any of those things. Mitch suggested that we could get the most bang for our buck by installing one of his high-compression race pistons and having the head ported. We don't know about you, but when it comes to engine building, we don't argue with Mitch Payton. True to his word, those two changes gave our KX450F a healthy dose of horsepower (without the need to run fancy race gas or be rebuilt every five hours). The total cost of the engine's internal modifications was $830. In truth, we spent less money on the engine than we did on the Pro Circuit Ti-4R titanium race system ($999.95).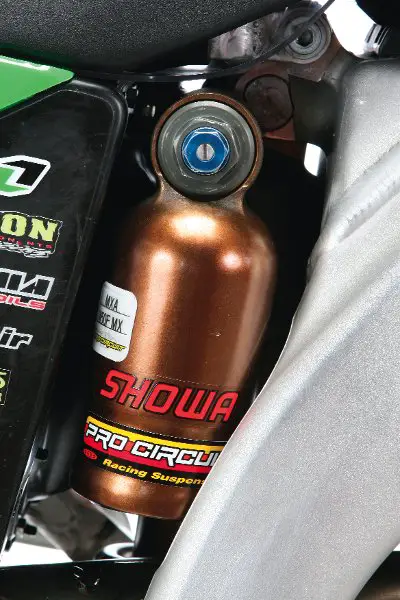 Suspension work: The pride and joy on our National caliber Kawasaki KX450F is the suspension. After struggling with the stock forks and shock, we decided not to fight the power, but to join it. To us, it was foolhardy to go up against factory bikes with works suspension with a revalved stocker?especially since it is possible for privateers to buy works Showa suspension from Pro Circuit (in the form of the Showa A Kit).
We've had tremendous results in the past with Showa works suspension, so we ditched the stock Kayaba components for their major competitor's kit stuff. The Showa A Kit forks have larger tubes, bigger cartridge rods, CNC-machined axle lugs and a titanium nitrate coating. The shock has a giant 18mm shock shaft, large-diameter piston holder, a check valve system, hard-anodized body, low-speed valve and titanium nitrate coating. After all was said and done, the Showa A Kit suspension cost $6750 (we did not pop for the extra $1325 for the titanium-coated turquoise shock and fork shafts).
In conjunction with the oversized 49mm forks, we needed special Pro Circuit triple clamps. The stock Kawasaki 23mm offset clamps were swapped out for gold colored 22mm offset clamps ($499.90) and 1-1/8 inch reversible bar mounts ($99.95). A Pro Circuit shock linkage arm ($224.95) was also installed to drop the rear end of the bike (and stiffen up the initial part of the stroke). Yes, all the suspension parts were expensive?more expensive than the cost of the bike itself. However, it is not only great suspension, but it eliminates any doubts about whether you have the best stuff.

Accessories: We felt that there were other Pro Circuit accessories that were necessary on our National KX450F. At the top of the list was the brake snake ($9.95), followed by the radiator hose kit ($199.95), engine plug kit ($69.95), thermostrips ($19.95), clutch perch ($149.95), clutch cover ($169.95), flow-through stainless steel foot pegs ($109.95), launch control holeshot device ($109.95), rear brake clevis ($54.95), and banjo bolts ($44.95). Although we could have strengthened the clutch by installing an aftermarket unit from Hinson or Barnett, we opted for the stock basket, inner and outer hubs, plates, fibers and springs. We also kept the stock plastic engine guards.

SHOWA A KIT SUSPENSION ISN'T CHEAP, UNLESS YOUR IDEA OF A GOOD DEAL IS GETTING A FERRARI AT DEALER COST. ALTHOUGH THE PRICE TAG IS STEEP, EVERY RIDER WHO HAS INVESTED IN SHOWA A KIT SUSPENSION KICKS HIMSELF FOR NOT BUYING IT SOONER. YES, IT'S THAT GOOD.
Other aftermarket parts that we used were few and far between. Renthal provided the sprockets (13/51 combination), Kevlar dual-compound grips and 1-1/8 inch TwinWall 997 bend handlebars. We also opted for an RK gold chain, a Sunline V1 MDX brake lever, Dunlop tires and One Industries graphics, preprinted backgrounds and One iD rider kit.
TEST RIDE: WHITE KNUCKLE GRIP

In the past, we had Pro Circuit build us the fastest CRF450 that they could build, but we found that the 60-horsepower monster was too powerful for our tastes. This time we got smarter. Instead of going overboard in the engine department, we suggested that Pro Circuit create a power profile that was fast enough to compete with factory bikes, but not so fast that it would be exhausting to race. Heeding our request, Pro Circuit earned five stars for their workmanship. The National-caliber KX450F engine was just that?a competitive AMA National powerplant. The engine was better than stock everywhere. Better yet, the engine mimicked the pleasant, but powerful stocker?only now it was on steroids. Areas where the Pro Circuit-tuned engine could beat its Tarzan-like chest were in the low-to-midrange transition and midrange torque. Test riders could shift up and ride in a higher gear without the powerplant shuttering or nosing over. The biggest compliment given to our KX450F engine was that test riders could race entire motos without getting as tired as they usually did. That, in a nutshell, was the modus operandi that we were in search of.

Showa A Kit suspension isn't cheap, unless your idea of a good deal is getting a Ferrari at dealer cost. Although the price tag is steep, every rider who has invested in Showa A Kit suspension kicks himself for not buying it sooner. Yes, it's that good. Suspension work can be a double-edged sword, in that it only works well if it is set up properly. Thankfully, Jim "Bones" Bacon at Pro Circuit has years of experience working with every conceivable type of rider. To further help in suspension settings, Bones has worked with every MXA test rider many times, including Dennis Stapleton, who raced our KX450F at several AMA Nationals. Bones is a meticulous note keeper and was able to refer back to previous suspension specs to get the forks and shock dialed in quickly.
How did the suspension work? Stapleton described the Showa A Kit units being as smooth as butter melting on a hot tin roof. The actuation and progressive feel of the forks and shock provided stability in every conceivable situation. The biggest difference between works parts and production parts comes from the major decrease in stiction on the works components. They want to move, and when they move they don't feel like they are moving. The fork/shock balance was spot on, eradicating the dreaded chopper feel that is common on the stock KX450F. The Pro Circuit shock linkage arm made the rear end of the bike sit lower and kept the shock up in its stroke (leaving more available travel for jumps and bumps). The wallowy feeling that is standard on the stock KX450F was no longer an issue. Pro riders, and even those with Novice skills, will benefit from the Showa A Kit suspension. Just be sure to save your pennies.
The biggest difference between Ryan Villopoto's KX450F and our National caliber KX450F, aside from the price tag, was weight. Our Pro Circuit-built KX450F wasn't much lighter than a stocker, while a factory KX450F has upwards of ten pounds shaved off. Is weight a huge issue among pro riders? The short answer? Yes, it is. However, we are well aware that if we exchanged bikes with Ryan Villopoto, we wouldn't be changing finishing spots.
CONCLUSION: WHAT DO WE REALLY THINK?

Yes, it cost a lot of money, but think about the costs for a second. Our complete setup cost less than the price of tires used in one NASCAR race by one team. You couldn't buy the pistons for a Reno Air racer for what it cost for us to totally remake our KX450F. We could build 2000 more full-race KX450Fs and not come close to the cost of a single F1 car. Motocross racing is expensive, but it is also one of the cheapest high-profile motor sports available to average people.
So, you will have to forgive us for saying that we built a rather inexpensive bike for the AMA Nationals. The AMA National championships aren't like playing tiddlywinks. This is serious business, and our project bike was built for the most competitive motocross series in the world. We got in cheap.