WE RIDE A PROJECT 2003 SUZUKI RM250 TWO-STROKE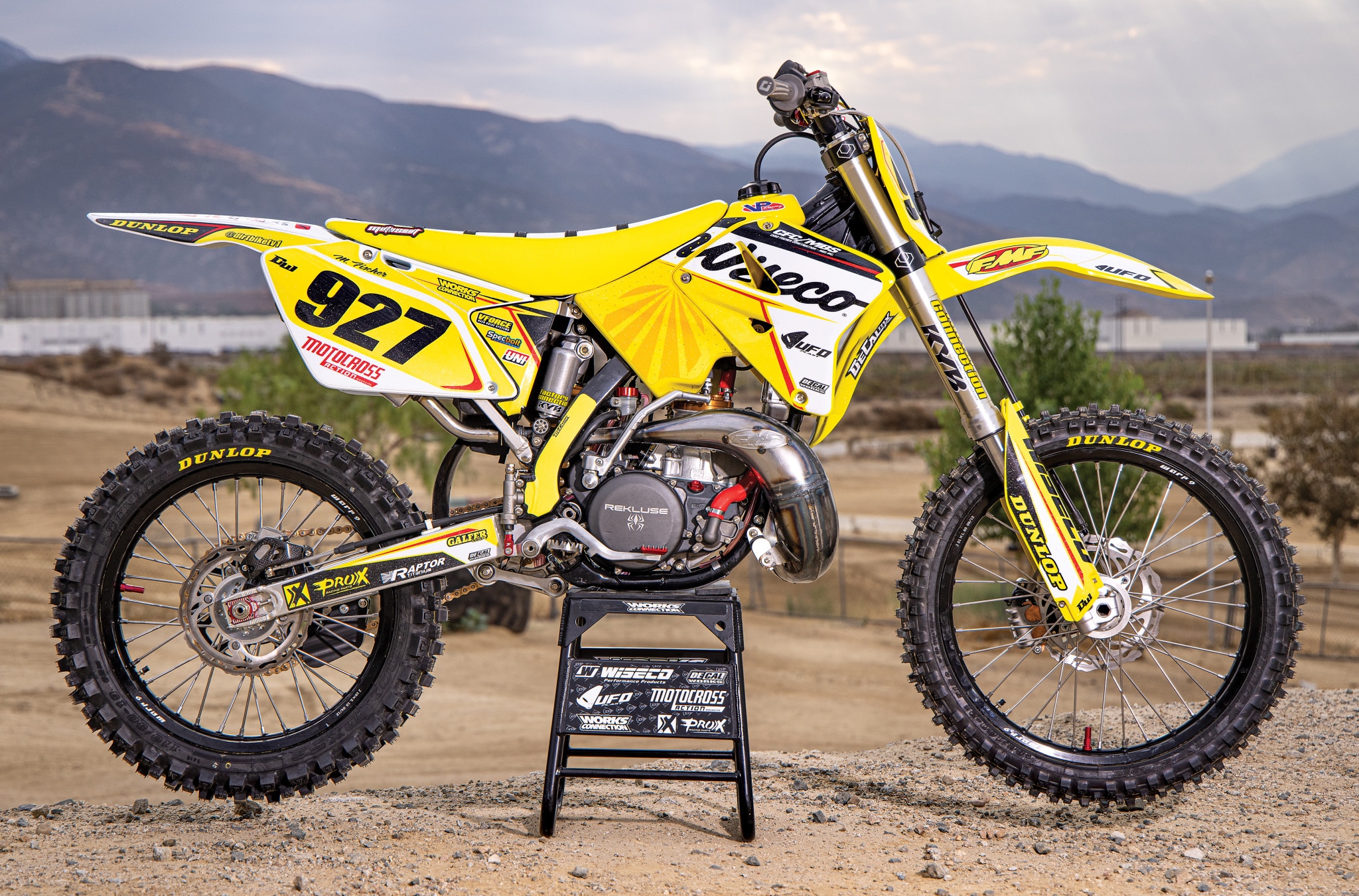 Released in 1976, the Suzuki RM250 is one of the most recognizable bikes of the two-stroke era. Staring at this project RM250 brings back fond memories of Travis Pastrana and Ricky Carmichael riding factory Suzuki two-strokes to their full potential.  Travis Pastrana's racing success came on the RM125, but he did spend time racing the RM250 (whenever he wasn't injured) from 2002 to 2005, only jumping to the four-stroke briefly in 2006. Travis stepped away from Supercross and motocross to pursue Freestyle after the 2006 season, and, even though he wasn't racing AMA Supercross, his popularity never diminished because he continued to draw attention to every sport and activity he did. And yes, he still used his RM250 two-stroke for the X Games, which was at the height of its popularity during Pastrana's heyday.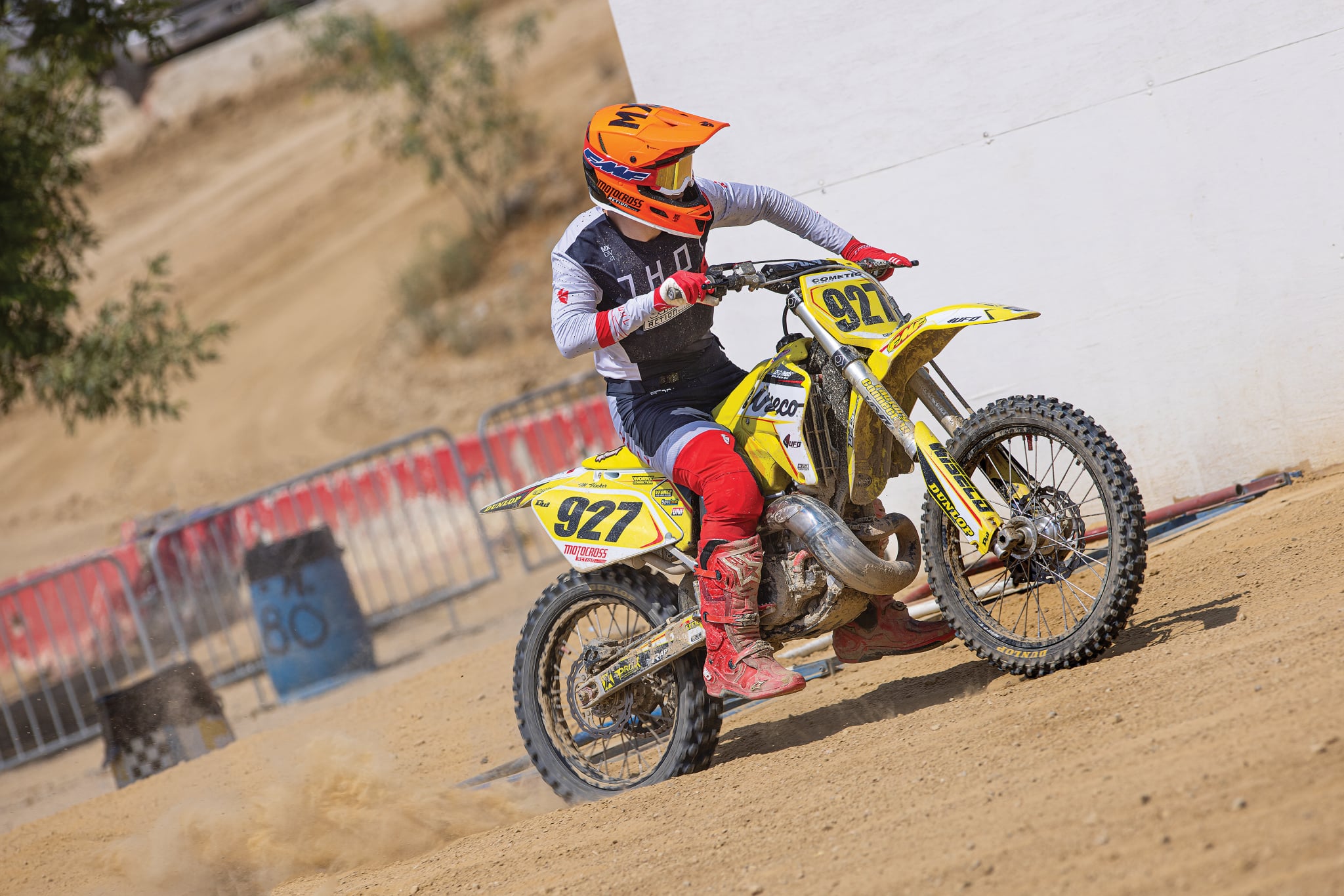 Amazingly, even after Suzuki stopped producing two-strokes at the end of the 2008 model year, Travis had stockpiled enough bikes to keep his RM250 dream alive for another 11 years. He finally switched to KTM two-strokes in 2019. Over the years, MXA tested Travis Pastrana's 2003 Suzuki RM250 two-stroke race bike and, much later, the 2018 Suzuki RM250 Motocross Des Nations bike that he raced for Team Puerto Rico with Kevin Windham and Ryan Sipes. 
When Ricky Carmichael switched from Honda to Suzuki, he rode the RM250 two-stroke to win the premier class Supercross title in 2005, becoming the last rider to win the title on a two-stroke; however, Carmichael did switch to the four-stroke for the 450 Nationals that same year, meaning that his RM250 days were over.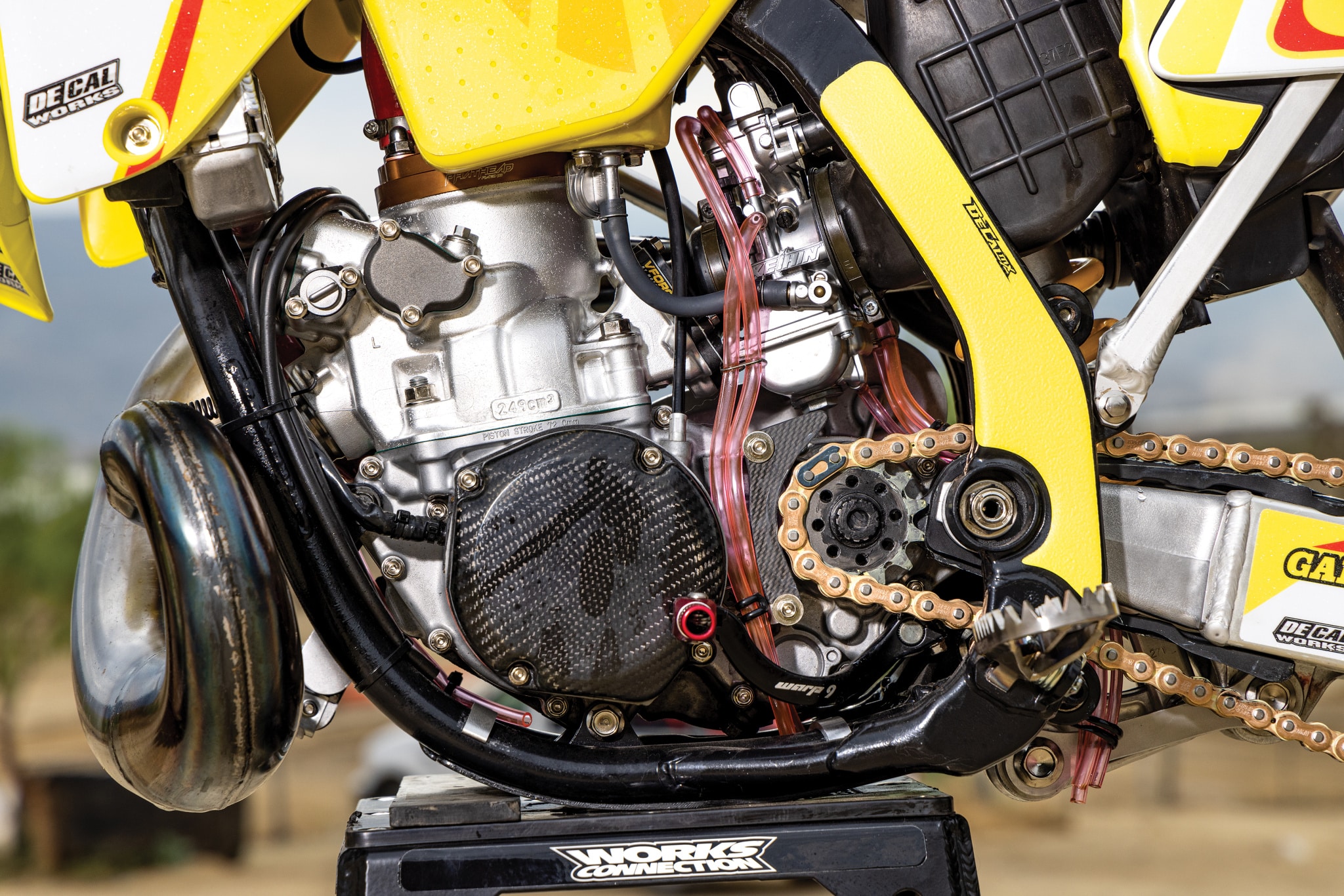 THE STORY OF THE BUILD 
 This 2003 Suzuki RM250 project build is owned by Michael Fischer, a long-time racer and enthusiast. Living in Nebraska, he is far away from the SoCal motocross mecca, however, Michael and project guru Jay Clark have built a few unique bikes over the years. This time Fischer went nostalgic and assigned Jay the task of fixing up the old Suzuki RM250 race bike that he still had laying around from the '05–'06 seasons. After injuries put a halt to his racing, his dad put the bike in the garage and let it sit. Now, 16 years later, Michael wanted to get it out and freshen it up. 
MXA said about the 2003 Suzuki RM250  that "its blend of quick handling, well-balanced suspension and a YZ-clone powerband had moved the RM 250 out of the doldrums. Thanks to a reshaped exhaust port, single-stage power valve, rebalanced crank and lighter piston pin, the 2003 RM250 pumps out respectable horsepower. At 8700 rpm, the RM cranks out 46.8 horsepower. That's a good number. On peak horsepower, it is way below the target set by the KTM 250SX (49.9 hp) and CR250 (47.1 hp), but those bikes make their biggest number 1000 rpm before the RM250 . At 1000 rpm intervals (starting at 6000 rpm and ending at 10,000 rpm), the RM250 ranks fourth, third, fourth, second and second against the red, blue, green and orange competition."
Here's a rundown of the parts that were used to revitalize this bike. Use this as a guide to initiate your own RM250 project, or as inspiration to rebuild any old two-stroke you might have gathering dust in your garage.
The engine was completely rebuilt. Inside is a Wiseco standard-bore Pro-Lite piston (P/N 823M06640) and clutch basket (P/N WPP3011), with Wiseco CV4 radiator hoses and a high-pressure radiator cap to keep the engine cool. The engine was also given a ProX connecting rod kit (P/N 03.3323), carb rebuild kit (P/N 55.10174), water pump rebuild kit (P/N 57.3423) and countershaft seal kit (P/N 26.640028).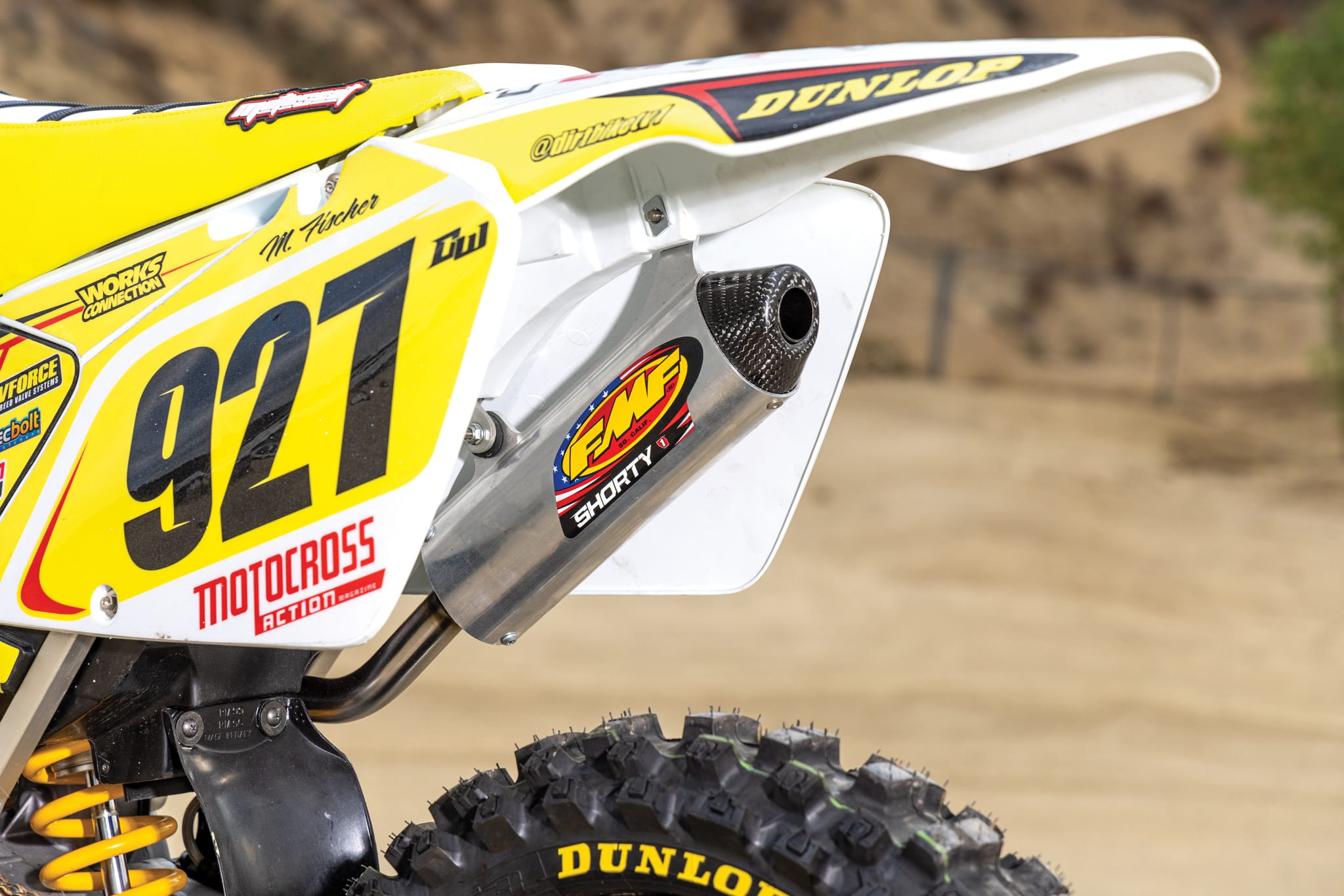 In addition to the engine parts, ProX also provided the throttle cable, clutch cable, steering head bearing kit, front master cylinder rebuild kit, rear master cylinder rebuild kit, 13-tooth countershaft sprocket, 49-tooth rear sprocket, ProX Gold roller chain, upper and lower chain rollers, swingarm bearing kit, linkage bearing kit and upper shock bearing kit. 

Tom Morgan Racing did the crank rebuild with the ProX rod kit, while a Rekluse torque drive clutch plate kit was installed to transfer power to the transmission. Cometic gaskets were used on the top and bottom ends, and ICW straightened out the radiators and braced them.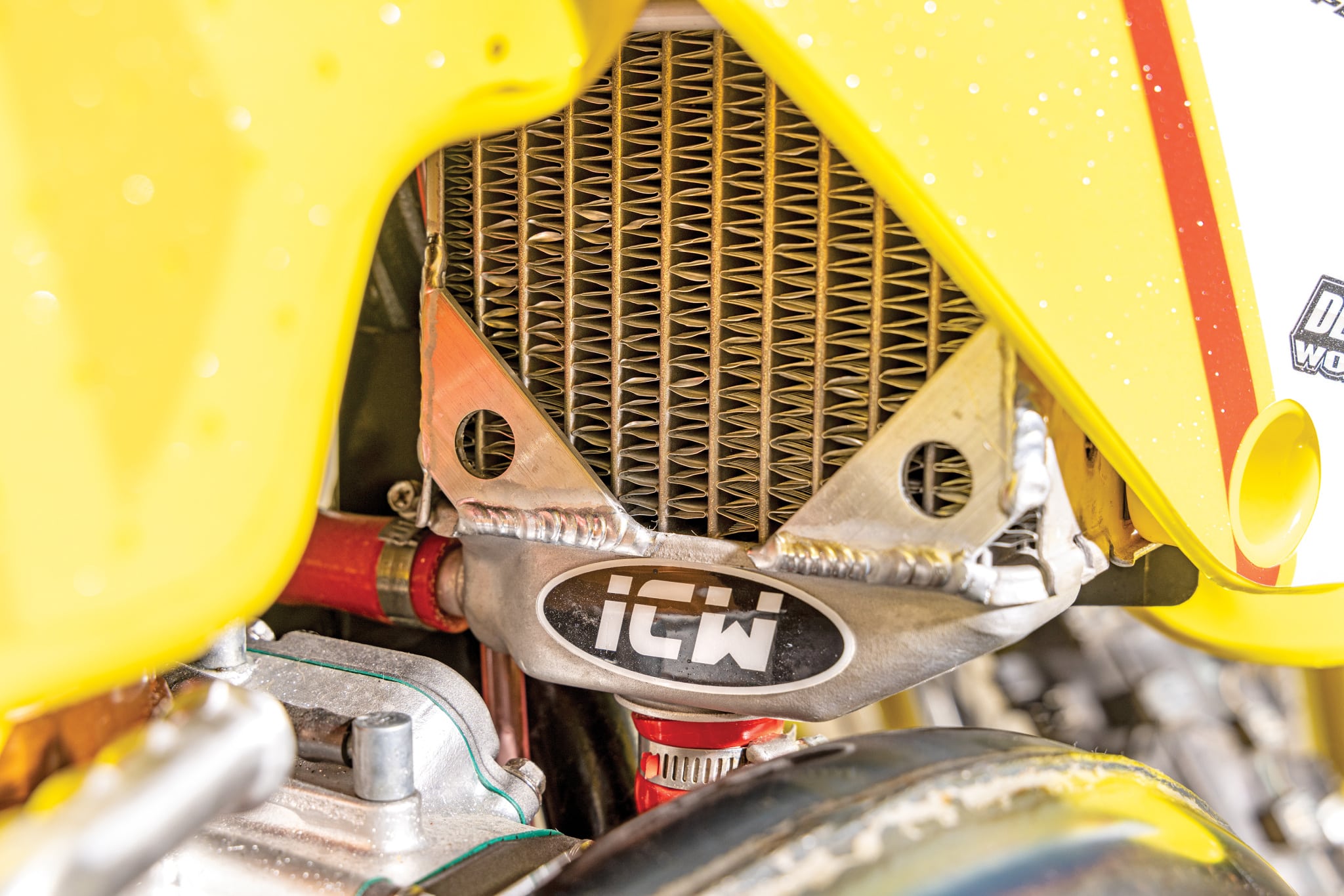 Uni filters were installed to keep the airways clean, and a Moto Tassinari VForce3 reed valve optimized air and fuel flow into the combustion chamber. The newly renovated RM250 engine ingested VP C12 race fuel and exhaled through an FMF Racing Factory Fatty pipe and FMF shorty silence (with a Legacy carbon fiber end cap). Phathead Racing provided the custom-engraved cylinder head and race combustion dome. 
Stopping power came from a combination of Galfer brake hoses and brake pads that gripped Warp 9 brake rotors mounted on Dunlop MX53 tire-equipped Warp 9 wheels. Tusk Racing provided the axle blocks, while Michael's RM250 used a TM Designworks chain guide. 
UFO Plastics provided the full yellow plastics kit that was dressed in Decal Works custom graphics. Decal Works also provided the yellow frame gripper tape, which was laid on the Top Dog, powder-coated, black, steel frame. A custom yellow MotoSeat seat cover matched the graphics. MHR Racing cerakoted select parts on the bike. As for the controls, ODI CFT Podium MX 1-1/8-inch handlebars were used with ODI V2 half-waffle lock-on grips. Mounted on the ODI bar was a Works Connection Elite clutch perch assembly and front brake lever. Works Connection also provided the valve stem caps, steering stem nut, oil filler plug, brake caps and Fasst Co. rear brake clevis. To sharpen up the rear brake pedal, Michael used a Hammerhead Designs brake pedal tip.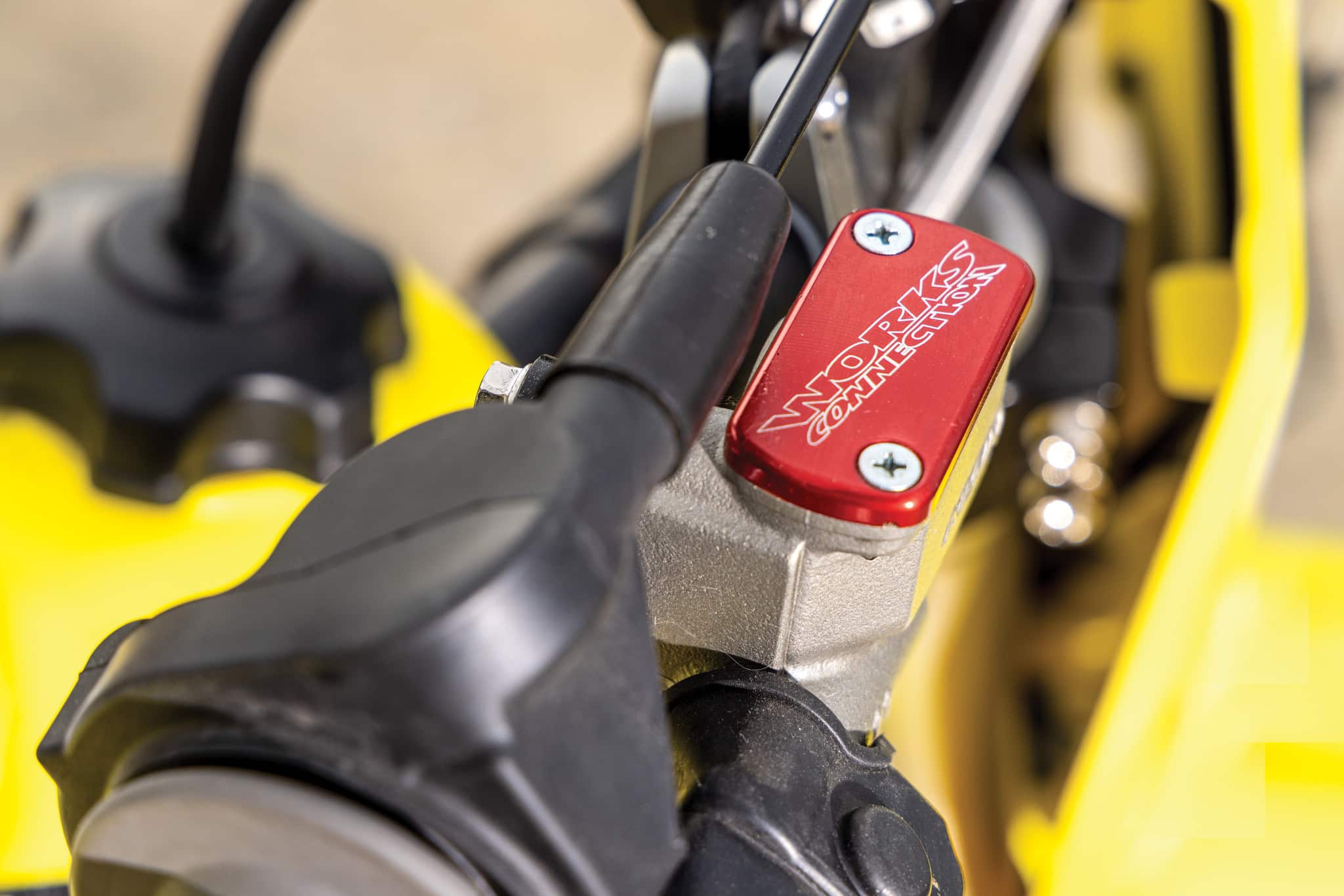 Light Speed Carbon Fiber offered protection and style with its rear brake caliper guard, skid plate and pipe hanger. Brownlee Racing and Factory Connection re-valved and set up the Kayaba suspension. SpecBolt provided a Wurks kit to clean up the engine and chassis, and they used a Legacy Carbon ignition cover to go with the carbon fiber theme. Finally, Raptor titanium pegs were used, but instead of RM250 pegs, Yamaha pegs were installed with the stop ground down to allow the pegs to sit level.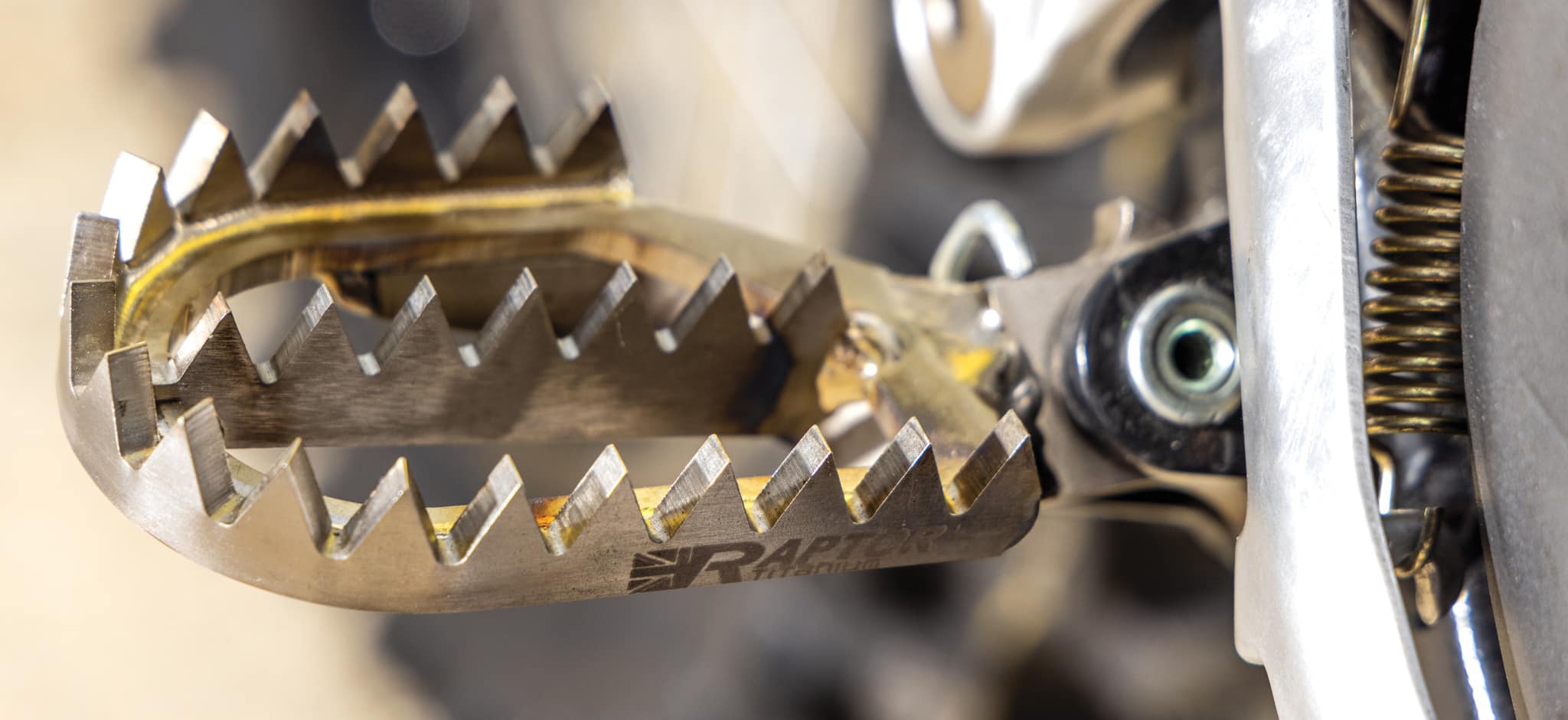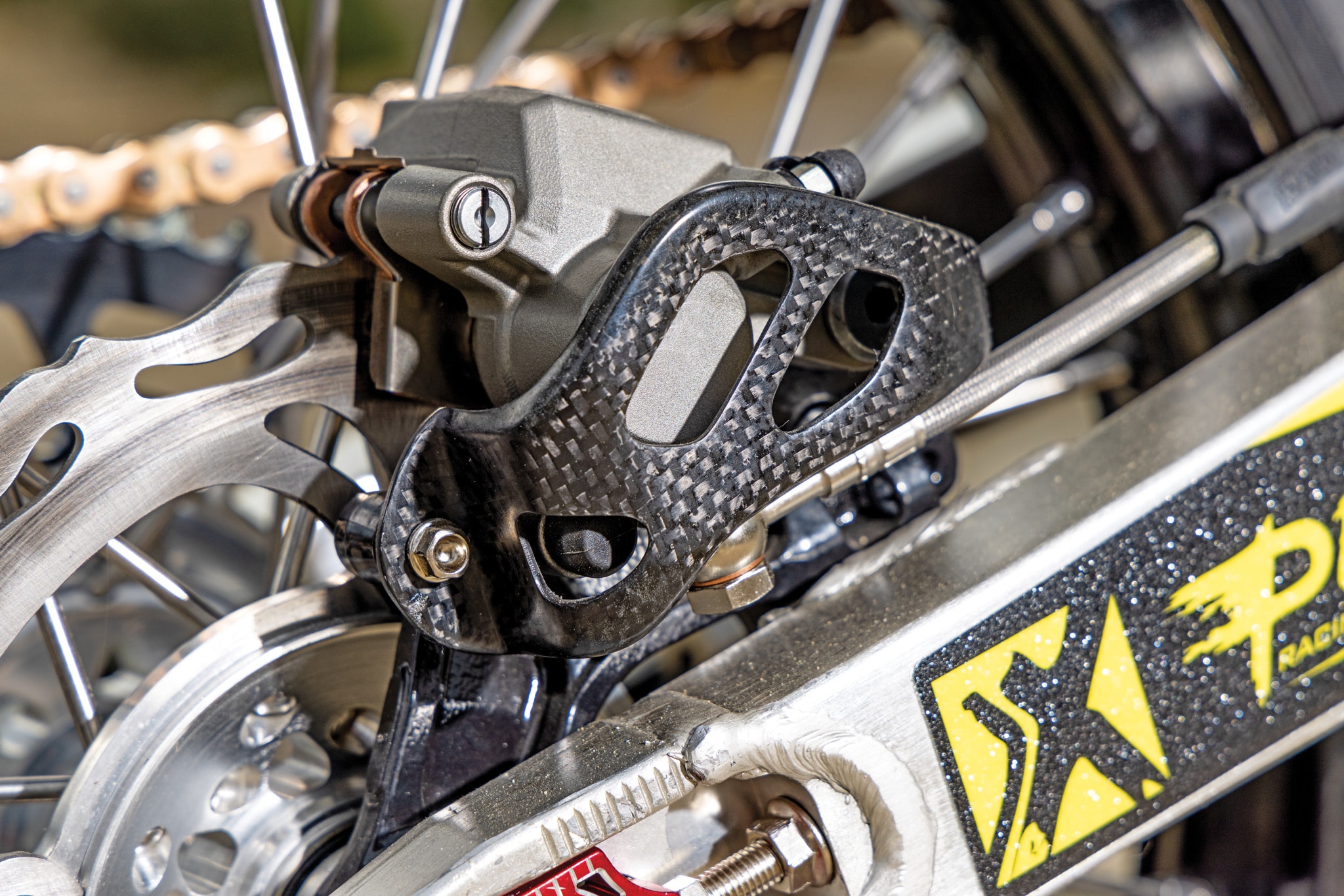 The result was an immaculate Suzuki RM250 two-stroke, built from a 20-year-old garage remnant. It was kind of a shame that MXA had to ride it to put an exclamation point on this project. We didn't baby it, because, after all, it was light years better than it was when it rolled out of the Suzuki dealership back in 2003. Enjoy the photos as much as we enjoyed the bike.
\