WE RIDE THE WILVO YAMAHA YZ250F THAT ALEKSANDR TONKOV LEFT BEHIND
Click on images to enlarge
Winning a moto in the 250 World Championships against Jeffrey Herlings and Tim Gajser generates buzz, while racing for two different factory programs over a seven-year career raises a rider's Q-rating. Russian Aleksandr Tonkov did both of those things and was in a good spot in Grand Prix racing. Injuries had hampered the Wilvo Yamaha rider in 2016, but he showed promise against the world's best in his final year racing the 250 class. Due to Youthstream's 23-year-old age-limit rule, Aleksandr planned to race a Yamaha YZ450F with the Wilvo team in 2017. Then, it all came crashing down.
Like an apparition, Aleksandr Tonkov vanished at the tail end of the Grand Prix season. The rumor mill swirled with ludicrous tales of doping and foul play. Only later was it revealed that Tonkov had a passport mix-up. Belgian customs control apparently stamped Aleksandr's passport with the wrong date, raising suspicions of falsified documentation. As a result, Tonkov hasn't been allowed to travel to any countries in the European Union. Until this issue is cleared up, Aleksandr cannot go to any European countries. Worse yet, that means that he can't race for Wilvo in 2017—because he can't be sure that he will be allowed entry any of the variety of EU nations. In a sport where racers are quickly forgotten, the passport gaffe ended Tonkov's Grand Prix career — at least for the foreseeable future.
Good news for Tonkov. Just this week, Aleksandr Tonkov arrived in Australia to race the 2017 Australian Nationals for the Mega Bulk Fuels Monster Energy Kawasaki in the 450 class. He will team with Aussie Nathan Crawford.
"I had some USA opportunities, but I have never been to Australia," said Tonkov in arrival in Australia. "I was friends with Dean Ferris and Todd Waters when they were in Europe, so I heard many good things about the Australian championship. I didn't come here from Russia to be number ten, I want to win the races." In truth, Alek didn't choose Australia over the MXGP series. Australia was his last chance to keep racing at a high level.
WHO WAS AT FAULT IN THE PASSPORT DEBACLE? MXA IS NOT IN THE BUSINESS OF DISSECTING INTERNATIONAL POLITICS. WHETHER THE RUSSIANS ARE TO BLAME, ALEK IS TO BLAME OR THE EUROPEAN UNION IS TO BLAME, WE KNOW THAT ALEKSANDR TONKOV HAS A SPECIAL RACING PEDIGREE.
Who was at fault in the passport debacle? MXA is not in the business of dissecting international politics. Whether the Russians were to blame, Alek was to blame or the European Union was to blame, we know that Aleksandr Tonkov has a special racing pedigree. We remember watching him debut on the then-all-new Husqvarna FC250 and steadily climb the 250 Grand Prix ladder over the past few years. Tonkov is part of the most recent Russian motocross generation. Old codgers will recall the glory days of World Champions Viktor Arbekov and Guennady Moisseev. Tonkov, along with Evgeny Bobryshev and Vsevolod Brylyakov, now represents the tri-color flag in world motocross, although Tonkov will be doing it in Aistralia.
But, with Tonkov's MXGP dreams shattered for the time being—eventually his passports issued will be resolved—Yamaha Europe invited the MXA wrecking crew to test Aleksandr Tonkov'sWilvo Yamaha YZ250F. This is the bike he raced in the 2016 250 World Championships. We were immediately drawn to his radically different Wilvo YZ250F. Aleksandr Tonkov's Yamaha had several aesthetic differences from a standard YZ250F. For starters, Tonkov's front number plate had two large inlets to promote airflow into the air-induction system. Think of it as an alternative to the old Cycra Racing vented front number plate. The team also cut the lower radiator shroud sections for better airflow through the radiators. Heat is the enemy of engine performance.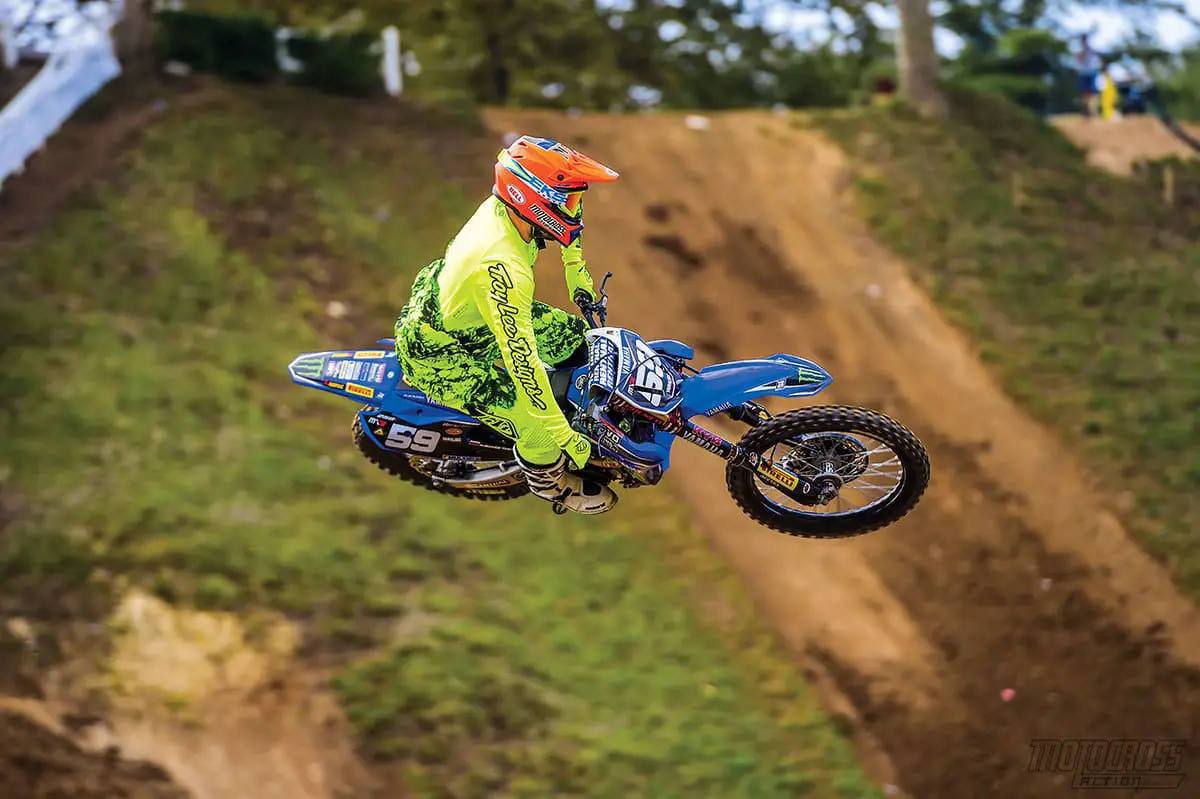 FIM Motocross rules allow for significantly more wiggle room than the AMA rulebook. Tonkov's YZ250F sported a carbon fiber gas tank and subframe, both no-nos in U.S. competition. Those items, along with Kayaba A-Kit 48mm Pneumatic Spring Forks and a special shock, were the crown jewels on Aleksandr's highly modified 250. As expected, titanium and carbon fiber were used in order to either shed tonnage or add protection with nominal weight gain. GYTR Racing kicked in the engine parts, including the cylinder head, camshafts, crankshaft and piston.
Given the varied racing surfaces found on the Grand Prix circuit—from marbly hardpack in Italy to deep Dutch sand—bike setup is crucial. Wilvo Yamaha worked tirelessly to find slight advantages whenever possible. In the sand of Assen and Lommel, Tonkov used an oil cooler to lessen engine strain. The team went to a slightly larger-diameter throttle-body injector for smoother throttle operation and more torque before the Teutschenthal round. Eight races later, Wilvo discovered a new cylinder-head spec for increased power; however, by that time, Tonkov was trapped behind the Iron Curtain. At the beginning of the season Aleksandr used a Pro Circuit link arm, but the team switched back to the standard rising rate later in the season. At various times of the year parts were replaced and parts added, such as a Pro Circuit shifter and full-titanium factory-spec exhaust with carbon fiber head-pipe guard.
WHAT WAS IT LIKE TO RIDE ALEKSANDR TONKOV'S WILVO YAMAHA YZ250F? PLEASE FORGIVE OUR BRASHNESS, BUT IT WAS A NIGHTMARE.

Now for the moment of truth. What was it like to ride Aleksandr Tonkov's Wilvo Yamaha YZ250F? Please forgive our brashness, but it was a nightmare. Imagine navigating John Force's Funny Car around a motocross track. While Tonkov's engine didn't produce 10,000 horsepower, the high-strung powerplant was difficult to keep in the sweet spot. Although we're comparing apples and oranges, it was markedly faster than Cooper Webb's 2015 Star Racing YZ250F. Then again, "fast" is a relative term. Raw power isn't worth a hill of beans without control, and Tonkov's engine was the Mr. Hyde to Webb's Dr. Jekyll. We found it best to tighten our gloves, let the Wilvo YZ250F powerplant wind out in a lower gear and pray for the best. It was scary.
The no-holds-barred approach was necessary for another reason—Aleksandr Tonkov, all 155 pounds of him soaking wet, had fork settings stiff enough to manage a 220-pound outside linebacker. "Forgiving" is a word that doesn't belong in Tonkov's vocabulary, because the incredibly stiff forks pummeled us into oblivion. On one hand, we weren't afraid of casing jumps or shooting to the moon; conversely, failing to properly execute the slam-bam approach was a perilous endeavor. Suffice it to say, effectively riding Tonkov's YZ250F requires a fearlessness best reserved for GP-level riders.

We don't intend to paint Aleksandr Tonkov's YZ250F as Carrie out of Stephen King's horror thriller. Quite the contrary. MXA understands that Pro riders' bikes are subject to the peculiar, if rather strange, tastes of their riders. We also admire how Tonkov was able to get the most out of the engine and suspension package. Mere mortals would never come to terms with his rocket-ship engine, rock-solid forks, gummy shock and unbalanced chassis. This was a gun-and-run-style bike, meaning that we had to plow into corners full-speed ahead, force the front end down and hammer the throttle while steering with the rear wheel.
Motocross can be cruel. Life in the limelight is short for a professional racer (unless we are talking about John Force). You're only as good as your last race, and you're no good stuck behind Russian border guards. Aleksandr Tonkov has found hope in Australia. He will not fade into obscurity as he waits out his passport problems. Do we expect Alek to return to Grand Prix motocross when hsi stint in Australi is done? That depemds on ho he does and what the EU passport control agents do. Whatever the case, MXA will always remember Aleksandr Tonkov. Why? Years from now, when our wrists are ailing from arthritis, we'll recall the day we rode Tonkov's unhinged YZ250F.
SIDE-BY-SIDE: WE RIDE BRENT VAN DONINCK'S KEMEA YAMAHA YZ250F
After we tested Aleksandr Tonkov's Wilvo Yamaha YZ250F, we were offered a quick spin on Brent Van doninck's Kemeas YZ250GF. It was night and day different.
Brent Van doninck has competed on the world stage since 2015. Injuries and inconsistency have hindered his climb up the ladder, but there's no denying that Van doninck has the necessary ingredients for future success. Led by six-time Belgian National Champion Marnicq Bervoets, the Kemea Yamaha team believes in the 21-year-old.
The Kemea team spec'ed a GYTR Racing engine-development setup similar to what Cooper Webb relied on to win the AMA National title. Additionally, Kemea used a secondary GET injector, which was mounted on the air-filter cage (a la Kawasaki). A GET engine-control unit took care of the ignition, timing and fuel control. To promote cooling efficiency, the team found a larger radiator with different flow to be most effective.
Other upgrades included Kayaba's A-Kit PSF-2 air fork and shocks, a carbon fuel tank and Neken SFS triple clamps. Before the Valkenswaard GP, Van doninck switched to a different Akrapovic factory exhaust for more bottom-end power to help him get off the gate. Nine rounds later, the team updated the crankshaft, connecting rod and piston for better acceleration and top-end power.
MXA test riders were enamored by Brent Van doninck's YZ250F as they rode it around the Maggiora, Italy, circuit. The bike had a neutral setup, without oddities that caused testers to make drastic changes in their riding styles. Van doninck's engine demanded respect, yet the broad power range allowed us to carry a gear higher through most corners. At high rpm, the engine never wavered. It was a do-it-all powerband that would be well liked by most skill-level racers.
Van doninck's Kemea Yamaha YZ250F offered performance consistent with the toptier bikes found on the AMA National circuit, aided by the usability of Brent's Kayaba fork and shock package. The suspension held up well at high G-forces and maintained a fair amount of plushness in low-speed situations. It never did anything strange. Consistency is key to going fast, and Brent Van doninck found great balance with the Kemea YZ250F.