YOU SAW THE MXA VIDEO: NOW READ THE FULL TEST ON ANDY JEFFERSON'S GASGAS MC 366F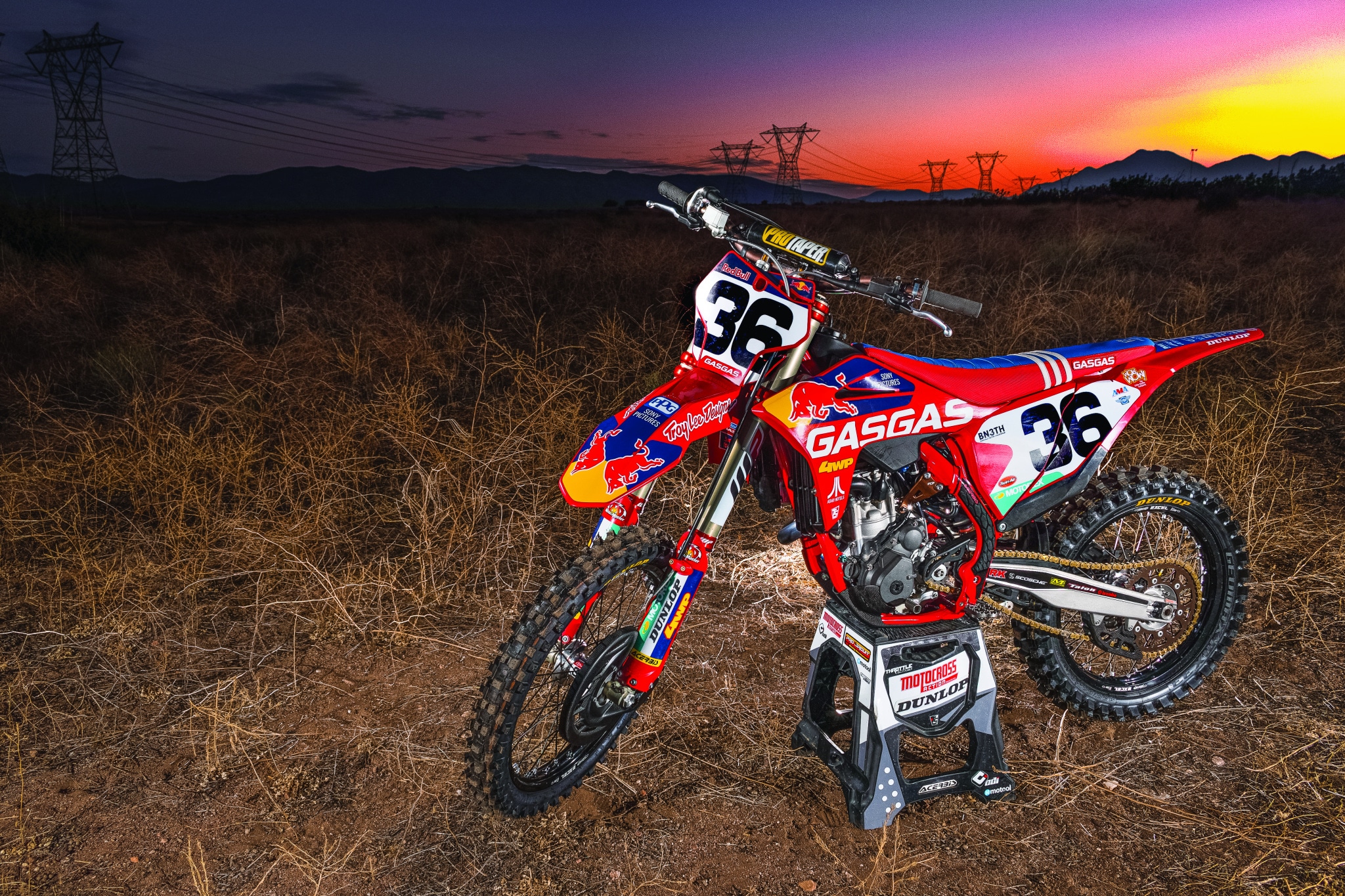 Although Andy Jefferson's personal GasGas race bike bristles with works parts, nothing reveals the biggest secret—that it has a 366cc engine with heavier cranks, works transmission and a milled off-road works cylinder head. On the outside, for all to see, are the 52mm works forks, 30mm front axle, WP dropout Trax shock and Brembo factory brake calipers.
No matter how you slice it, Andy Jefferson is an icon in the sport of motocross. He was handpicked by Pro Circuit's Mitch Payton to carry the Husqvarna banner for Mitch's team almost 40 years ago. For Andy, a poor kid from the SoCal desert, the chance to race on the same team as Tony DiStefano, Jeff Jennings and David Gerig was a dream come true. He was used to riding a borrowed bike from a friend's Victorville Suzuki shop and paying his expenses out of his winnings. He had to struggle for recognition, and although Andy would never say it, it is possible that there was racial bias in the motocross world in 1979. Jefferson was winning local SoCal races, Trans-Cals and Golden State events, but he had to watch the riders he beat get support deals while he struggled. Andy had almost no hope of getting a fully sponsored ride until Mitch Payton called and offered him a place on the Pro Circuit team. Andy was shocked the first day he went to Pro Circuit and they gave him two brand-new bikes, a box full of spare parts and new riding gear. To this day, Andy believes that he owes Mitch Payton and Husqvarna a debt of gratitude for bucking the worst of society's taboos and believing in him.
Andy paid Mitch Payton back by giving it his all in every race he entered. Most of all, Andy put his name in the AMA record books as the Jackie Robinson of Motocross by becoming the first black racer to make Supercross main events—and this was during the time when privateers didn't make main events. Decades before James Stewart arrived on the scene, Andy Jefferson was leading the way. Unfortunately, a series of knee injuries ended his AMA Pro career; although, he kept racing WORCS, off-road and desert races.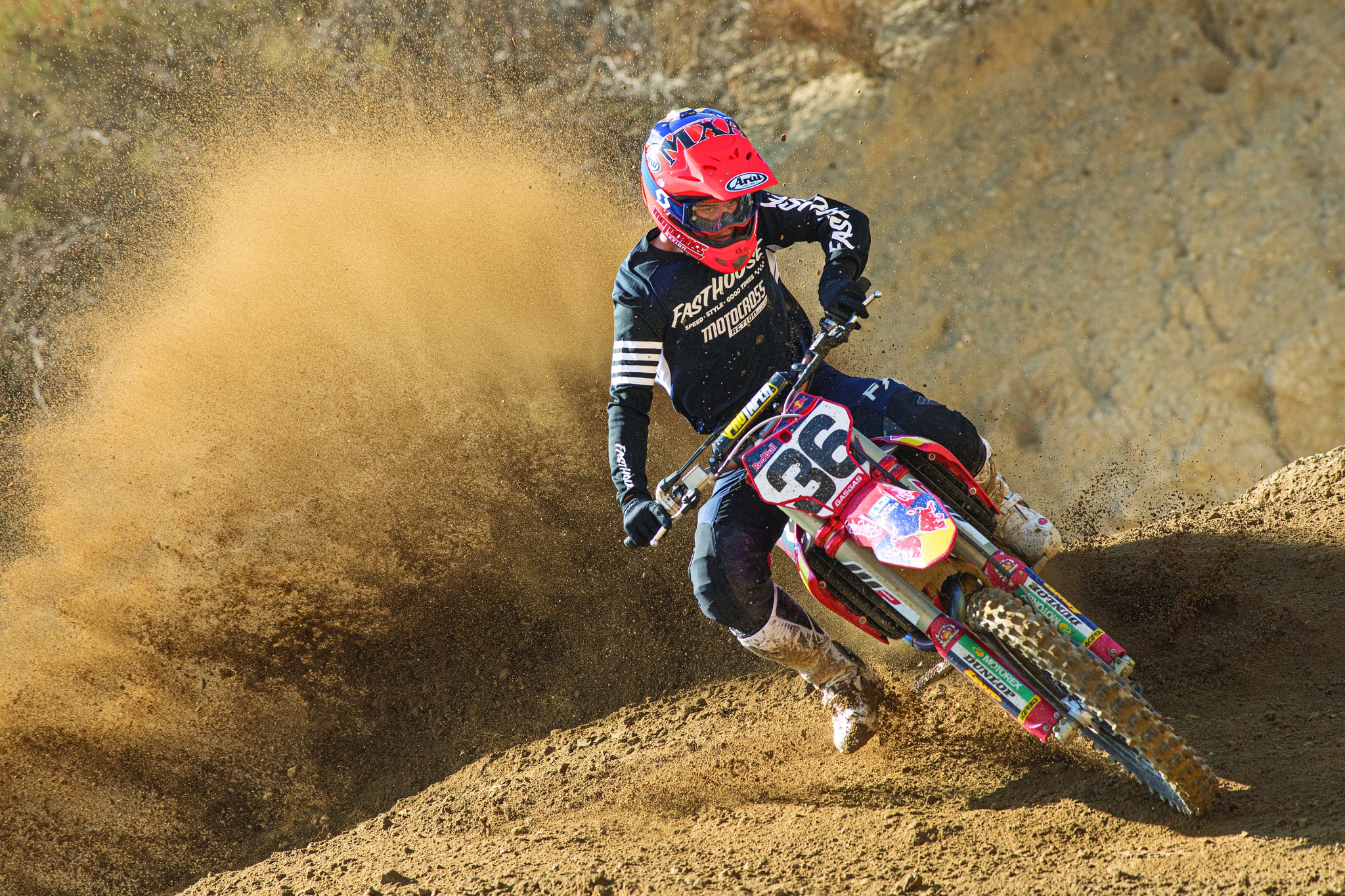 The Cylinder Works kit takes the GasGas MC 350F from 349.7cc to 366cc. The $649.95 big-bore kit comes with a brand-new cast cylinder, 2mm-larger Vertex piston kit and Cometic gaskets. It is a bolt-on kit that ups the bore from 88mm to 90mm. On the track the GasGas MC 366F is beefier from low to mid. When you want to go faster, you just wick it up and the rush is insane. The Twisted Development ECU works to let it rev high enough that your eyes water. What a great engine.
Andy always had a soft spot for Husqvarna, so three decades later when he was offered a job at the then BMW-owned Husqvarna, Andy Jefferson jumped at the chance. Not because he needed a job (he had a very secure position at a digital equipment company), but because it was Husqvarna that came calling. Andy's long history as a racer, which included an Over-40 World Vet Motocross Championship, made him a valuable asset for Husqvarna and something that KTM recognized when they bought Husqvarna from BMW in 2013. Amazingly, today Andy Jefferson oversees media relations for KTM, Husqvarna and GasGas. It is a big job.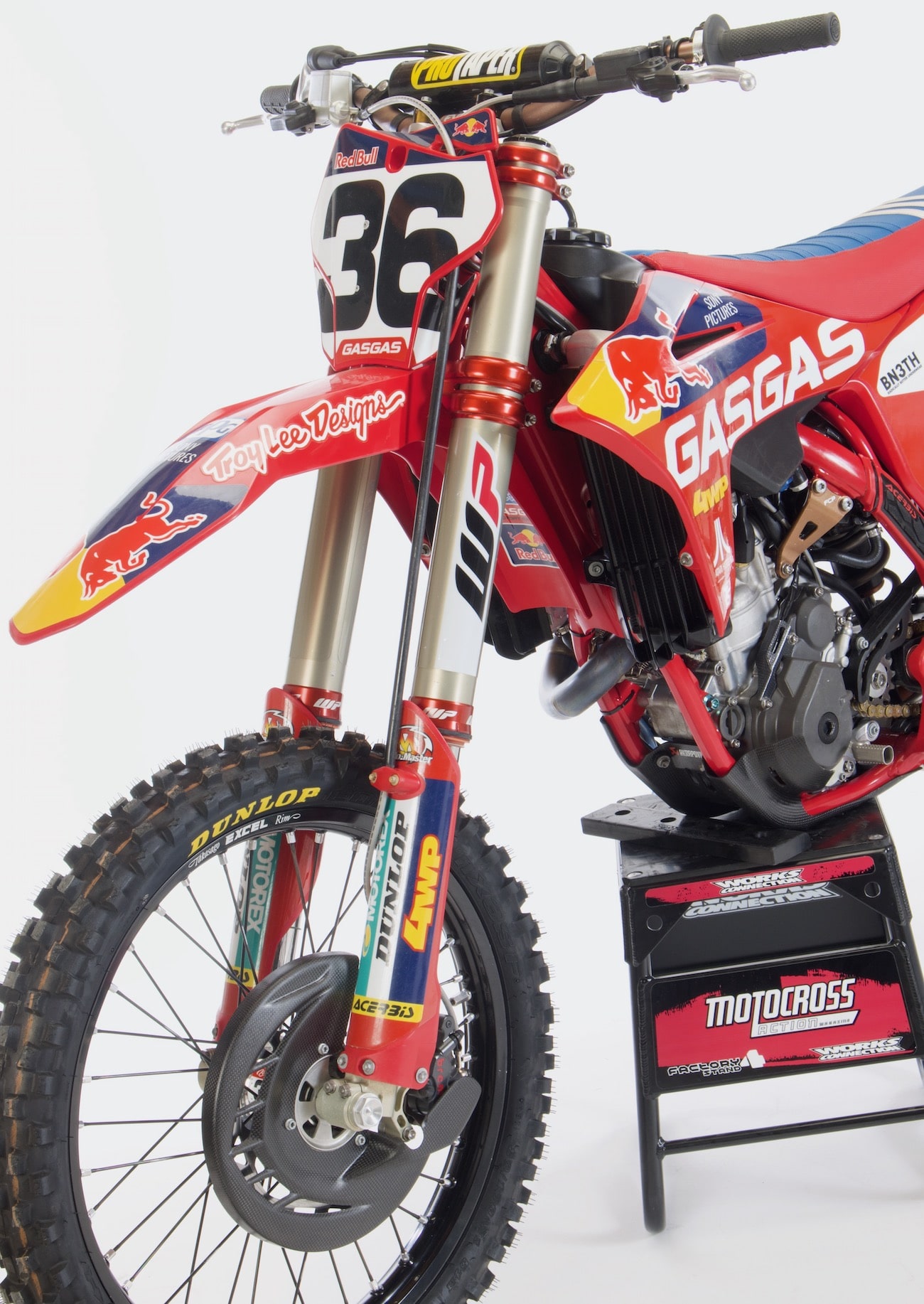 The 52mm works forks are another unobtainium product. The aluminum down tubes are hard coated to make the alloy more durable. The internals aren't that much different from the 48mm WP Cone Valve forks. The real purpose behind the 52mm forks was increased rigidity, especially for Pro riders, who want the direct feedback.
Pulling back the curtain, the MXA wrecking crew loves to see what other people in the motocross industry are tinkering with. On many occasions, we have seen Andy at the local races working out the bugs on a KTM, Husky or GasGas that he has modified to suit his bulldog style of riding. So, when we got wind of Andy's 2022 GasGas MC 366F, we knew this wouldn't be a vanity project. It would be a serious machine, and Andy would be sure to use parts he trusted and have the work done by the most respected names in the sport. It would be a special bike, because Andy has access to every engine, ignition, throttle body, cylinder head, works fork, flywheel, crank, brake and trick part. 
Another unobtainable part on Andy Jefferson's MC 366F race bike are the one-off Power Parts Factory triple clamps. They differ from normal factory split triple clamps in that they have been machined to accept the over-size stanchions required to hold the 52mm fork legs.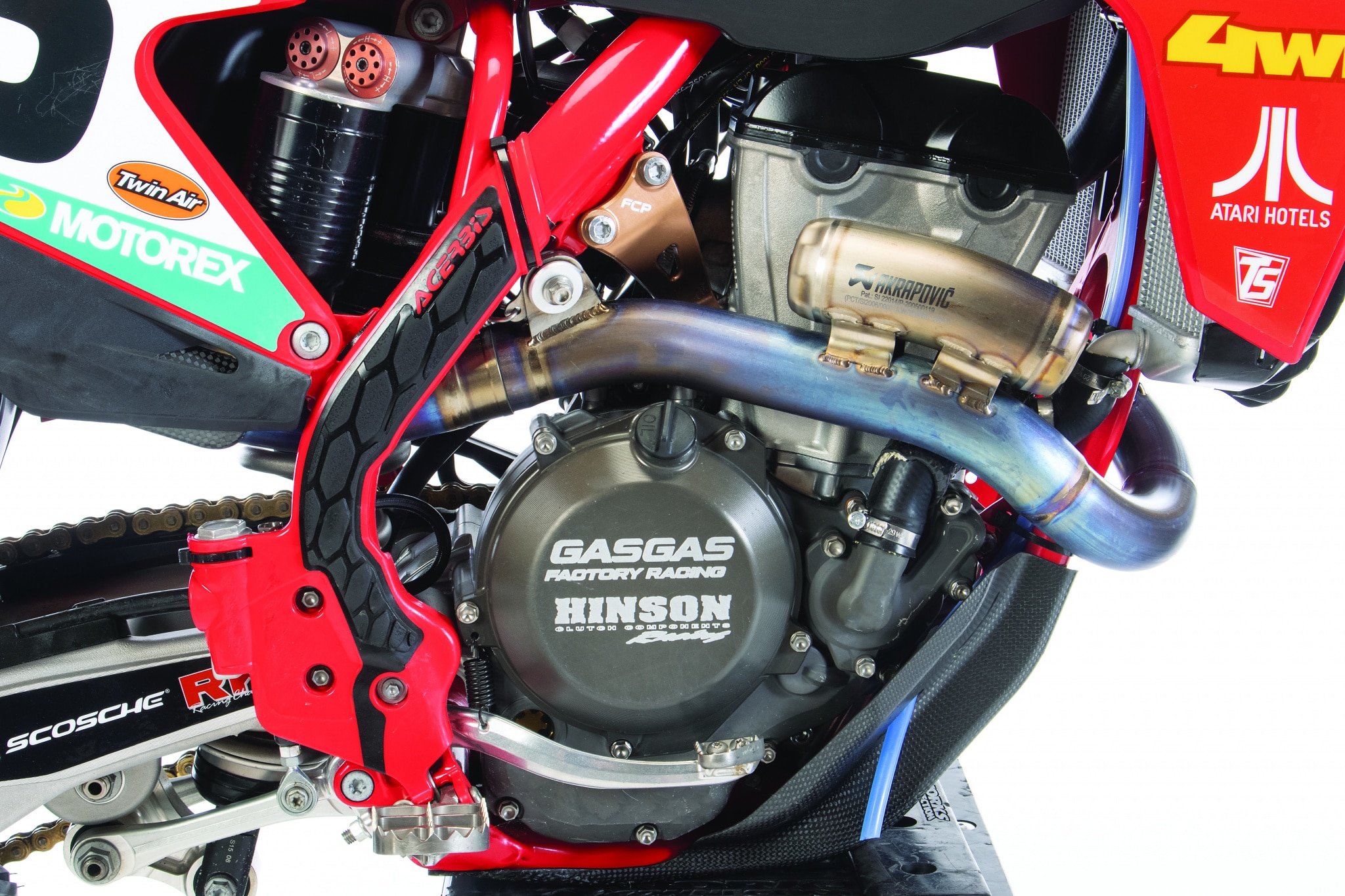 The MC 366F powerband had nothing in common with the stock GasGas MC 350F engine. Every test rider said, "This feels like a completely different motorcycle. It's easier to ride in the midrange." The MC 366F made more horsepower than the stock MC 350F, but, most significantly, the 366 kit brought the peak horsepower down from 12,400 rpm on the 350SXF to 10,000 rpm on the 366.

To get our hands on Andy's bike, we had to call GasGas' media manager to see if we could test Andy Jefferson's MC 366F. As luck would have it, Andy told us in his role as the GasGas media manager, he was pretty sure he could talk Andy Jefferson into giving us his bike.
Obviously, the elephant in the room is the 366cc engine, built on GasGas MC 350F cases. We weren't surprised that Andy's personal motocross bike had a big-bore Cylinder Works 366cc kit on it, because way back in 2010, we tested Andy Jefferson's Husqvarna TC310 motocross bike, which he cobbled together from a 310cc Red Head engine that was only available as an enduro engine.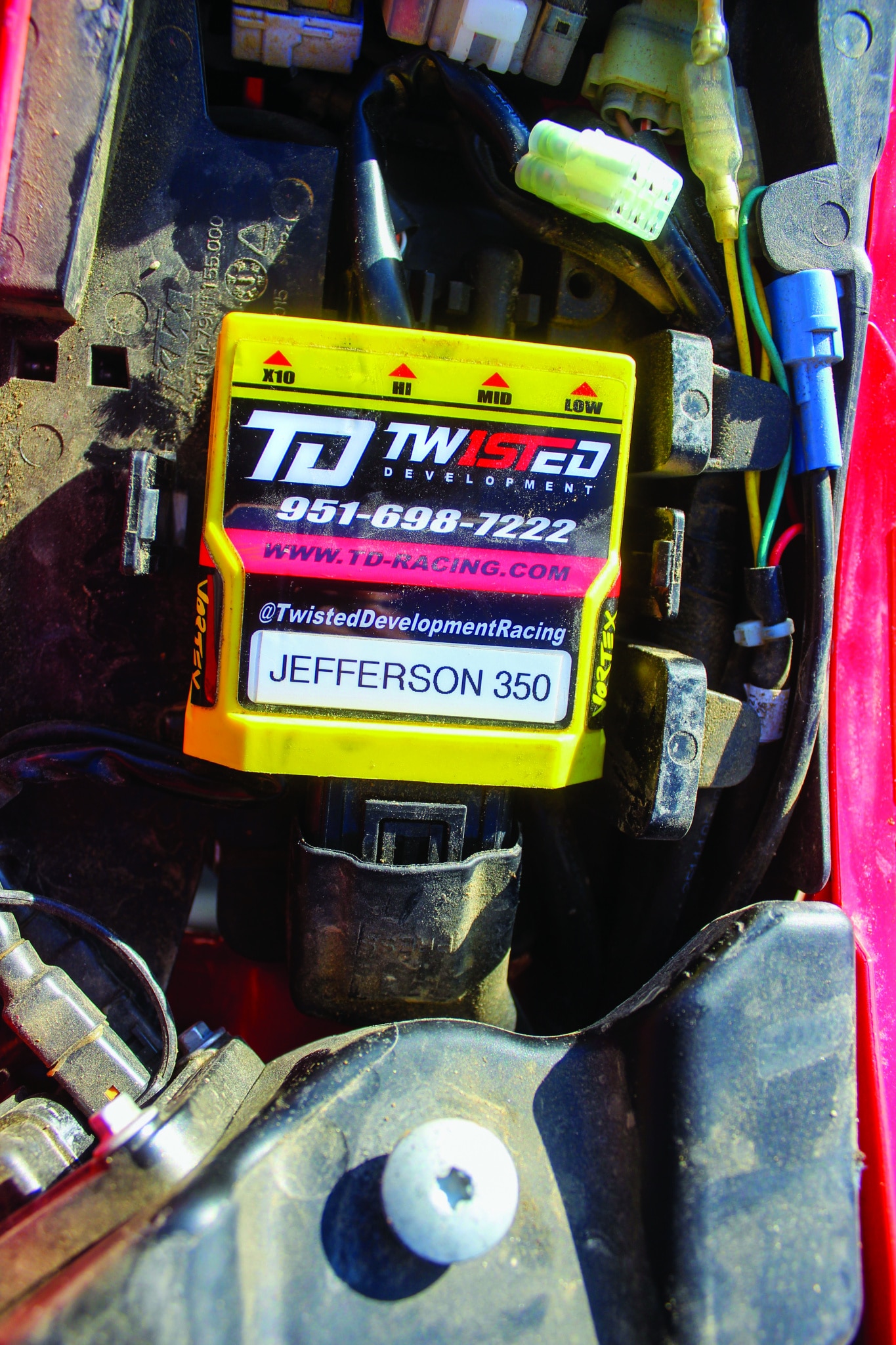 You can race the Cylinder works 366 kit with the stock GasGas ECU mapping, but Andy wanted his GasGas MC 366 to be tuned to perfection. He had Twisted Development set up a 10-map Vortex ignition, which was a good thing because on the first day of testing, we had to switch to a different map to get cleaner performance. We believe that the Twisted map and Vortex ignition helped the 366 reach its potential, but the price is around $1000.
MXA has come full circle with Andy Jefferson—from his days at barren desert tracks to his Pro Circuit Husqvarna days to his success at the 1982 San Diego Supercross to his retirement to his resurrection at Husqvarna in 2010 to the power elite position at three different brands today.
The biggest horsepower gains were from 6000 rpm to 10 grand. The MC 366F kit engine was willing to rev to 14,000 rpm, thanks to its Twisted Development mapping.

Here is MXA's close-up look at Andy Jefferson's 2022 GasGas MC 366F.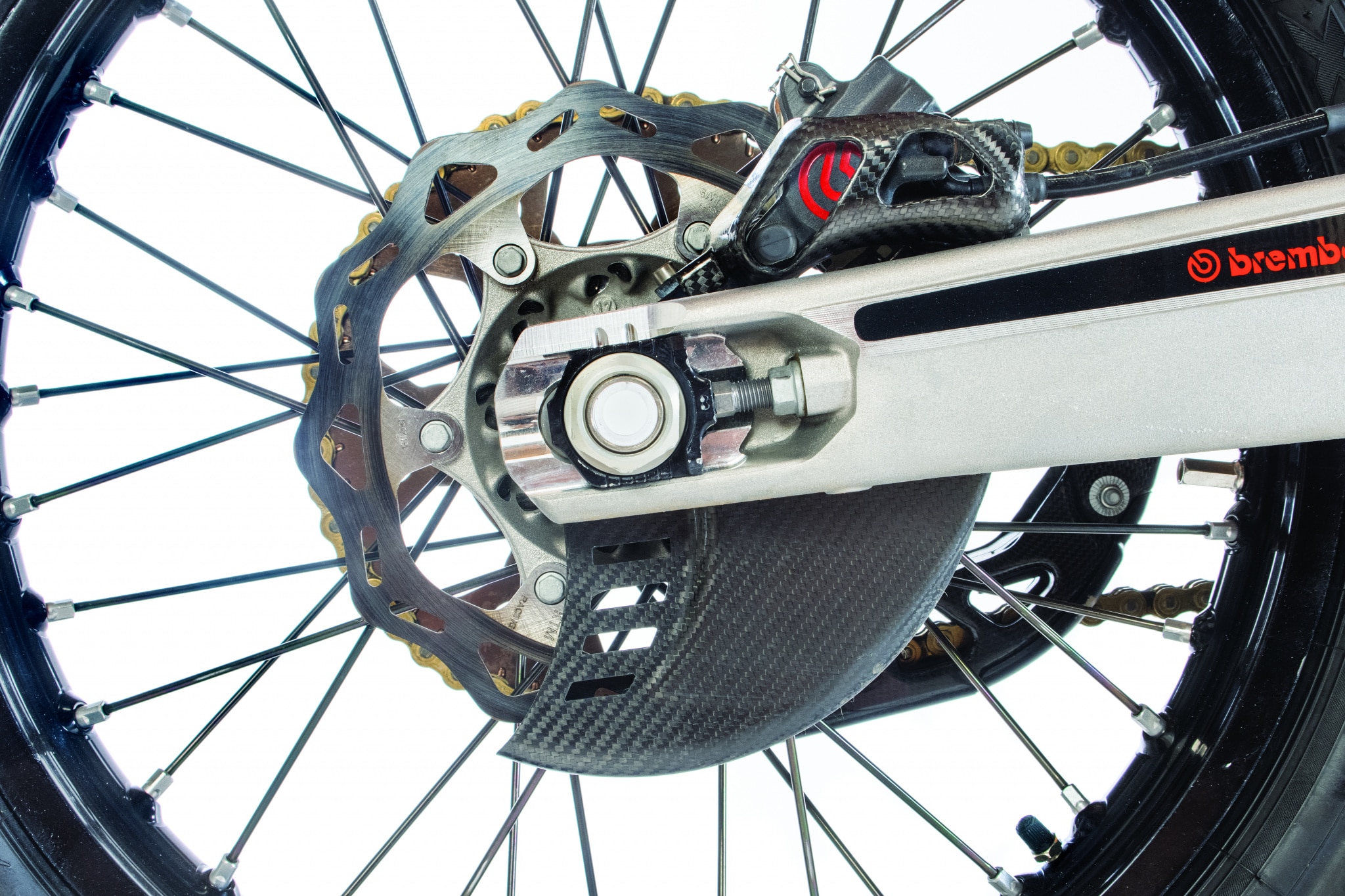 The Austrian bike's right-side axle block is threaded onto the rear axle. According to the race team, solidly linking the axle to the axle block locks the axle and swingarm together into an overly rigid single unit that doesn't allow the axle to move freely under a load. The factory bikes have one-off rear axles and specially machined aluminum axle blocks that free up the swingarm and suspension. Works Connection makes an exact replica of the works axle blocks. They retail for $89.95.
Andy swapped out the stock head stays for FCP aluminum head stays because the big-bore 366 engine and heavier off-road crank needed a little help in absorbing some of the added loads.
The Nihilo Concepts one-piece billet titanium footpegs are an extravagance that saves 160 grams (6 ounces) of weight. Machined from aerospace-grade 6AL4V titanium, the Nihilo pegs are wider than stock and lighter than the factory pegs. Unfortunately, they come with an aerospace price tag of $799.99 a set. 
When you are going faster than fast on a full-blown 366cc engine that revs to 14,000 rpm, you need brake calipers that don't flex and weaken under heavy loads. Amazingly enough, you can buy Brembo works brakes through the KTM Power Parts catalog. The kicker? They cost $1000 apiece and are just the calipers. But, they stop now!
The power is exactly what we think of when we hear "mid-size" motocross bike. Not as brutish as a 450 and not as rev-happy as a 250. It's got a little of both in a better way.
The handlebars are Pro Taper's "Suzuki Race Team" bend. The Suzuki bend is low and straight, which works well on the Power Parts PHDS rubber-cushioned bars mounts. 
No one outside of the KTM, Husky or GasGas factory teams can get a works chain guide, but luckily Lightspeed Carbon makes an exact replica of the unobtainable factory chain guide. That includes the extended tail of the works chain guide's shell to keep the chain on the rear sprocket. It is constructed from molded pre-preg carbon fiber that is autoclave cured to ensure a light and strong part. The inner wear pad is CNC-machined from a block of ultra-high-molecular-weight polyethylene (UHMWPE).
To protect his one-off engine, Andy installed a Power Parts carbon fiber skid plate. It bolts directly to the mounting tabs, they are welded on the frame at the factory. The $207 skid plate is made from 3mm-thick, high-strength Carbon Fiber Sheet Molding Compound (C-SMC) material. It has rubber inlays to cushion frame wear.
Running 52mm WP works forks also means running a jumbo-sized 30mm front axle. The whole movement to increase rigidity in the front end resulted in WP upsizing the front axle, which required different fork lugs, axle, axle nuts and wheels spacers. The rear Power Parts wheel (above) doesn't use an over-size axle, but has a polished hub, updated spokes and Works Connection axle blocks. Not to mention the "Bro Show" decal.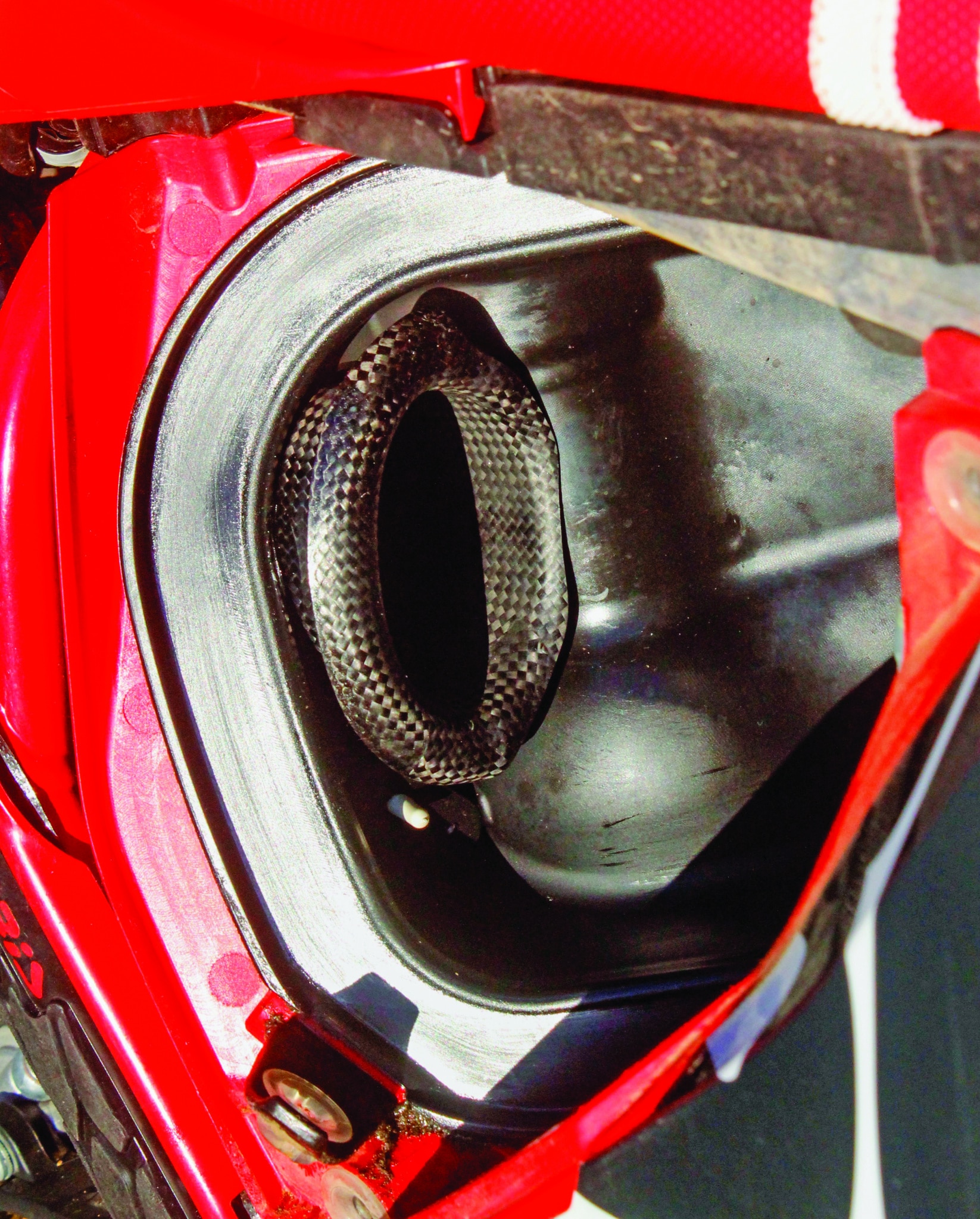 Andy combined a works carbon fiber velocity stack from the KTM race team bikes, with a Twin Air KTM Powerflow air filter kit. Twin Air's aluminum cage, wireless design and large volume air filter increased throttle response.  
MXA has always felt that selling three 350cc models, each with the same KTM-based engine, is bad business. In short, KTM, Husky and GasGas compete against each other for potential 350 buyers. It would make more sense if one of the three had a different engine with a different style of power. For example, a production Husqvarna FC370 would set Husky apart from GasGas and KTM. It would also produce a torquier, less revvy style of power that would work great for Vet and off-road riders alike. That is why we liked Andy Jefferson's personal GasGas MC 366F. It was different in almost every way.
IF YOU MISSED THE GASGAS MC 366F VIDEO: HERE IT IS