WE RIDE ANDY JEFFERSON'S PROTOTYPE HUSQVARNA TC310 MOTOCROSS BIKE
Going to work at Husqvarna in 2010 was the completion of a circle that started back in 1982 for Andy Jefferson. Andy Jefferson raced Husqvarnas for Mitch Payton's Pro Circuit team 30 years ago. Being hand picked by Mitch to race the Pro Circuit/Husqvarna alongside Jeff Jennings, David Gerig and Tony DiStefano was dream come true for Andy because before he got the Pro Circuit ride he struggled for support. Andy was riding for a SoCal local shop, but paying most of the bills out of pocket. It was tough and the hope for any kind of factory support seemed remote. "When I showed up at Pro Circuit on the first day, they gave me two brand-new bikes, a box full of parts and new riding gear," said Andy.
Although Andy would never say it, it is possible that there was racial bias in the motocross world in 1980. Jefferson was wining local SoCal races, Trans-Cals and Golden State events, but he had to watch the riders he beat get support deals while he struggled. When Mitch Payton signed him Andy quickly put his name in the record books by becoming the first black racer to make Supercross main events (and this was during the time when privateers didn't make main events). Decades before James Stewart arrived on the scene, Andy Jefferson was leading the way?and that included top ten finishes in AMA Nationals. Unfortunately a series of knee injuries ended his AMA pro career?although he kept racing WORCS, offroad and desert races.
Andy always had a soft spot for Husqvarna because that was the brand that Mitch Payton put him on back in the day. Three decades later, Andy Jefferson is Husqvarna's National After Sales Manager. The title means that he oversees service, aftermarket parts and customer relations for the Swedish brand that has just recently been purchased by KTM. Even more significantly, Andy's long history as a racer, which includes an Over-40 World Vet Motocross Championship, makes him a valuable tool for the Husqvarna test department. His bulldog style is still impressive to watch and his knowledge is extensive. Andy doesn't just borrow a company bike to go for a cruise, he's heavily involved in testing and racing motocross and offroad events.
PULLING BACK THE CURTAIN

The MXA wrecking loves to see what other people have been tinkering with. On many occasions we have seen Andy at the local races working out the bugs on the Husqvarna TXC310 enduro bike?which he has modified for motocross. This isn't the typical enduro bike cum motocrosser. Andy and Husqvarna have tried every combination of internal engine parts they could get their hands on. They have tested different ignitions, flywheels, black boxes and maps. As Husqvarna makes test parts available, they go on Andy's bike and he heads to the track to wringing out before reporting the results back to Husqvarna headquarters in Italy.
The MXA wrecking crew asked Husqvarna if we could test Andy Jefferson's TXC310 (there is no such thing as a TC310 motocross bike because the 310 is only available in the TXC or TE offroad lines). Husky was more than happy to let us have Andy's bike?with the caveat that the bike we tested would be in the configuration for that particular day?because they were waiting for a new cylinder head to be flown in from Italy within the next week or two. "No problem," we said because every bike we test is a time capsule of that single day.
TEN STEPS TO HUSQVARNA PERFECTION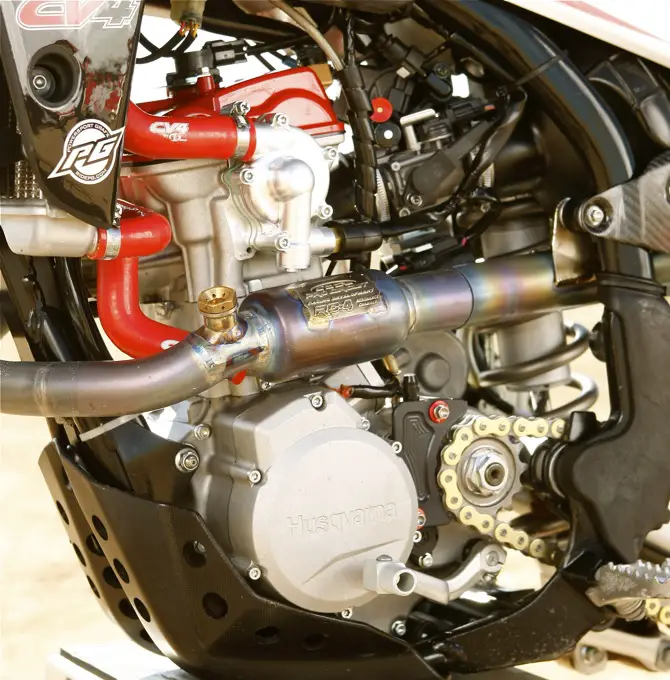 The biggest benefit of the larger displacement isn't horsepower as much as torque. Compared back-to-back with full-race 250cc four-strokes, the TC310 is a lot easier to ride.
First, some background. Andy Jefferson's 310 started life as a TXC310. For 2013, Husqvarna had closed some of the gaps between the TXC cross-country bikes and the TC motocrossers by giving the TXC its signature "Red Head" engine. The Red Head features dual overhead cams, a finger-follower valve-train (instead of buckets), an F1-inspired lightweight piston, a new cylinder and Keihin electronic fuel injection. The 2013 TXCs also got new velocity stacks, exhausts and more aggressive U.S.-spec suspension settings. All these things were big pluses for the TXC310, but that was only the starting point for Andy and Husqvarna North America. Here is a rundown on their program.
Step 1: The first step in the transformation was dropping the dead weight and trading the TXC parts for as many TC motocross parts as possible. The list included a slimmer TC fuel tank, 19-inch rear wheel, non O-ring chain and internal engine parts. The biggest weight savings came from dropping the electric start system's ring gear, starter clutch, worm gear, electric start motor, battery, stator and rotor. Since the TXC models comes with both electric and kick start, one of them was redundant. Andy removed the heavy one.

Pro Circuit's Husky 310 piston kit retails for $289.95.
Step 2: Don't be surprised to discover that Husqvarna North America sent the engine to Pro Circuit for massaging. As a former Husky dealer Mitch Payton likes Husqvarna, so he was willing to help the project get off the ground. In our test configuration, the bike had a Pro Circuit high-compression piston and cylinder head porting. Andy tried several different pistons before choosing the one that worked best. Andy also spent some time with the Pro Circuit dyno technician to select the titanium Pro Circuit exhaust that deliver the kind of power he was looking for. As added touches the muffler was shortened and the crankshaft and connecting rod were modified.
Step 3: For our test, Andy's bike had a TC250 wiring harness and electronics. Andy has tested some high-end GET equipment for Pro Circuit that he claims shows a lot of promise.
Step 4: What wasn't changed was the gearing or transmission. Andy's bike had stock 13/50 gearing and the standard six-speed TXC transmission.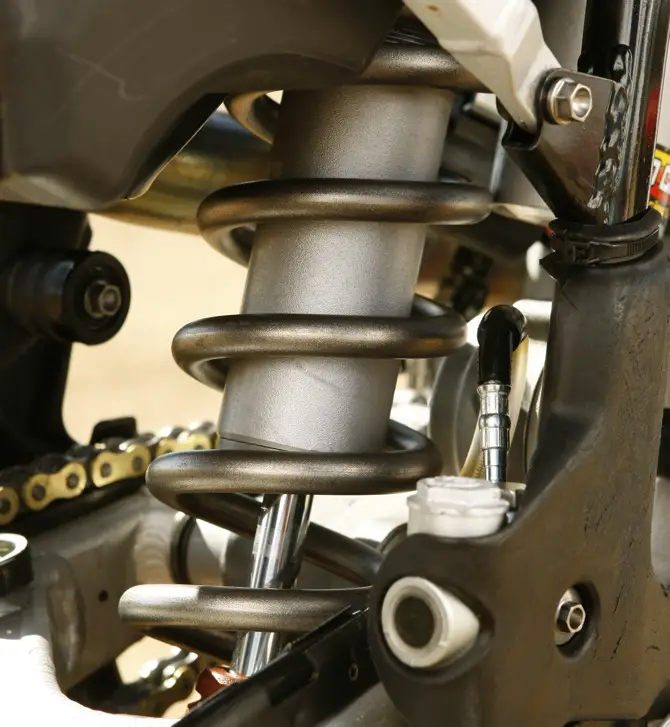 Andy Jefferson likes his suspension stiff. Bones Bacon did his forks and shock.
Step 5: Andy's Husky 310 wasn't just an engine project, there were some major suspension refinements. The shock shaft was lengthened 1mm and a new linkage ratio provided a much steeper rising-rate curve. The linkage arm and bell crank were both new parts. The goal was to find a rising rate that helped improve the initial part of the stroke while maintaining good bottoming resistance.
Trail bike springs wouldn't cut it for a bigger, faster rider like Andy, so the front 4.6 Nm spring was traded for 5.0s and the rear 5.2 Nm spring was traded for a 5.8 steel spring (or a 6.0 Nm titanium spring). We switched shock springs back and forth during our test. Pro Circuit's Bones Bacon, who was also a Pro Circuit Husqvarna racer back in 1980s, revalved the forks to match the new springs and they revalved the shock for the new linkage and springs.
Step 6: Andy prefers the slightly larger diameter of AME full-waffle grips mated to ARC folding levers (which had "Husqvarna" etched across the blades). The front brake caliper was an upgraded Brembo unit with a stock rotor.The Brembo brakes in the rear were stock. The seat was an aftermarket unit from Husqvarna's parts book with a fancy logo and gripper material.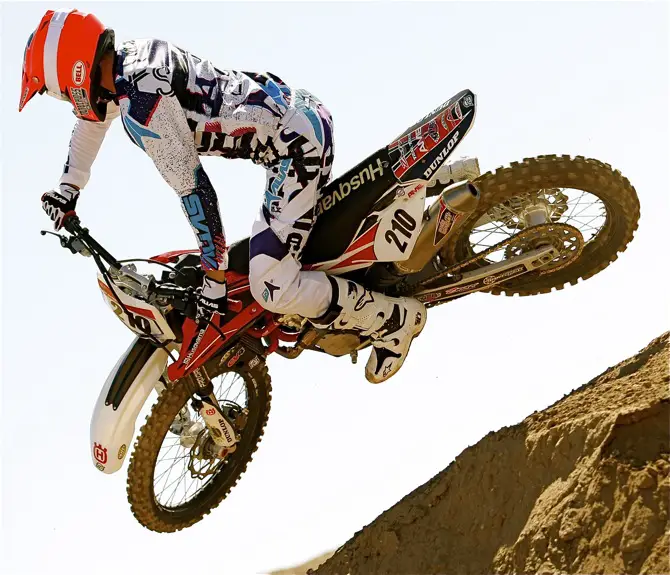 The TC310 handle well, once we figured out how to use the torque curve, but maximize the revs.
Step 7: Husqvarna's carbon fiber parts are available through their hard parts catalog. The MXA wrecking crew enjoyed the contoured carbon fiber pipe guard because it covers a larger area and won't hook on your boot or pants like the stock aluminum guard. Andy's bike also had a carbon fiber front fender brace. Speaking of premium materials, there was a smattering of titanium fasteners throughout the engine and chassis in effort to shave weight.
Step 8: The folks at Zip-Ty Racing provided the front axle nut, countershaft case protector and radiator coolant.
Step 9: The TXC comes from the factory with Pirellis, but Andy's bike had a Dunlop 742 front and a Dunlop MX51 (110/80-19) on the rear. Trail Tech's sensor's weren't on the bike for our test, but Husqvarna uses them during testing to monitor things like coolant, oil, air and cylinder head temperatures.
Step 10: The final step was adding some style to match the speed. Husqvarna stripped the paint off the cases and motor to give it a cleaner look. They used black Excel rims instead of silver. They mounted red CV4 hoses and ordered custom PG graphics.
WHAT IT FELT LIKE ON THE TRACK



On the motocross track, Andy's 310 engine had a personality like no bike you'll find on the showroom floor. It had an incredibly broad powerband that liked to grunt down low but was willing to scream up high. In comparison with a 2013 Kawasaki KX250F, the 310 didn't feel like made much more in the way of peak horsepower, but it made a whole lot more torque on the bottom. That torque made the bike incredibly easy to ride, and helped carry the bike through turns without any drama. The rear wheel always felt hooked up.
When revving the engine, the 310's power would continue to climb up into the high rpm range where it made it's peak power, but the climb wasn't very smooth. The bike didn't rev freely or cleanly and that sensation was compounded by vibration in the frame. This was obviously a mapping issue. Andy claimed the prototype GET ignition could solved this sensation with a little mapping. But, as we spent more time on the bike, we began to adapt to the power vibes and didn't have any problems. The test rider's only pitfall was being lulled into only using the torque of the engine instead of the peak horsepower. The torque tricked the test riders into riding it like a 450, but in truth it is a more of a 250. Riding the torque curve was fun, but slower than going for broke.

Andy did a lot of development work with his old team manager, Mitch Payton before selecting the best exhaust layout.
How fast was it? It made good power, but at 310cc it is at a big disadvantage against 450cc four-strokes. However, when compared to 250cc four-strokes, it offers a broad-style of power that is counterpoint to the typical KX250F, YZ250F, CRF250 or RM-Z250 powerbands.
Andy's suspension could be summed up in two words?stiff and busy. The shock was setup with really stiff springs and very light rebound, which worked really well over the choppy sections of the track, but tended to pogo over big bumps. Once we tested Andy's personal clicker settings, we decided to crank in more rebound and lighten the compression for our tastes. It was a lot better. Overall, the chassis was balanced front to rear and didn't do anything scary.
Without riding Andy's prototype 310 back-to-back against a stock TXC310, we can't say how much improved his bike is, but we can say that at no point did we feel like we were riding a modified trail bike. It pulled hard, turned tight and was more than motocross capable. The plus for the MXA wrecking crew was seeing the care and concern that Husqvarna North American takes in testing its products. There is no doubt that much of what Andy Jefferson's learns with his test bed TXC310 will find its way to the production bikes of the future.
After 30 years, Andy Jefferson, Pro Circuit and Husqvarna still make a good combination. Maybe Husqvarna's new owners will take note and put a motocross version of the 310 into production for Vet riders.